Been eyeing for a height-adjustable desk from FlexiSpot for a time now – but can't fully decide whether to get an EC3 or EC4? We feel you there, but don't worry! We'll compare these two models so you can choose as early as now which one to get.
Both the EC3 and EC4 are the top choices among the height adjustable desk from FlexiSpot. Now that most of us are working from home due to the coronavirus pandemic, having the proper setup and workstation needs is a must.
In this article, we'll help you distinguish the difference between FlexiSpot's EC3 and EC4. Which of these two desks would meet your needs and how both of these desks are a standout among any other brands. Read along.
Price
The EC3 desk is sold at $359.99. From its original price of $459.99, the brand has decided to make it affordable with a $100 discount to make work from home attainable and more manageable without spending too much. On the other hand, you need to shed $40 for the EC4 desk because of its added features from weight capacity, height range and more which will be discussed further in this article.
Desktop Size, Shape, and Height Adjustment
The FlexiSpot EC3 and EC4 offers rectangular desktops which can both expand from 43.3" – 66.9" (1100-1700 mm) however, when it comes to adjusting the height, the EC3 can extend from 27.2" – 46.5" (690 – 1180 mm) and the EC4 from from 22.8"-48.4" (580 – 1230 mm).
One of the best features of these two desks is that it can adjust horizontally from 43.4" - 66.9" which means you have more option of desktop size such as 48'' and 55'' and more space to fill in – some extra monitors, a space for gliding in your mouse, and even space for keyboard.
Stability
Both the EC3 and EC4 underwent thorough product testing and are both dual motors.
This means it can lift 176, 220, and even 275 pounds compared to a single motor which can only support up to 154 pounds. Moreover, dual-motor frames are highly suggested for users who tend to have more items and higher weight loads on their desks, say some musical equipment, a speaker a printer, additional monitor, and more.
Aside from its durable built, these desks have a reminder button function to help you alternate your sitting and standing position. Since most people get too preoccupied from work, they forgot to even stand, making the purpose of adjustable standing desk useless – but with the built-in reminder system, you save yourself from the possible back and neck soreness from too much sitting, or rather too much standing. How convenient is that?!
The Two-Stage and Three-Stage Design
The EC3 has an inverted 2-stage while the EC4 features an inverted 3-stage. But what does this mean?
A three-stage lifting column has an extra actuator stage built into the column, giving it a larger vertical adjustment range than a two-stage model. If you need your standing desk to have the widest height adjustment range possible, then the three-stage is the right option for you – thus the EC4.
However, because they're both dual-motor, these desks possess a sleek appearance which are a bang for the buck.
Sit-Stand Transition Speed
The EC3 speed at 1.26"/s while the EC4 works at 1.5"/s. Both these desks are super to keeping your productivity at its finest. You don't need to worry with how you want to set your desired height because of its programmable presets. Unlike other DIY desks with putting and removing the screws to get your desired height, these desks does the job for you with one button.
To save you height position, press the up and down button to adjust the desk surface. For example, you set the height to 29.5", press "M" SAVE button and it will show an "S-"icon, then press 1 to save the 29.5" height. The LED will then display a "S-1" meaning you've successfully saved your preferred height.
Motor Noise
Now that most of us spend more of our waking time at working from than we do anywhere else, then distractions are everywhere but these desks can help you big time. The EC3 and EC4 motor noise is listed under 50dBs. For those of you who easily gets distracted with noise, then know that you'll appreciate its low noise performance when adjusting its height.
Depending on your desk load, work space, and surface organization, the E3 and EC4 are surely the best choice of height adjustable desks for you. You get what you paid for and hold many features not many other brands can provide. It's affordable and they also offer limited warranty which can be viewed here.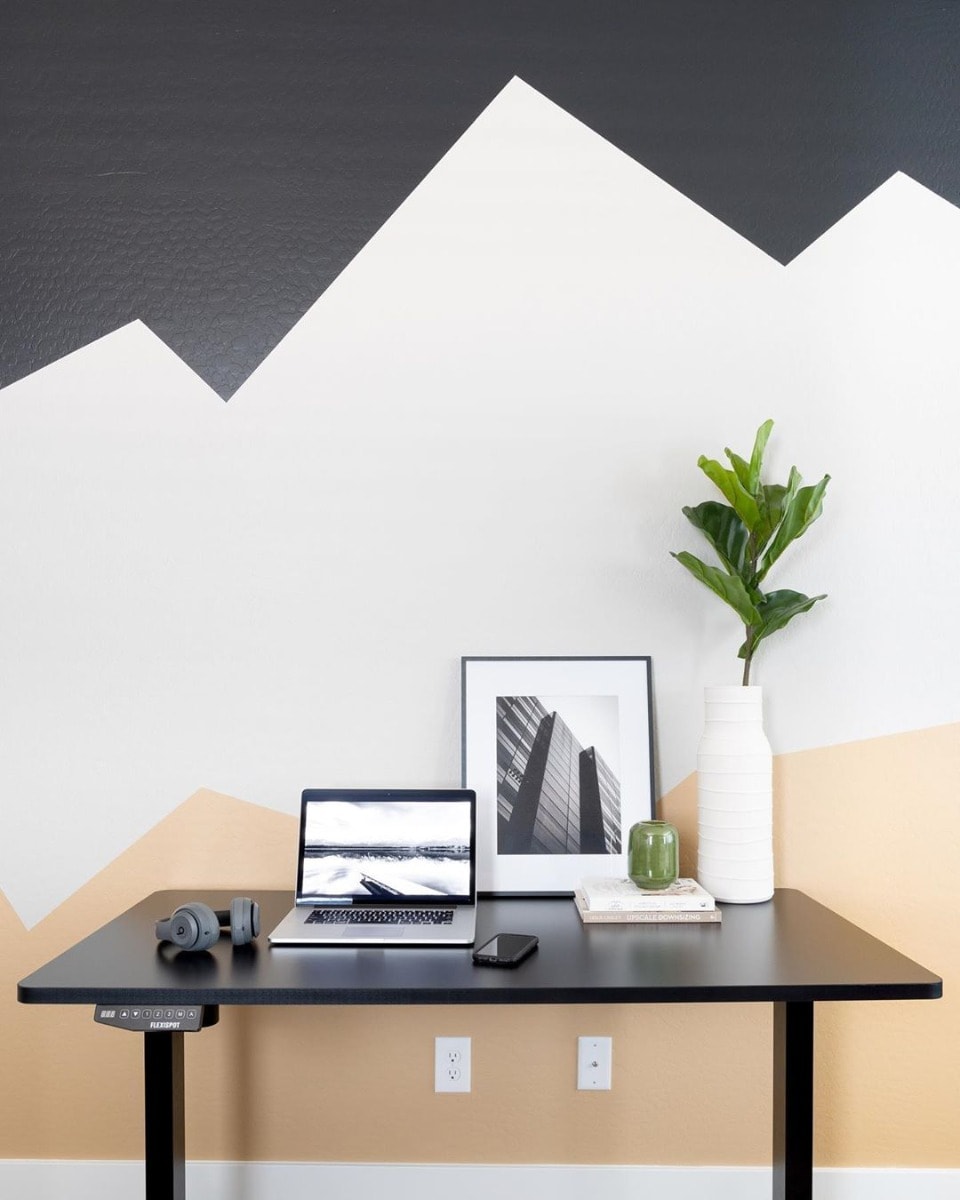 credit to: @neatly.living
Electric Height Adjustable Standing Desk: Dual Motor Economical Option EC3/EC4