You've probably heard from your friends how great gaming chairs are and you want one in the hopes of making your gaming experience even better.
But the question for most people it won't a regular office chair or even sitting on the floor suffice? Do ergonomic office chairs contribute to a significant level up of the gaming experience? Why is there a need for one?
The answer is fairly simple. The hype around ergonomic gaming chairs is there for a reason: they are designed to induce proper posture for all the hours of gaming. You won't get this kind of premium comfort from office chairs or sitting on the floor.

Simple Ergonomic Science
A chunk of our daily lives goes to sitting. Researchers discovered that in France, an average employee sits for an estimated of 10 hours every day. In the UK, people spend 60% of their day sitting while it falls at 75% for office employees.
There are many health hazards linked to prolonged sitting. This is why gaming chairs make use of the science of ergonomics to address the problem. Gaming chairs are designed to support the body's spine while you're playing games or busy finishing your tasks at work.
Aside from the spine support, gaming chairs have padded backrests and lumbar and neck cushions that provide support as well. Gaming chairs today also have many adjustment features including being able to adjust the recline, height, and armrests, ensuring the perfect body position before going live.
How Were Gaming Chairs Invented?
In 1997, South Korea's economy crashed into a downhill curve. The year after, Blizzard would come up with its widely popular feature called 'Starcraft'. It gained popularity among the youth and adults who did not have jobs at that time. They are arguable the first adults who gave birth to the e-sports industry.
The e-sports industry has grown by leaps and bounds throughout the years, which is a piece of amazing news for gaming enthusiasts, no matter what their level is. However, with the pros came the cons. More people switched to a sedentary lifestyle and had a lot of them complain about chronic back pain.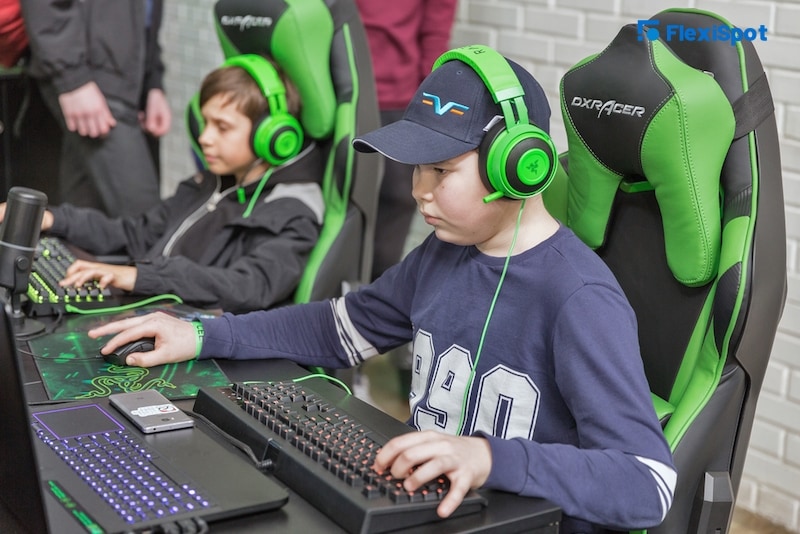 DXRacer invented the first gaming chair in the world when it was able to link the chair as one of the factors that cause body pain and discomfort. DXRacer modified a racing set into an ergonomic office chair including the following features:
Comfort
● A padded seat
● Thick arms and backrest
● Ergonomic pillows (that fit into the curve of the lower back and neck)
Adjustability
● 360-degree swivel
● Armrest adjustments
● Backrest recline
● The ability to lower or raise your seat
Gaming chairs are not only used by gamers but loved by computer users, vloggers, and students.

What Are the Benefits of Gaming Chairs?
Gaming chairs are a great alternative to common chairs or sitting on the floor because they offer numerous health benefits to their users. To sum it all up, ergonomic gaming chairs help to boost vitality and posture.
When you're sitting on a gaming chair, try to position your support cushions in a manner that supports the curves of your spine and neck. Also, set its recline anywhere between 100 degrees and 110 degrees before finally leaning into the ergonomic backrest and placing your arms over the armrests.
In doing so, the gaming chair will absorb all of your body weight with your neck resting on the pillow and your head balanced over your torso. This position helps to fix your eyes over your computer screen and your hands will be able to easily reach your gaming keyboard and mouse.

Consistency in Comfort
Granted, it takes a little time to break into a gaming chair, but it wouldn't be long before you start noticing a positive difference in your gaming experience and your overall quality of life. While getting accustomed to gaming on an ergonomic gaming chair, you should expect to experience the following benefits:
● Increased productivity
● Improved circulation and deeper breathing
● A noticeable boost in drive and energy levels
● Increased spatial and body awareness while sitting for long hours
The more time you spend on a gaming chair, the better it will be for your posture. When you have a good posture while sitting, you will start to enjoy your work or gaming experience.
Some gaming chairs may be so comfortable that you may even forget that you were sitting. While the chair is supporting your body frame, you can remain seated for hours while experiencing the ultimate gaming experience.

Improvement in Posture
If your gaming habits have resulted in poor posture, using an ergonomic gaming chair is going to be the equivalent of going to the gym for the first time. Since a gamer may have been slouching for years, their body feels comfortable while it's bent out of shape. This, in turn, tightens the muscles in the shoulders, neck, back, and legs.
In contrast, when you're sitting on an ergonomic gaming chair, its design allows your tight muscles to expand. Naturally, this may initially be quite uncomfortable for a gamer with poor posture.
As is the case with every physical exercise, with a few days of use, every gamer's body will begin to loosen up to the chair. During this time, they will experience a refreshing new way of using a computer while boosting wellness.
It doesn't matter whether you spend a lot of time playing video games or only play for a few hours every day, an ergonomic gaming chair is worth investing in.

Computing At Eye-Level
After reading this article, if you come across a picture of how gamers compete in tournaments in the '80s, you'll think that they were being tortured. Players were made to sit on metal chairs with hardly any back support and had to start at TV screens that were placed too high.
Speaking of which, one important thing about ergonomic gaming chairs is that they allow eye-level gaming. You see, most gaming chairs are designed to offer height adjustability so you can raise or lower your chair as needed.
When you combine this with neck support pillows and the ability to recline your chair, you will find it very easy to make sure your eyes are at the same height as your screen. In this position, you will only need to shift your gaze along with all the action instead of your neck or head. This saves your energy and promotes laser focus and precision.
Of course, you aren't going to shift out of your chair whenever you're watching a movie or a TV show or, perhaps, working from home. In either case, this chair will make sure your posture is perfectly aligned so your eyes are right in front of your screen.

Healthy Boost In Energy Levels
When gamers tend to sit for long periods and with a misaligned posture, their muscles tend to get strained. This can be a real problem because healthy muscles help keep our bodies in balance. If you have less than optimal sitting habits, you are bound to experience shoulder, back, and neck pain.
However, when you finally switch to an ergonomic gaming chair, the chair takes charge of supporting your body so that your muscles wouldn't have to. As a result, you can finally say goodbye to muscle strain, and invite more energy levels for increased productivity.

What Gaming Chair can be used in the Office?
You would love the FlexiSpot Gaming Chair GC02. It's reasonably priced at $199.99 for the convenience and comfort this can give to your everyday work routine. It boasts of its ultra-wide design that has a high seatback. It can recline from 90-degrees up to 135-degrees using only one hand and will be able to support your neck and back. It has 2d armrests and a removable headrest and a lumbar pillow. The seat is padded with a 4.3" thick seat cushion. You would love the casters, a floor-friendly wheel, at the office. Lastly, it's made of high-quality PU leather!