Although some people are focused on choosing the ideal workstation and chair, home office ideas also involve the decorations you add because they can help you be more productive while doing your daily responsibilities. Continue reading to learn more about the best styles you can choose from!
Just for You: 12 Inspiring Home Office Ideas

1. A Creative Space that is Quiet
Your home office room should be a calm space where you can sit and finish all of your tasks
If that is the case, you might want to decorate your home office to look like a peaceful, creative space.
To create a peaceful, creative environment in your home office, make sure everything is white.
2. Maintain a Natural Look
Some people prefer their home office to have a more natural appearance.
Fortunately, you can turn your office into a natural retreat for your long and stressful days at work. Furthermore, you do not need a large house to execute this – any corner will suffice!
Across the tiny space, you have, place bookcases and your workstation.

3. A Splash of Color 
It is possible that you do not want something simple or natural. Instead, you might desire a work environment that energizes you and keeps you focused.
You may have a lot of fun choosing bright colors for the walls in a colorful workstation. Furthermore, you can like simple black-and-white artwork to tie everything together well.
Not all of the home office 2021 trends are minimalist. Finally, you must decide what is best for you, including acquiring a bright, colorful workspace!
4. Affluent Workspace
The correct blend of almost-white walls, exquisite carpets, and natural light can help your home office setting ideas to come together.
You might also include some comfortable chairs (ideally white) and a modern desk. If you can figure out an excellent way to organize everything, this workplace could even be the perfect spot for a cup of tea during your breaks!
Many individuals also decorate their ceilings with lovely motifs. Even if you do not have much space, it might make your area appear more prominent.

5. Incorporating Whimsical and Wild Ideas  
Finding the perfect home office ideas is difficult, especially when minimalistic workspaces surround you. It does not have to be that way for you; you need to discover something that motivates you to work while also making you feel at ease!
You should paint your home office room to create a whimsical and wild environment. Choose a navy blue or a similar dark color. Then, wherever you desire, add splashes of brilliant color!
You may, for example, put colorful artwork or a fun chair on the walls. Home office décor ideas do not have to be boring — you may have an enjoyable time while you're doing it.
6. Wall of Art
If you do not need a lot of space for various workplace products, you might prefer something colorful but straightforward. In that instance, a modest workstation and a gallery wall of art could suffice.
Your desk should allow you to work productively while also storing all of your belongings. The art wall, on the other hand, is the essential component. To make the details stand out, hang images of many sizes and colors, preferably over a white border.

7. A Sleek Environment
If you have a large desk that takes up the entire wall, your home office area can look amazing. Additionally, incorporate some cupboards to keep all of your belongings organized and paint your room with specific colors to avoid being cluttered.
Every time you sit down, your home office ideas should increase your productivity and motivate you. As a result, incorporate some artwork into your modern area - anything that reminds you of the things that make you joyful while also assisting you in your work.
8. Rustic Design
Understandably, remote workers do not always want to feel like they are working from home. Instead, you would want to try something new. You might want to surround yourself with things that make you feel like you are in a different area.
As a result, a rustic-style home office area can be an innovative idea. If you decorate your walls with a brick and wood design, you might as well be the owner of a ranch!
Additionally, seek home office wall decorations that blend in with the rest of your workspace's design. Hanging inspirational artwork on your wall —both encouraging and motivating piece – is a terrific idea.

9. Traditional
You have the potential to be the next Ernest Hemingway. If you are not, you can still have an exciting, vintage home office area to inspire you and help you do your everyday responsibilities.
Using old-fashioned home office ideas requires a room with plenty of natural light and the addition of draperies. As a result, when it becomes dark, you can close them and enjoy some privacy.
At the same time, you should furnish your office with antique furniture, which will make everything appear to be from another era. A bit of greenery, such as several large plants, can make you feel relaxed and at ease.
Finally, you might include various vintage things, such as a typewriter, to make your home office area look genuinely distinctive.
10. Mix 'n' Match
You do not have to spend tens of thousands of dollars on a gorgeous home office just because you want one. In some circumstances, you might not have that money, to begin with, but that should not deter you.
People may design their office workspace on a budget, make it practical, and make it a lovely place to work every day
As a result, combining everything is a fantastic concept. Make a stir! Consider adding a laptop cart, repurposing your desk for something else entirely, such as a cabinet, and looking into some home office shelving options.
This workstation style may appear chaotic at first, but it is excellent for people who require a variety of environments in which to operate. As a result, if you need office space, a desk for other purposes, and cabinets to keep various objects, this may be the solution for you

11. Asymmetrical Design
Here is one of the fun home office ideas you might attempt. Another great approach to dress up your home office is to employ geometry to make your workspace look more ordered and coherent. Instead of choosing two colors, use geometric designs that complement each other.
You might also seek lamps or other decorative items to make things look even more gorgeous. You will not have to worry about anything else if you make sure that all of your chosen goods go well together.
12. Sleek and Compact
Another option for a home office for you to explore is this one. You may need to invite clients to your office or hold specific meetings on occasion. However, the lack of space surrounding you may lead you to believe that you cannot entertain guests.
Just because you have a small home office space does not mean you cannot organize it and make it into a functional workspace.
Using the right home office design ideas allows you to personalize your surroundings and turn them into the ideal working environment. As a result, set up your workstation correctly, add a pair of ergonomic seats, and make sure the rest of your surroundings are comfortable and conducive to efficient work.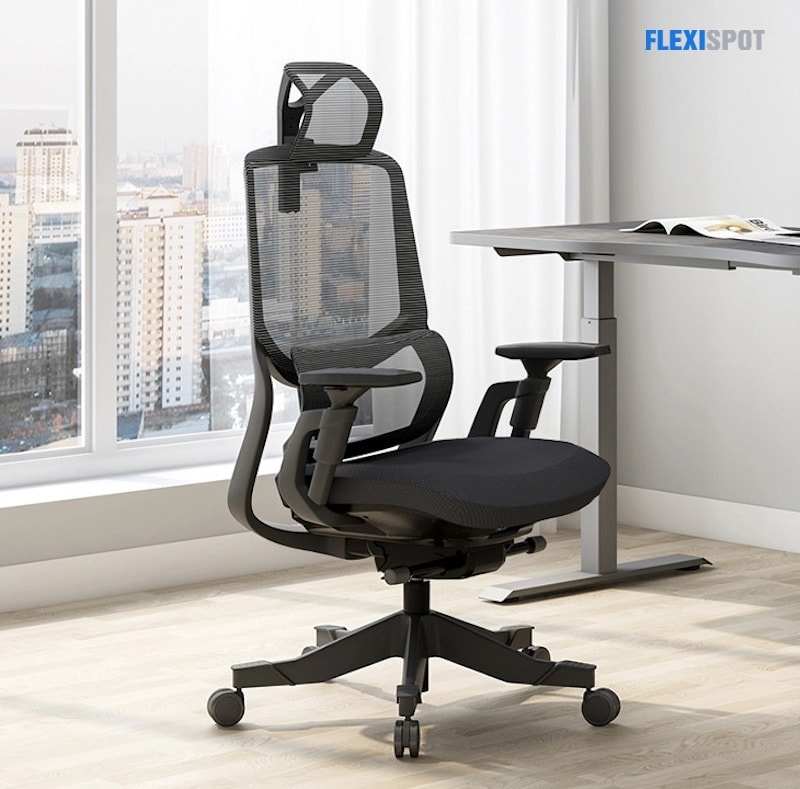 FlexiSpot is a company that considers your working environment, as well as your health and comfort. For your consideration, they have the Soutien Ergonomic Office Chair. An ergonomic chair will help you work more efficiently.
Takeaways 
Working from home is not as simple as some may believe. You must adjust to your surroundings and ensure that they aid rather than hinder your productivity.
You now have a variety of home office ideas to consider. Examine your surroundings and select one that you enjoy and that serves you well.