More often than not, creativity is pushed to the side since numerous parents believe that academic pursuits will bear more fruit in the future. The technical and scientific professions are also well-favored more than the arts because most people think that the latter does not require any thought and preparation.
But now, we must take into consideration that every child has their own skill that needs to bloom. Have you thought about your younger years when you wanted to pursue something other than what your parents wanted? Now is the right time to be the change that your child deserves. As their guardians, you must let them hone their talents and skills even if it means going against the grain of what you wanted.
With FlexiSpot, these are all achievable thanks to the smart and ergonomic offerings that every gifted child will love. Our products will cater to any artistic talent your child would have no matter what it is.

A Child with a Passion for Fashion
While it may seem impossible, a child can be smitten with love for the beauty of dress-making. It may seem like a mundane talent but designing clothes and making them come to life are processes that require creativity, critical thinking, and patience.
Designers and tailors are sometimes ignored, despite the fact that creating stunning apparel takes a great deal of preparation, thinking, and skill. Instead of allowing the limelight to focus solely on oneself, they want their artisan creations to steal the show.
Fashion is also architecture that moves. While designers and couturiers make the clothes, they have to think of the materials they will use. These materials must cling or lay on the body beautifully while also flowing with the surroundings. The hues used will also play a part in setting the vibe of the garment.
See? Having a passion for fashion transcends the materialistic aspect. That is the reason why you must take the appropriate action to help your child. Now, here is the FlexiSpot solution for the budding designer.
To assist the child's creative process, one must first create a vision board from which to pull and gather ideas. For this critical moment, a basic cork bulletin board would do. Your child will also treat their devotion for design very professionally, and they want nothing less than the greatest tailoring station on which to construct the outfits that will dazzle the public and capture the industry by surprise. Children will not need to search any farther, as their needlework will be elevated to a new stage with FlexiSpot's  Height Adjustable Sewing Table.
The intelligently built stitching station features an electronic height-adjustable framework to ensure the most pleasant, safe, and intuitive tailoring session for even the most passionate fashion designer. It makes no difference whether one sews manually or with the assistance of a stitching device since this customizable sewing table provides the optimal position to aid in alleviating bodily aches produced by stitching for an extended period of work.
When it comes to creating greater clothes, the modest tailor appreciates a bit of assistance – and with this expansive stitching station, and needs to improve is invited to participate in the action.

A Literary Wunderkind
If your child loves to weave words into a literary wonder, you must equip them with the proper sources to help them find their writing style. Your kid does not have to be an Edgar Allan Poe or Virginia Woolf right away but letting them have the creative freedom to write whatever they want can help. And with FlexiSpot, this will be easier.
An author may be an artisan if their ideas race and splash like the tides on a summer evening. Their ideas might be equally tranquil and calm. In any case, their thoughts spring to fruition with each stroke that pours from their pen to the page.
For the author who desires to record thoughts as they flow and pass, the FlexiSpot Height Adjustable Whiteboard Standing Desk is ideal. The 0.7" thick tabletop, which serves as a board, features a sleek and durable PET high-gloss coating that would thrill any author. The requirement for hundreds of sheets of paper is reduced because they can quickly write down a concept and erase it away. This rising workstation may also be customized to the author's posture due to the sophisticated all-in-one panel, which allows them to quickly record their favorite sitting, upright, and even under-desk pedaling positions.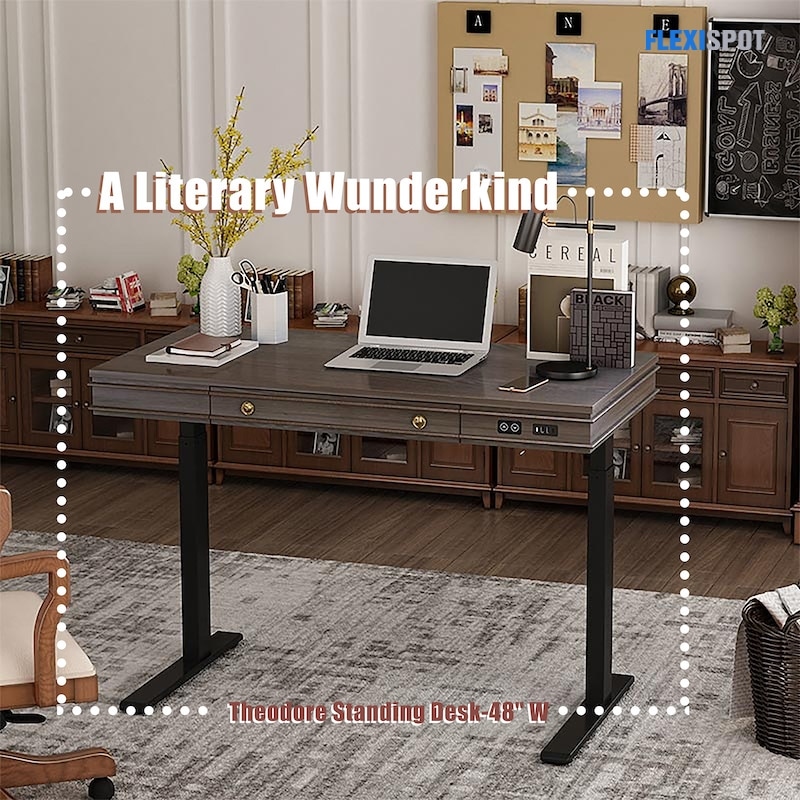 Whenever the author's ideas become erratic, the modest Theodore Standing Desk-48" W is an inspirational item that will aid in the completion of a manuscript. The enduringly classic Americana aspects of this computer workstation would inspire an author to achieve elevated peaks in the manner of their idols, Mark Twain, Oscar Wilde, and F. Scott Fitzgerald. Young authors can cheer as well since although this standup workstation may appear to be a quaint relic of memorabilia, the thoughtful addition of an installed USB recharging outlet will convince you that vintage is the present.
The author's words are priceless and immortal, therefore their working tables will be considered precious territory. With either of the possibilities outlined above, their wonderful poetry, books, and whatever else they compose will be considered priceless.

The Young Blood of Arts
Whenever anyone assumes of a graphic designer, the canvas may be the initial item that springs to their memory. Although any area may serve as an artist's medium, having a specialized drafting desk allows for the most outlandish ideas to emerge from pure inspiration.
The Height Adjustable Drafting Table ED1B is designed specifically for the artist who experiments with each media available. Painters, especially their brushwork, require mobility in order for their artwork to be realistic or surreal which can be accomplished with this drawing station.
To maintain an uninterrupted stream of ideas and creativity, the artist may quickly move from a reclining and upright position by pressing a key on the height-adjustable panel. Additionally, it is simple to adapt the artist's demands, as this desk can be modified from 0° to 40° to give a more comfortable inclination that accommodates a broad variety of actions and postures.
Final Thoughts
Having an artistic child must be treated as a blessing. And with FlexiSpot, you will help the young ones hone their inane talents.