Whether you're just starting to learn how to do your hair and makeup, an aspiring beauty vlogger, or a professional makeup artist slash hairstylist, having your own vanity station at home is a must. 
It still depends on your purpose what exactly your vanity station must-have, but there are some items that it can't go without. We listed it down so all you have to do is to grab what you have at home, add to the cart what's not there, and tick off the box in this checklist. 

1. A vacant area 
For starters, it doesn't have to be spacious especially if you don't have that much equipment in your arsenal yet. You can simply pick a vacant corner, facing the sun preferably, and mark the corner for your vanity station-to-be. 
If the space isn't that big, Flexispot's Height Adjustable standing desks are perfect for holding all your hair and beauty supplies. It's sleek and thin, sturdy and durable, plus you could adjust the height based on how high or low you need it to be. 
To save you even more space, you may also opt for floating shelves. Flexispot has a spacious and sturdy offer that comes in three pieces per set. One shelf is already 17" long but you could place two beside each other to make it even longer. It comes in mahogany or maple wood, a neutral finish that would suit any room aesthetic. 
2. Light source
When applying makeup, lighting is crucial so don't take it for granted. To see if you blended your base makeup correctly, you would need to have good lighting. Plus if it's dark, you would tend to put too much foundation and concealer than needed. 
A natural light source will be ideal so if possible, set up your vanity station where the sunlight falls. Getting a ring light will also do wonders because not only does it bring out the color of your makeup tools, it also evenly spreads light on your face and enhances your features. 

3. Mirror 
Of course, you have to see yourself when doing your hair and makeup so make sure to invest in a good mirror where your whole face is seen. Flexispot has a three-paneled mirror that allows you to observe your face from the front and the sides at the same time. Moreover, it has a 2.3 times magnification feature that you can use to zoom in parts of your face where you need to do small makeup details. It also has built-in lights that you could adjust anytime based on the brightness that you need. Plus it can be rotated up to 180-degrees and adjusted from time to time with ease. What's great about this mirror is that it's portable so you could also use it anywhere even when traveling. 
https://www.flexispot.com/standing-desk-accessories/storage-and-organization/three-paneled-mirror-with-2-3-times-magnification-and-led-light-mr01

4. Storage
Whether you're a makeup hoarder or just have the basics at home, you would need a storage area. Add your hair equipment---straightener, curler, blower---and you even need more space. 
Fret not, because there are many storage units in the market out there. Flexispot has a mobile file cabinet with sturdy wheels that makes it easily movable from one side to the other. It has three tiers and more organized compartments when you slide each drawer open. The cabinet also comes with a safety lock to keep your makeup safe and secure. It will surely go well with any makeup station because of its circular arc design and white color. 
https://www.flexispot.com/standing-desk-accessories/storage-and-organization/file-cabinet-cb201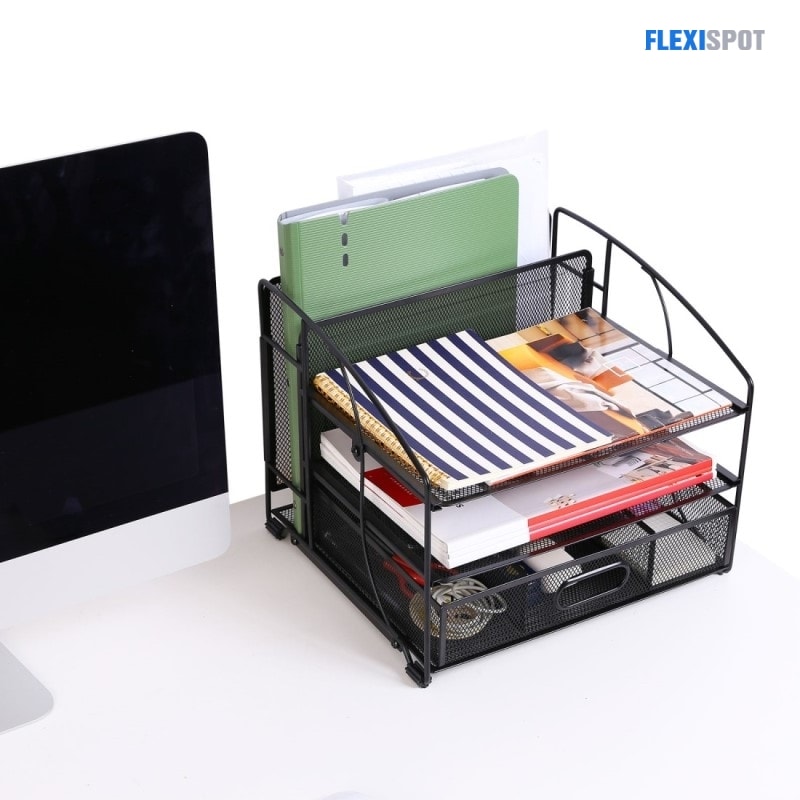 Another option is the Mesh Desk Organizer that also comes in three tiers. Each drawer is compartmentalized with more organizers inside. Because of its mesh design, you may see from the outside what each level contains, making it easier to find and grab what you need. It has a rubber foot pad that will secure it to the wall. Sturdy, durable, and black, it could last you for years. 
https://www.flexispot.com/standing-desk-accessories/storage-and-organization/mesh-desk-organizer-do01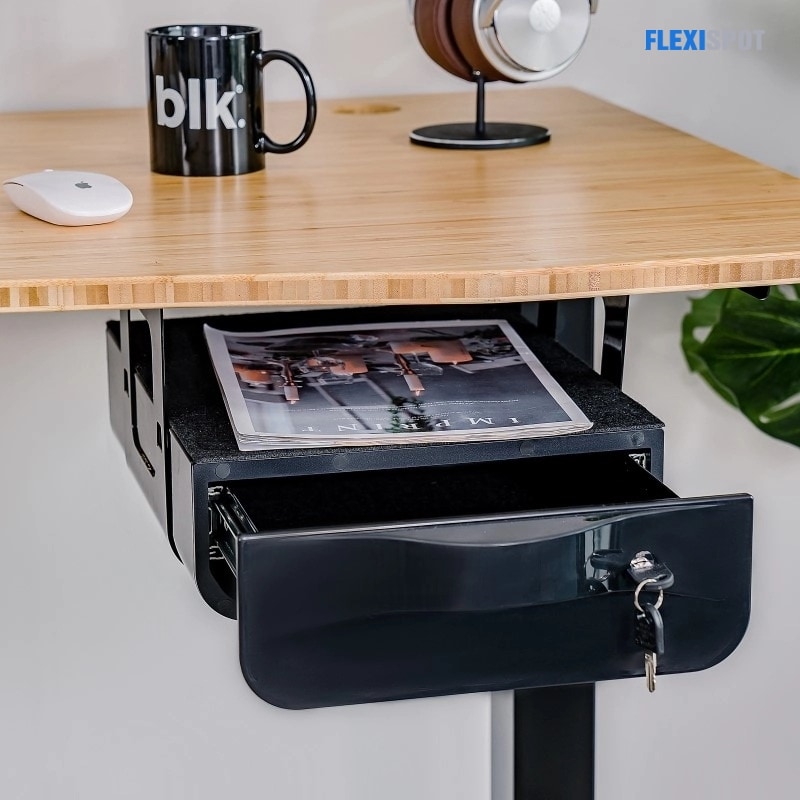 The Under Desk Drawer can also be mounted under the table or your floating shelf for extra storage space. 
https://www.flexispot.com/standing-desk-accessories/storage-and-organization/under-desk-drawer-s01

5.Chair 
You can't also lose the chair on your vanity station. Comfort and stability must be prioritized when doing hair and makeup so that you won't mess it up. Flexispot's Accent Chair 005 is a perfect option for those who want a functional and stylish chair. It has a curved cushion that gets rid of sedentary pain and an ergonomic backrest. You may adjust the height and also quickly move around with its built-in wheels. If you want to add a pop of color to your vanity station, it comes in pink and blue but if you want to stay on the neutral side, it is also sold in black, grey, and beige. 
https://www.flexispot.com/office-chairs/accent-chair/accent-chair-005

6. Power Source
A vanity station won't be complete without sockets. You would need power for your lights, hair equipment, and sometimes your phone or tablet where your peg is saved. Ensure there are sockets within the area but if there are not enough, Flexispot has a power strip you may clamp on your desk to make sure the needed electronics are alive. It comes with 3 outlets, 1 USB and 1 Type C. 
https://www.flexispot.com/standing-desk-accessories/office-supplies/power-strip-with-usb-ps12s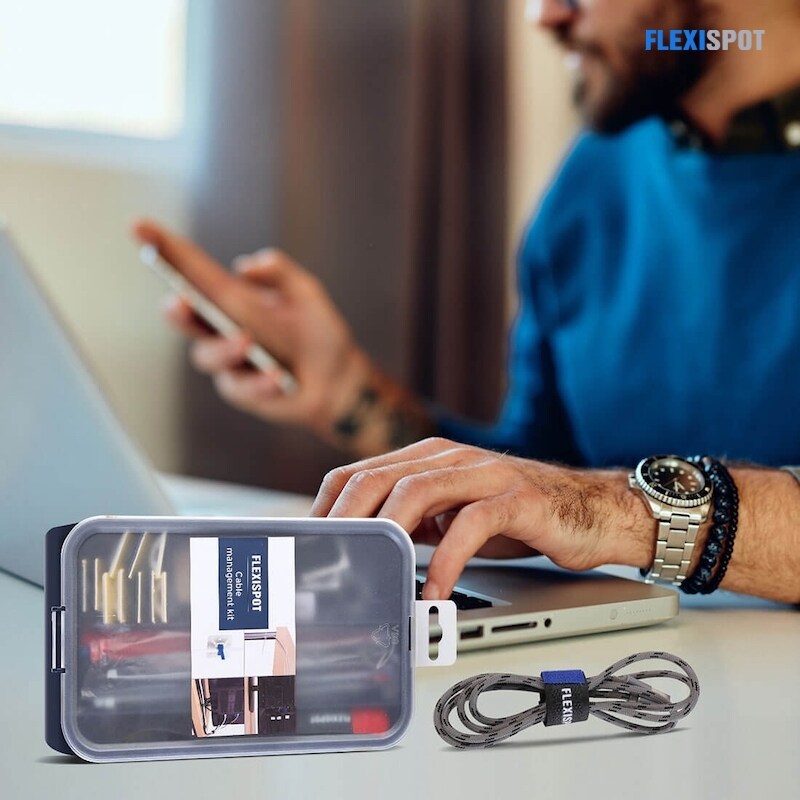 To prevent your cable wires from tangling, better prepare Flexispot's Cable Management Kit Organizer Set. It has self-adhesive cable ties that are sturdy and flexible. It could quickly make power cords disappear or avoid being entangled by binding cords together. 
https://www.flexispot.com/standing-desk-accessories/storage-and-organization/cable-management-kit-organizer-set-cmp013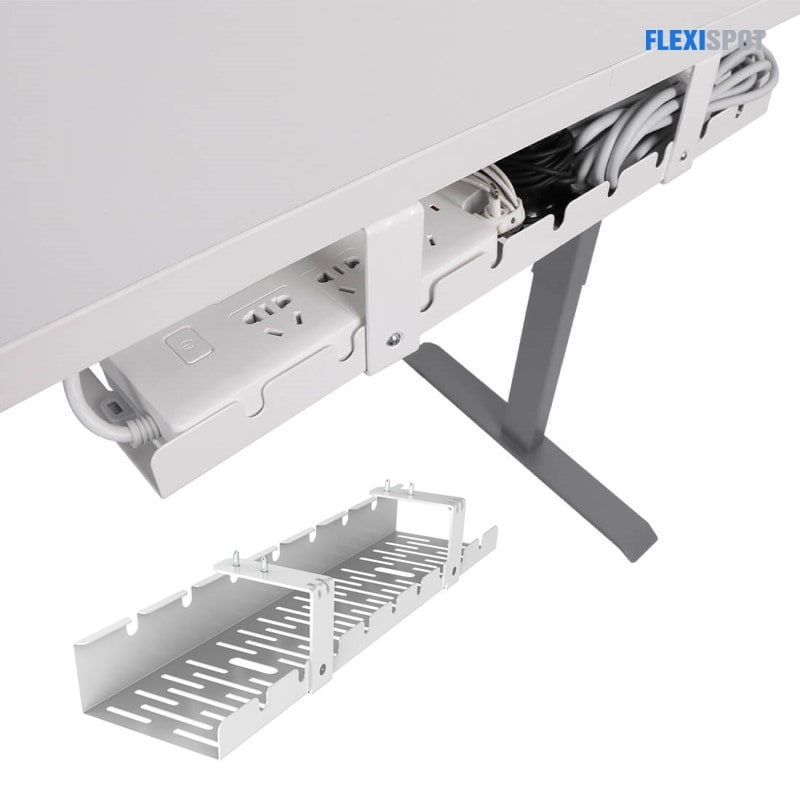 The Cable Management Tray CMP502 is also a great choice to organize cords. It comes in white and black that you could mount on any surface without being an eyesore. It also has an open design that allows proper ventilation and prevents dust accumulation. 
https://www.flexispot.com/standing-desk-accessories/storage-and-organization/cable-management-tray-cmp502
The tray could come in handy if you have a professional glam team over at your home. For sure, they will need multiple sockets to do your hair and makeup at your vanity station. 
As a last note, remember that you are a queen and you deserve nothing but the best.