Do you sometimes feel that your privacy is being invaded at home?
This is more especially true for those who live with others—their parents, their special partners, children, housemates, siblings, or whoever. You feel as if people don't respect your time and your boundaries so you want to get out of the house and enjoy a sense of freedom. It's just not possible at the moment because you are still cash-strapped and you need a roof to live under.
This is also one of the reasons why so many people don't like to work from home. It's because they can't seem to finish work because of their double duties to fulfill. Their families require them to be present in the household even if they have a 9 to 5 job and have work tasks to finish. It also causes a rift among family members when they can't find a compromise on how the work-from-home dynamic should be incorporated into the affairs of the household.
Well, you could of course communicate your needs to the people you live with. Be clear about your boundaries, your working hours, your availability, and so forth. If words don't work and actions are not followed, then what you can do is establish a clear, physical demarcation of your workspace at home.
When you are at this spot, it should be clear to everyone in the house that you can't be disturbed. If you have the luxury for it to be in a solo room, then make sure to lock the door and hang a "Do not Disturb" sign outside. If you don't have your own room, then do markers or set up boards to clearly separate spaces. Make sure it's a corner so that people won't pass you and ask you for something while you're busy working. Use noise-canceling headphones if you want more quiet and privacy.
And since you're working in a corner, here are some items that you can use in your little work area to save up space: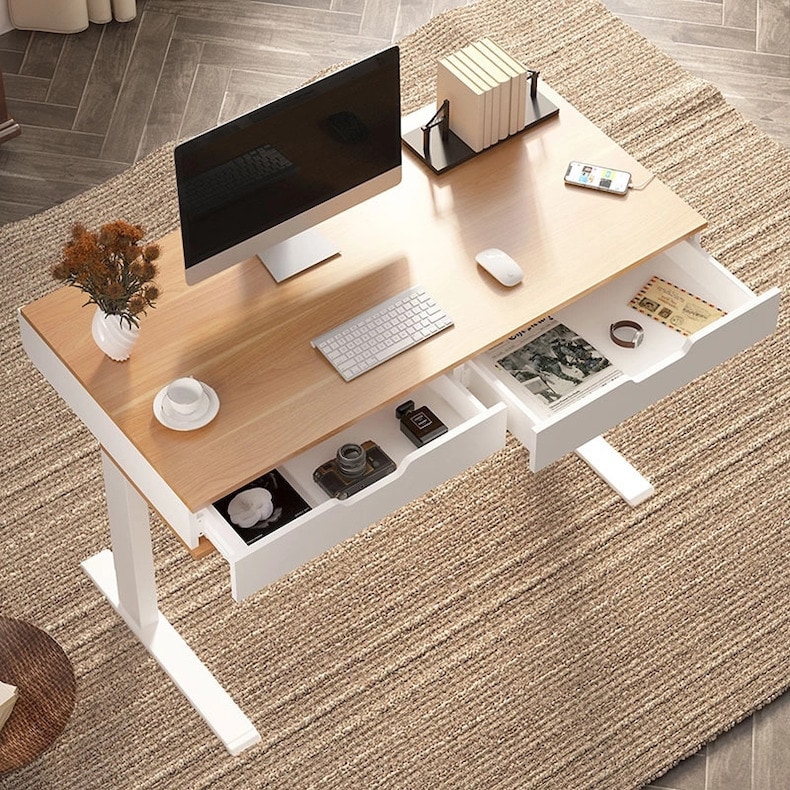 For others, the Esben Standing Desk UD4 may appear to be such a large desk at first glance. But the size of the desk actually makes it a stunning and ideal complement to any workspace. It looks airy, youthful, and fresh thanks to the warm wood and white color scheme, which is all the rage on minimalism as of late. Even when you are overburdened with difficult duties and several client deadlines, the brightness of this desk helps you feel better. Everything you could possibly need at work is on this desk. Your stuff will be kept organized thanks to the roomy drawers that actually help save space for you too. You don't have to stand up anymore to collect items by maximizing the storage space right under your desk. Your phones and computers can also be charged without leaving your work area, thanks to the built-in USB port.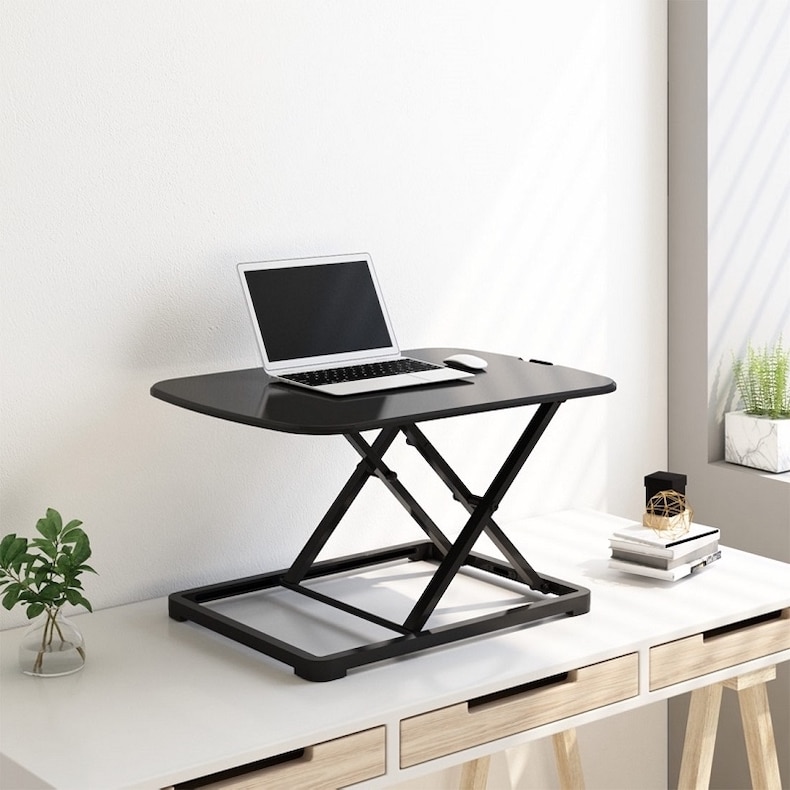 Simple, portable, and stashable is how FlexiSpot describes this desk. It is absolutely perfect for small workstations. It saves space vertically and gives six height settings for its users. It has a spacious work surface that can accommodate a laptop, mouse, and up to 26.4 pounds. It has a skid-resistant base to avoid the desk essentials from sliding. It retails for just a little over a hundred bucks, $109.99 to be exact so you don't necessarily have to break the bank when introducing ergonomic items into your workspace.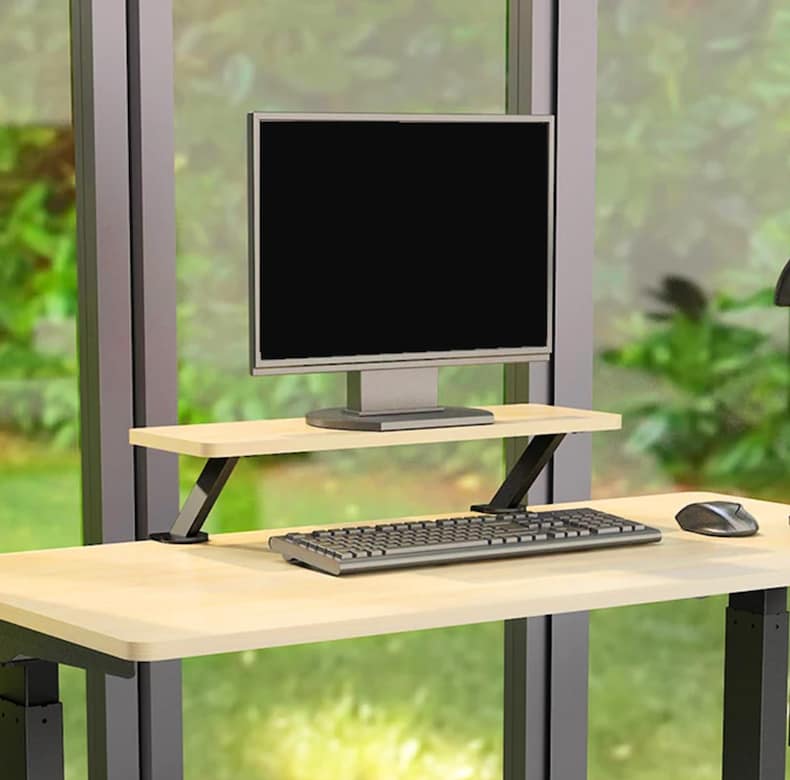 Different from the design of our other monitor mounts, this riser stand has a wood desktop and steel legs. It uses a sturdy clamp-on steel structure to attach it to your desk with minimal installation involved. Of course, a monitor stand brings your monitor to an eye-level position that will lessen the strain you're feeling in your neck and also frees up your workspace.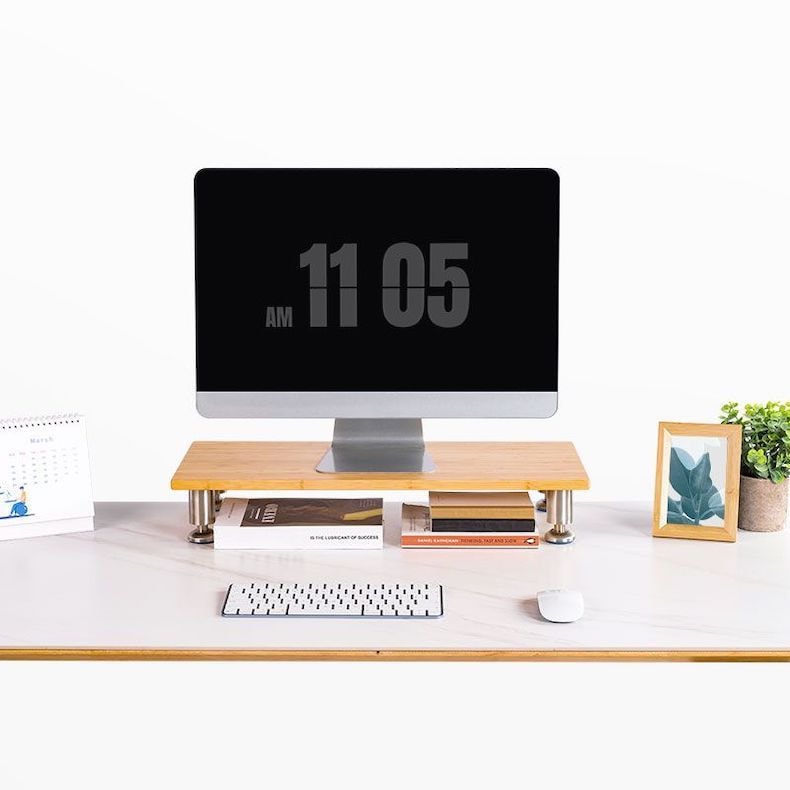 To organize your space, here's another monitor stand from FlexiSpot. It also makes use of a bamboo top with screw-on legs that comes with plastic pads to make sure that your desktop is free from scratches. You can use it to raise your monitor to eye level and be able to use the space underneath it for other items on your desk.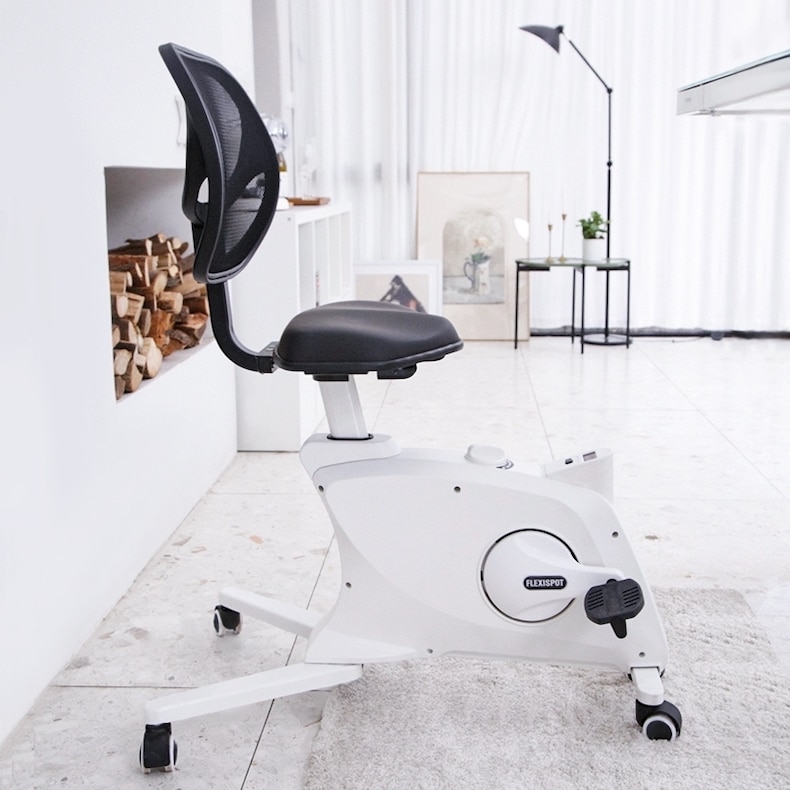 You can also always use an office fitness chair to save space for work and exercise. You can't make excuses now because what you're sitting on every day can transform into your workout gear.
Stay healthy and alert at the same time while you work on a fitness chair. This product comes with a breathable mesh backrest that keeps the back cool and is stable when leaning towards it. Aside from that, the seat cushion supports your body weight without any pressure. The seat of this chair is also adjustable so you can set it to a height ideal for you and can be easily adjusted to suit people of different heights, across ages. It comes with eight resistance levels so that you could adjust it depending on what's comfortable for you and what you need. In a shared space, there's no worrying about the noise the pedaling motion might create for fear of disturbing others. The motor runs in a smooth and quiet manner regardless of how fast or slow, how long or short you pedal. This will also help you clear your mind and sharpen your focus even while exercising.
FlexiSpot also has many storage solutions that you can use in your work area to save up valuable space and stay organized. For instance, it has a pegboard where you can hang your headphones, pens, photos, and other small desk essentials. There is also bamboo under desk drawers that are available to attach to your regular table and have its own under desk drawer.
We hope you solve this dilemma soon! You love these people and you love them back so they'll most likely understand as long as you're not scaring them away or cursing them in whatever manner.