Home decor is a very vast project that covers different design components. For instance, you need to consider the type of flooring you want to use and how each piece of furniture will be placed in the rooms.
You'll also need to partner with diverse designs, colors, and furniture composites to make your apartment more aesthetically pleasing, functional, and environmental-friendly. But have you thought about going for a wood home decors?
It's an amazing idea that you'll fall in love with. Imagine that you're using light-colored equipment like pastel or wicker woods, you'll experience a warm and tranquilizing ambiance in return.
And if you feel like deep dark wood tones are your choice, an extravagant and regal appearance is also guaranteed. Hence, let's walk through the items and accessories that'll make this dream a reality.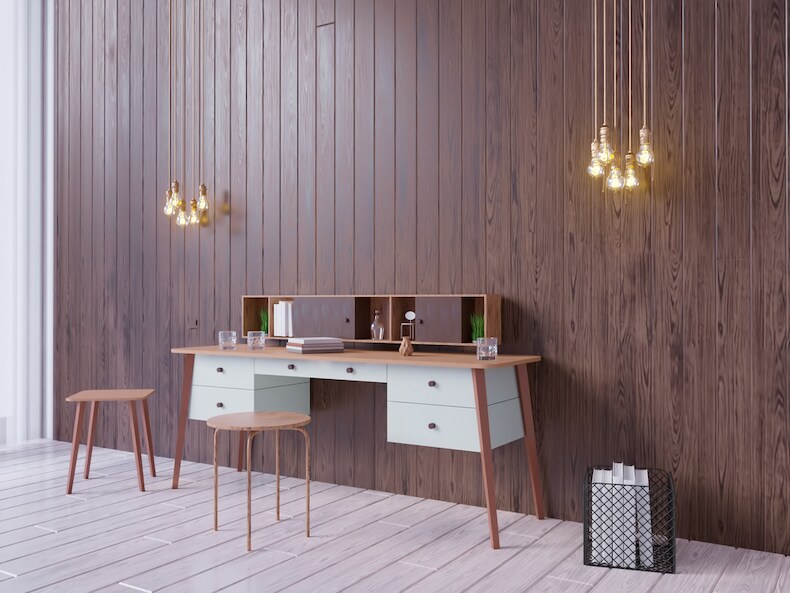 List of the 10 Best and Most Euphoric Items and Accessories for Your Wood Home and Office
It's common knowledge that wooden decor items are quite easier and cheaper to get and maintain, so why are you having second thoughts about adopting this contemporary and fantastic home design?
Wooden decoration accessories will also allow you to incorporate antique wood decor as you design a cool living room that displays the interior decor and ingenious crafts of your wooden house.
The most interesting part of the deal here's that even if you're not a pro with wood, you can easily build customized ornaments for the house.
Meanwhile, you shouldn't fall into the error that the decorations must be heavy or bulky. All you need is to create some meticulous designs and ensure that they complement those existing decors you have in the living room.
Wood, if you could crack it open, can be used in the house for different purposes. You can put it on as the display to serve as a bookshelf for your stationeries and other essential materials.
How about churning out a large welcome symbol and hanging it on the wall at your main entry hall? That's enough reason to show that you can use wooden decors to create any magic of your choice.
Now, here's a collection of decor ideas that stands different from others. Let's get them.
Wooden Wall Clock
Yes, almost every gadget in this age shows us the time, but don't you think a wall clock made of wood is a stunning decor idea?
It's a trendy element and the icing on the cake is that it's not yet common. So if you want your house to make a statement that stands out from others, you should join the fee wall clock users out there.
Now, the next step is to search for a style that'll give your interior designs full support and aesthetics. For example, you can consider urban design, seaside, aesthetic, contemporary, or any style you've always wanted to try.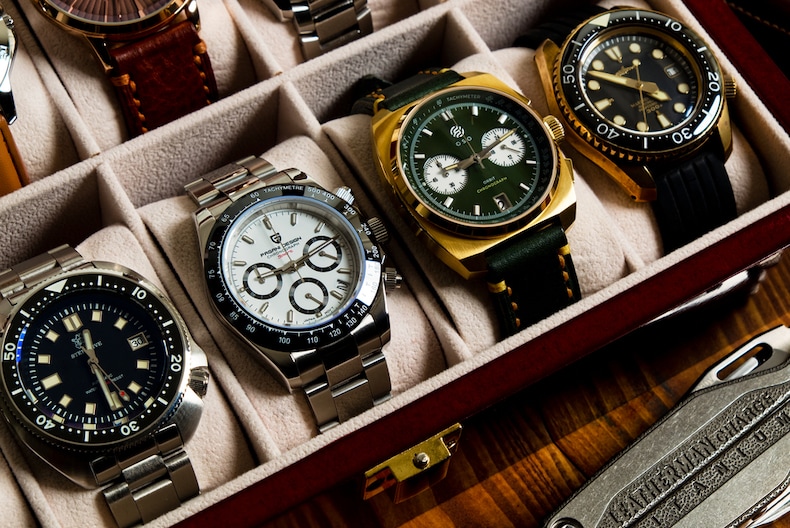 Wooden Watch Organizers
There are different and top-rated brands that you can team up with to get yourself a classy and classic watch organizer. Well, that's if you love exhibiting your stylish timepieces in a unique and posh manner.
Many of these firms offer state-of-the-art, gorgeous, and elegant watch organizers with simplicity and luxury. It's an experience you shouldn't miss.
However, you need to ensure that you go for wooden watch cases with the highest durability. Those ones will not only showcase the watches elegantly but also save your favorite timepieces from dents, scratches, and grime.
Centerpiece Base Built from Antique Wooden Planks
This large wooden plank foundation can be used as a dazzling focal point right in the middle of your dining hall. These planks offer full succor and personalization to your candle holders and it has a smashing weathered white-wash coating.
If you want to add more natural appeal to this piece, you can arrange your favorite fruits around it or stack them with some long-stemmed blooms.
Floor Lamps Made of Wood
You should always get the best of illumination and not just any type of light fixture. On that note, why not brighten the house with wooden floor lamps?
These lamps will help you reduce the rough silhouette in the house and ease the lighting to avoid excessive brightness flushing into your eyes. Plus, you can use them as decor!
Vases Churned Out of Wood
Is there a wooden vase in your house and it has been lying there unused for years? It's time to dig it up.
After all, history tells us that wooden vases stand for one of the most antiquated origins of any household item. Hence, it's a brilliant idea to use vases made of glass, quartz, or ceramic to complete and complete the interiors.
They are used as a repository for showcasing both artificial and fresh bouquets. These vases are also treated as treasures due to their exquisiteness and ornamental splendor.
Or you're thinking of what to gift your loved ones for their birthday or wedding anniversaries? Wooden vases are a brilliant present.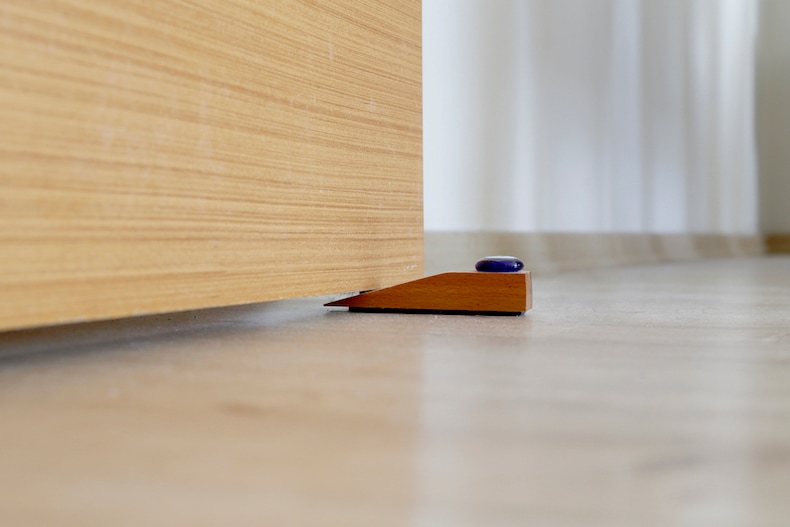 Door Stopper Built from Wood
With a door stopper carved out of wood, you can get yourself an intimate and ethnic fixture to man your door frame. And the fun part is that these stoppers are available in different designs both from online stores and land-based retailers.
The topmost advantage here's that door stoppers are quite easy to maintain and you don't have to worry about you or your kids getting injured. However, that shouldn't be construed as a go-ahead to use them radically.
A 3-set Combo of Rustic Hardwood Plank Shelf
It's no longer news that finished wooden beam shelves give storage options in the house some customization and luxury.
This follows that the shelf is strong enough to accommodate everything you need to stack on a bookshelf. While doing that, it's also a great source of giving your space some rustic and medieval touch.
You also have the discretion to place the hardwood plank shelves apart on the walls or side-by-side with each other.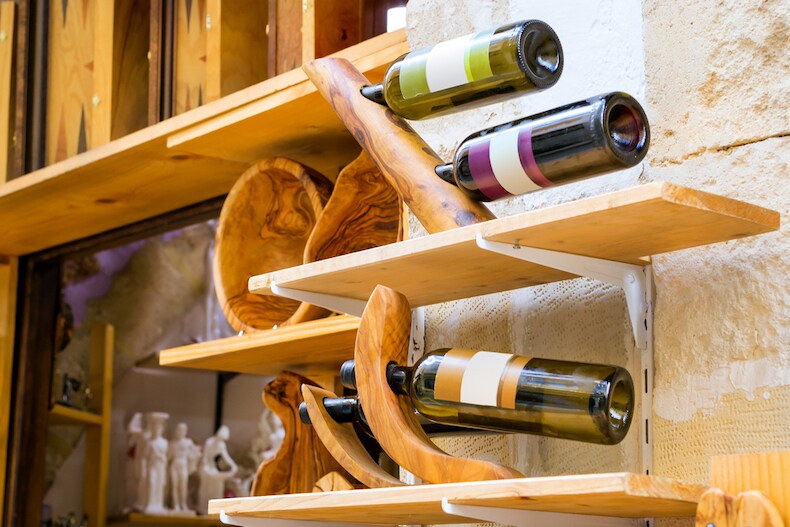 Wine Holder Made of Wood
Do you remember the wooden watch organizer? Yes, that's the same logic this decor idea is imprinting.
Placing it at a strategic spot in the living room is bound to attract commendations from wine enthusiasts. Imagine a specially crafted wooden wine bottle organizer, it's a beautiful sight to behold.
Apart from showing off your wine collection, it's also an avenue to showcase your high taste for the best of the ingeniously-designed holder.
Finally, it'll also top the list of prospective topics for discussion while having a good time with your friends.
Floor Mirror Built from Rustic Barnwood
Everybody needs a floor mirror to give them a perfect appearance. So why not use this as a tip to design a beautiful decor for yourself?
And a type of floor mirror that assures you a taste of the two worlds is the antique oak framed mirror. All you have to do is place it by the side of your main room to check how you look from head to toe before leaving the house.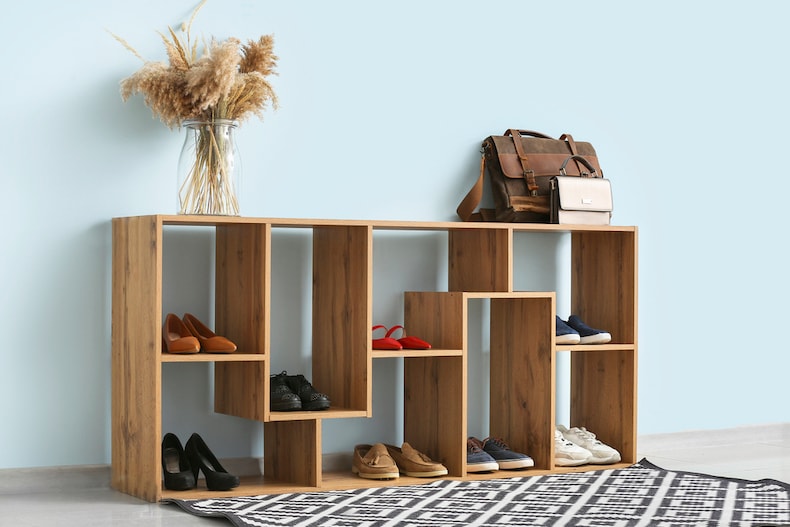 Storage Shelf
People are always in search of the latest and larger means through which their belongings can be effectively stored.
Even in the corporate space, this has given popularity to the development of the idea of stockpiling as a means of maintaining your belongings in good condition and arranging them in an appealing pattern.
Meanwhile, this is achievable through containers or pieces of furniture that promote both form and function. And that's where the wooden storage shelf pops up.
It has diverse configurations and some have drawers and smaller units to house your daily essentials ranging from ski boots to shawls.
Final Words
We believe that there are more wooden home decor accessories and items in the industry. However, we've tried to restrict this content to the minimum.
It's a bit tedious but we selected the finest among the accessories according to user evaluations and further spiced them with some latest styles.
Hence, suppose you've gotten any idea that invokes your attention or you would like to get some of our ergonomic pieces of furniture for your home and office, you should hop onto the Flexispot webpage.