Decluttering your workstation is indeed an additional chore when you have to get rid of many clutters. It becomes challenging when you have a lot of paper and extra office materials that you need to keep away to have a nice-looking and tidy workstation. However, a clean workstation is more than having an organized place. Neat workstations are also ergonomically protected places. When your workstation is orderly and organized, you could get protected against injuries from falling objects, sharp office tools, and tripping over tangled wires. 
If you wonder how these things work, let Flexispot help you do that task in your workstation. Today's article will be about the three tips on how you could make your workstation more organized. Yet, before we go straight to those tips, let us first understand the importance of knowing the brand you would use for your office decluttering.
About Flexispot
When we talk about the ergonomic equipment you could use in your workstation, Flexispot is the most advisable brand to trust. It's the producer of the global brand of standing desks, ergonomic chairs, desk bikes, stand-up desks, and desk organizers. At Flexispot, you can ensure that your ergonomic safety is what they prioritize. They don't just produce stand-up desks with screws and keypads; they create innovations that you can use with the help of an incredible motor lifting system. When they have chairs, these are not just pieces with adjusters, and cushions-they are creations that could save you from biomechanical pain and protect your spine well. Hence, they create ergonomic chairs. 
Therefore, when you look for desk organizers from Flexispot, it could provide you storage drawers and cabinets that can ensure your one hundred percent safety. Hence, trusting this global brand that commits to professionalism and mastery of its products is the best choice you can make. What you can do is not just spend money on office equipment but invest for long-time protection against injuries that would break the bank. So, as you read along with the following tips, you may think of the best ergonomic products that you'd like to have for your decluttering. 
Decluttered and Protected
The following tips on how you could maintain the tidiness and order at your workstation are also applicable to your work area at home. These tips could help you with avoiding the potential hazards in your workstation. So, here are the following tips that you could vary or change a bit when you try doing it on your own. 
1. Avoid Tripping: Organize the Wires. 
It is the first tip on our list. Injuries take place in the office because of the wires scattered all over the workstation. An organized and injury-free place is the one that has the wires on the side or a place where you can easily tie the cables neatly and correctly.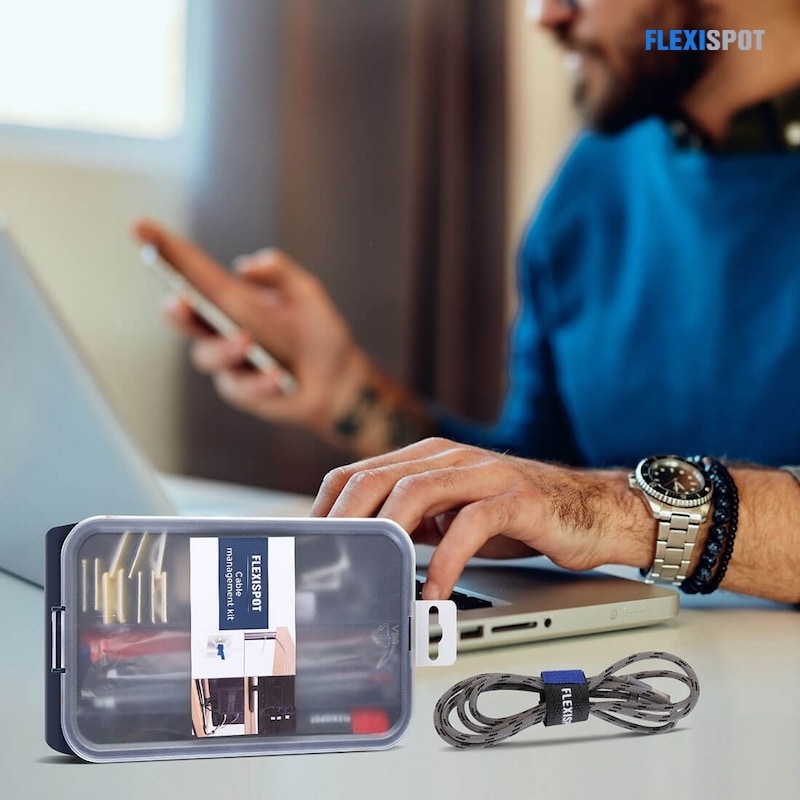 The Cable Management Kit Organizer Set CMP013 from Flexispot is a bright solution for your problem. It is an organizer set that has self-adhesive cable ties and cord bundles. So, once you use these organizers on your workstation, you would notice that the flooring would be clear from wires that used to scatter all over before. You could ensure that you would not trip over the floor because of entangled cables. 
2. Put Papers in the Drawers. 
The second tip is another way to clear out the space on your workstation. Your folders should get neatly tucked inside cabinets to avoid distress from seeing these documents on your table. 
When organizing your workstation and keeping the folders and paper intact, you may use an ergonomic drawer to ensure a smooth rolling and opening of the drawers. That's why Mobile File Cabinet CB2 from Flexispot can heed your needs when it comes to practical and valuable organizers. 
The Mobile File Cabinet CB2 can help you ease the distress of clearing out your workspace. This cabinet has steel panels that could ensure smooth rolling of the drawers compared to non-ergonomic cabinets that eventually get rusty. The Mobile file cabinet of Flexispot has a durability that could last for a long time. 
I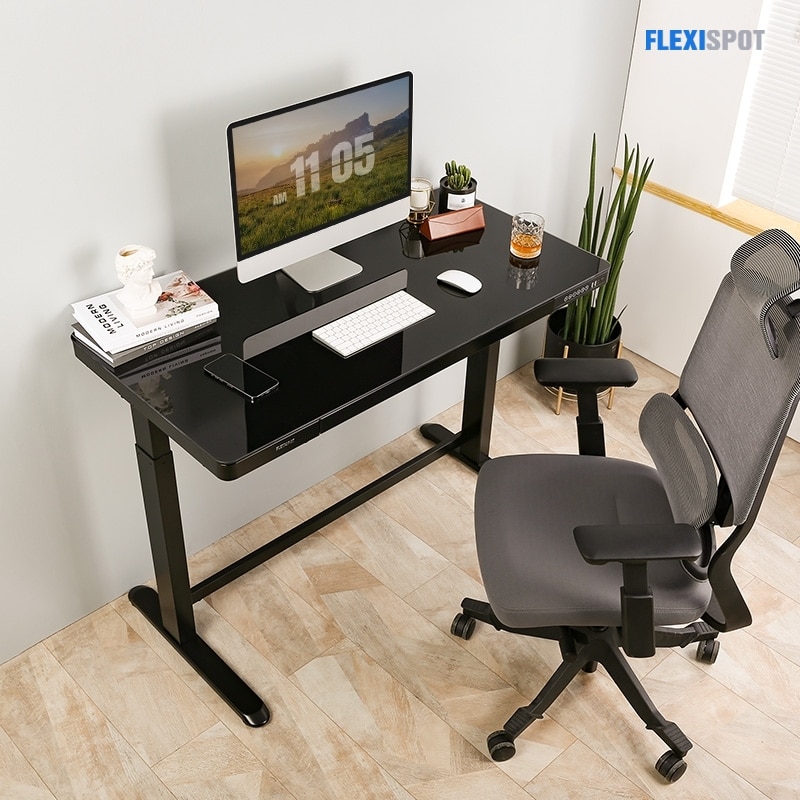 ndeed, Flexispot ensures that all their products are from stand-up desks like the Comhar All-in-1 Standing Desk Glasstop. The ergonomic chair like the Soutien Ergonomic Office Chair and the ergonomic cabinets like the product above can protect the users from the ergonomic pain when one uses a piece of equipment that does not help the person have the proper posture and movement. So, choosing Flexispot could help you a lot in making your workstation organized and tidy while you protect yourself from injuries. 
3. Make your Storage Spaces Spacious Enough.
When you decide to make your workstation organized and free from hazards, you need a piece of equipment that is spacious enough for you to put your things inside. One of these ergonomic pieces is the Esben Standing Desk UD4, a stand-up desk that has spacious drawers.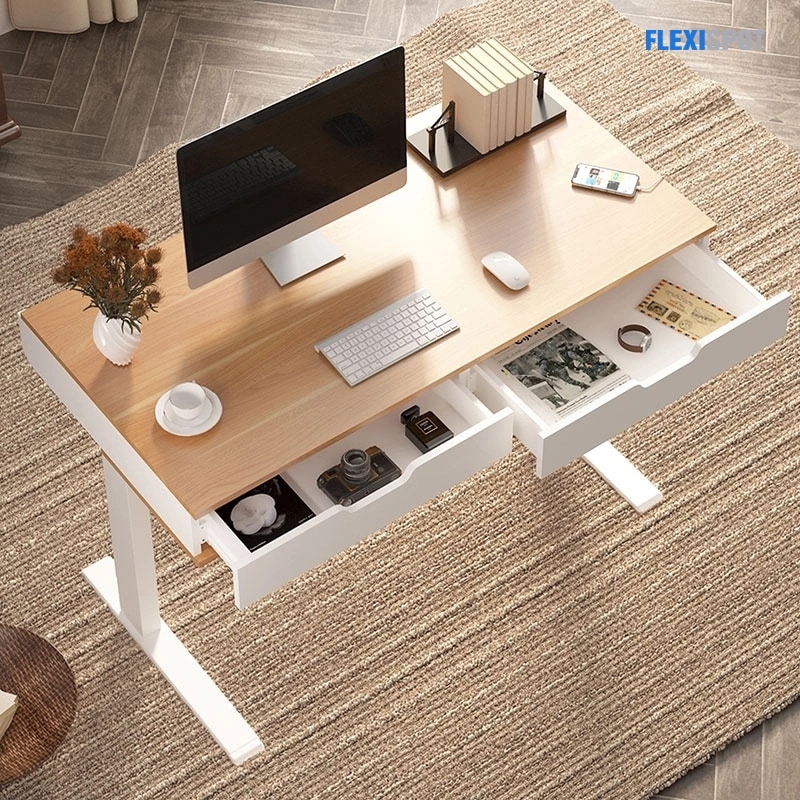 With the Esben Standing Desk UD4, you can store the small office materials on your tables, such as writing tools, sticky notes, notepads, and markers. So, this is a practical product that can help you avoid the potential hazards on your workstation. So, deciding to buy this product can help you protect yourself from injuries that usually take place in the office. 
Final Thoughts
So, the three tips that we mentioned above are just some of the pragmatic ways to keep your workplace organized and free from injuries. You could apply these things at work or home. There is a big reason you could use these Flexispot products in organizing your workplace, and that is the practicability of these equipment pieces. Indeed their functionalities and features are suitable for their prices. With these products, you could save more of your money. You could get protected against medical expenses due to the potential injuries from getting tripped or hurt from these hazards. That's why Flexispot products are the best choice for you as an office worker.