With more individuals working at home these days, we understand the value of a well-designed home office and its impact on efficiency, productivity, and even job happiness. Our workspaces are the havens where we go to get motivated to cross things off our to-do checklists. Our home office space must conjure the convenience and functionality required to fuel the fire within us and maximize our productivity throughout our working hours.
Working remotely might be great, but staying inspired in your comfort zone can be tricky. That's why it's critical to design a workspace that inspires you across the day. It's all about encouraging the person who'll be working in the room when it comes to creating a home office space. It ought to be a place where they would enjoy spending eight hours per day.
There are a myriad of techniques to organize and design your home workspace so that each square inch serves a specific purpose while maintaining a professional appearance. Continue reading for some of our favorite ideas for a productive home office.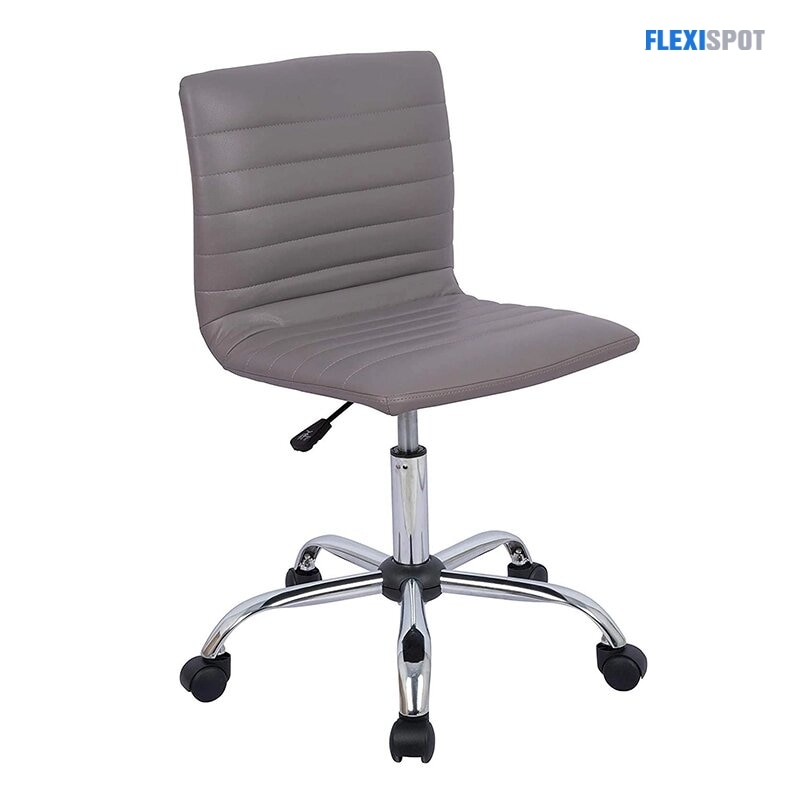 Fun and Practical Desk Chair
The appropriate desk chair can significantly boost your productivity. When it comes to getting comfortable, every one of us has various areas that require care. While some people need assistance with their posture, others deal with stiffness. However, everyone's comfort always comes first.
Recommendation
FlexiSpot Ribbed Low Back Armless Swivel Desk Chair
Sturdy and functional

: 360-degree swivel wheels provide sufficient stability and maneuverability. Rolling about your desk is discrete and straightforward, plus it protects your floor from scratches.

Ergonomic support

: A leather bucket seat expands your sitting area and makes it comfier. Even if you sit for hours, the back of the chair provides adequate support to the hips, so you will not feel exhausted.

Simple to use

: The armless shape makes it simple to slide this chair beneath your computer desk, makeup table, writing desk, or office desk.

Versatility

: Rust resistance and sturdiness are excellent, making them ideal for long-term use. Suitable for your bedroom, dorm room, study, or office, among other places.
House Plants Never Disappoint
Bringing the outdoors into your home workspace is a terrific way to keep it looking fresh. Houseplants may not only brighten up your space, but they can also improve the look of your home office. Pollutants like carbon monoxide and formaldehyde can be removed from the air by plants like the Rubber Tree and Peace Lily while also offering your place a warm, welcoming vibe. They're also widely available! Indoor plants are available at your local home improvement store or by ordering them online.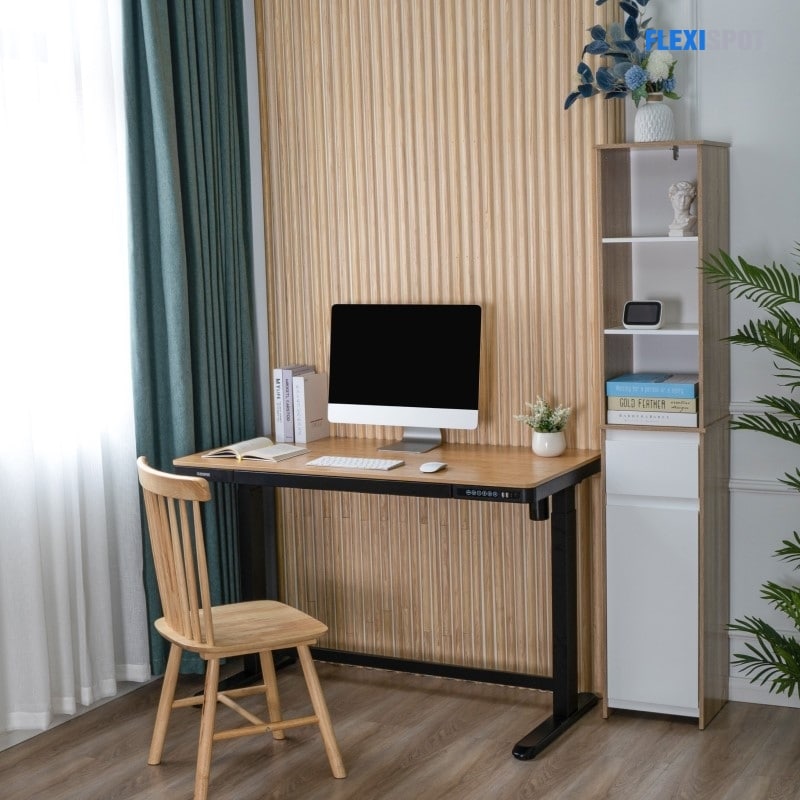 A Corner Desk
Get the corner workspace right in your own house, although it's only a few square feet in the hallway. You can make one for yourself by putting a floating shelf or made-to-measure platform on the wall, then adding a pair of curving wooden shelf brackets painted to match. It has the appearance of a built-in cabinet and provides attractive bracing thanks to the ornamental design. To finish your small but mighty workstation, slip a stool underneath.
You may also opt to use a compact height-adjustable desk that's just the right size for that corner. Standing desks are great for adding some movement into your workdays, allowing you to stretch out your legs and shake off any jitters to get your focus back on track.
Recommendation
FlexiSpot Comhar All-in-One Standing Desk Wooden Top
The Comhar occupies very little room on the floor while delivering one of the largest workstations available. All you need is a nook, corner, or empty wall to fit Comhar and create your own tiny corner office in the comfort of your own home.
Comhar's functional desktop abundantly accommodates your work essentials and is the optimal solution to convey to your brain and body that it's time to go to work.
The anti-collision feature assures safety by preventing the tabletop from being damaged or other items and equipment from being crushed while it is in motion.
The desk structure is made of powder-coated steel tubing that withstands scratches and stains while providing stability even at the maximum setting. If your desk frames are unequal, producing a slanted tabletop, use the leveling glides along the bottom of the desk to straighten and balance it.
Polish Your Supplies
Fall is here, and whatever that entails for your workplace setting, we've got a method to brighten things up. Simply wrap repurposed metal cans or glass vases with beautiful French-toile fabrics in a few gorgeous patterns, then fill with your everyday necessities. That's how easy it is to stay organized and inspired.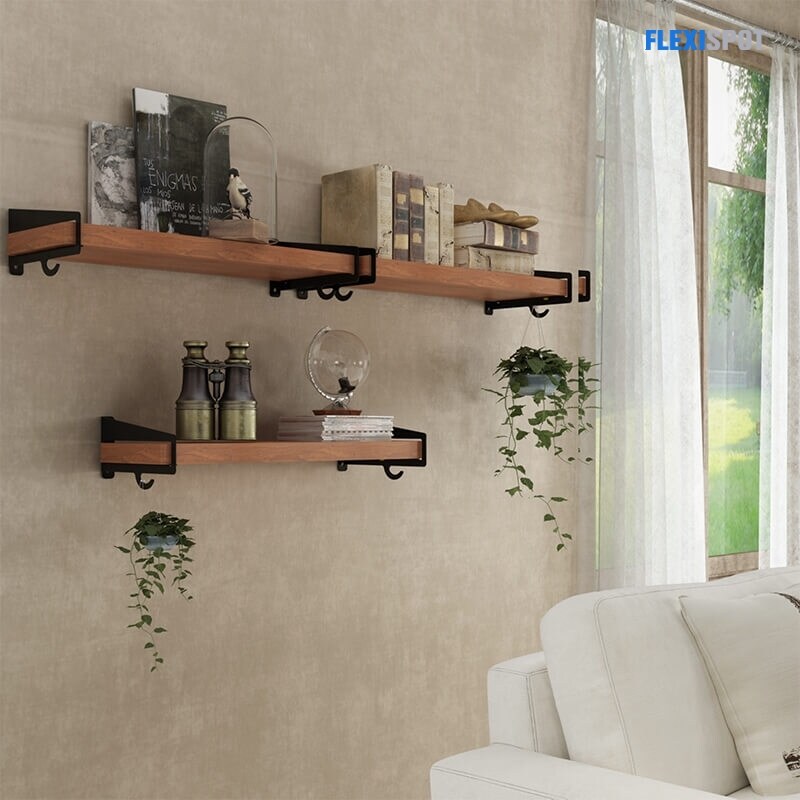 Shelf Them Away
Make the most of the vertical space in your workspace by adding shelves for storage space. For a more tidy, simple look, position a storage cabinet directly over your workstation or install floating shelves. A stand could also be hung on the wall. However, every efficient workspace must have enough storage. It's usually a good idea to have a designated area for significant but not critical items. Make an effort and time to organize all of it on these shelves neatly. Don't forget to name your storage boxes/baskets for easy identification in the future. The more you put away, the more organized your place will look and feel.
Recommendation
The shelves are an excellent method to increase storage space in any home. The shelves are awesome gift ideas for friends and family because they are both useful and attractively made.
Each shelf is sturdy and resilient, holding up to 44 lbs of things. An instruction booklet is included in the package for simple installation.
Each of these shelves has two hooks, making it easier to organize. They are simple to set up and durable enough to support a variety of household items so that they may be installed anywhere in your home or office.
Include Color
Incorporate some colorful paint, colorful linens, and decorative accessories into your home office to make it feel more alive. As a result, you'll be able to establish an inspiring environment in which you'll desire to work.
When it comes to colors, cooler tones are excellent for your contemporary home office design, especially if you have trouble focusing on the job at hand. Anything that is too vivid or bold can be overwhelming, which is the last thing you want when trying to get work done. A neat, clutter-free space with neutral elements is recommended. To brighten up your workstation, you may try a bit of a metallic accent in between.
A Room with a View
In a home workspace, a pleasant view makes a huge difference. Set your desk in front of a window so you can work in natural daylight; this has been shown to boost attentiveness, mood, and even metabolism. No window? Use daylight-simulating LED lamps and take breaks outside.
The Usual Eyesore
Cables and cords are some of the most annoying and unsightly things in your workstation. To hook everything into, we recommend getting a USB hub for your workspace. Additionally, keep spare wires and cables on hand for all of your electronic devices. You may plug them in and forget about them because this is your unique, permanent setting. The great benefit is that all of your cords are sorted and tucked away. Furthermore, when you sit down at work in the morning, you won't be confronted by that twisted sight.
Having a home office allows you to be more connected to yourself and your work. It should be a setting where you can concentrate on your task rather than be distracted.