Struggling to find the perfect standing desk for you?
You are not alone. People often buy the standing desk for its function. They want to stay alert and focused while they are working so being able to stand up and break long sitting hours is the premium that they pay for standing desks. Most of these people do not care about aesthetics at all.
But what if you can have both? Contrary to what others think, there are actually a lot of different kinds of standing desks and you can have one of your dreams if you just search hard enough for it. Well, another option is if you go to the FlexiSpot site and thoroughly look at its catalog of standing desks. Here are different standing desks categorized into three.
Build-Your-Own Series
The standing desks in these series are fully customizable. You can pick your own desktop material which include chipboard, bamboo, fiberboard, solid wood texture, solid wood. You can also choose a desktop color, size, keypad, and frame color. You can select if you want to add casters or not.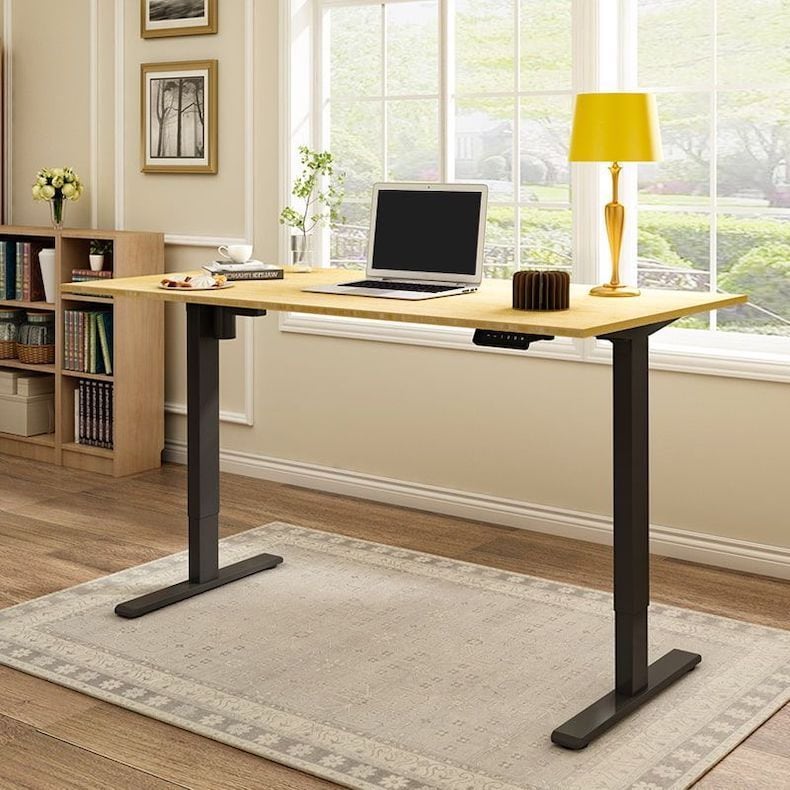 Elegantly designed, it won't be an eyesore in your workspace that already follows an aesthetic. College students or office workers can enjoy using this desk in their quarters when studying or working on their desk jobs. This desk has a loading capacity of 154 pounds, meaning its single motor could carry your belongings with ease. This also comes with a basic or a standard keypad option that can be easily adjusted to your preferred height. You will surely not only feel comfortable in using this desk but will also find your work time the most meaningful and productive.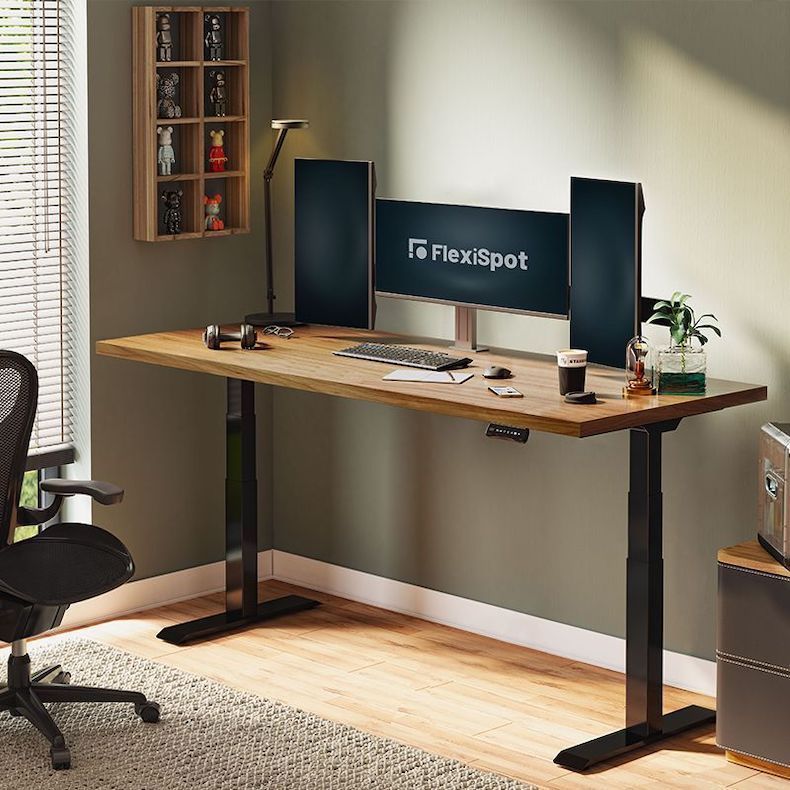 BIFMA-certified, this product is extremely stable and has a reliable weight capacity of 355 pounds. Its leg columns are thicker than the usual while the column gap is scientifically designed to be 0.05 mm, ensuring a smooth lifting operation. The base structure is made of solid carbon steel, reaching an automotive-material grade. It is guaranteed durable, passing 20k motion tests. And plus, you are entitled to a 15-year warranty upon purchase.
Customers also love its sleek appearance with a laser-welding technique used for its frame. It features an aesthetically pleasing holeless leg design and uses a Nordson Enviro Coat powder spraying system that's sustainable and eco-friendly. It is temperature-resistant and has an anti-wear coating which makes sure the color stays consistent for a long period of time.
Its adjustable height range is from 22.8" to 48.4", providing a user-friendly experience for people that stand 4'2" to 6'4".
It comes with an embedded cable tray that is conveniently hidden under the desktop. It makes use of a premium keypad with a USB charging port, two programmable height presets, and a sit-stand reminder.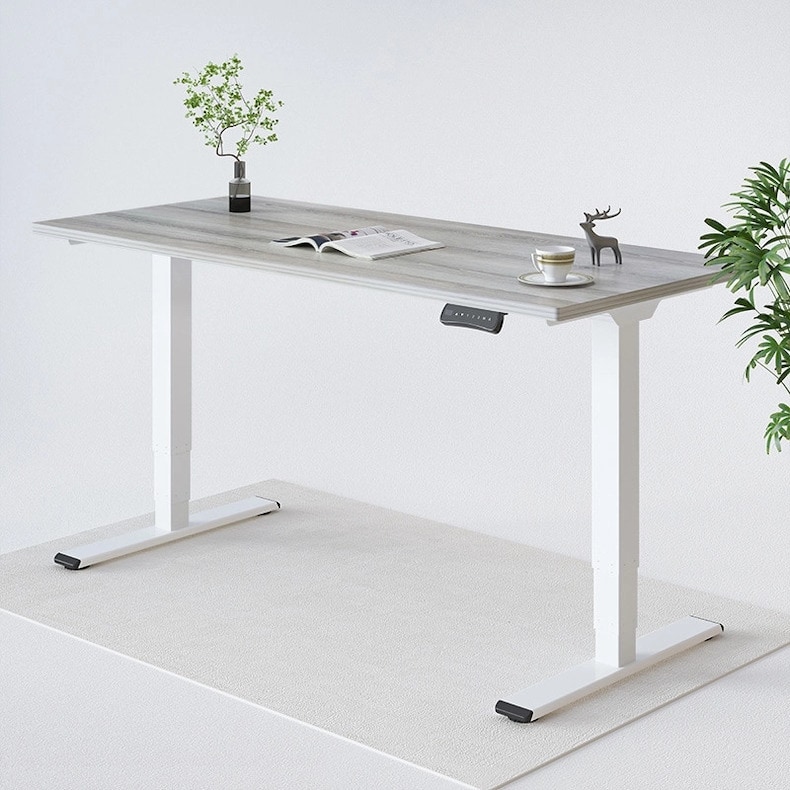 The FlexiSpot E5 uses an improved motor technology to be more user-friendly. Basically, its dual-motor lifting system is combined with the double crossbeam structure which ensures a smoother operation and a stable experience.
No need to worry about its stability because with a loading capacity of up to 220 pounds, it remains sturdy and wobble-free at its highest point and even during movement.
It features an advanced keypad panel featuring three height presets, a sit-stand reminder that allows you to set a timer from 0 to 99 minutes, and an anti-collision feature that automatically stops movement when obstacles are encountered. The height range of this desk is from 24.4 to 50 inches and can be easily used by people from 4'6" to 6'7".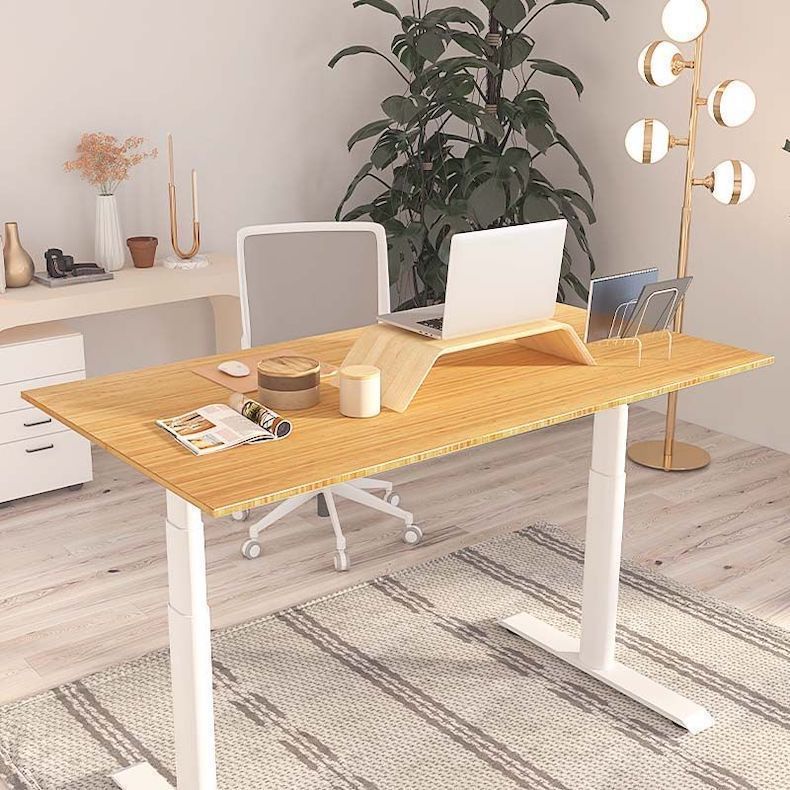 You can conveniently shift from a sitting to a standing position at more regular points of the day. This standing desk has a weight capacity of 275 pounds and you may adjust the height from 23.6" to 49.2" It has an oval column shape design that adds to the total aesthetic of the table. It makes use of a powerful dual-motor lifting system plus multiple desktops, oval legs, a child lock system, an anti-collision feature, cable management, and oval legs. It comes with a multi-function touch keypad that has an LED touch screen, up and down buttons, memory presets, and more.
Bamboo Series
If you want to support FlexiSpot environmental initiatives or are actually buying from FlexiSpot because of these, then you might want to get your hands on a standing desk with a bamboo top.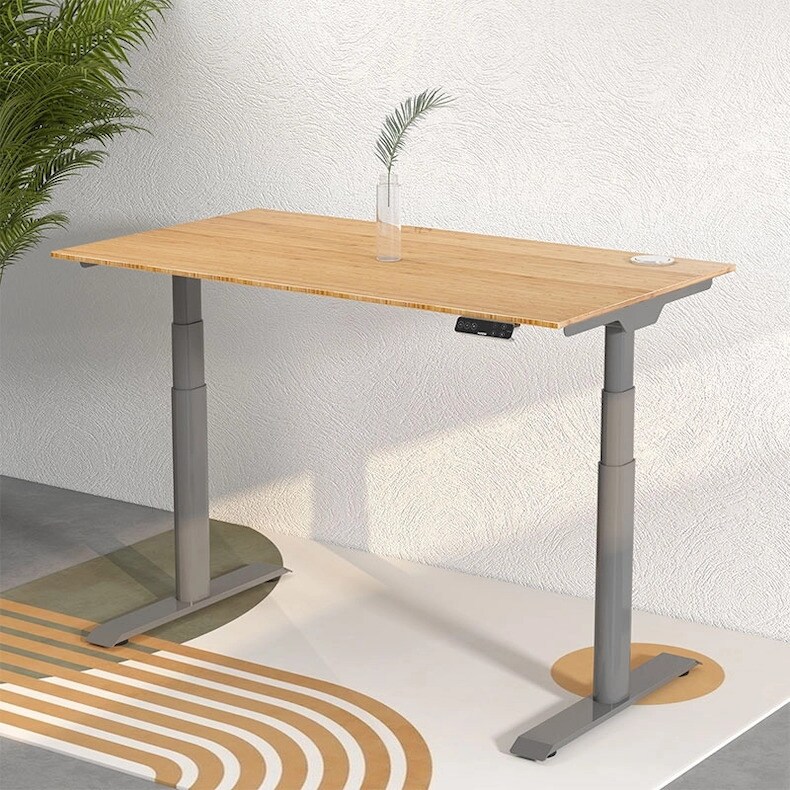 This is one of FlexiSpot's climate-positive products. Its desktop is made of eco-friendly bamboo. It can hold up to 275 pounds of weight and its height can be adjusted from 23.6" to 49.2." It has an enhanced structure, a dual motor, oval legs, a child lock, and an anti-collision system with cable management in place. It is a dual motor that can fit a desktop from 47.2 to 80" wide.
The simpler version and more affordable version is the Kana Bamboo Standing Desk.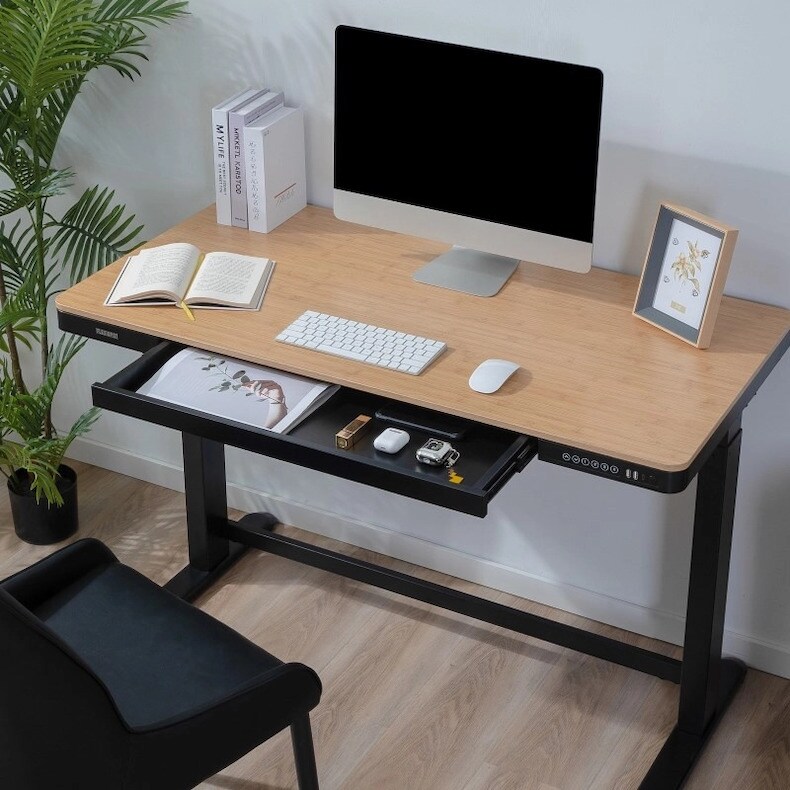 This is a full-featured all-around desk with a robust motor that can easily transition from 28.3" to 47.6". It has four programmable height presets that could accommodate multiple users in the household. It provides 1 Type C and 2 Type A USB charging ports as well as a spacious pull-out storage drawer. It's easy to assemble with three steps: install the table top and desk frame; install desk feet; and connect power cords.
Lifestyle Series
Standing desks at FlexiSpot can also be used for different kinds of lifestyles. Whether you are a creative or analytic, a book worm an avid film enthusiast, there are standing desks that FlexiSpot carries for specific interests.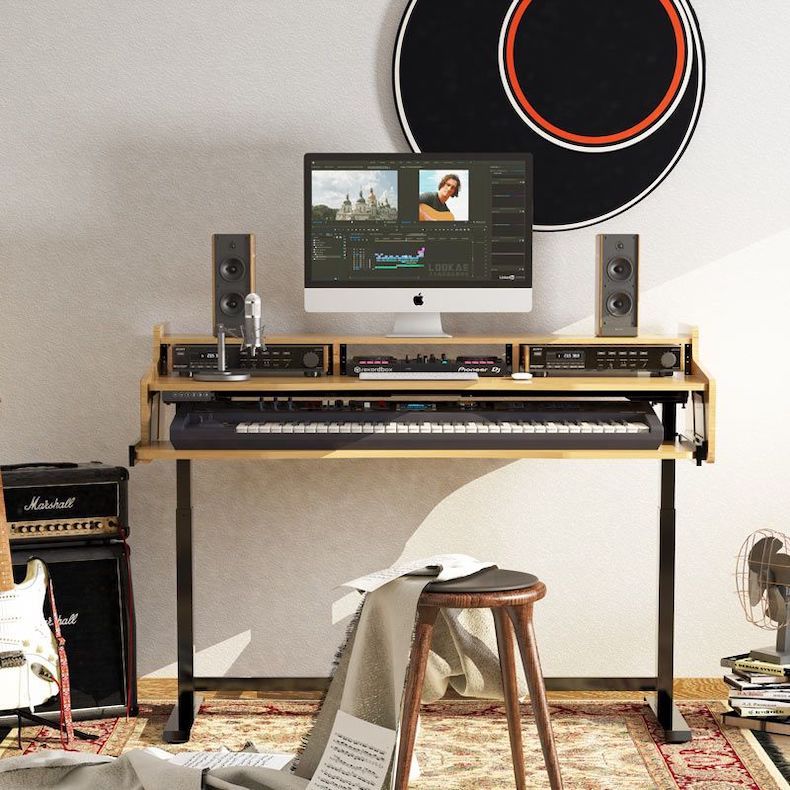 With this desk, you already have your very own music studio at home. It has an 88 keyboard tray and a spacious working surface with a 6U rack space (for the amplifier and equalizer) and a large top-shelf (for two display monitors and speaker monitors). It also comes with a programmable controller that allows you to shift from sitting to standing while making your own music. Moreover, it has an enhanced anti-collision feature that ensures that all your expensive and heavy equipment is safe during the movement of the desk. You can also use it as a gaming desk, a DJ table, or a podcast desk when you're not making music.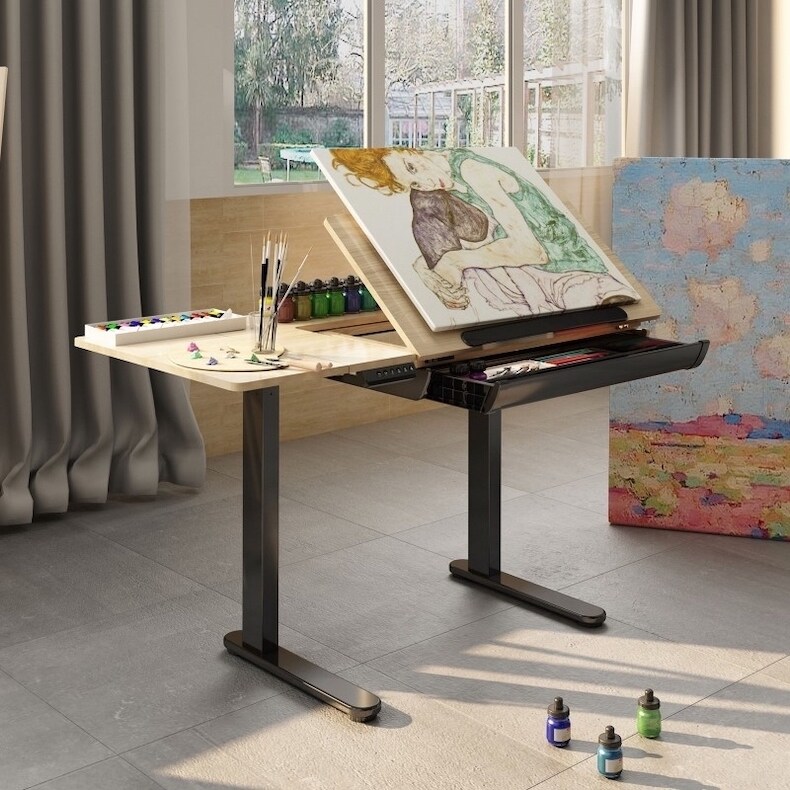 Flexispot has invented this drafting table to help artists stay inspired, motivated, and energized.
It has a height-programmable control panel that is equipped with not only up and down buttons but also four memory customizable presets.
The tabletop can be tilted within 0° to 40° to cater to different tasks---whether you're working, writing, reading, or drawing. As with most of Flexispot's desk products, this table comes with a safety ledge stopper that prevents devices and other desk items from sliding off its surface. Moreover, this drafting table has an expandable desktop that provides an extra 9.8" space. If not needed, it can easily be folded, especially in a small area where there is not ample space, to begin with. The table has a built-in, spacious pull-out drawer for storage that keeps one's belongings out of sight and makes sure the desk is clutter-free.
There are two more series of standing desks on the FlexiSpot site that we'll cover in our next article.