Adjustable beds are multi-hinged foundations that is under your mattress for modified support. An adjustable bed or an adjustable bed frame, adjustable base, or power base still mean the same thing and give you a more comfortable sleeping space. These bed bases are motorized or controlled by a wireless or wired remote, allowing you to adjust your foot, head, and other mattress portions to an elevated position. Other adjustable bed bases contain smart device app support, and controlling it means downloading the app to your tablet or phone.
Adjustable bed bases were only found in hospital rooms some years back, but this has changed over time because people now buy them for their comfort at home. Adjustable bed bases are now available for home use and have several health benefits for their users.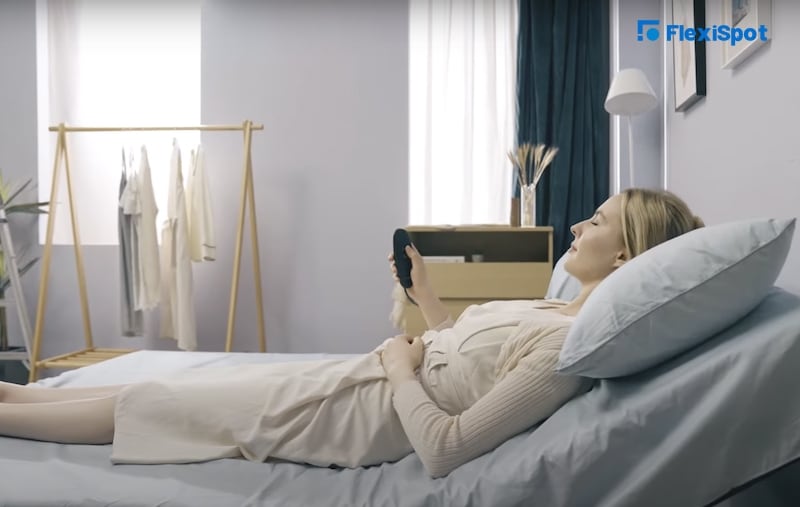 Here are the benefits of getting an adjustable bed base for your bedroom.
1. Reduces back pain.
If you belong with the 39% of Americans who suffer from back ache symptoms, then you can tell the difficulty of trying to get into a comfortable sleep positions. It can change with the help of an adjustable bed base because raising your bed's foot and head can support your spine, and pressure will be taken off your nerves. The mattress gives your back a space that supports your spine by releasing pressure points and having a good sleep.
2. Lightens leg swelling.
Numerous research shows that adjustable bed bases are the best for pregnant women due to issues related to leg swelling. However, It doesn't necessarily have to be for pregnant women. Whether you have leg injuries, have an illness, or stand for long working hours, it is good to keep your legs elevated to avoid swelling. You can experience more pain when your legs lie leveled. An adjustable bed base makes it simple to keep your legs elevated without worrying about slipping off your carefully constructed pillow pile.
3. Relieve chronic pain and arthritis
Using a traditional mattress makes it easier to place unnecessary pressure on your joints, which results in chronic pain and, even worse, arthritis. However, when you use an adjustable bed, it gets easier to find the best position to fall asleep and be comfortable all through the night, leading to eased pain during the day. You can also stimulate the flow of blood n your body by lowering the mattress under your legs during morning hours.
4. Lessens heartburn and acid reflux
Acid reflux is a health condition that is common and produces a burning pain in the throat and lower chest. It usually happens when the stomach acid flows back into the esophagus and is very painful. If the thing that keeps you up at night is the acid reflux, an adjustable bed base might be the answer to your problem because when you elevate your upper body, stomach acids won't have the chance to creep into your throat.
5. Relieves insomnia
Many people are stressed these days. Insomnia has risen with time; about 35% Americans have less than 7 hours of sleep during the night, according to the CDC. The sales of melatonin supplements went through the roof with a 42.6% year-over-year increase in 2020. Several people have tried everything to fix this to no avail. If you are among these people, it might be time for you to consider an adjustable bed base. Whether your insomnia stems from workplace stress, anxiety, chronic pain, or even medication, an adjustable bed base can provide you with different positioning choices that lead to better sleeping experiences. You may even find a position you never thought of before that will put you to sleep fast enough.

What to look for in an adjustable bed base
Overall, here is what you can look for when you want to get yourself the best adjustable bed base;
1. Wall hugging technology features - some adjustable bed bases designed to keep your bed base next to the wall, despite how far forward or backward you decide to recline. An example is when you need to bring your head-bed forward to help you sit in the bed. As your mattress moves forward from the top half, the entire bed base moves backward to the wall. The additional space that would have been left behind typically by moving your mattress forward fills, keeping you where you were but in a more upright position.
2. Remote control features - if you want to find the best adjustable bed base, consider its remote-control features. Adjustable bed bases operate using a remote control. The remote is usually wireless or wired, depending on the base type.
3. Neck tilt - an excellent adjustable bed base has a neck tilt designed with extra flexible function. When your bed top comes up when you want to watch while sitting, the head bed tilts forward, allowing you to sit back and watch your show without straining.
4. Mattress type - if you are looking for the best adjustable bed base, you need to know the kind of mattress that best suit the bed base. You can use various mattress types for your bed base, but innerspring stiffer coil mattresses are not the best and will go horizontal even when fixed moderately. You can get something flexible like a futon mattress, memory foam, or latex that doesn't resist folding. To find a good adjustable bed base means finding a mattress that matches it.
5. Ergonomic design - manufacturers tailor-made the best adjustable bed bases to support the human form. You should probably look deep into the ergonomic design to find the best of the best.
Flexispot adjustable bed bases
Flexispot is a company that has ensured its adjustable bed base products live up to the requirements of the best bed bases. You already know the importance of sleeping well, so I do not want you to be tossing around your bed because you cannot sleep. Therefore, I advise you to read further about these Flexispot adjustable bed bases that are here to save the day.

This product offers a good night of sleep with perfect relaxation and comfort. With it, you can get the support you need for your neck, back, and shoulders, leading to zero pains or aches. The bed with a 10-year guaranteed warranty and a $249.99 budget has head adjustments that range from 0 to 60 degrees, making it easy to find the proper reading, sleeping, or watching TV angle. The feature helps to reduce insomnia, back pain, snoring, and pregnancy discomfort due to its customizable comfort. Its wired remote control is easy to use and makes it quick and straightforward to adjust to different positions. Also, this bed base can stand alone or fit in a standard-sized bed frame without slats, and it offers three height options; 3", 6", and 9" to fit various bed frames.
The fantastic thing about this Flexispot bed base is that it can accommodate individual sleeping preferences. You can place two twin XL beds together, form a split king bed, and position your mattress however you want; hence, it is suitable for different sleeping positions and preferences. The bed base's under-bed storage of a 9" maximum height can store your belonging for you safely. Finally, the bed base is stable and durable since the motorized base can quietly deliver a total thrust of 600kg at a sound level to ensure good sleep. The 10,000 standard tests guarantee its durability it has passed.
Pros
Very comfortable
Separate sleeping preferences
Under-bed storage
Less costly
Cons
Extreme heaviness

With a ten-year warranty and a capacity to carry 3 male adults (600lbs), this is another Flexispot product categorized under the best adjustable bed bases. The bed can ease discomfort and elevate sleep with its 0-60 degrees head incline and 0-35 degrees foot incline that helps you find the best position. It is of whisper-quiet motor and automotive-grade-rust-proof steel that ascertains durability and quality.
The way this bed base is detailed oriented is fascinating. Its retainer bar, specially designed, keeps your mattress secure while adjusting it to prevent sliding. It has an under-bed space as the bed legs have three different heights of 3", 6" and 9" depending on what you need. The bed's 9" max height levels ensure the under-bed storage space can measure up to 25cu. Unlike the Flexispot adjustable bed base EB011, Ft measures up to 15.8cu. Ft. Flexispot provides a standard-sized or stand-alone system that supports average bed bases without slats. Flexispot offers a 30-day risk-free trial and a refund if you return the item, including shipping cost and handling, to customers that order the bed base on the Flexispot website. Get the Flexispot adjustable bed base EB012 for $499.99 only.
Pros
Zero gravity position
Luxury comfort features
Reduce acid reflux
Motion bases help in relaxing
Cons
More costly
One might have to switch mattresses
Final thoughts
If you want childlike sleep and wake up the next day feeling extra fresh, maybe getting an adjustable bed base is the right call for you. To enhance your sleeping experience, get the Flexispot adjustable bed base.