It has happened right in front of our eyes, an evolution that has transformed the world for the better. Technology is perhaps the best thing to happen to the world, and thanks to its continued growth, ergonomic furniture is now a reality. Health concerns resulting from poor posture and prolonged sitting can now be mitigated through the use of these essentials.
Students spend a great deal of their time sitting at their desks, both in school and back at home. Add homeschooling to this picture, and you can see that students need a piece of the active living pie just like workers. Homeschooling kids is not just about getting the curriculum right, the correct study books, and the instructor. Now, more than ever, it is imperative that you consider kids' comfort as they do their school work.
For college students, it is easier to adjust their lifestyle since they have access to information on the benefits of ergonomic furniture and active living. Young children, however, need the guidance of their parents to help them effectively use the right study furniture and equipment. Cultivating an active and healthy lifestyle in kids at a young age will help them avoid common posture mistakes and possible health complications in the future.
Besides health and wellness benefits, the right supplies and equipment have been known to improve productivity and performance. It is critical that you consider the right equipment to help transition students into this lifestyle, whether they are homeschooled or not.

Transitioning to home-style education
We cannot ignore the effects of the pandemic on schools. With so many parents forced to homeschool their kids amid the pandemic, there was a struggle to find the most comfortable areas to conduct studies at home. While most students have a desk set up at home for homework, spending too much time on these desks can cause harm to their growing bodies. Therefore, setting up your home correctly will ease the transition for kids.
On the other hand, older students have a better understanding of the effects of prolonged sitting and using the wrong equipment. We also know that many students use their desk setups for gaming too—ergonomic equipment range from standing desks, anti-fatigue mats, desk converters, and ergonomic chairs.
Ergonomic furniture at school
Away from the home setting, schools can also benefit from incorporating ergonomics in their classrooms. It is important to consider the health and comfort of students since they spend most of their day at school. According to experts, though students are generally more active than working people, it is still essential that they use the right equipment during the hours they need to sit and concentrate.
Ergonomic essentials for students
The most basic supplies are a desk and a chair. However, you can incorporate other accessories like ergonomic keyboards, anti-fatigue mats, and others. Before you go out and purchase the first desk you find, it is important to consider your child's age. This helps guide you on the desk height and size as well as functionality. The needs of a teenager, for instance, will differ significantly from those of a kindergartener or college student.
For families, some desks can be used by the entire family; you can invest in one of these for younger, middle, and older kids, as well as your own use. Not to mention, you can now purchase furniture that grows with your child. Let's dive into the essentials you need:

A standing desk
Standing desks give you the choice of working while standing. The very first standing desks didn't allow you to choose between sitting or standing, but now, with sit-to-stand desks, you can switch throughout the school day. Standing desks come in an assortment of sizes, fitted with many different features; it is, therefore, essential to choose the suitable standing desk for school work. Studies have found that students who switch between sitting and standing find it better to focus and concentrate for extended periods.
Benefits of standing desks for students
Increased productivity and concentration – as mentioned above, students have better performance when using a sit-stand desk.
Standing desks help students stretch their bodies while working. This helps remove pains from poor posture.
Standing desks boost students' overall mood and energy, making them more receptive to the material they are studying.
The downsides
There is a downside with everything, and standing desks are no exception. 
Standing too long is not suitable for students.
The first disadvantage is that standing too long is not good for you. Thing is, sitting or standing too long are both detrimental. Therefore, the trick is to regularly switch between sitting and standing to move your body and avoid too much strain.
Standing wrong can cause lifelong issues.
Just like slouched sitting leads to aches, you can also get health issues from standing wrong. The best way to stand is by applying pressure on both feet; leaning on one side of your body too much can cause you pain.

Standing desks for students
There is a range of standing desks from FlexiSpot that are ideal for kids. Take, for instance, the Flexispot height adjustable standing desk for kids. It is a desk that grows with your child, fit for kindergarteners all the way to college. The desk is built to foster a healthy learning environment for kids as they grow. 
One of its notable features is the waterproof surface that prevents spills and messes when working. It also has rounded edges for safety. The bag hook is convenient, keeping all your child's school supplies within reach. The child-proof frame and the anti-collision sensors prevent injuries by holding the desk surface in place.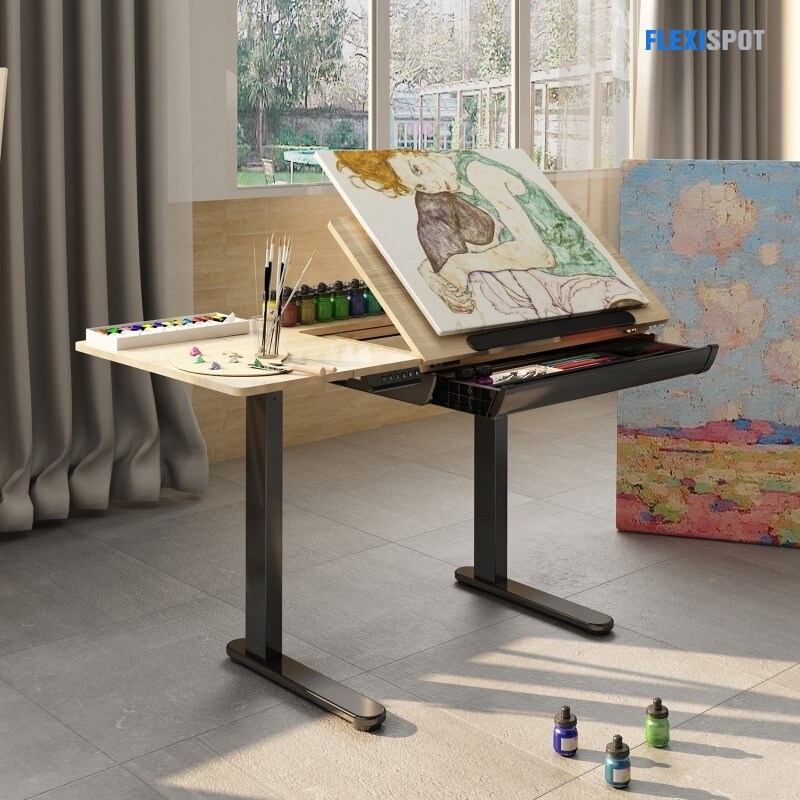 For college students, Flexispot features adjustable desks such as the ED1B height adjustable drafting table. The table is uniquely designed to handle large-scale drawing, writing, reading, and other school projects. It gives students the freedom to switch between sitting and standing, expand their desk surface and tilt it to their preferred setting. The tiltable top ranges from 0-40 degrees, giving you the ideal angle for a variety of tasks. A safety ledge stopper prevents your paper, canvas, or book from sliding off the surface. The extended work surface is also foldable to save on space.
Ergonomic chairs 
Getting the right chair to use at your desk is important. An ergonomic chair provides adjustable lumbar support, neck and arm support, height adjustment, and seat tilt. There are many kinds of chairs that you can choose for students; the secret is to compare the features to your needs.
Benefits of ergonomic chairs
The chair provides the proper body support for students as they study.
Enhanced comfort – learners will not struggle to find a comfortable position to work in.
Promotes productivity and prolonged concentration
The downsides
The chair should always be set up according to the user's needs; therefore, it cannot be shared among users. The ideal seat position for one student differs from that of their younger or older sibling.

Best chairs for students
The trick with younger children is to encourage them to switch between sitting and standing often. Flexispot offers a range of budget-friendly options that are adjustable and breathable. Another option is an ergonomic stool which promotes posture and engages the child's muscles as they work on their schoolwork.
The Flexispot OC6B executive office chair is an ideal ergonomic chair for college students. The metal base of the OC6B is durable and sturdy even at the highest height setting. It is also omnidirectional, with five legs for extra support. The mesh back offers adequate support for the back, ensuring comfort when using the chair. The thick padded seat cushions your body from strain when working on long projects.
Accessories for students
Monitor arm
A monitor arm can help students achieve the ideal position for their monitor while they work. The monitor arm attaches to the desk to hold the computer in place and is especially handy for growing kids who will need to adjust the monitor position from time to time.
The monitor arm allows users to adjust the height of their monitor as they grow taller. It is also the addition you need to enable multiple users to work on an ergonomically set up desk.
Keyboard and Mouse
Getting the correct keyboard and mouse for your study area is also important. Having a mouse that fits into the student's hand helps them avoid wrist pain and discomfort. A correctly set up keyboard also allows students to work comfortably for longer.
To wrap up
As you prepare your child(ren) for back-to-school, besides the obvious books and pens, it is also vital to consider ergonomic supplies and equipment. This is especially important for parents who homeschool their kids. While it might take longer for schools to buy ergonomic furniture for students, you can start by introducing an active lifestyle at home.
College students should also invest in ergonomic furniture for productivity, health, and readiness for the job market. To score the best equipment at pocket-friendly prices, take advantage of Flexispot's cutting-edge ergonomic furniture and their deals.