This may be an all-too-familiar scenario for you. You think you should exercise today but then you look at your workload and put it on hold again. The next day, the same thing happens. You tell yourself you're going to exercise the next day but the workout session never materializes. It might have even become second nature to you to just pass it on tomorrow until you never get to do it.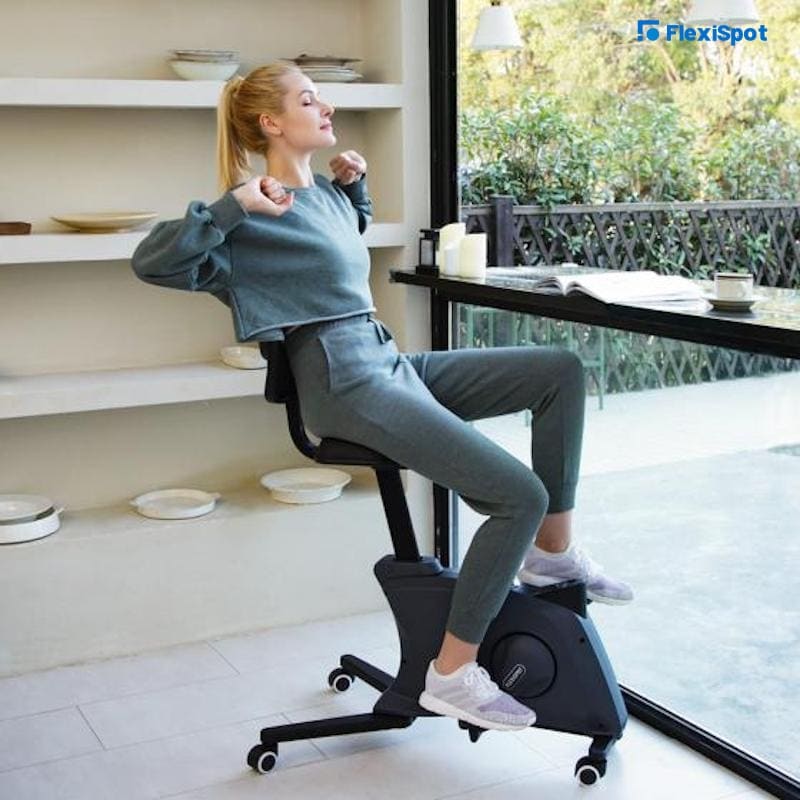 You may get by with your sedentary lifestyle without a glitch. But know that the more you maintain poor health choices, the higher the tendency for various health issues to arise in the future. While some may still be managed, there are others that might be beyond cure. You may suffer from heart disease, high blood pressure, muscle degeneration including the possibility of leg atrophy, diabetes, muscle soreness, neck strain, lumbar pain, and other related disorders. Living a sedentary lifestyle may also lead to difficulty in gaining focus, depression, and anxiety.
Because we need to pay bills and there are many things in life that we need money to do, work takes over more than half of our day-to-day lives. Considering all our responsibilities and dreams in life, work is a priority. For some or dare we say, most of us, health takes a backburner that never really yields good results. Once you take your health for granted, you may suffer the consequences at present and in the future. So before this happens, there are many ways we try to live healthier lives. Some eat healthy food; some attempt to sleep better. But for most, exercise never really makes the cut. Without motivation and discipline, it's hard for most of us to put exercise in the mix. We crave for a way to put it into our schedules without taking time off of our work. An even more ideal situation is when the desk chair could actually give the workout that you need for the day. Well, dreams do come true, because a fitness slash office chair really does exist!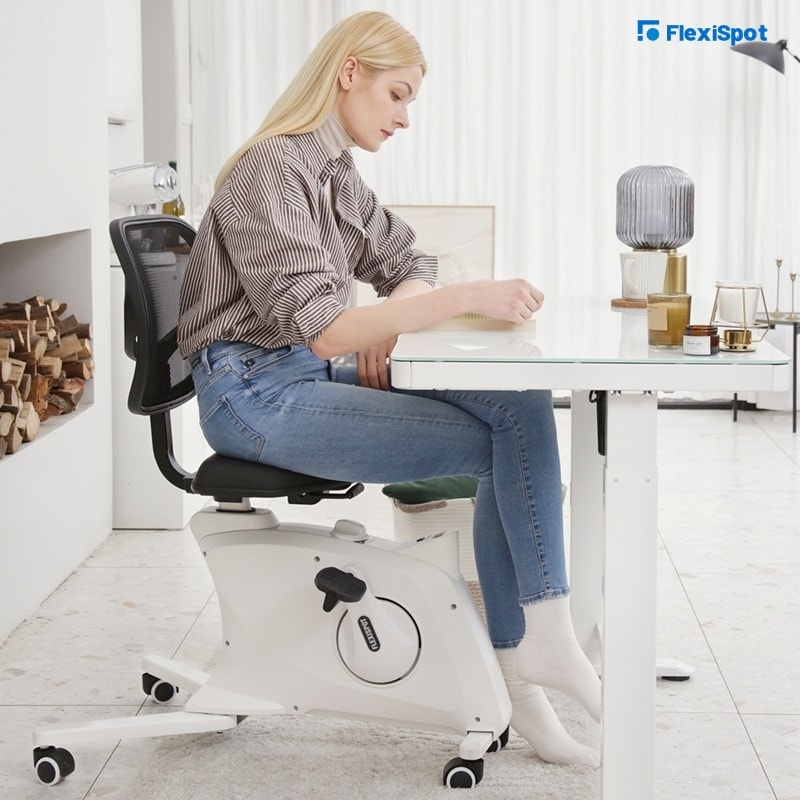 Fitness chairs are on-trend, and with good reason. Add this to your workstation and you'll be amazed with what one chair could do to inject movement in your daily work setup without leaving you exhausted or uncomfortable. Nowadays, there are already many different styles and types of fitness chairs available in the market. There are also attachments you may add to the chair that will make it perfectly suited for both the home and office. You could definitely shed some pounds while being productive at work and also not taking up that much space in your office area at home.
There are several types that fitness chairs could be categorized under. The two most important are stability and resistance, and under these two are more classifications. Balance ball chairs, for instance, fall under the stability and are great to use regardless if it has a ball chair base. Ergonomic chairs are another classification.
In terms of resistance chairs, this type offers features that provide a full workout. This means your muscles are treated to a good workout that could significantly lose some pounds for you if that is your goal. It won't even require you to use the fitness chair for hours while finishing your tasks. All you need is a quick 5-minute break, and it will already make a big difference. This could count as a mental break from your draining work as well as provide your body with the physical exercise that it needs.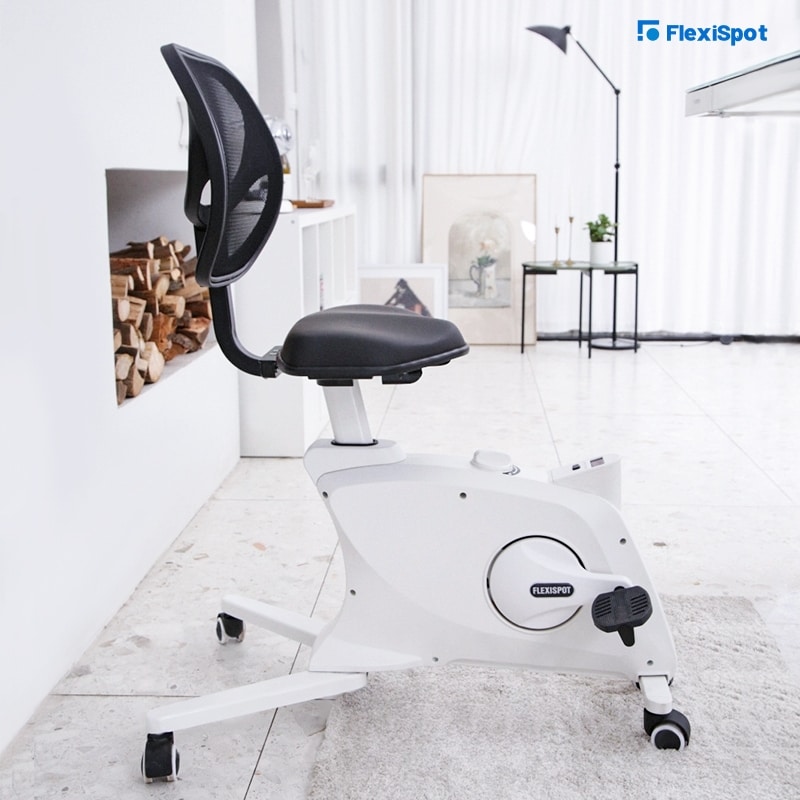 A famous example of this type of fitness chair is Flexispot's Sit2Go 2-in-1 Fitness Chair. This was specifically designed to provide its users with maximum comfort during work time or whenever you just want to sit on it. It comes with a breathable mesh backrest that keeps the back cool and is stable when leaning towards it. Aside from that, the seat cushion supports your body weight without any pressure. Many users attest to how comfortable it is that they might even say it feels like it was made for a sedentary lifestyle.
Moreover, the seat of this chair is adjustable so you can set it to a height ideal for you. If living in a big household with people of varying ages, the chair can be easily adjusted to suit people of different heights, across ages. Aside from using it during work, you could also encourage your children to start young in fitness and spend some time on the chair instead of just chilling on the couch playing video games.
In case you're wondering where the fitness part is, the bottom of this chair is a cycling machine. You may look at it as an under-desk fitness accessory. This also comes with eight resistance levels so that you could adjust it depending on what's comfortable to you and what you need. People also love that it comes with a small monitor that tells important information in your weight management journey including a calorie tracker and a customizable cardio program. To start your workout, you don't even need to wear proper shoes because the pedals are already very comfortable.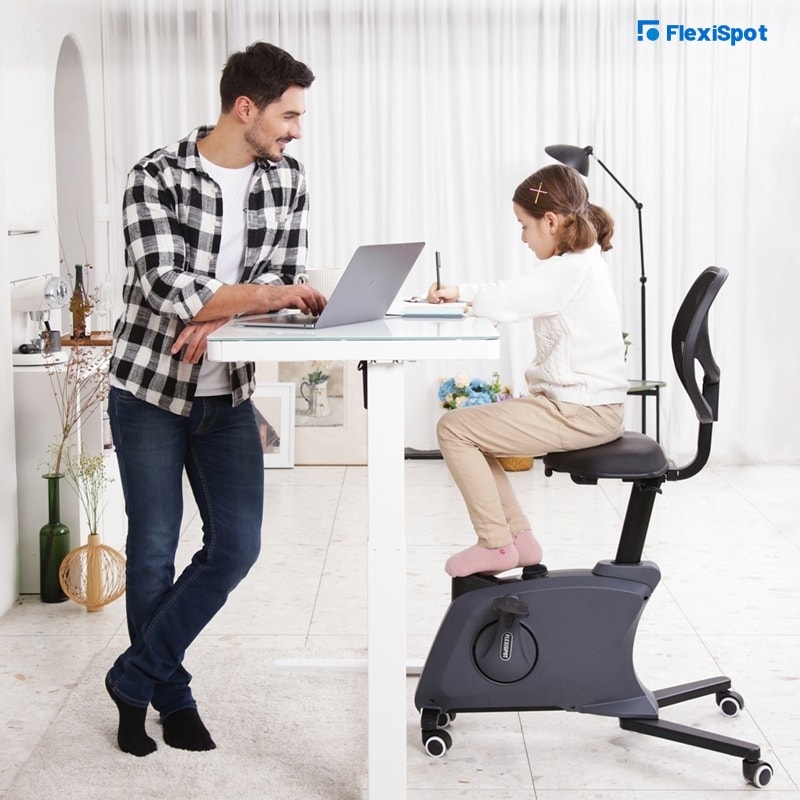 In a shared space, there's no worrying about the noise the pedaling motion might create for fear of disturbing others. The motor runs in a smooth and quiet manner regardless of how fast or slow, how long or short you pedal. This will also help you personally to have a clear mind and sharp focus even while exercising.
If the worry is about limited space in the room, then this fitness chair is perfect because it's compact and will take only about the same amount of space an ergonomic computer chair will. It also has durable caster wheels that allow it to be moved around from one room to another without needing to lift it.
Most importantly, this chair has an ergonomic design that won't give you back, neck, shoulder, leg, or foot pain. You'll be investing in your health because even if you're sitting on the chair for prolonged hours, you still have the option to exercise as much as you want anytime. All you need to do is look down and there's your reminder right there to move your feet.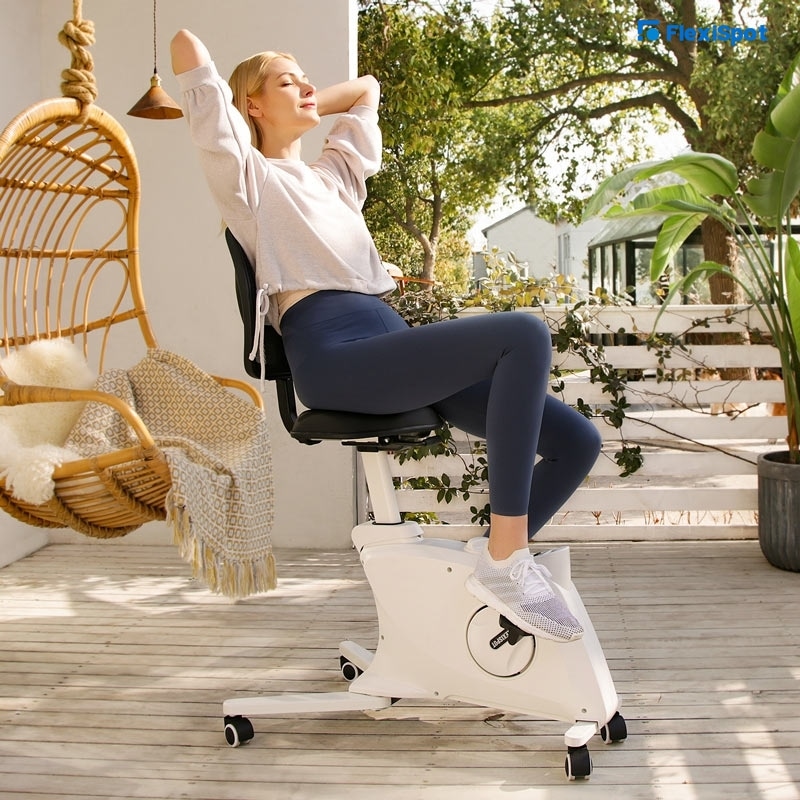 Fun fact: exercising can give you endorphins or happy hormones. When you're feeling stressed or are stuck in a creative rut or struggling with productivity, you can get back on track and have your mood uplifted by pedaling.
At the end of the day, regardless of the chair you choose, properly set it up for maximum comfort that won't compromise your posture.