My life was a wreck back in 2019. I was six months pregnant when my husband discovered that he had Stage 4 pancreatic cancer. The doctor gave him the dreaded six-month life sentence; there was nothing we could do but wait. It all happened so fast. I only had to blink once and right before me was my husband's hospital bed---him lying down with our newborn wrapped in his frail hands. He was noticeably weak but still mustered a smile for our baby who I heard giggle for the first time that day.
It was December 2019 and I was widowed with a three-month-old son welcoming his first Christmas without a father. We managed and when I had to report back to work in January, my mom thankfully volunteered for nanny duties. It was a difficult time; I couldn't focus on work because I had little to no sleep taking care of a baby every time I got home.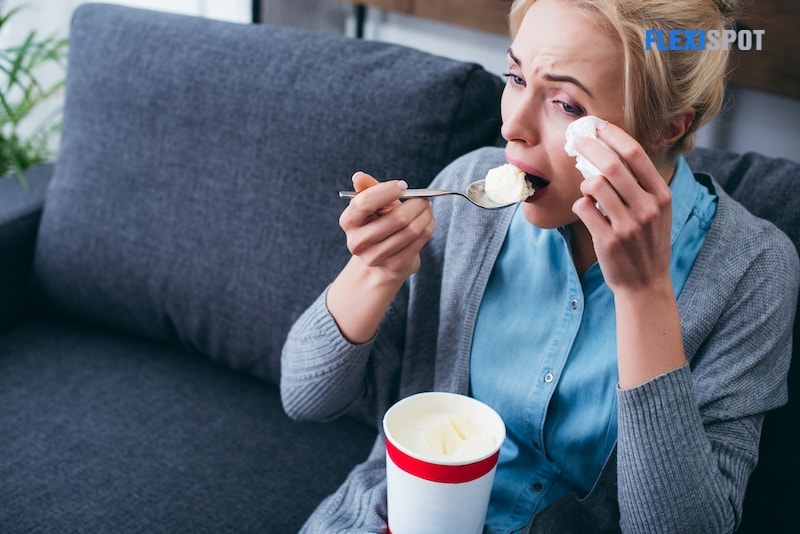 I began eating the stress out. I was pretty active before my pregnancy but I stopped exercising altogether because aside from lack of motivation, there was simply no time to take care of myself anymore. I would have breakdowns every now and then that became a cause of worry at work. I heard my immediate supervisor wanted me to take a rest for "a while," but I knew what it meant. I couldn't afford to take the axe so I was personally thankful when everyone was suddenly sent home to report remotely in the meantime. I was working at a health insurance company so operations continued and our office was considering the work-from-home set-up for the long-term. It was a better option than to have our report in the office and possibly get infected by COVID-19.
At first, it was a pleasure to see my baby 24/7 but he became fussier as the days went by. He would cry when I was in video meetings when I was having my lunch break when I had a difficult deadline to meet. Working from home wasn't so much an ideal situation anymore. It became harder to focus, especially with the random interruptions throughout the day.
There was a time though that I got to do yoga, it being the warm-up for our video meeting with the department bosses. I finally had the opportunity to roll out my mat and do some much-needed stretches after a year of no exercise whatsoever. I felt recharged and renewed with the hope that I could return to an active lifestyle. I told myself it was finally time to regain control of my life.
But as much as I didn't want to lose the momentum, I was still at a loss on how I could manage to squeeze fitness into my hectic schedule. The solution came from one of my officemates who shared in one of our check-ins how a desk bike has been changing her life. She, too, was a single mom who wanted to basically live a healthy lifestyle because we weren't growing any younger. The desk bike was a game-changer for her. While doing her weekly reports, she'd pedal her way to finishing it and submitting it on time, all while high on endorphins. I messaged her privately about it and she told me she got it from the site called Flexispot.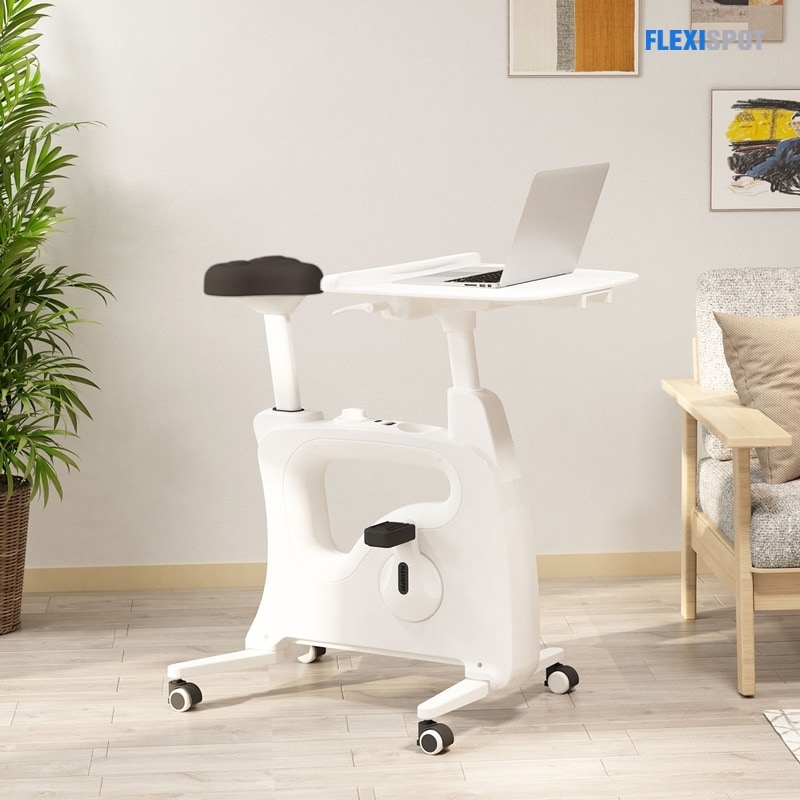 I checked, took note of the specifications, read some reviews, and was sold. It was an added expense but an investment I was willing to take if it would serve as a mood booster and a healthy pick-me-up that I knew would help me be more present and available for my son. I checked out the All-in-One desk bike and it is, without a doubt, the best purchase I've ever made in my life.
The delivery arrived earlier than expected. I was so excited to try it out and the assembly time just took me less than two minutes because the bike already arrived pretty much assembled. I was seated on the bike in no time, ready to get some work done while cycling. The pedals were easy to maneuver, although the seat was slightly uncomfortable from the start. It was a minor issue because I was still getting used to the feel of it. Sure enough, after a few days, I was more than comfortable with my desk bike. I already knew my desired height when using it while I work and when I use it to solely exercise.
Now, I literally can't work anymore without using my desk bike. I've been gradually increasing the resistance level after the first two weeks to level up and challenge myself more. My officemate who recommended the bike became my accountability partner. Sometimes, instead of taking our lunch breaks, we'll have a cycling session together and have one of us lead the routine, moving with party music. We would come out of the virtual meeting feeling so young and alive! For these sessions, I had to remove the desk that comes with the bike. I contacted Customer Service and they made sure to respond to my query right away. They sent me clear instructions on what to do and possible repercussions if I proceed with removing the desk tray. Honestly, one of the best customer service experiences I've ever had.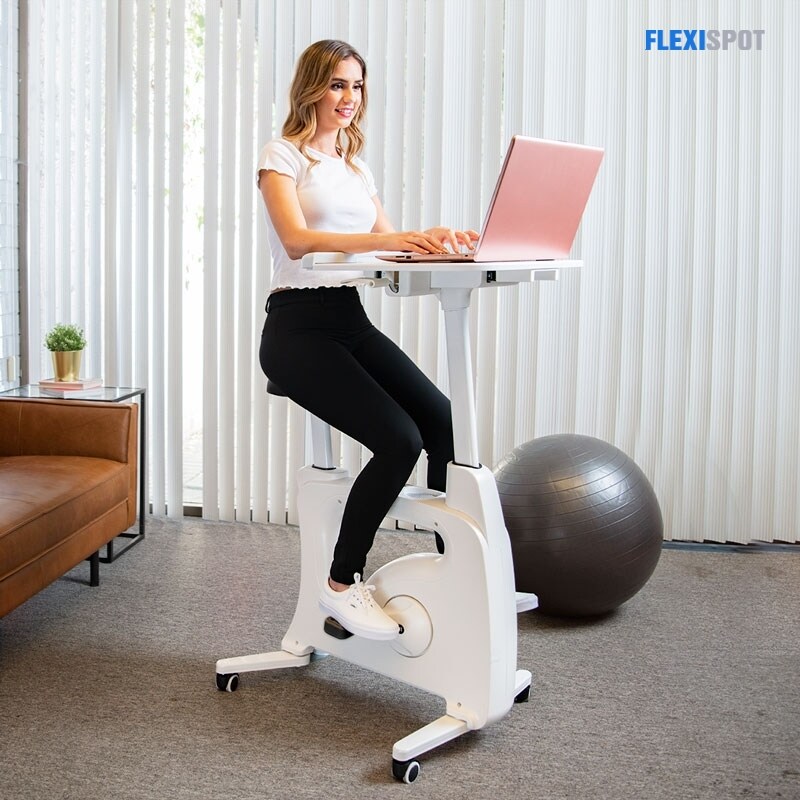 I couldn't even begin to write down the effects the bike has done to improve my efficiency at work. I am a financial analyst and my job is to advise my company on what investments to take and give guidance on expenditure to keep our balance sheet balanced. First, the desktop space was just enough for my laptop. If I needed anything else, it was easy to move the bike around because of the caster wheels that came along with it. Not only was I finishing my reports in advance, but the quality of my performance also vastly improved. My superior is even thinking of endorsing me for a promotion. Just cycling while doing work has helped me stay alert, value my work more, and be generally happy that I get to do what I do.
People always ask if I lost weight through the bike. I was able to count my calories burned through its built-in Integrated Digital Display, and yes, of course, I was burning some of my fats. But more than anything, the bike was instrumental to jumpstart an active life for me again. I was able to reinstate a sustainable workout routine for a single working mom like me.
The changes that have happened since I started using the desk bike have served as a huge wake-up call. I realized more than ever the importance of exercise to keep one's mental health in check. I won't ever take it again for granted and I look forward to more innovations that will match what the Flexispot's All-in-One Desk bike has done to my life.