Winter heralds the start of new things; the dawn of a new year, the fall of the White walker, and a chance at a clearer skin.
The nighttime is a period nature gifted us to free ourselves from the physical and mental stress accumulated during the day. And it's that time we get refreshed for the new day that lies ahead.
To achieve this here is all you need to know about an adjustable bed base that gives your sleep-life a new touch.

What is an Adjustable Bed Base?
A major feature that sets adjustable bed bases from a regular one is the programming that gives you a seamless control on a suitable body position.
And that, in itself, will give you a long and refreshing sleep.
An adjustable bed base allows you to voluntarily raise or lower the foot and head of your bed to that height that suits your body positioning to sleep, read or see movies.
Some of these adjustable beds are even built to massage you.
Some are built to reduce the pace at which you or your partner snores. It's all about discovering the best body positioning that works for you.
To cap it all, a perk that comes with many of these adjustable bed bases is its sleek design with an automatic elevation for maximum comfort. Isn't that incredible?

Features You Should Look Out For in an Adjustable Bed Base
Cost
As expected, your budget determines the model and the quality of your desired product. But one key point you shouldn't forget here's that nothing of high quality comes at a very cheap or infinitesimal rate.
Yeah, so you should strive to get yourself the best and most comfortable adjustable bed base.
After all, it's more like investing in yourself and your health, it's bound to bring massive returns. It's worth the investment.
Going further, don't forget that you're not just hustling for a very good adjustable bed base. You also need a compatible mattress.
So probably after you've considered your budget, you see yourself capable of affording the bed base but unable to get a comfy and high-quality mattress, you need to do your assignment all over again.
In essence, the costs of these adjustable bed bases vary depending on their manufacturer, model, durability among other factors.
So you need to settle for what you're convinced will sustain you for years. And of course, that'll be compatible with your current mattress or the one you plan to get.
You need to make sure you're putting a round peg in a round hole and not otherwise.

The Product's Quality and Materials
Another area that we implore you to consider before purchasing your adjustable bed base is the quality and materials.
Again, the features and materials peculiar to these bed bases vary since we have various manufacturers in the market.
Compatibility and Strength
You should find a very durable base that can conveniently withstand your weight and that of your partners; for couples.
All you need to do is find one with a very high weight capacity. Through that, you'll know the power capacity and durability of the motor and other vital components of the base.
You should also lookout for the compatibility of the base with your preferred mattress. Even if you already have a mattress you'll like to put on the bed base, confirm the compatibility.
It'll save you a ton of stress.
Reliability and Durability
You should also look out for the reliability of the materials used in designing the adjustable bed base.
Ordinarily, the bed frame should have a sturdy and firm frame construction. It should also possess separate motors for both foot and head articulation.
Wireless Remote Control
This feature is very common to several entry-level adjustable bed frames.
Inclined degree for your head positioning
Programmable body positioning
Ease and smooth movement
Massage feature
Whisper-quiet adjustment
Pressure relief and zero gravity
Adjustable leg height
Warranty, Servicing, and Possible Repair
Another key factor in knowing which adjustable bed frame you should opt for is the qualify of the service of the maker concerning the warranty on their products.
Through this, you'll understand if the bed base is wholly or partly covered. You'll also know about its duration of use.
In a situation where a particular part of the bed base breaks, you also need to know how it'll be serviced or repaired.

Independent Reviews of the Product and the Retailer or Manufacturer
A key method you can employ to separate the wheat from the chaff of bed base makers is through independent reviews about the products or their maker.
You'll be able to understand the antecedents of the various adjustable bed base manufacturers, how well their products have given their customers optimal satisfaction, and how innovative they're likely to operate years ahead.
Again, you can trust these reviews because they're not within the reach of these companies to doctor or concoct. They can't be built out of thin air.
At Flexispot, many folks have tasted the comfort and luxury that come with our electric adjustable bed base.
This is the more reason why we'll love you to join the train of our large clientele.

How Much Science Went into the Adjustable Bed's Design?
Even if your base has a generally accepted engineering standard, you need to push further and know how the makers were able to design the features and positions.
This is another way you know which model works best for you.
Generally, an adjustable bed base should have lumbar support, but it's as good as nothing when it's not specially built to align with your spine.
Flexispot Adjustable Bed Base EB011
At this point, you just want to know what brand can offer you a top-quality bed base that is durable, flexible, and at the same time, cost-effective. And in all sincerity, there is no better base than the Flexispot Adjustable Bed Base EB011 model. This FlexiHome frame is all you need to enjoy a good night's sleep; with the required body support of course.
It is designed to have the flexibility of rubber and the strength of ten horses combined. It has a height adjustment scale, ranging from 0 to 60 degrees. The base also comes with three height adjustment options: 3", 6", and 9". With these levels of flexibility, you can work, read, sleep, eat, and binge-watch a movie from perfectly comfortable angles.
For persons who already own mattresses, you may use the frame as a support system. And if you don't have a mattress, you can get a fit-in standard-sized bed to fit into the frame.
The EB011 bed base comes with a wired remote for easy adjustments. There is also a retainer bar that secures the mattress from sliding off the frame during adjustments. Please be rest assured that these adjustments are noiseless. The noise level of the motor is set at <50db.
The base comes with a 10-year warranty and can be assembled in five easy steps. Plus, you don't have to break the bank to buy this base. All you need is $399.99 and you are guaranteed the best of every rest.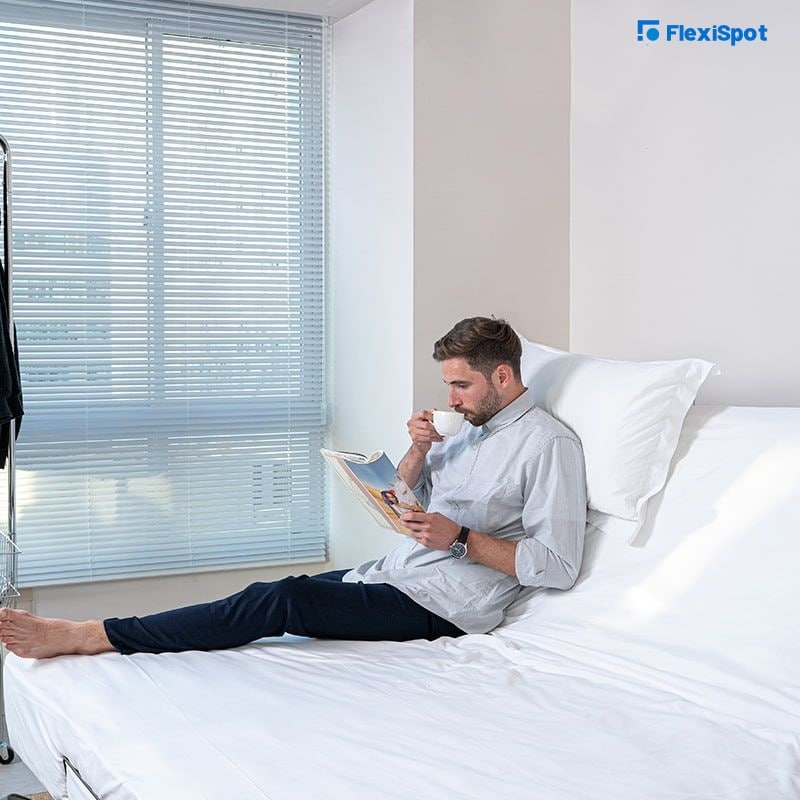 Customer Reviews
To help you make a more informed decision, we put together a couple of reviews from some of our clients. Take a look!
Alvaro J.
This noiseless frame is everything!
I just love how I can easily adjust the bed at night without having to worry about waking my husband. It's so quiet, it doesn't even creak.
Brooke E.
Just the frame I had been longing for
Ever since I bought this base from the Flexispot site, I no longer have heartburns like I used to. The swelling in my leg has stopped, and my back feels a lot better. I now look forward to a good night's rest, and I wake up feeling very refreshed. Thank you Flexispot.
Coker B.
On a Final Note
You may check our adjustable bed base, where we have considered all features. That's because your absolute satisfaction is our priority.
With us, you'll certainly experience a newer dimension of peaceful night rest. You're bound to get sleep and comfort as you've never done.