With the digital takeover of the last century, working without glaring at your screens is inevitable. Today, almost all desk jobs require computers for at least 8 hours a day. And with remote working on the rise, the shift to working on screens full time is a leading cause of strain, especially on the eyes. Today, there are limited in-person check-ins and meetings. Instead, virtual interactions are the new normal.
As the use of screens becomes unavoidable, an increasing number of employees with desk jobs are now experiencing fatigue, poor vision, eye twitching, and other eye concerns thanks to the use of digital devices. According to the Vision Council, around 60% of the adults have reported experiencing digital eye strain symptoms, which are characterized by headaches, blurry vision, and dry eyes and are associated with the use of digital devices including computers, tablets, and phones. With the amount of time spent online increasing, the numbers are likely to go up as well.
Fortunately, there are ways to prevent eye strain, and that's what we look at in this post. Here are some easy ways to prevent eye strain before it starts affecting your vision and productivity at work and in life in general.
Ways to Prevent Eye Strain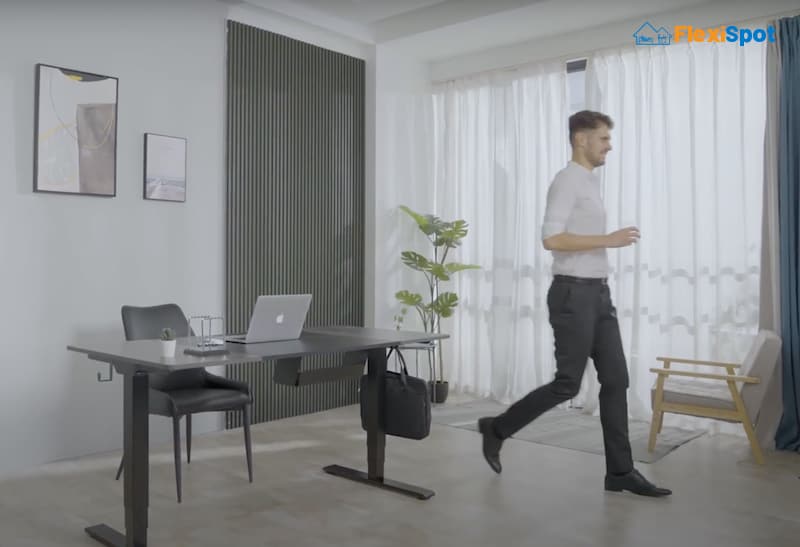 Stick to the 20-20-20 Rule
Digital intensive lifestyle is a leading cause of eye strain as an increasing number of individuals with or without a desk job spend a lot of time staring at the screen. Moreover, the problem has intensified with the use of smartphones and tablets. But as you rely on the use of digital gadgets for work or leisure, let's not forget that when your eyes are focused on something very close, they tend to move towards each other and are likely to stay in this position until you readjust your vision and focus on something further away. When you look at things at a distance, it allows your eyes to readjust your pupils, which move back and forth and reduce the eye strain caused by focusing on objects at a small distance.
To avoid this type of eye strain, we recommend sticking to the 20-20-20 rule, which gives your eyes a chance to take a break from the screen so your eyes can focus both on nearby and far away objects. To apply this rule to your everyday life, you need to set a timer for 20 minutes while you are working on your computer or phone. As soon as your 20 minutes timer goes off, take a break from your screen for 20 seconds and redirect the focus of your eyes to objects that are at least 20 feet away from your current location.
So here is a recap of the 20-20-20 rule. Take a break from your screen every 20 minutes to focus on objects that are 20 feet, and continue to do so for 20 seconds.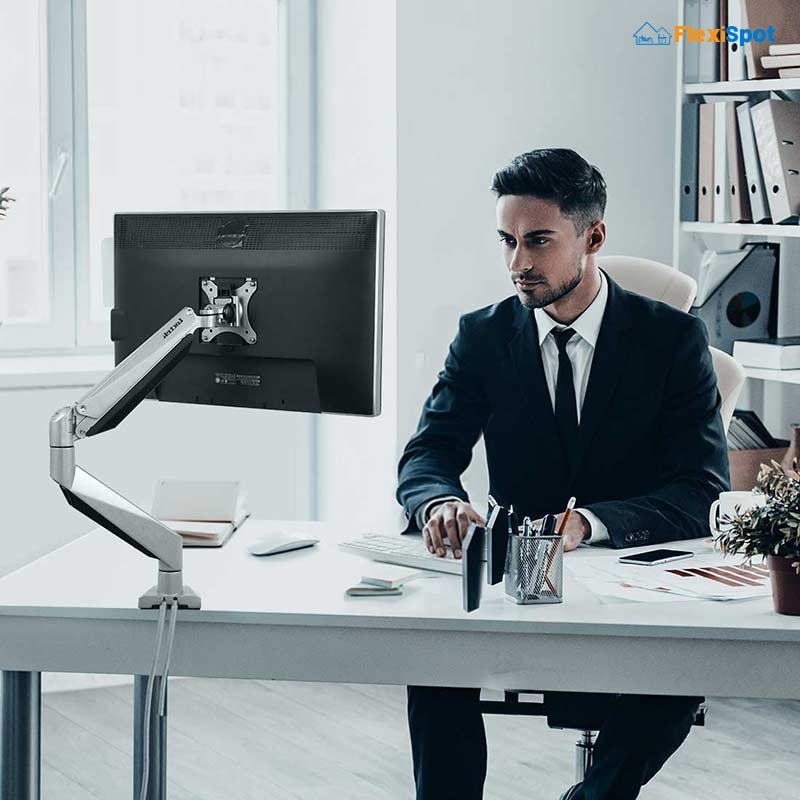 Adjust Your Screen Accordingly
If you use your computer for prolonged hours, adjusting the screen appropriately can also help prevent eye strain. To prevent eye strain, here are some of the tips that can help you adjust your screen appropriately.
Place your screen at least 20 inches away from your eyes,
Make sure that the center of the screen makes an angle of 15 to 20 degrees below horizontal eye level. In the case of a laptop, ensure that the screen has a 15-20 degree tilt, which ensures that your eyes are looking slightly down when you are working on the screen,
Make sure your elbows are making a 90-degree angle to the keyboard.
Set the font size at least three times the smallest size you can read from a normal viewing position.
By adjusting the position of your screen, you can significantly reduce and prevent eye strain.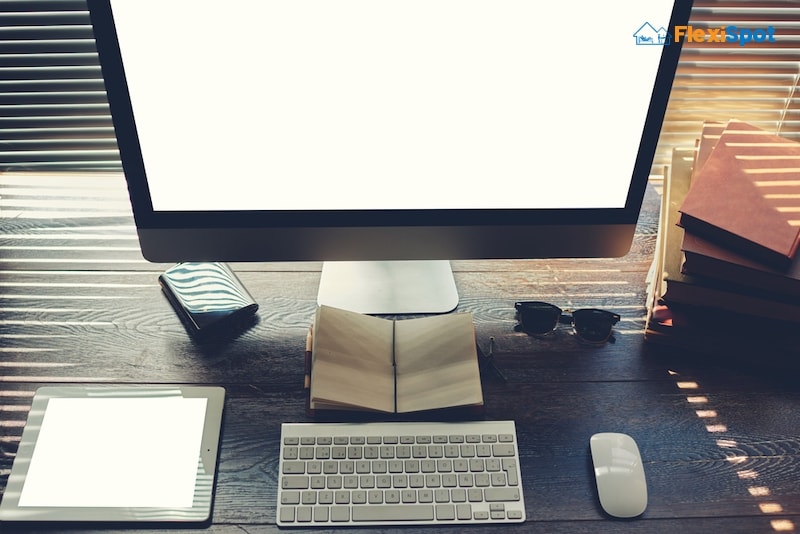 Use a Glare Filter
If your job requires you to use the screen for prolonged hours, you would know that glare can lead to eye strain, making it difficult to focus on the screen. Moreover, it also makes the words on the screen more difficult to read. In that case, using a glare filter can help reduce eye strain. You can install a glare filter on your monitor that filters blue light and helps reduce glare, and prevents eye strain by reducing the amount of reflected light that can help reduce stress on your eyes.
Another important thing that you should remember is to avoid placing your computer or laptop directly in front of a window or below overhead lighting as it can also lead to glare on your screen.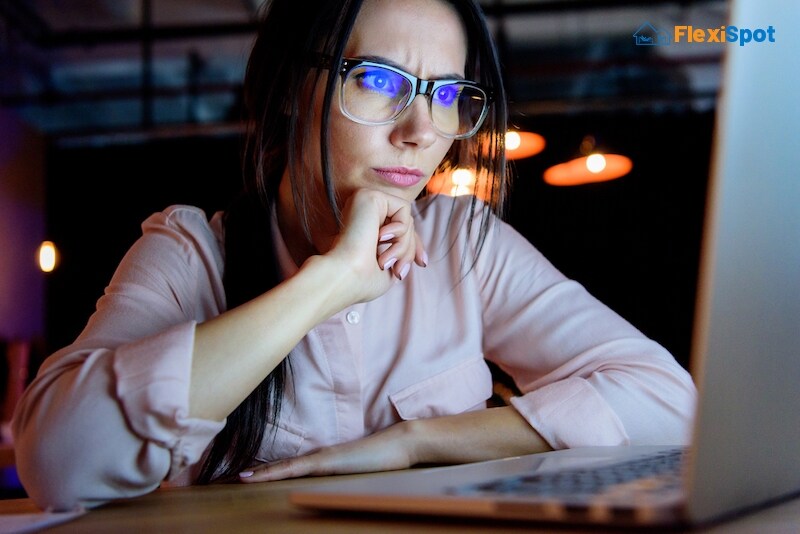 Try Computer Glasses
Another accessory that you can invest in to reduce glare is to try computer glasses. As the name suggests, these are specifically designed glasses when using the computer. When you use computer glasses, it helps reduce eye strain. However, they are custom-designed based on your eyesight, the position of your screen, and other factors associated with the placement of your screen and lighting condition in your room or office.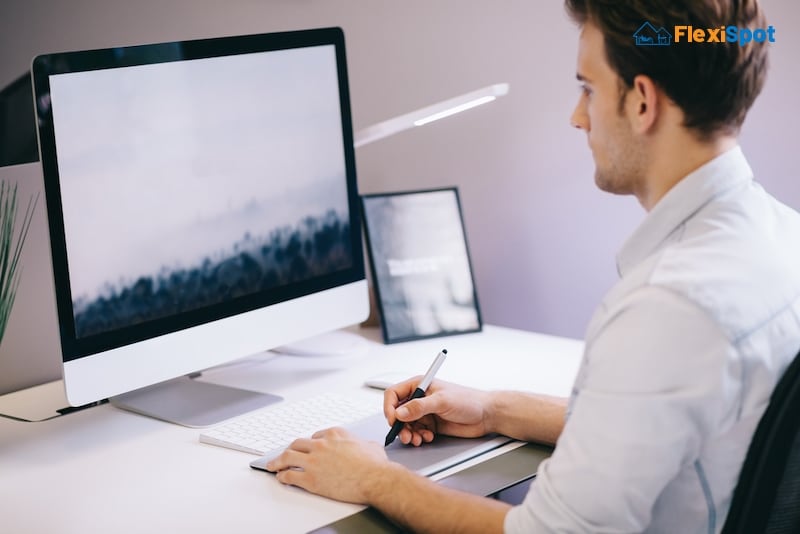 Adjust Your Screen Setting
While adjusting the angle and position of your screen is critical, and using a glare filter might help, it is also essential to adjust your screen setting. Make sure your computer or laptop screen is not too bright. You can adjust the brightness of your computer screen to the brightness of your office or home office room. Moreover, if your office or home office is heavily dependent on natural light, you will be required to adjust the screen brightness throughout the day to accommodate the changing lighting needs.
While the latest computers and laptops come with light-sensing technology and automatically adjust the screen's brightness, if your computer doesn't have the feature, don't forget to adjust the brightness to match your needs.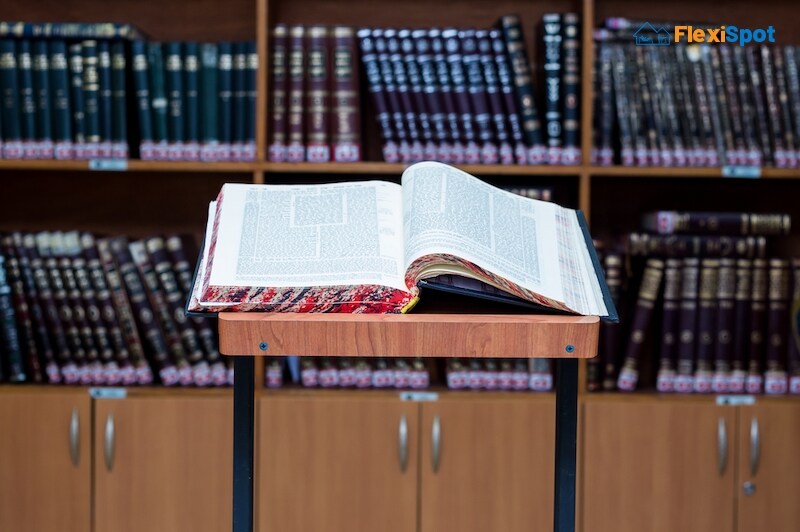 Rely on the Use a Document Stand
Does your job require you to switch between a document and a screen? If yes, then investing in a document stand might seem like the right choice.
Constantly switching your focus to and from the screen and the document at a different angle will require your eyes to work harder, leading to eye strain. However, you can prevent this condition by using a document stand that allows you to avoid repetitive motions that can cause eye strain. Make sure you place your document stand between the keyboard and the monitor on a desktop computer or laptop.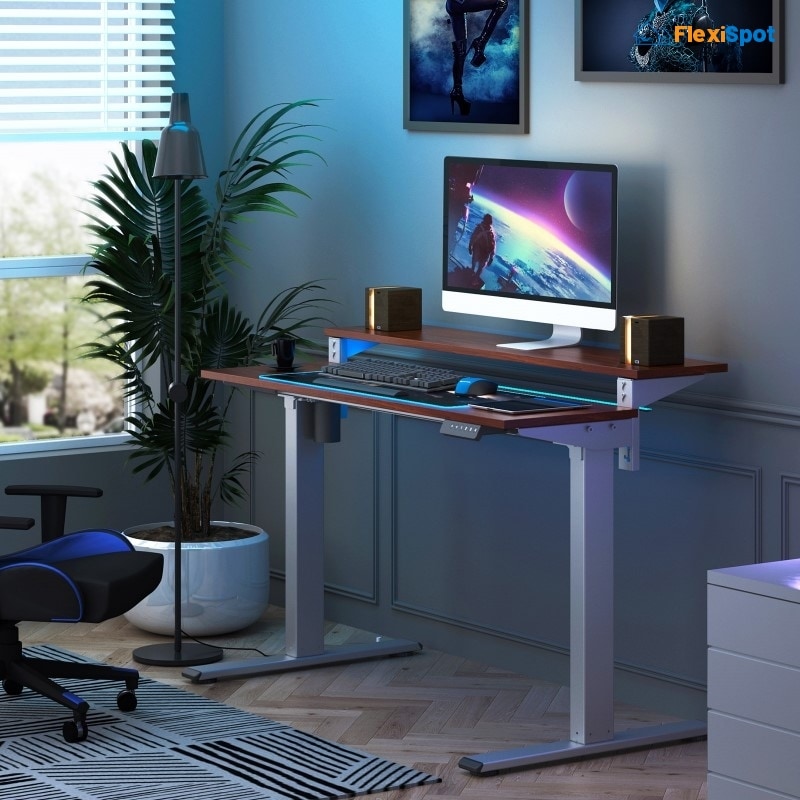 Invest in a Standing Desk
If your office or home office doesn't have an ergonomic setup, then investing in a standing desk makes your best bet. An ergonomic workstation like a height-adjustable standing desk allows you to place your screen at a perfect angle that helps prevent eye strain. With a height-adjustable standing desk, you can readjust your screen's position more comfortably and help you to refrain from scooting closer to the screen.
However, choosing a standing desk is not always easy. Given the overwhelming choice of standing desks, you can quickly get confused about which one is the best for you. We recommend investing in Vici Duplex Standing Desk that makes an amazing, dual-zone height adjustable standing desk. The versatile standing desk allows its users to switch from one-tier to two-tier desktop modes and vice versa that, makes a great choice if you are working with your partner or if you are a parent working at home with kids.
The Vici Duplex Standing Desk comes from the reliable ergonomic office equipment supplier Flexispot that's just another name for durability and reliability. The height-adjustable standing desk has a robust and sturdy construct and features a programmable control panel for height adjustment. An interesting aspect of the height-adjustable standing desk is the downward pressure sensor which allows the desk to automatically retract by 1.5 inches and lock the height when it experiences downward pressure.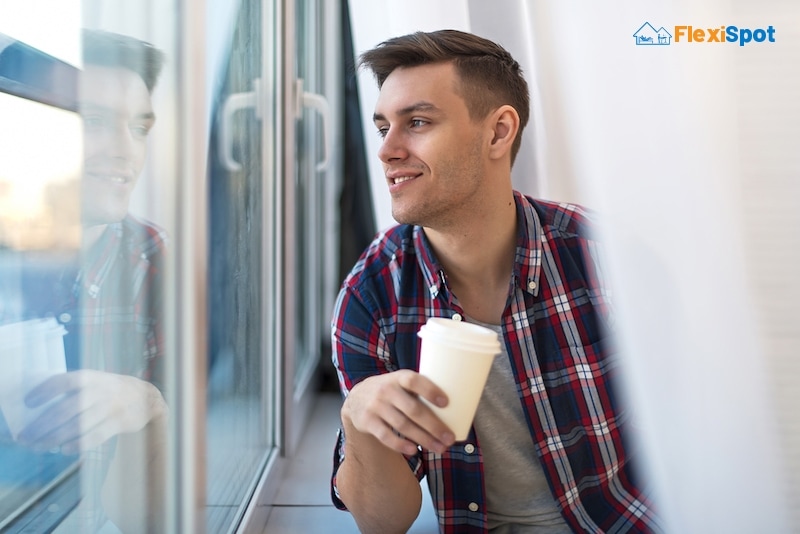 Remember to Take Breaks
Even when you use accessories like computer glasses or glare filters and apply the 20-20-20 rule, that doesn't mean your eyes don't need a break. While working on the screen, make sure you take regular breaks from the screen. You can do so by blinking your eyes to changing your position from standing to sitting and vice versa. Remember, short breaks are essential for preventing eye strain and help improve your overall focus and productivity.
While taking short breaks may come naturally to a few individuals, if you are not among them, it's best to set a reminder at least once every 20 minutes so you can readjust the focus of your eyes.
Conclusion
Now that you know several ways of preventing eye strain at work, we look forward to you having healthier eyes and better vision.