It's just a little over two months before the year ends. How are your New Year's Resolutions going?
It's great news if you pushed through with it, had the most fun, and is still consistent in doing that thing on your list. Perhaps it was life-changing and really thrilling for you to be able to do. Congratulations!
So this article really isn't for you. It's for those, who we are willing to bet, did not have their resolutions sorted. Not that we're not cheering for them or we are being pessimists here. It's just the reality and why there are numerous articles out there helping people make their resolutions stick from the start to the end of the year.
There are numerous reasons why resolutions fail. Maybe some of you never started because your motivation was not strong, to begin with. Maybe most of you started but stopped when February came because you were not seeing any progress or having fun. Maybe a few of you changed your resolutions mid-year because you discovered that you don't really like it and your priorities have changed. Maybe there were things that happened unexpectedly in your life.
The list goes on. There are some things that happen in our lives that are beyond our control. Whether it's for good or for bad, one thing is for sure: you'll come out of it as a different person. Not entirely different for most, but for sure, you have learned a thing or two after something you went through in life.
But remember, as we mentioned in the very first part of this article, you still have two months left before 2022 ends. That might be a short time for others but for us, it's enough to get things, if not all, on your list accomplished. Never say never. Those who fail are those who never try or work hard until they get what they want.
We want you to finish those resolutions or to get to them before this year draws to a close. And we really believe that what can help you is to upgrade your workspace. If you've been feeling demotivated or unable tomove, then maybe it's time for a change of scenery and to assist yourself with the best tools out there for productivity, efficiency, convenience, and comfort. Here are the things on our list: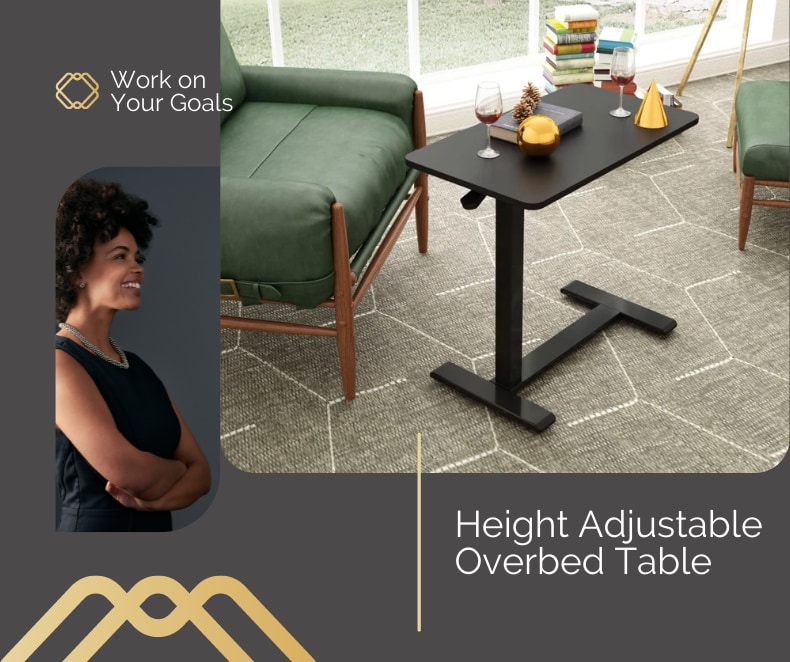 Work anywhere and everywhere at home with this overbed table. Heck, you can utilize it while sitting on the edge of your bed. Additionally, you can use it while seated in a recliner or on your couch. Because of the C-shaped base, it may be utilized from a chair or bed. With its four concealed casters, you can effortlessly move it around any side of the bed. If you ever decide to shift your workstation for the day, you'll be able to move your desk necessities without having to carry them one at a time. The desktop is 15.7 in diameter and 27.6 in width. Your laptop or even your tablet with a keyboard will fit in it.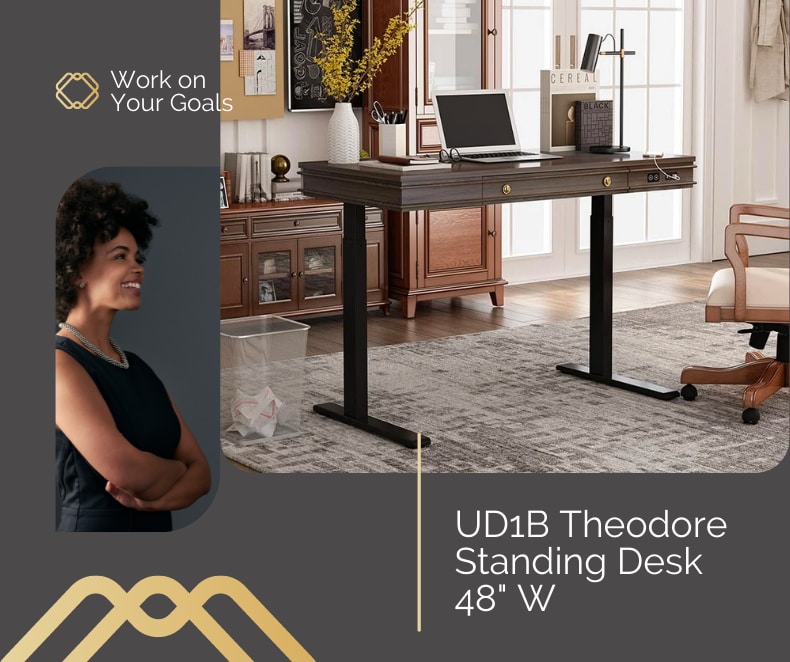 UD1B Theodore Standing Desk-48"W
Want a standing desk with a retro vibe? This one has been requested frequently, and it is now available! The stylish Theodore Standing desk will give your workspace a vintage air. Its design mixes the technology of a contemporary standing desk with classic American design aspects. You'll appreciate that it has an integrated storage drawer to assist keep your workspace tidy. This has USB ports, a roomy, attractive desktop, and buttons for height adjustment. Maybe it's the change in workplace aesthetics that can help you be more efficient at work.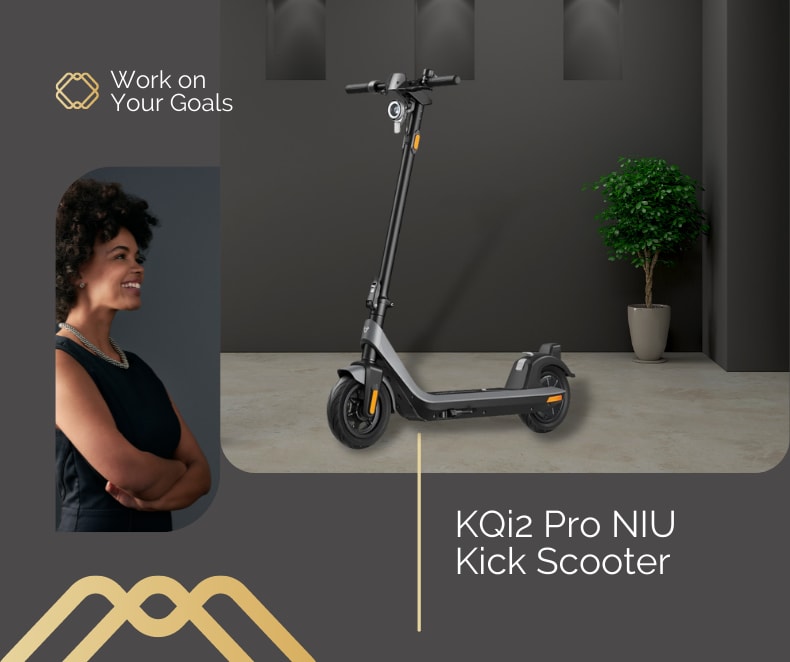 One of the three electric scooters that FlexiSpot now sells is this one. This electric scooter will help you solve your difficulties if you've ever had trouble getting from one place to another because of traffic, you don't have a car, or you're running late. It has a 300W motor that can produce up to 600W of power, reaching top speeds of 17.4 mph and having a 15% hill climbing capacity. With regenerative braking capabilities and a high-capacity 365Wh lithium battery, it boasts a patented NIU BMS that tracks more than 14 different battery operations. With a dual braking system, its tubeless tires provide exceptional shock absorption. It has a powerful Halo headlight, braking lights, and a mechanical bell for safety. Moreover, it is equipped with the industry's first upgraded drum brake that lowers the volume by 25% while still delivering excellent performance. Since the wires are integrated, it prevents them from aging, leakage, and damage.
This can be used with the NIU app via BlueTooth and also comes with an LED display. While on the go, you can check your riding statistics, and adjust speed and cruise control.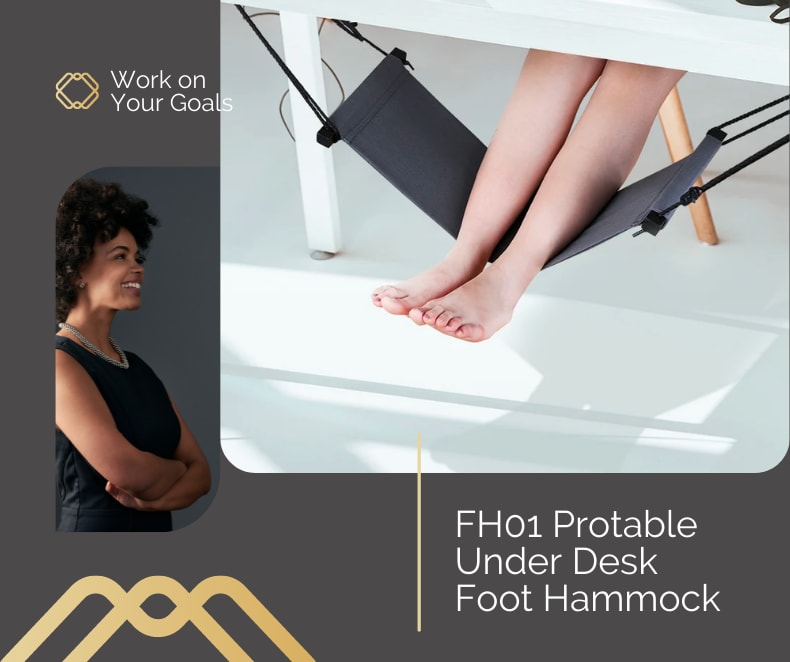 We sometimes forget about our feet when we're working but they too get strained from being too flat on the floor while you are working for hours. You can use this foot hammock to give your feet some relief. It is suitable for most desk types even for those that don't come with a side apron. It also provides comfort for your back, legs, and knees by improving blood circulation in your legs and easing the pressure off your lower back.
The length of the canvas rope can be adjusted from 8 to 17.8 inches. You'll surely have a comfortable working experience when you try this foot hammock out.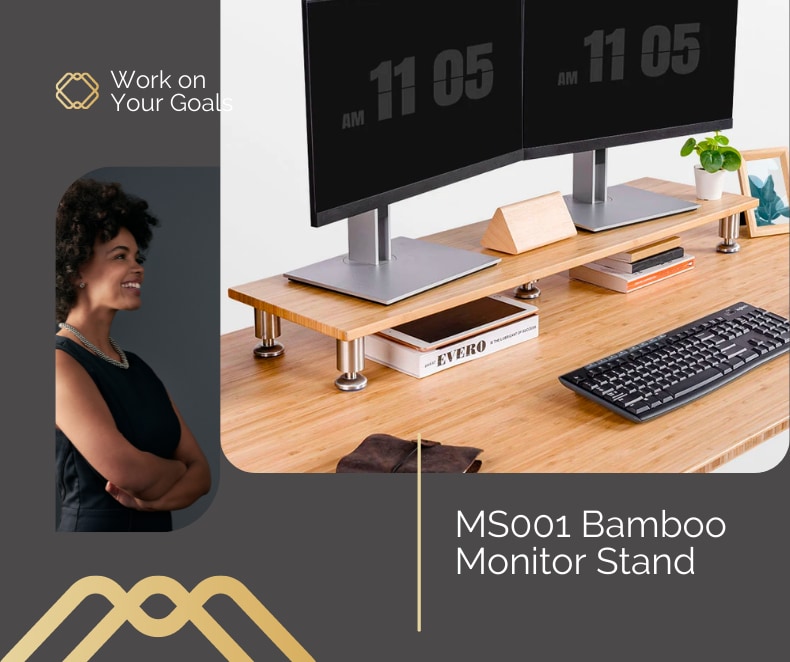 Here is another monitor stand from FlexiSpot to help you arrange your area. Additionally, it has a bamboo top with screw-on legs and plastic cushions to protect your desktop from scratches. It can be used to lift your monitor to eye level so that you can use the area underneath it for other desk accessories.
Comfort, convenience, and customization could help you become more efficient and productive. Once you do your work tasks properly, you will be able to enjoy your life outside of it. Let's all aim to end this year on a high note.