When it comes to setting up an ergonomic workstation, most people think of having an ergonomic office chair or a height-adjustable standing desk. After all, a convenient sitting and comfortable working position are all you need to complete your tasks at your desk.
But that's not it.
There is a lot more that goes into setting up an ergonomic workstation. Apart from being aesthetically pleasing and comfortable for your body, an ergonomic office desk must also solve a practical issue of the workstation, providing a functional area to conduct everyday tasks.
Although all work desks can look very similar, ergonomic research indicates that the best workstations are one that has the most optimal spacing for the things that you need to stay functional and productive such as your desktop and desktop accessories.
Creating an ergonomic setup involves organizing your computer and computer accessories and other equipment to make working at a desk convenient and smoother. It involves the placement of items that you need more frequently well within your reach, whereas the items that are not frequently used are placed away.
Therefore, the workstation is divided into three zones or sections, known as ergonomic work zones that help keep your workspace organized and make working at your desk convenient and more accessible while improving your posture. The items that you need more frequently are placed closest to you in zone one, whereas the other two zones include items that are not as frequently required.
Let's take a closer look at ergonomic work zones and why they are important and understand each of the three ergonomic work zones.

What are Ergonomic Work Zones?
When it comes to the work environment, streamlining processes aids in increasing the speed of the output. When the work is done in a faster manner, it allows much more work to be done i.e.; it enhances productivity. Increased productivity, in turn, increases overall well-being and reduces stress, and when employees are comfortable and experience overall well-being, it increases the organization's profitability. Therefore, streamlining processes is critical.
It is common for people to struggle to find their office filled with old documents, stationery, and generally misplaced items. It's a common problem that can significantly impact an employee's productivity, and since streamlining tools, equipment and documents are critical, an ergonomic working zone is a practice that involves splitting up desk space into three key areas to maximize both comfort and daily productivity.
By splitting your desk space up into three areas, ergonomic working zones intend to provide a convenient spot for everything on your desk. From the essential equipment that you need handy to other accessories like documents, chargers, and headphones, everything can have its place without causing disorder on your desk.
The Three Ergonomic Work Zones

Primary Work Zone – Zone 1
The primary work zone or zone 1 of the ergonomic work zones is the area on your desk that you can reach comfortably while you are sitting in a neutral position with your elbows relaxed. As a general rule, zone 1 of your ergonomic work zone should cover an area of 30-40cm from your neutral sitting position. In this zone, you should keep all your most frequently used items so that you can access them immediately.
When working in zone 1, you should be able to relax your shoulders and have your elbows close to your side. To access anything from this zone, you don't need to extend your arms.
Some of the items that you can place in zone 1 include
Your laptop,
Keyboard and mouse (if you are working on a desktop),
Your notepad and pen.

Secondary Work Zone – Zone 2
The secondary work zone or zone 2 of your ergonomic workstation is typically the area of your desk that is at your arm's length. The secondary work zone should include items that you need to use frequently throughout your day but are not the most urgent necessities.
If you look at the dimensions of your secondary work zone, anything that is beyond 40 cm away from your neutral sitting position is your secondary work zone.
For a typical office worker with a desk job that involves the use of a computer, some of the items that can be placed in a secondary work zone include a cell phone, reference material, and a cup of coffee.

Non-Work Zone – Zone 3
Ergonomic work zone 3 is the furthest zone on your workstation that is beyond 70 cm away from your reach. Placing anything in this zone will require you to lean and reach which can increase discomfort. Moreover, the repetitive movement for leaning and reaching can also lead to strain and injury. Therefore, it is best to place items here that you do not need often.
Some of the items that you can place in zone 3 include a desk lamp, a photo frame, a plant, or a document folder.
Apart from knowing your ergonomic work zones, it is important to know about a neutral sitting position. A neutral sitting position is when you are sitting with your wrists relaxed and straight. Moreover, your knees make an angle of 90o with your hips, and your feet are resting flat on the floor.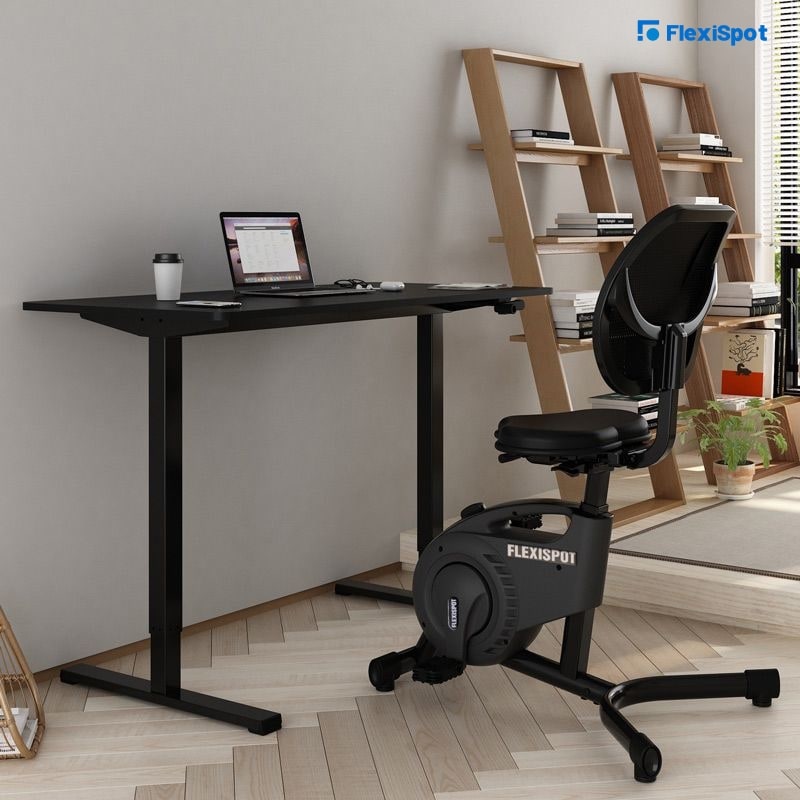 While an ergonomic office chair is the most convenient option that allows you to sit in a neutral position, if you are working at home and are looking for sitting alternatives, a fitness chair can also provide you with a convenient and comfortable sitting position. A fitness chair is designed to provide your body with the support it needs while working. Moreover, it also allows you to exercise at the same time. Furthermore, a fitness chair ensures that your neck, shoulders, and back are relaxed and you maintain the natural curvature of your spine. Lastly, when you sit in a comfortable position and can work out at the same time, it enhances your efficiency and productivity.
If you are looking for a fitness chair that you can incorporate into your workstation at your home or office, the Sit2Go 2-in-1 Fitness Chair Eco makes your best bet. The height-adjustable fitness chair offers a smooth and easy transition from sitting to riding with just a squeeze of a handle. The super comfortable, mesh breathable back and cushion allows you to adjust your sitting and riding position and find the ultimate comfort depending upon your size and body weight.
The fitness chair conveniently transforms into a fitness bike with 8 resistance levels and whisper-quiet operations so you can still maintain your focus on your work while exercising. With a fitness chair in your workspace, you can maintain a neutral sitting position and maintain your productivity and performance at work while staying fit and healthy.
Now that you already know what the three ergonomic work zones are and what you can place in these ergonomic work zones, let's take a closer look at why these ergonomic work zones are critical.

Why are Ergonomic Work Zones Important?
There are many reasons why ergonomic work zones are important.
Keeps Workspace Organized
One of the most obvious benefits of having an ergonomic work zone is that it allows you to keep your workspace organized. When you have a designated place for everything at your desk, depending upon how frequently you use it, you can maintain your workplace, which also aids in improving your productivity.
Helps To Keep Good Posture
While most people do not realize it, how you arrange your items on your desk can have a significant impact on your posture. If you place the items that you use most frequently on the other side of the desk, you will find it difficult to reach for them, and you will have to stretch yourself repeatedly to be able to use them. Doing so overtime can strain your body and can lead to poor posture and even injuries. These problems can be conveniently avoided with ergonomic working zones.
Makes Work Life At Desk Simple
When you have an organized workstation, it is easier to manage your desk as well as your work. With a decluttered and organized workstation, you can focus more on your tasks and get more work done in less time.
Final Words
Knowing ergonomic work zones is critical so you can maintain a proper posture while improving your productivity. With insight into ergonomic work zones, you can find out about the correct placement of your office equipment and office accessories, and when everything that you need to work is within a convenient reach, you can significantly boost your productivity.