Ergonomic office chairs serve as an integral aspect of office equipment. They ensure that employees with a desk job who spend prolonged hours in a sitting position remain comfortable and at ease. However, there are several different types of ergonomic office chairs, and it is only natural to feel confused about which one is best for you. Many individuals and managers looking for ergonomic office chairs are often confused about the two most common types of ergonomic office chairs; mesh office chairs and leather office chairs.
While both mesh and leather office chairs are popular choices of office chairs, both these types of chairs come with unique sets of pros and cons. In what follows, we look at the pros and cons of both mesh office chairs and leather office chairs so you can decide on which one is best for you.

Pros and Cons of Leather Office Chairs
Leather office chairs appear as chairs with absolute elegance and comfort. Leather office chairs are made with highly durable material and serve as an investment that will continue to support you through the years. It has thick padding, and many come with adjustable seats and armrests to maximize support, comfort, and safety.
Let's look at some of the pros and cons of leather office chairs.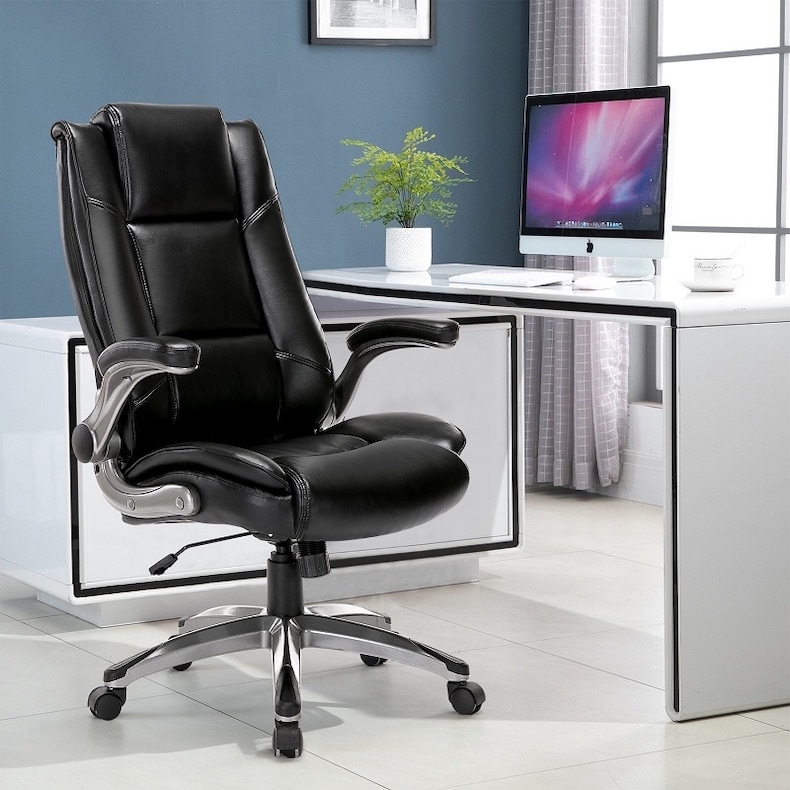 Pros
Durability
Perhaps the most significant advantage of investing in a leather office chair is durability. Genuine leather office chairs are designed and constructed to last a much longer time, especially if you take care of them appropriately. If you choose a leather chair that is made using good quality leather, it will likely last for a longer time period. While it may seem like a more expensive choice, opting for a leather office chair is always a worthy investment.

Elegant Appeal
Another possible advantage of choosing a leather office chair is that it creates an elegant appeal that can transform the look of your workspace. Adding a leather office chair to your workspace allows you to add great class and distinction that you may not be able to achieve with any other type of office chair.
Given the visual appeal that a leather office chair adds to the workspace, many firms look forward to having one in their office as it makes an elegant piece of office furniture.

Ease of Maintenance
Maintaining leather office chairs is relatively easy as leather chairs have the ability to protect themselves. In case of accidents where a beverage is dropped on the leather office chair, all you need to clean the chair is to wipe it with a dry cloth. However, for ease of maintenance, it is best that your leather office chair is made with pigmented leather that doesn't allow any liquid to get soaked into the chairs. The ease of maintenance serves as a great incentive for workspaces as many employees today tend to spend their lunch hours at their desks, so if there are any food remains that are there on the leather chairs, you can easily clean your chair by brushing or wiping using a dry cloth. You can also vacuum the seat with ease and convenience.
However, how you can maintain the leather office chair depends on whether the leather office chair is pigmented or aniline-dyed. For pigmented leather chairs, you can use a wet cloth or can even use mild soapy water to clean them. Whereas for an aniline-dyed leather office chair, you need to use a dry cloth, brush, or vacuum to clean the chair.

Comfort
Apart from the visual appeal and ease of maintenance, leather office chairs make a very comfortable option, especially for employees who are looking for exceptional support and comfort while working. A leather office chair is ergonomically designed to maximize support and comfort.
Moreover, leather office chairs tend to absorb sweat when the seat is in use, ensuring that you stay comfortable even during the hotter days of the year.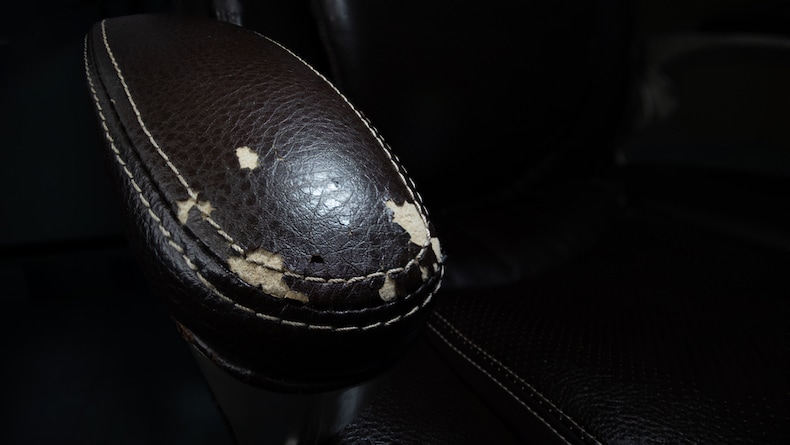 Cons
There may be several benefits of investing in an ergonomic leather office chair; however, there are a few limitations that you should know about.

High Cost
An ergonomic leather office chair is a much more costly choice than an office chair. It is more expensive than many other types of office chairs, including mesh office chairs. And while it is a highly-priced investment, it is a piece of furniture that will serve you for years to come.

Prone to Scratches
Another undesirable feature of leather office chairs that you need to know is that it is prone to scratches. Therefore, when you have an ergonomic office chair in your office, you need to be careful not to use any sharp objects as they can harm the chair.

Finding Genuine Leather May Be Tough
It is also difficult to differentiate between genuine and fake leather, and if you cannot figure out the difference, then it's likely that you may end up with the wrong choice.

Leather May Crack or Bleach out
When leather office chairs are used over time, they may get exposed to too much light or heat which can lead to bleaching out or cracking of leather. Once the leather on your chair cracks or bleaches out, it can spoil the look of your office chair.

Pros and Cons of Mesh Office Chairs
The other popular alternative to leather office chairs that is widely used in offices worldwide is the mesh office chair. Mesh office chairs revolutionized the traditional upholstered seating and emerged as a comfortable, low-cost alternative to leather and fabric office chairs.
Let's look at the pros and cons of mesh office chairs.

Pros
Lightweight and Ease of Maintenance
Mesh office chairs are very lightweight and easy to maintain. Since they have a minimalistic design and construct, they are easy to lift and move around. Moreover, it is also easier to clean stains and spills on the mesh chairs.

Improved Ventilation During Use
Another positive aspect of mesh office chairs is that they are structured to provide ventilation which is particularly important during the warmer days. The ventilation feature brings a lot of comfort and relaxation as you are required to spend long hours in a sitting position. The design allows air circulation between the back and seat of the chair and the body which helps the skin breathe properly.

Ease of Availability
Mesh office chairs are readily available pieces of furniture that you can conveniently find in office supplies stores, departmental stores, and even furniture shops.

Low-Cost Office Chair
Mesh office desk chairs make one of the cheapest types of office chairs and have a much lower cost compared to leather or upholstery chairs.
However, the low cost of mesh office chairs doesn't mean that you need to compromise on the look and appeal of the chair. They still make a professional-looking seating solution for offices.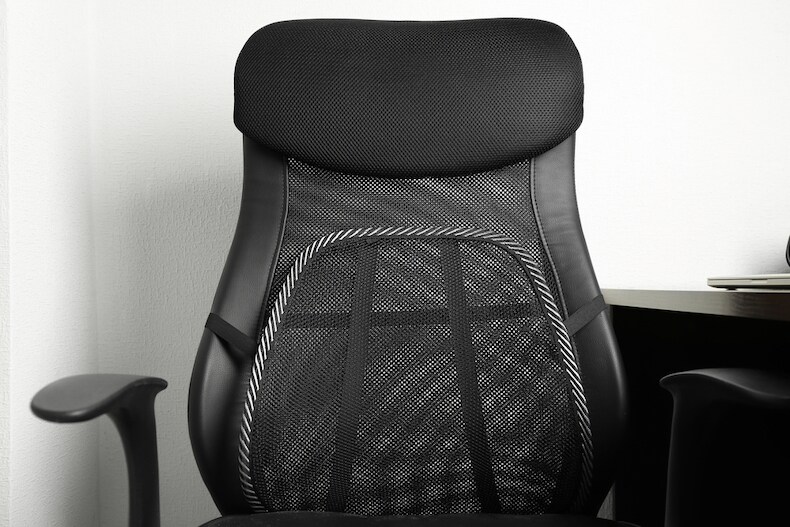 Cons
There are many obvious benefits of choosing mesh office chairs. However, there are a few disadvantages that you should know so you can make the right choice for yourself. Some of the possible cons include:

Compromised Comfort
Mesh office chairs are ergonomically designed to provide support and flexibility to their users. However, many users complain that they do not get the same "sink to the plush seat" feeling with mesh office chairs that they get with upholstery or leather office chairs.

Durability
Another possible concern that most users of mesh office chairs is related to the durability of the mesh office chairs. Many users complain that the mesh office chairs are not as durable as other types of ergonomically designed office chairs.

Limited Designs
While mesh office chairs make a low-cost investment, these types of chairs are available in limited designs and colors. You will find most mesh office chairs available in black and grey colors only, which may make the addition of the mesh office chair to your workspace a boring choice for your workplace.

Mesh vs. Leather Office Chairs – Which One Makes the Best Choice for You?
Whether to opt for mesh vs. leather office chairs completely depends on you and your preference. If you are someone who is looking for exceptional comfort and is willing to pay for it, leather office chairs make the best bet for you. However, if you are looking for an affordable office seating solution that is readily available and keeps you cool and comfortable during the warm weather, then a mesh office chair is for you. Ergonomic Office Mesh Chair makes a great choice for you if you are looking for a mesh office chair. To learn more about this product or to find out about the most reliable ergonomic office solutions, get in touch with us today.