Most parents start their kids young with arts. 
After all, it's easy to pick up art materials for a fun activity of scribbling or painting together. Not all realize that art actually does a lot for a child's development. Not only does it stimulate creativity, but it also aids in honing their motor skills. Scribbling is a good foundation for writing and holding pencils or markers helps a kid's grip and control while creating art. 
Making art also allows kids to express themselves and become confident in creating beauty out of scratch. They are able to exercise patience, especially when they have to wait for the paint or glue to dry. When something doesn't go well with their artwork, the process teaches them to respond positively to stress. The activity also helps develop their focus and concentration. Moreover, kids are taught how to analyze situations based on what they see. In this way, they develop their working memory, mental flexibility, and self-control. 
If you ever decide to paint something with your toddler, you know better that it's no walk in the park to tidy up after a session so make sure you have these covered before pushing the green light.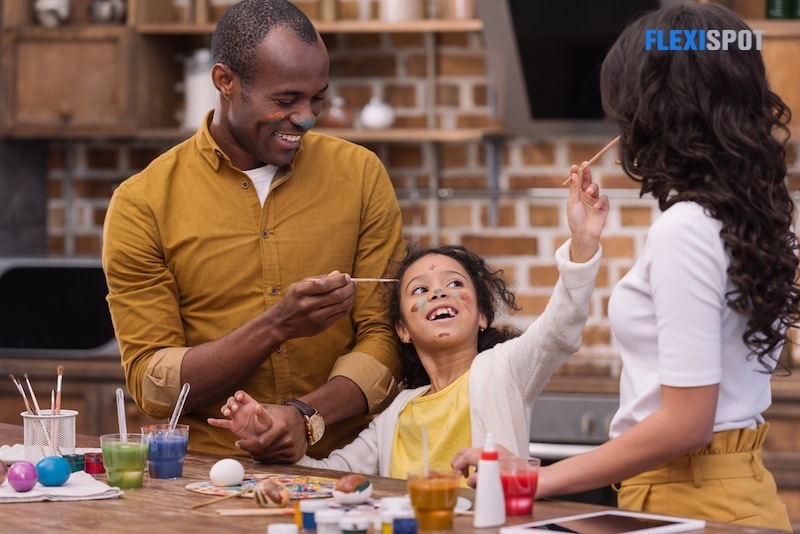 Wear clothes that can get dirty. Whether it be an old oversized shirt or an apron, make sure you and your toddler aren't wearing your new Sunday dresses. 
Make your workstation paint-proof, Prepare nearby washing stations. Everything your kid needs such as napkins, rags, paintbrush washing station, and other supplies must be within arm's reach. 
Make sure that the paint you're going to use is child-grade and non-toxic. Children must be protected from harmful chemicals their bodies can't take being exposed to just yet. Recommended types of paint are Watercolor. Child grade Acrylic and Dry Gouache It also helps if the painting session can be held in a space with windows and doors. 
Teach your kid how to clean up. Cleaning up can serve as a good life lesson on discipline, cleanliness, and more. Teach your kid how to wash off the paint in the brush, how to return the art materials in their right places. 
Have an area for display. Seeing their work up for display will make your kid the happiest and feel a sense of accomplishment. 
Painting Ideas
There are many ways a kid can creatively paint even when they still don't have proper hand coordination. Let your kid choose which colors to use and what direction to take---allow their minds to think freely and wildly. All you have to do is provide the materials and facilitate. Here are some ideas we compiled from the Internet: 

Q-tip pointillism
Just provide tubs of paint, Q-tips and a white canvas then let your kid do his or her best take on impressionism.
Yarn painting
Another fun exercise is to dip the yarn in paint and let your kid move it in whichever direction he or she likes. This can create a very interesting painting with textures and dynamics. 

Hand painting
A very common painting exercise is to paint your kid's inner palm and let them press their hand on paper. They can also do it with other parts of their body, given that the paint is safe and non-toxic for kids. 
Splatter Painting
Have your kid dip his or her paintbrush or cutlery in paint and splash the paint from calculated varying distances to the canvas. There are no rules other than to have fun. Your kid can also play with multiple colors that may or may not reflect their emotions at the moment. 

Marble Painting
This is a fun activity for the kids and even for you! Prepare an open cardboard box and put your white canvas in position. In another bowl, fill it with marbles. Dip the marbles in paint then roll them in the open box in whatever direction you want. 
Spin painting
Place a paper plate or a circle paper cutout inside a salad spinner. Choose the paint colors you want and put each one on top of the paper plate slash paper cutout. Close the lid of the salad spinner and spin it as hard as you can. The final result is a fun splattered mix of colors.

Body Tracing
Your kid can trace any part of his or her body on a white paper. After tracing, you guys can experiment with paint and fill the body part with color.
Wheel and roller painting
Buy a mini roller for your kid and let him or her have fun rolling paint onto paper. You may also opt to work on a bigger canvas for more space. 

Height Adjustable Ergonomic Study Desk/Kids Desk
The Height Adjustable Ergonomic Study Desk/Kids Desk from Flexispot is available in Blue. The desktop height can be raised from 550 mm
up to 890 mm with just one touch of a button. Your child may use it sitting or standing.
The desktop surface is waterproof and has rounded edges. This desktop resists stains and water damage so any dirt can easily be removed using a damp cloth to wipe it. The desk has a child-proof frame with anti-collision sensors so that you can be guaranteed that your kid is 100% safe. 
Final Thoughts
As early as now, introduce art to your kid to help with his or her development. He or she will learn valuable lessons such as understanding and patience that may be used in other aspects of life. Other cognitive functions are also improved through drawing and painting. Plus, it's a good way to bond with the family.