When you're shopping for new furniture, there are so many options available that it can get a bit overwhelming. Even if you've narrowed down your requirements, there is always so much that fits the criteria, let alone when you're not even sure what you want.
Most times, your requirements may be a bit vague. As an example, if you're looking for a desk to work at, you may not have in mind exactly how tall or how wide it should be, or what kind of tabletop you'd like. Most times, you'd simply head over to the furniture showroom and decide based on what you can see there.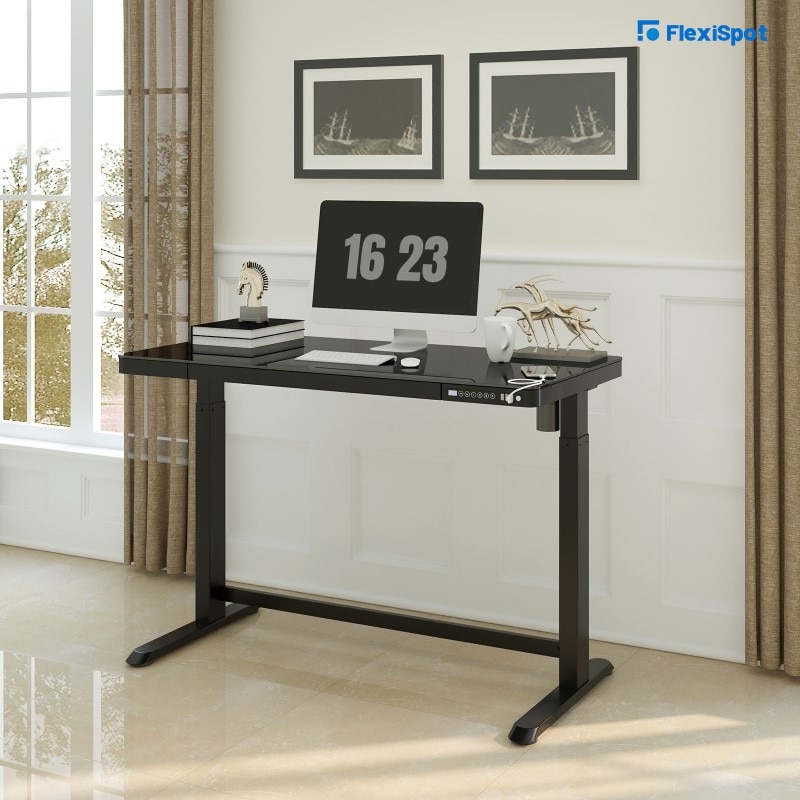 This is one way to go about it, but if you're looking for the perfect desk for your workspace, Flexispot's Comhar All-in-One Standing Desk with a Glass Top is the perfect option for you.
This desk comes with a wide variety of special features that makes it stand out from all other desks in the market. Not only does it look sleek and elegant, but it also keeps your best interests in mind.
Let's take a look at all the exciting features it has to offer!
Comhar All-in-One Standing Desk

Adjustable Height
Sitting for too long is bad for your health. Not only does it increase the risk of diabetes, but sitting for very long periods of time is also associated with problems like obesity and weight gain.
When working, there is only so much you can do about this, because you have to sit at your desk to get any work done.
The Comhar desk solves this problem! As an adjustable stand-up desk, it gets rid of the problem of constantly staying seated, and lets you work at the same time.
In fact, standing desks have a lot of benefits.
Besides just lowering the risk of weight gain, it also reduces blood sugar levels, which in turn helps with reducing the risk of heart diseases. Sitting for a whole day can be so detrimental to your health that even a whole hour of intense exercise may not be enough to reduce the negative effects.
Standing desks can also eliminate the most common complaint from workers who spend the day sitting. Back pain is a problem we're all familiar with, and a major contributor is a fact that we spend so much of our time seated at our desks.
Several studies have been carried out to see if a stand-up desk can solve this problem and participants of such studies do show improvement.
On top of that, standing desks also improve the mood and energy levels of workers, which in turn helps with boosting productivity.
With so many benefits of standing desks, the Comhar desk has just what it needs for you to stay healthy and happy while working.
The adjustable height allows you to decide whether you want to sit or if you want to stand. If you get too tired on your feet, you can lower it and sit. Other times, if you're getting bored sitting in the same place, you can raise it up and stand, and give your legs a stretch.
Besides just being adjustable, the desk also comes with programmable height presets, which allows you to save your height preference as well. This is especially useful since you don't have to waste time fiddling with the settings to find which height works for you every time you adjust it.
Besides that, it is also very useful if the desk is being used by multiple people since each person can save their preferred height. This way, when it's their turn to use the desk, they can adjust it to the optimal height and carry out their work comfortably.
The desk doesn't just allow you to adjust, it also allows you to do so very easily. All you have to do to switch from sitting to standing is press a button!

Anti-Collision Function
Having just a button to press, you might think that the desk could end up causing damage if you don't stop the table's up or down movement in time.
Fortunately, we've already thought of that!
The desk comes with a carefully built-in anti-collision function that prevents the table from being damaged, or from damaging any other objects while it moves. The in-built sensors detect if the desktop comes in contact with any object, and immediately stops. This allows you to get any objects out of the way before continuing the height adjustment.
This way, your desk, and your personal belongings stay safe, and you still get the benefits of an adjustable desk.

Safe Lock Button
Worried about kids or pets playing with the control panel, or someone accidentally changing the settings while cleaning? The safety lock button on the control panel helps keep the settings in place even if your pets or kids give in to their curiosity. Even an accidental touch from you! The safe lock button can help you keep your desk's settings from changing.

Minimal Floor Space
Bulky furniture can cause quite a bit of trouble when it comes to setting it up, because of how much space they take up. If the room already has a number of other pieces, adding a new one can make it look cluttered.
Luckily, the Comhar All-in-One Standing Desk doesn't have this problem. The desk takes up a minimal amount of floor space, which allows you to set it up, even if you have only a small corner or nook available.

USB Charging
Sometimes, when you have too many electronic devices strewn about your desk, it can look very cluttered – especially with all the cords getting tangled up in one another.
The Comhar desk has an in-built USB charging station that allows different types of ports. These are embedded into the desk itself and allow you to prevent the mess of cords that comes with too many chargers. The space under your desk can stay neat and clean, while your devices stay powered all day.

Embedded Drawer
Do you like the minimalism of desks without drawers, while still wanting the storage space? The Comhar desk easily addresses this.
The pull-out drawer that's embedded within the desktop allows you to store your items while the design blends with the rest of the structure. It manages the minimalist aspect, while also keeping your things out of sight.

Tempered Glass Table Top
Though the Comhar desk comes with multiple desktop options like wood or bamboo, the glass top offers a sleekness you're unable to find anywhere else.
The transparency of glass offers the illusion that there is more space available in the room than there really is, which helps when the room your desk is in is relatively small. A glass top can also highlight all the other features in the room.
The glass top also keeps the underlying wooden structure of the desk safe from scratches or pen marks.
Glass table tops also provide some ambiance in the lighting which can help with making the work environment more fun to work in, or even add a bit of style to the room.
The modern tempered glass tabletop has round edges and is finished to provide safety and comfort. It allows for greater durability for your desk, and also gives the desk a touch of elegance that you wouldn't get with other kinds of tabletops.

Easy Assembly
Not only is the desk pretty and elegant to look at, but it is also very simple to set up. With three basic components, all you have to do is to install the desk frame to the tabletop and then install the desk feet. Once you've set it up and connected the power cords, you're done and your desk is ready for use!

Multi-Purpose Desk
While you can use the desk mainly for work, the structure of the Comhar All-in-One Standing Desk also allows you to use it for some impromptu board or card games with your family or friends. You can easily set it up for multiple people to have fun. The glass provides some protection for the underlying table, and the adjustable height allows you to set it in a comfortable position for everyone.
There is no better option for your workspace than the Comhar All-on-One Standing Desk. Having everything you want from a standing desk and more, it provides comfort and style and is easily available at Flexispot's online store. You can save up to $70 if you head over now, and get free shipping!