Do you like to sew during your free time, or do you sew as your full-time job? Settling on the best sewing standing desk means redefining your whole sewing experience. A suitable sewing standing desk means more than
just a simple desk with sturdy legs and a large surface for working. It entails having a complete workstation that allows you to do your sewing, crafting, and cutting and provides you with a space to organize and store all
your supplies conveniently. It is where the sewing standing desk ES9W comes in. many tailors can attest to dealing with backaches or even pain in the joints and waist because of the nature of their work. You already
understand that prolonged sitting or standing hours lead to back, neck, wrist, and even ankle injuries.
Another primary reason, however, that makes this tragedy rampant for tailors is the height of the sewing standing desk. Height affects us in several ways, so you don't want your sewing standing desk to be so high or so
low because you will have to strain your joints and body parts. The Flexispot sewing standing desk ES9W is an innovative product that is the solution to this problem. It is a sewing desk with an electric height adjustable
frame whose goal is to give you the best ergonomic and comfortable sewing experience.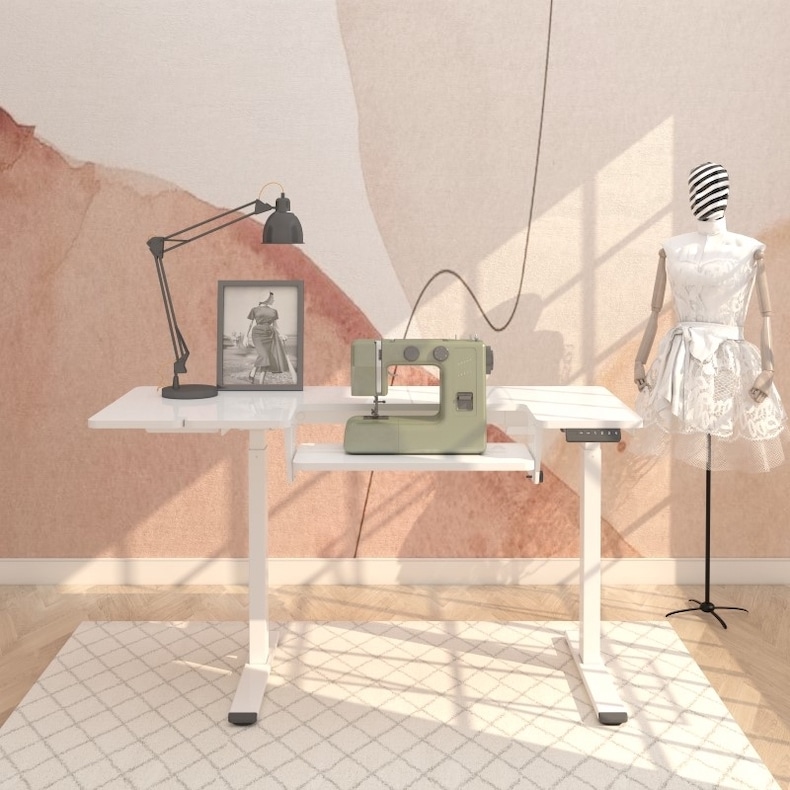 How it works.
1. Height adjustment
The Flexispot sewing standing desk ES9W has an adjustable sewing platform. It contains a workbench and an adjustment knob which you can use to adjust your machine to five upward or downward settings.
The ES9W also has an adjustable platform that can be raised to align with your tabletop if you need to design or cut your fabric, then lower it when you start sewing. The best thing is that you can also use it as an office desk by adjusting the platform, using it as a keyboard tray during the day, and turning it back into a sewing standing desk at night while you sew a little before retiring to bed.
The desk's adjustable platform provides a secure space to place your sewing machine simultaneously, keeping your fabric and needlepoint in line with the main desk. Gone are the days when we placed the sewing machine
on a flat tabletop. The desk's tabletop rests on adjustable quality steel frames. It means that the ES9W can be converted from a sitting to a standing table with the push of a button. As if that is not enough, the sewing desk
contains an advanced keyboard with four memory presets, meaning that you can save the height you feel most comfortable using and that of other users. If you want to know the current height setting, the LED display
is where to look at. This sewing desk lowers and raises to your desired height when you push the reset button.
2. Storage
Despite the desk having a spacious desktop area, there is an additional storage space for your belonging. I strongly advise against placing your belonging on top of your desktop surface because it looks untidy and can
cause little unexpected accidents when you accidentally drop things or spill coffee on your fabric. You should do your best and avoid clutter; hence the ESW9 is the perfect thing for it—the sewing desk pairs well with
additional storage accessories. You can add an under-desk drawer and keep things like fabric, thread, needles, and other small sewing accessories.
3. Desktop
It has a vast tabletop surface area of 23" by 10", meaning you can work without worrying about space. Despite having a spacious tabletop, the desk can fit into small spaces, so you don't have to worry if the room you want
to transform into a sewing area is small. Its adjustable platform and spliced desktop fit perfectly into the main table within a 43" by 24" footprint, providing a compact yet spacious work surface for maximum efficiency.
If you have more space and don't mind extra, there is a detachable side table that can offer more room. You don't have to place your fabric on the floor as you cut it when you have such features on your sewing table.
If your room has limited space, the sewing standing desk is multifunctional, meaning it can work as a home office and sewing desk. By doing this, you will save space and costs of getting two tables and keeping your room
neat.
4. Functionality
The ES9W sewing table works at noise levels of sub 50dB. It means that when you try to adjust heights to your preferred level, you won't cause any commotion.
5. Construction
Finally, this sewing table offers sturdy construction with high-grade steel lasting several years. The paintwork has been made to make the table extremely resistant to stains and scratches. Also, you won't be disturbed by
wobbling because the nuts and bolts on the desk have been made to work perfectly, even with maximum height.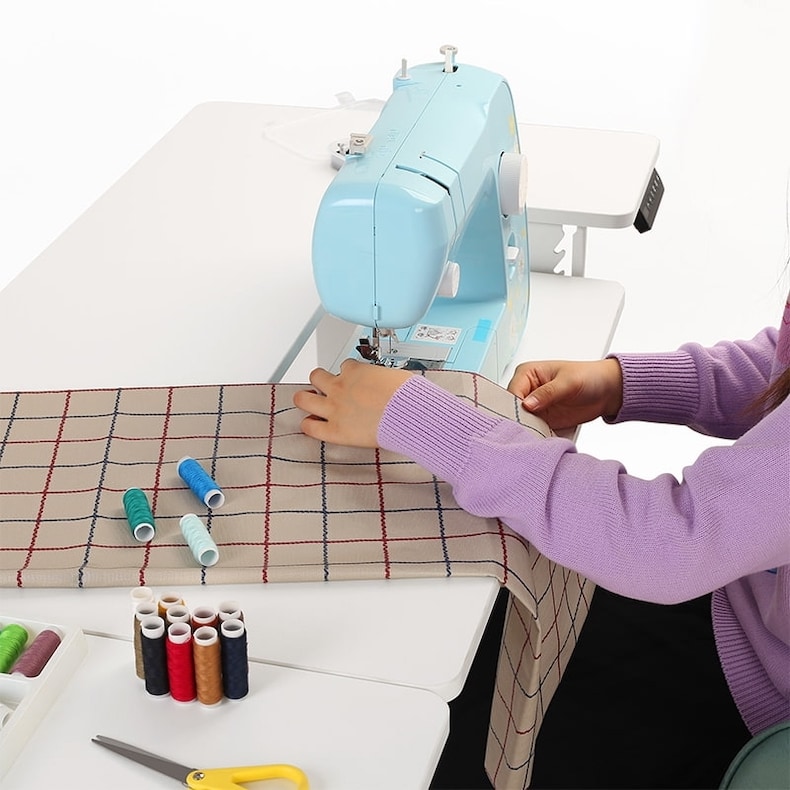 Benefits of the sewing desk for its users.
Over the years, people have focused more on health at home and in the workplace. This shift has made manufacturing companies like Flexispot design products that fit people's needs and benefit the overall world order.
Several benefits of using the ES9W are health-related such as:
Reduces neck and back injuries
The height adjustment feature allows you to adjust the height to a level that makes you comfortable while sewing. Since users spend time sitting or standing while sewing, they are more likely to suffer back pain, neck strain, and leg injuries. However, this can't happen when they take advantage of the height adjustment feature on the sewing table. They will have complete control of their machine and their overall health.
Burn more calories
This sewing table allows users to shift positions from standing to sitting whenever they want. When you shift positions to standing, you can burn more calories and avoid a sedentary lifestyle. Research has shown the
importance of avoiding a sedentary lifestyle. When fat increases in your body, you will most likely suffer from obesity and heart diseases, that is why more people are using standing desks. It doesn't matter how hectic your
sewing is; you need to shift from standing to sitting, which is possible with the ES9W sewing table. Also, shifting positions from sitting to standing improves muscle activity.
Stitching while seated places pressure on the back, leading to discomfort on the back and neck. Also, sewing while standing for long hours results in the knee, waist, and leg pain, leading to spinal injuries in the long run.
Overdoing both sitting and standing can cause illnesses.
Improves productivity
As stated earlier, this sewing table can be adjusted to give you comfort. When people are comfortable while working, they always end up being productive since a comfortable workspace is a driver and motivator of
productivity. You won't produce the best results if you are uncomfortable while sewing.
Good place for crafting projects
When you own an ES9W sewing standing desk, you will be able to craft all your projects. The desk allows you to organize everything related to sewing in one area, offering you a high degree of convenience.
It is made possible by the storage offered with the desk and additional storage and accessories that you need. With this desk, you will be able to finish your projects quickly.

Who it works for
The Flexispot sewing standing desk ES9W is good and works for people who;
Are you looking for a spacious workspace

Children and adults who are interested in sewing

People that want a multifunctional desk

If you want to start sewing either as a hobby or a full-time career

Those who want a clean and crisp-looking desk
Price
Premium products are usually expensive. However, this one is only $429.99 on the Flexispot website and is around the same price for most online retailers. You might, however, find the sewing desk to be more expensive
than other online websites or retailers, so save some money and buy directly from Flexispot at a lower price. Depending on the offers and Flexispot events, you can also order it at a cheaper cost or with free delivery.

Additional information about the ES9W sewing table
If you do flat-bed sewing or free-arm, the table has adjustments that make it simple to achieve this. You can lower the table's adjustable platform to get a tremendous free-arm sewing experience. With this sewing table and
its features, you can work on sleeves, cuffs, and ham narrow corners without hitches. When dealing with more extensive fabric, you can lay flat the splintered platform. You also don't need to worry about assembly when you order the ES9W because all you need to do is follow a prompt of six easy steps. Don't worry about the steps because you will get a detailed manual to help you complete the table after it is delivered to your house or
workplace.
We believe this sewing standing desk can be an excellent addition to your house if you like to pursue sewing projects as a hobby or if you are a sewing enthusiast. If you are among the people who love sewing or want to
start sewing, get the sewing standing desk ES9W from Flexispot and enjoy a comfortable sewing experience because you deserve it.