Social media is a double-edged sword. 
Humanity has used it to forge connections among old and new friends, colleagues, and strangers. Throughout the years, the world has become increasingly globalized with social media transcending physical borders, sending messages from the United States all the way to Australia. It has become a powerful tool in opening opportunities, sparking conversations, starting global movements, and bridging differences across nations. 
But this power and accessibility also gave a platform for fake, hate, and violent messages to propagate. While it has made us more connected and brought heightened awareness on pressing issues such as climate change, social media has also been used to bully, recruit terrorist members, manipulate the public, and promote violence and hate. 
The content we get exposed to directly affects the way we think and act on a daily. 
According to Lifespan.org, social media users in the United States only comprised 5% of the population in 2005. Since then, it had grown exponentially to about 70 percent in 2019. Lifespan also emphasized social media's popularity among teens, citing a report that teens from 13 to 18 years old spend about nine hours a day on social media. In contrast, tweens ages 8 to 12 spend six hours a day. 

Pros of Social Media 
1. Communication with family and friends
Gone are the days that we have to meet in person to get a message across to our loved ones. All it takes is a direct message or even a call for us to keep in touch. Our posts on our social media accounts also give us a glimpse of what our friends or family are currently up to. 
2. Access to Information
Everything is already on the Internet. Aside from search engines, many organizations and individuals have also used social media to spread information on literally anything under the sun. 
3. Remote Employment and Exposure for Creatives 
While oversaturation of the market is an issue, digital content creation has become a sought-after profession. Social media has given creatives a platform to showcase their works of art---be it photos, paintings, videos, essays, or whatnot. Recruiters also hunt for potential employees in the social media space. 
4. Civic engagement
Organizations have used social media to spread their advocacies and invite people with the same interests, sentiments, and principles to join their causes. For instance, the Black Lives Movement, established in 2015, gained worldwide support in 2020 when African-American George Floyd lost his last breath to a white policeman. Similarly, private individuals have raised funds to help countries marred by war, poverty, and violence. 

Cons of Social Media 
1. Distorted self-image
Since social media allows the approval of family and friends, many have become obsessed with the number of likes, shares, and reactions their posts elicit. It has become normal for most to base their self-image on how people react to them on social media. 
2. Bullying 
Because of the freedom that social media gives, it's easy for anyone to hurl out offensive comments and spread lies about another person. In some cases, cyberbullying could lead to depression, anxiety, and even suicide. 
3. Manipulation and violent movements 
In some dark corners of the Internet, social media has become a breeding ground for terrorists or gangsters to recruit or propagate their agenda of violence. Fake news also became widespread and these falsities fooled many. 
4. Addiction 
Social media is designed to be addictive. One swipe after another leads to new information that may spark your interest until you are caught up in an endless loop of scrolling. This, of course, leads to unproductivity. 
How to carefully navigate the world of social media
1. Do your own research. Make sure the resources are legitimate. 
2. Use Do Not Disturb Apps such as Cold Turkey and Stay Focused that block off social media sites. 
3. Look for hobbies outside of social media. Urban gardening, biking, and playing a musical instrument may make better use of your time. 
4. Be discerning before joining any movement. Make sure it aligns with your personal ideals and principles. 
5. Keep a close relationship with your solid support system, including your family and most trusted friends. 
Staying Disciplined while in a social media work break 
As mentioned, social media is designed for people to fall into a pit of doom scrolling but using it during work breaks doesn't necessarily mean we should give in to an hour-long of temptation. We can have that five minutes of Facebook or Twitter---nothing less, nothing more. Just make sure you have the right furniture in your workstation to help you get back into work when you can't resist checking what's going on in the social media sphere.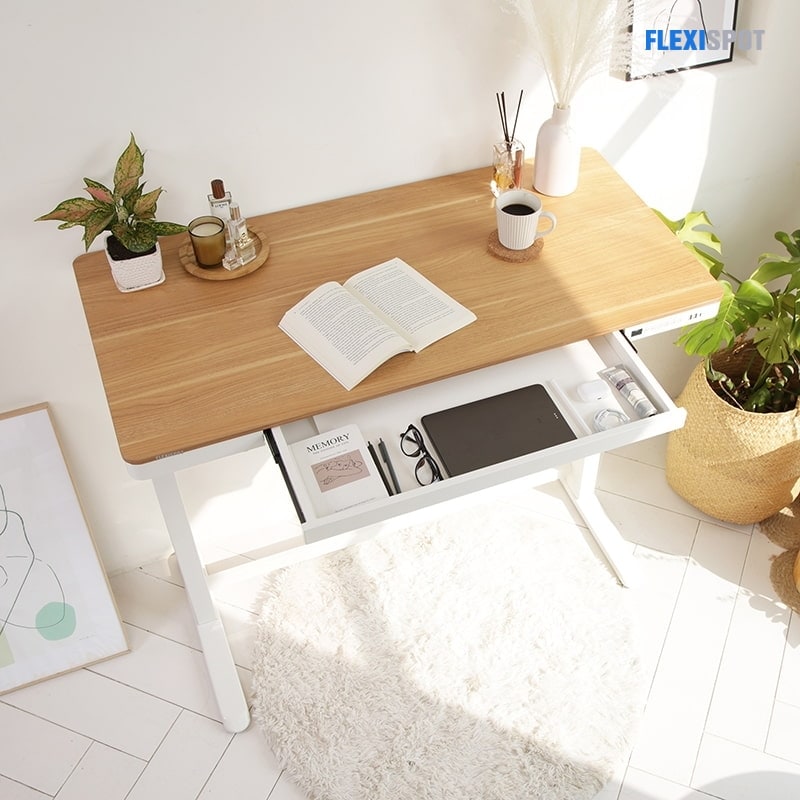 Standing desks are a great option to keep your mind focused and alert. Versatile and practical, Flexispot's Comhar All-in-One Standing Desk boasts multiple features such as flexible height adjustment buttons that can save your preferred height, three USB charging ports for your electronic devices, and a spacious pull-out drawer for your desk essentials. It's sturdy, stable, and reliable to keep you productive even when you take that five-minute social media break. 
https://www.flexispot.com/comhar-all-in-one-standing-desk-wooden-top-48-w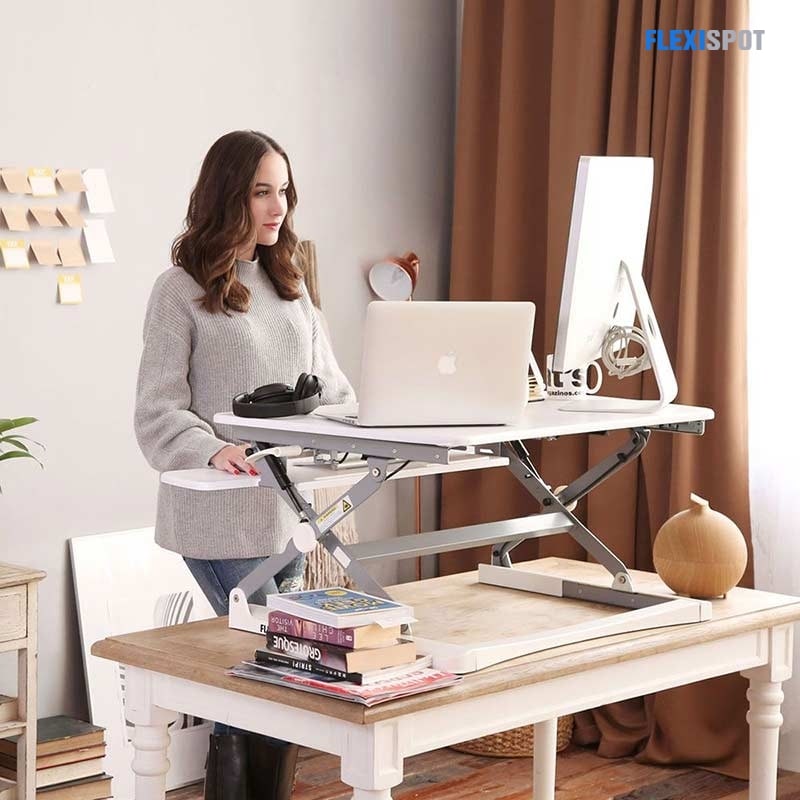 If you want to have an even taller height and improve your posture while you scroll away, the Classic Riser Standing Desk Converter is an easy way to achieve that. It can be convenient for users up to 6'5" tall. It also saves a lot of desk space, consuming almost the same area your desktop takes up. 
https://www.flexispot.com/classicriser-standing-desk-converters-m3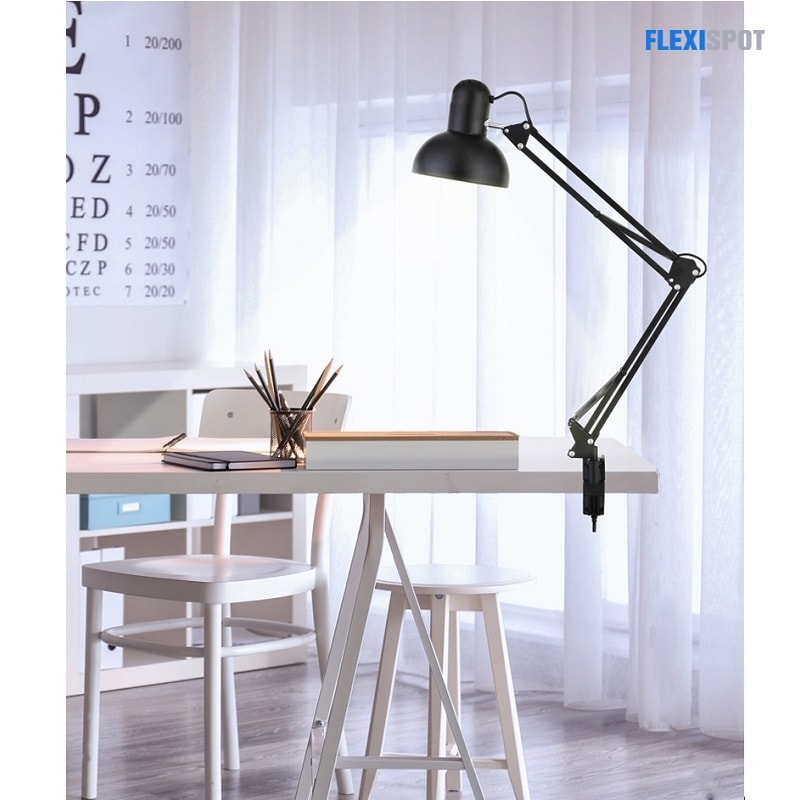 Good lighting also positively impacts productivity. Even if you pause to check on social media, you'll immediately return to your unfinished workload if the lighting gives you good vision, energy to deliver, and a generally upbeat mood. The Task Lamp TA1004BK of Flexispot can be easily clamped to your work desk, giving you additional light on top of the room light. It comes with an LED bulb and an adjustable lamp head and arm. 
https://www.flexispot.com/standing-desk-accessories/office-supplies/task-lamp-ta1004bk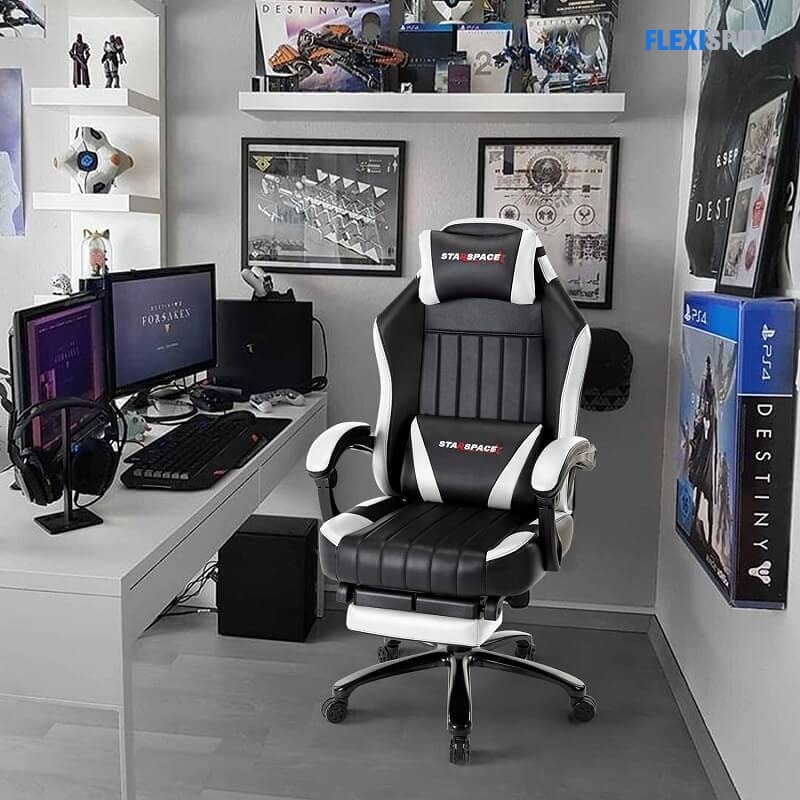 Then after putting in a hard day's work, you deserve time to relax, rest your neck, back and foot while you catch up with friends and see what people are up to in social media. Flexispot has a massage gaming chair that will give you a premium comfort experience. It's designed with a high back, comes with padded armrests, and has memory foam padding on top of the seat cushion. Every part of the chair is adjustable, and you may customize depending on what feels the most comfortable to you. 
https://www.flexispot.com/office-chairs/gaming-chair/ergonomic-gaming-chair-293
But if you want just to lie down as you scroll, Flexispot has a 210T parachute nylon Hammock Under Desk that can carry up to 220 lbs. It's designed for use with the dual-motor and dual-beam standing desks E1L and EC5. It's guaranteed to be comfortable, durable, easy-to-clean, and portable. 
https://www.flexispot.com/standing-desk-accessories/office-supplies/hammock-under-desk-for-office-napping-hk01