Keeping your profession during an outbreak is a gift. Due to the fact that the majority of businesses are laying off the majority of their personnel, the fortunate few are forced to work from home. 
Working remotely is never easy. Your surroundings are different. The computer in front of you is all that you have. Your co-workers are either out of the job or working in their homes. The breaks in between can also be muddled as you try to finish all of your tasks earlier. You may also be distracted by a lot of things happening inside your home.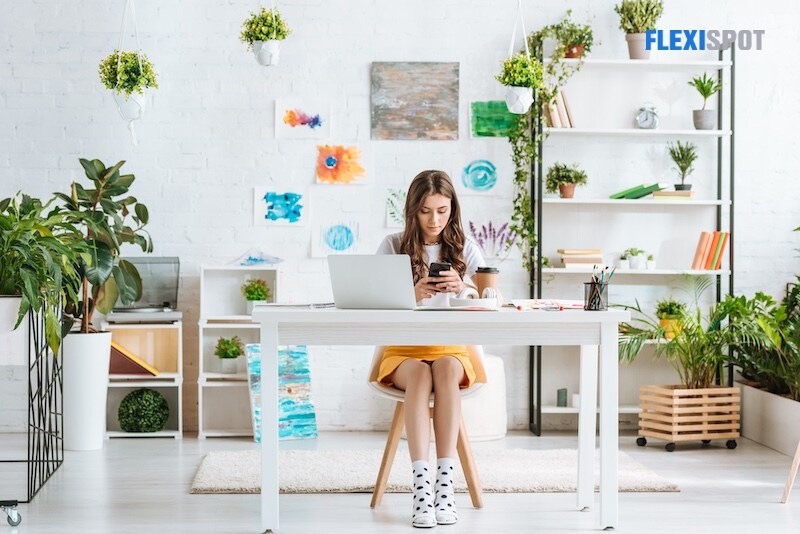 If you are among the lucky employees working remotely, here are the things you can do to keep yourself sane while you are at home.
1. Keep Disturbances to a Minimum - Being distracted inside your home can lead you to procrastinate on doing your tasks. Put your phone on mute and only use your work email and contacts to lessen the amount of distraction as you work.
2. Set and Follow Your Schedule - Following your work schedule can help you stay ahead of your tasks. Maintaining a consistent daily schedule can also help you avoid exhaustion, as you will never feel as though you are racing against your job obligations.
3. Stay Active - By following your work schedule, you can allot more of your time into staying active by working out. Working remotely can tie you down to your computer. This suggests that you must use considerable attempts to make yourself feel stronger.
4. Establish a Practice - Your routine must still follow the one when you were working outside your home. This can include having breakfast early in the morning, exercising, and taking a refreshing bathPerform these tasks an hour before your scheduled work time to allow you additional time to arrange your papers and equipment.
5. Dress Up - Who says you cannot dress up while you work at home? While you cannot wear your usual office garb, there is a lot of pretty and chic loungewear that you can comfortably use while at home.
6. Feel Great, Be Good - There is nothing improper about striving to feel your best especially if you spend a significant amount of time on video conversations. Shaving overgrown hair can help one look clean. Putting on some pop of natural color on the cheeks can also bring a face to life since the video camera can wash out features.
7. Eat Well - Consuming good food while you are at work can help you function better. Foods with a high glucose content can put you in a sugar rush which would ultimately end in a crash. If most of your go-to meals verge on the unhealthy side of the spectrum, you can substitute some of the ingredients for healthier ones. This can help you cut out on the unhealthy ingredients and pack up on more nutrients.
8. Engage with Your Loved Ones - While being preoccupied with your job might consume a great deal of time, you must schedule time with family members and friends. This will not only help you have a break, but it can be a way for you to forge stronger and better bonds with them.
9. Take a Break - All work and no play can be detrimental to your health and work ethics. You will be having a breakdown while working if you never take a break.
10. Treat Yourself - This could be anything that you want. You can go out for a socially distanced walk, a tub of ice cream, or buy yourself a FlexiSpot ergonomic desk like the ones we will mention below.

The Adjustable Standing Desk Pro Series is the perfect addition to the comforts of your home. 
This desk features an upgraded build and modern elevating mechanism of the dual-motor mechanism increase the weight aptitude and provide optimal sturdiness particularly at the top level. There is also a minimal distraction as the desk remains steady while it quietly and quickly raises or lowers with the help of the innovative and energy-efficient LED control that has height presets that you can save. For those who get too immersed in their work, they can set up alerts to tell them when to stand or sit down.
Along with the characteristics mentioned above, there are several workstation choices available. For those who love a feel of nature inside their offices, the bamboo and solid wood is the best choice for you. On the other hand, the laminated top offers ten different color options which will give you the highest chance of making it work beautifully for your office. In the end, FlexiSpot guarantees that each of these choices can withstand the pressure and daily tasks you do in it. 

The wood chosen to construct the desk is one of the strongest available to the market. This desk is the best pick for the ones who want to save the planet by making environmentally friendly choices. 
The kana bamboo standing desk boasts a stronger than steel desktop thanks to the mature bamboo plant that has been harvested and treated at the right age. Additionally, this desk is recognized by only the most rigorous and legitimate industrial criteria.

The Comhar All-in-One Standing Desk Bamboo Texture Top - 48" W is suitable for operating at homes. The unique desktop is an adjustable and economical rising table which not merely increases performance by keeping employees from having to stay down at their seats every time but also stands out due to its loaded capabilities and exquisite look. Only by pushing a button, it adjusts to the optimum setting to help you stand up while securing the equipment, laptop, and documents in the most intuitive angles imaginable for convenient and skilled use. It adapts to the optimal sitting configuration with the touch of a button, assisting you in standing while safeguarding the tools, computer, and papers at the most sensible angles possible for any user. This desk also takes up the smallest space whilst still providing you with a spacious desktop for your office materials.
Final Thoughts
As you treat your job as a blessing, it will in turn bless you with more good things to come. It can be hard especially now that everything is very unpredictable, but with the help of FlexiSpot's ergonomic standing desk, you are assured of a better and safer condition all throughout your remote working.