Sometimes others think that confident employees are arrogant. But in reality, they are just confident with their work ethic and skills that they can get a job done with the best output possible. It actually helps a lot when you are confident in yourself. It will help you professionally and personally impact your life for the better. Your bosses and clients love to work with you because they trust that you are the best in what you do. Confidence also affects your overall mindset about work that positively upgrades the quality of your work outputs.
In its simplest definition, confidence is the belief in something. This means when you are confident, you are banking on yourself that you can do your best in the job that was assigned to you. You are well-aware of what you can and cannot do so you know what to promise that you'll be able to execute and impress your colleagues, bosses and clients.
Confidence at work will help you produce work of the best quality, help you engage with your workmates, superiors and clients, be a lot happier and proud of your small and big wins at work, have less stress, aid you in making solutions for your problems, and become a better leader.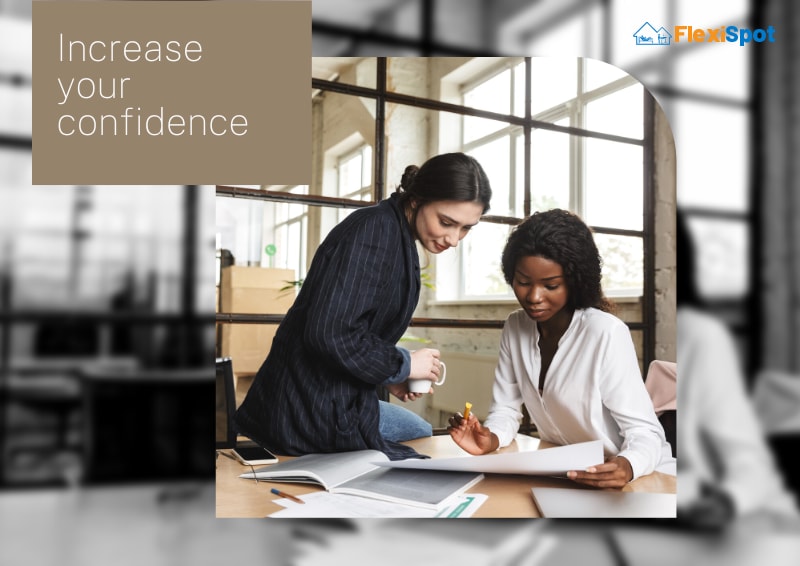 There are various ways on how you can increase your confidence. Remember that when you are prepared for something, you become much more confident that you can do what is or more than what was prescribed to you. First, you must grow your knowledge. When you are more skilled and able, you can supervise those who will do a project or do it yourself with minimal supervision. You can train to have the necessary skills by enrolling in classes, attending seminars, or making use of online learning materials. You can widen your skillset. Also, you should know about the ropes of the industry that you are in. Next is to know your strengths and focus on them. You should know on the get-go why you are a good employee. Identify the area where you perform your best and do better at it. It will make you much more confident than you already are. Of course, you should not forget the fun in what you do. While it's important to take work seriously, you must be able to take mistakes and critiques lightly and not personally. You become much more positive and see these mistakes as an opportunity for you to grow. The next time you do a task, you are much more confident that you already know how to do it right. You shouldn't be shy to ask questions. You are more confident to deliver your work in the best way possible when you fully understand the project that you are working on and the needs of the client. So don't be afraid to ask because it's the only way to know. You will have much better guidance when a project is completely clear to you.
If for example, you're feeling inadequate, look back at everything you have done in the past that was successful. These can become your instant confidence boosters. If you have done it before, you can do it again. And because you know much better now, you can even do a better job at present. This helps you become more positive instead of thinking about your weaknesses and feeling bad about them.
And of course, be open to learning from others and do not forget to always tell yourself that you are capable and you can do it. You'll find yourself much more positive, confident, and generally happy with your work.
You can also become much more confident at work when you have the right tools in your arsenal. An ergonomic workspace has the ability to improve your efficiency and boost productivity. Here are some ergonomic pieces that can increase your confidence in your ability to achieve your goals.

For every Kana Pro Bamboo Standing Desk that you purchase, one tree is planted in behalf of your name for the One Tree Planted initiative. Not only that, the KANA standing desk boasts of a chemical-free production process. This desk features a lacquer coating that is resistant to scratches, water, and insects. It has a bamboo desktop that is highly durable, natural, and resistant to daily wear and tear. It uses a powerful dual-motor lifting system with a greater loading capacity of 275 pounds, extra height adjustability of 23.6" to 49.2". It can fit a desktop that is 47.2" to 80" wide. It has an anti-collision feature that can detect collisions in order to prevent them from happening and a child lock to automatically lock the height position. Moreover, it has a built-in cable management system with a cable tray and an optional socket outlet.

Invest in a standing desk converter to instantly upgrade your workspace. This can also help you improve your posture, making you appear and be more confident. The product has a quick-release, removable keyboard tray that you can easily attach in one step and release as well so that you can use the desk riser without the keyboard tray. It is designed with a stable base that is guaranteed to not make your work experience wobbly at all. You may use the single handle adjustment to adjust the height of the riser that will suit your needs and preferences. It's. great for a 17" laptop because of its 34.1" wide U-shaped desktop cutout over the keyboard tray. It will only take up 27.6" wide by 14.8" deep of your workspace.

For good health and comfort, this product comes with a breathable mesh backrest that keeps the back cool and is stable when leaning towards it. Aside from that, the seat cushion supports your body weight without any pressure. The seat of this chair is also adjustable so you can set it to a height ideal for you and can be easily adjusted to suit people of different heights, across ages. As an under desk fitness accessory, it comes with eight resistance levels so that you could adjust it depending on what's comfortable to you and what you need. To start your workout, you don't even need to wear proper shoes because the pedals are already very comfortable. In a shared space, there's no worrying about the noise the pedaling motion might create for fear of disturbing others. The motor runs in a smooth and quiet manner regardless of how fast or slow, how long or short you pedal. This will also help you personally to have a clear mind and sharp focus at work while you exercise.