There are several reasons to optimize your performance even when working at home in the new work paradigm. There are many changes that most office workers work remotely, and there are good sides and wrong sides. We say this new work paradigm's good because employees do not need to experience headaches because of the long drive from home to work every day. Employees can also save more of their salaries because they do not need to spend more on food allowance and transportation if they take the transit or subway. They have bigger chances to allocate their budget more on their children's college funds or the grand vacation they plan to do after travel restrictions get lifted. 
On the contrary, this work paradigm still has disadvantages because basically, the worker would spend the entire week working at home. There are fewer interactions with friends and colleagues in the office. 
Although other companies have hybrid offices, there are still more days that workers will be working at home. Another, achieving the best aesthetics for the home office is not as easy as on-site workers. It's challenging to achieve a pleasing and ergonomically designed work area when working from home because there are no other colleagues to help you develop the home office. There might be possibilities that you might not be able to choose the correct equipment and furniture pieces, especially when it comes to the office desks. Indeed, there is a need to select the best office furniture because it could affect your performance as a WFH-individual in the future. 

The Best Choices of Office Desks:
If you have not decided about choosing the best partner for office tasks, you got the right provider of standing desks, stand-up desks, sit-stand desks, and other ergonomic products. It is none other than Flexispot. At Flexispot, you can choose the products such as the Kana Bamboo Standing Desk. It's a table product that has an eco-friendly bamboo desktop. FlexiSpot also has the Kana Pro Bamboo Standing Desk. It's a product that has oval legs that provide stability. Its cable management can also help you organize the cables and cords around the work area. 
Aside from these sit-stand desks with the bamboo desktop, other table products are also sturdy and durable. You can choose either of these desks to help you attain the work goals you have in a day. At Flexispot, they create superb stand-up desks that have a wooden tabletop and glass top. 
These products are the Comhar All-in-One Standing Desk Wooden Top and Comhar All-In-One Standing Desk Glass Top. Both have the 48-inch width desktop size, but they differ in price. The standing desk with the wooden top price is lower than the standing desk with the glass top. Yet, despite their price difference, they both have multi-functional keypads with height programmable presets, which can be suitable for multiple users at home. Moreover, they both have the embedded drawers. So, you can ensure the utmost functionality when you enjoy the benefits of these desks. It will be just up to you if you choose the one with the wooden desktop or the one with the glass top. 
Enjoying the Benefits of the Wooden and Glass top Standing Desks:
When you choose the Comhar Standing Desks from Flexispot, you allow yourself to achieve both aesthetics and ergonomics. It's because these products have an elegant design that adds life to the home office. Hence, when you wake up on a Monday morning with the coffee mug in your hand, you would feel more inspired to work because you got a standing desk that has a stylish and edgy design. What's more exciting is these desk products have the functionality that can lessen your work burden. 
So, as we move along, we'll find out the five benefits when you choose to use any of these furniture pieces in your home office. 
a. Both Wooden Desktops and Glass Tops Have the Durability that You Can Trust: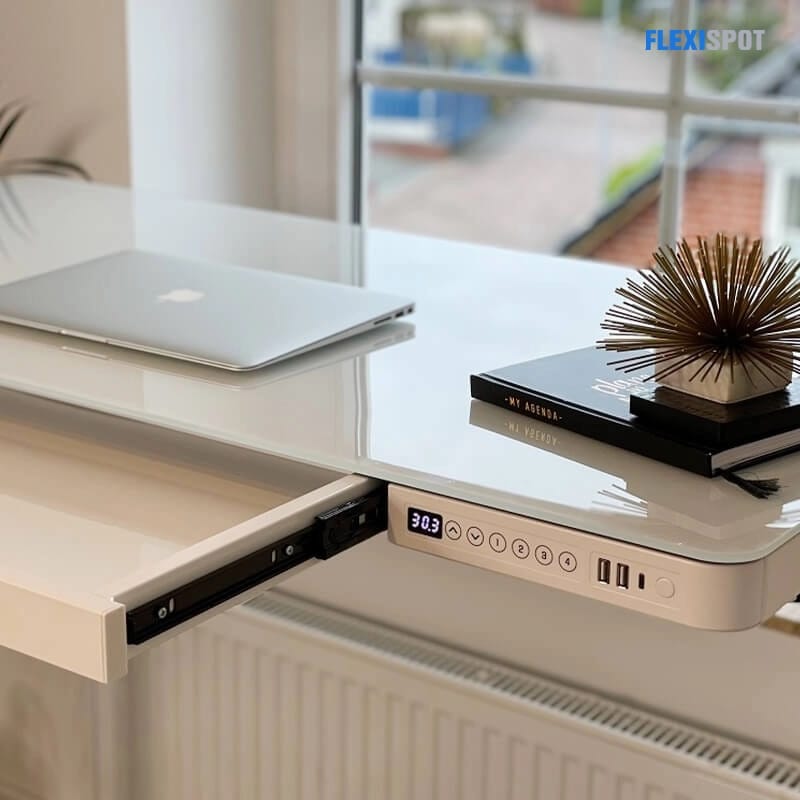 The Comhar Standing Desks offer durable tabletops. It means to say that they are scratch-proof and dent-proof that even with pressure on the device atop, you would not worry that the coating or the desktop itself would have scratches that lead to massive damage on the top itself. For the Comhar standing desk with the glass top, you can ensure that the glass won't break compared to the non-ergonomic tables. With these products, you can enjoy a good time putting your devices on products because you can ensure that they are safe to use. 
b. The Comhar Standing Desks Have the Anti-Collision Function: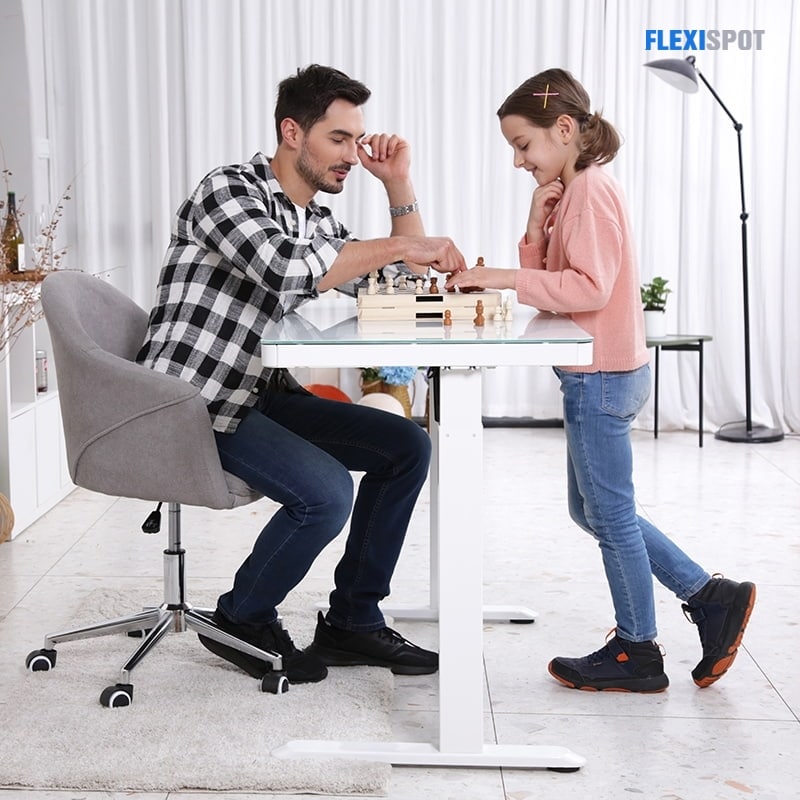 Aside from their durability, the Comhar Standing Desks protect you from breakage and injuries. It's because these products have anti-collision functions, so even when you put your devices on the top and click on the buttons on their keypads, you wouldn't get scared because the table senses a blockage and automatically stops.
c. These Desktops Are Child-Friendly:
The wooden desktops and glass tops of the Comhar Standing Desks are child-friendly, and they don't have sharp edges that can cut or hurt the child when they are in use. Even the Comhar with the glass top does not have tiny fragments that can puncture the child's skin compared to non-ergonomic tables. When your child uses this during his online school or while doing his homework, you can ensure that he would be safe from any harm. 
d. Both Desktops are Easy to Maintain: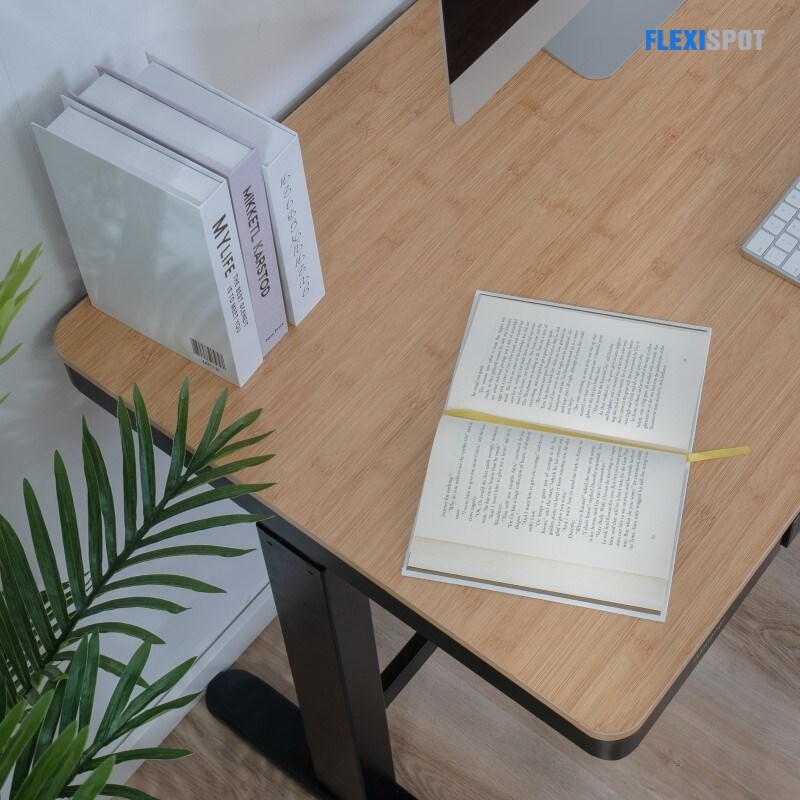 Both the wooden and glass tops are easy to clean and sustain. The wooden desktop is thick enough that it would not quickly get damaged. Hence, you can ensure that you can use it for a long time. Meanwhile, the glass top is tempered glass that does not easily break. Moreover, it's easy to spot the dirt on this tabletop, so you can ensure that you won't have a hard time cleaning these tabletops. 
e. Both Table Tops are Wide: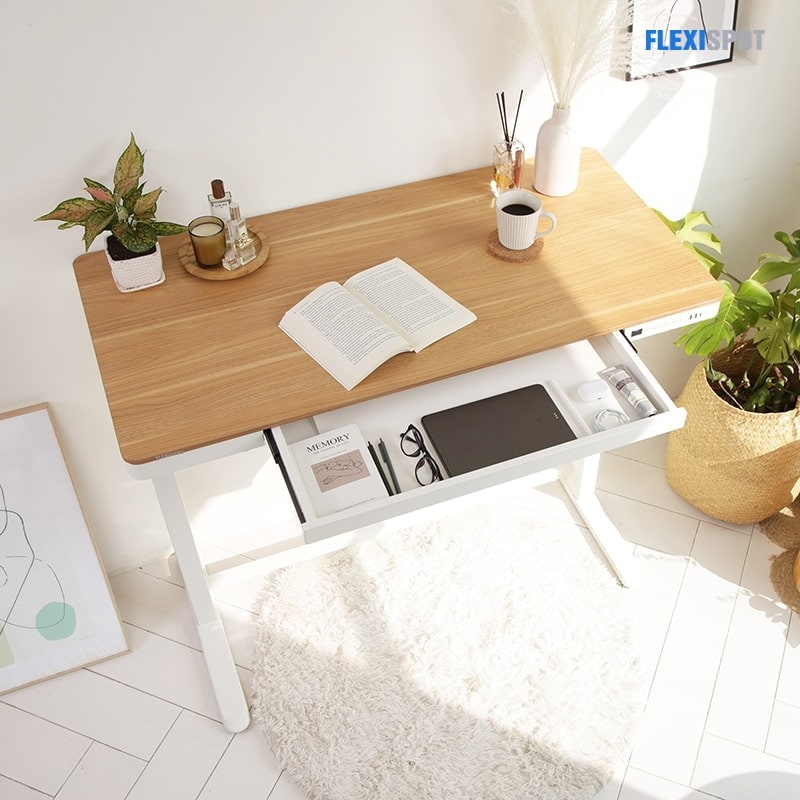 With the vastness of the tabletop, you can ensure that they can hold all the critical office materials that you have in the home office. Moreover, you don't have to worry about falling objects from the table because the top is wide enough for your essential office materials. 
Final Thoughts:
So, looking at these benefits, you can now choose a wooden top or a glass top. You can save more money, especially that these products will be on a great sale. Just check out FlexiSpot's Standiversary Offer and review the possible ways to avail yourself of the exciting discounts. Once you grab this opportunity, you can either enjoy a $160 off from the original price of the Comhar Standing Desk with the Wooden Top or check the discounted Comhar Standing Desk with the Glass Top from September 27-29. What's the hold-up? Check out the huge discounts and take home a WFH-essential with you.