You've probably heard people raving about their standing desks. It has been a trend these past few years because of the many benefits it brings to its users. Many have said that it's just a fad and will die out soon but we've seen the standing desk market rise in an upward trend. It has become rather ubiquitous, more and more companies, as well as people working from their homes, have shifted to using standing desks. And you know what they say that once you go black, you can never go back? This is exactly the same for standing desk users. They love it so much and the impact it made in their everyday lives that they most probably won't replace it with a regular desk anymore.
So what is it about standing desks that people love so much? Here are some benefits that will hopefully convince you to do the switch as well.

1. It promotes good health.
It becomes easier for you to live a rather active lifestyle than a sedentary one when you use a standing desk. You can conveniently shift from a sitting position to a standing position. So many people have realized the dangers of prolonged sitting that they don't want to be seated for extended hours because of their office work. Standing desks help workers stand up easily at regular points of the day and then sit when their feet are tired. Some even come with sit-stand reminders so that the employee won't forget when he or she has to stand up already and break the sitting period.
You may also use under desk accessories under standing desks since the height is easily adjustable. Desk bikes or treadmills can be used under them so that you can conveniently inject movement into your everyday work grind. Exercise is good for your health.

2. It improves posture.
Standing desks will encourage you to stand up erect or sit in an upright position. As mentioned, you can adjust the height of the desk at any time, which means you may change it to a height that doesn't make your back and neck uncomfortable or to a height that will encourage you to have a good posture. This helps your spine straighten up and avoids tension in the long run.

3. It helps you stay focused and alert.
Your senses are more awakened when you're not in a too comfortable sitting position all the time. When you stand up, the blood flow is better and you have higher energy levels that help you stay focused and alert. This means you can do your job more efficiently and productively. Body pain is also lessened so you can work continuously without being disrupted by tensed muscles.
There are tons of other reasons why standing desks are becoming everyone's favorite. If you want to change in your work performance or your daily work life, having a standing desk can be your game changer. We've never really heard of anyone not wanting their standing desks anymore after experiencing all the benefits!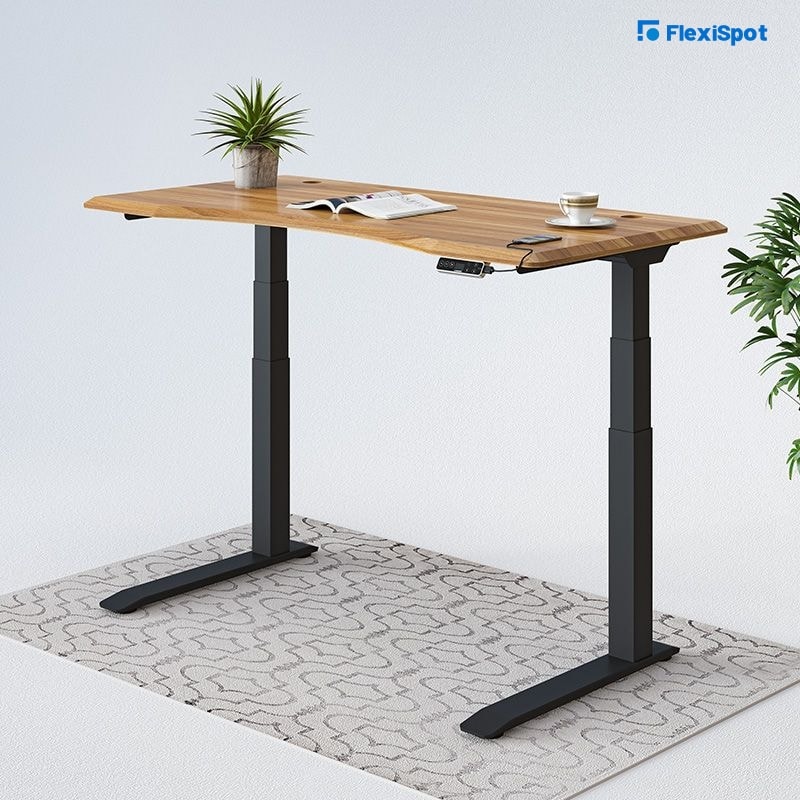 If you are looking to purchase one, FlexiSpot has varied options for standing desks. One of its bestsellers is the Pro Plus Standing Desk (E7). It's priced at $579.99 but on FlexiSpot's upcoming anniversary on May 25 to 27, you can get it at the special price of $499.99.
We'll help you decide by going into detail on what the E7 can offer you.
You'd want a desk that has supreme stability and a reliable weight capacity, and that's what E7 can provide! The product is BIFMA-certified which further guarantees how stable the desk is. Its leg columns are thicker than the usual while the column gap is scientifically designed to be 0.05 mm, ensuring a smooth lifting operation. It can hold the weight of two adults easily, ready to accommodate the weight of 355 pounds.
The base structure is made of solid carbon steel, reaching an automotive-material grade. Even if your items aren't evenly placed on the desk, you can be assured that this will always be stable.
You can also be ensured of its durability, the E7 being made to last after passing 20k motion tests in the FlexiSpot laboratory. You would even be entitled to a 15-year warranty upon purchase!
You'd love its sleek appearance with a laser-welding technique used for its frame. It features a holeless leg design that is aesthetically pleasing. It is temperature-resistant and has an anti-wear coating which makes sure the color is consistent for many years to come.
Its adjustable height range is from 22.8" to 48.4", providing a user-friendly experience for people that stand 4'2" to 6'4".
It comes with an embedded cable tray that is conveniently hidden under the desktop, which makes your workspace organized and visually pleasing. It makes use of a premium keypad with USB charging ports, four programmable height presets, and a child-lock button. You can choose from different frames (either a C-Frame or a T-frame), desktop materials (chipboard, bamboo, fiberboard, solid wood texture, and solid wood), and desktop colors (black, white, maple, mahogany, marble grey, graphite, grey wood grain, white wood grain, special walnut, and ebony.
Don't miss this rare opportunity of getting a great quality product at such a reasonable price point. Mark your calendars right now so you don't forget to visit the FlexiSpot site from May 25 to 27. See you then!