We need a creative environment to be at our best no matter what area of business we're in. Business owners, employees (both on-site and remote), and even visiting clientele must have a space that promotes invention, cooperation, and comfort, from the colors surrounding us to the intangible sensation of unity.
The physical, social, and cultural setting in which artistic activity takes place is referred to as a creative environment. Zones of focus and absorption are among these regions, where individuals could become profoundly immersed in their creative work and complete concentration levels not attainable in other contexts.
A creative work environment with a stunning desk can impact your mood. According to 46% of employees, their current workspace has a significant effect on their productivity. You could make your workspace visually pleasing in a multitude of ways. 

What are Aesthetics?
Aesthetics are the language we use to communicate our feelings of pleasure and beauty. Anything in the environment all around us and we perceive as attractive or delightful is aesthetically appealing. This includes what we see, touch, taste, hear, and smell. We use all of our senses to appreciate aesthetics.
For decades, designers and artists have strived to make their works appealing to the eye. Through studies, social psychologists have recently demonstrated that people consider visually beautiful objects to be simple to manage and of higher overall quality.
Aesthetics are a 4D experience, and designers are more conscious of this than ever before. They are therefore appealing to all of our senses, not just sight. They also understand that beautiful goods are thought to be more valuable and vital, even though this is not always the case. 

How Aesthetics are Beneficial in the Workplace
There's a lot more to your workspace design than meets the eye. Here are a few examples of why workspace aesthetics are essential.
Improve Productivity
According to studies, installing plants in the workspace and managing the amount of natural light increases employees' health and well-being, resulting in increased productivity.
Boost Morale
According to numerous research, a majority of the workforce prefer an aesthetically beautiful workplace, with other studies finding a favorable effect of aesthetics on employee satisfaction and confidence.
Reveal Your Company Image
Your business's image is reflected in the aesthetics of your workplace. Your office space, like your branding and logo, reflects who you are as an organization. Your workplace also reflects how much you value your employees. You're unintentionally telling your employees that you don't care about their work situation, health, or wellness by equipping them with non-ergonomic office chairs and white lights.
How to Make a Workspace Look Aesthetic

Use the Right Colors
When it comes to levels of productivity, the perfect burst of color may make a big difference. This claim is backed up by scientific evidence. Color therapy science demonstrates that colors can assist you in making an informed choice. Moreover, several research on the benefits of color on employee well-being found that low-wavelength shades, such as relaxing green and soothing blue, boost efficiency and focus. They also contribute to a general sense of well-being. Bright yellow, on the other hand, is vibrant and youthful. It is said to be a catalyst for invention.
Choose Curves
Reduce the number of 90-degree angles on your desk by rearranging it. According to research, a workstation with curvilinear edges seems more appealing than one with rectilinear corners. Curves are supposed only to engage the front cingulate cortex. This portion of the human brain appears to have a great deal of influence. The anterior cingulate cortex is also thought to be involved in connecting behaviors, pleasant emotional reactions, and drive.
A curved-shape workstation is uncommon. As a result, working on one will make your workstation feel distinct. The following is an example of a nicely curved and aesthetically pleasing working space: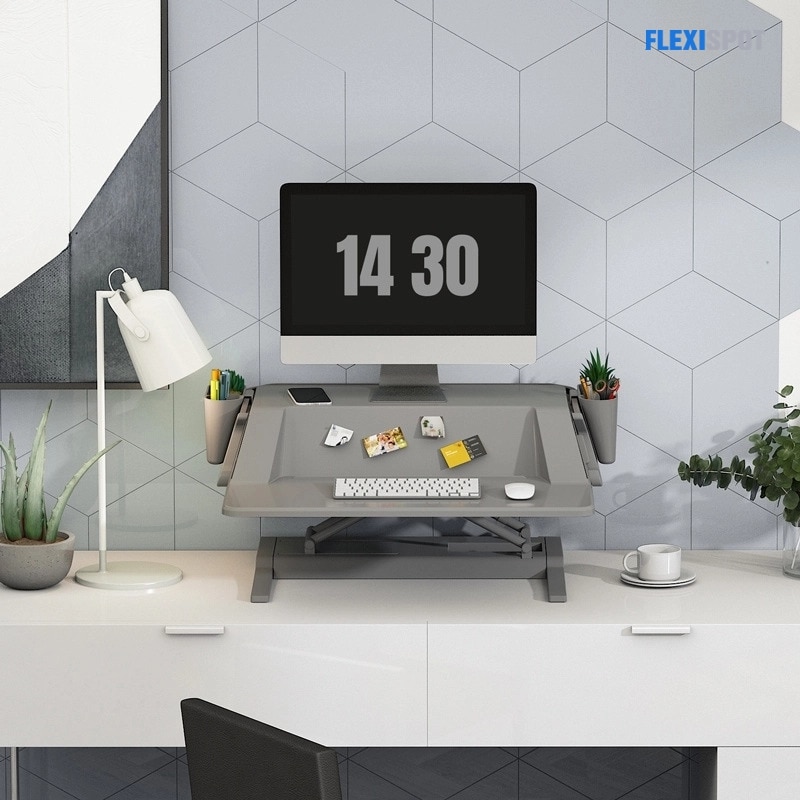 Aesthetic Sit-Stand Workstation M6
Minimal Aesthetic Design: The workstation was designed by leading US designers with adaptability and efficiency in mind and a clean, modern aesthetic that integrates into any workspace.
Spacious Keyboard Tray: The extra-deep (11.2") keyboard tray accommodates workspaces with more flexible layout options.
Integrated Attachable Accessories: Louvres for holding receptacles make it simple to arrange pens, pencils, and other desk items.
Straight Up & Down Movement: A gas spring hovering mechanism and a sophisticated "X" structural design enable adaptable stepless up-down adjustments.
Stepless Single Handle Adjustment: With a stepless single handle adjustment, you can sit or stand whenever you choose.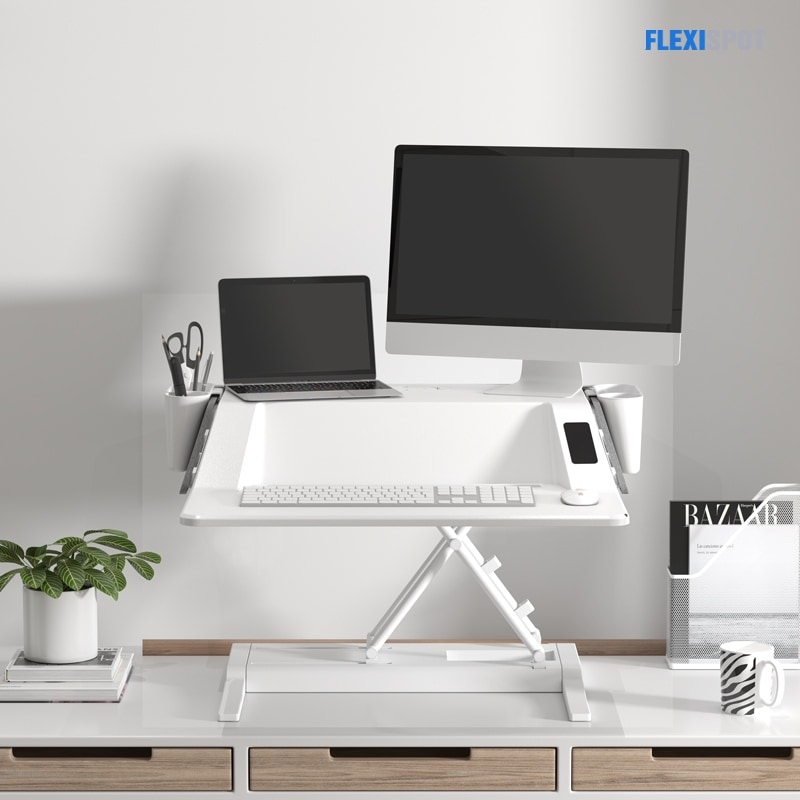 Motorized Aesthetic Sit-Stand Workstation EM6M
Sleek Stylish Design: This sophisticated workstation has a patented, versatile design that can handle any task. Its modern design is appropriate for any place and goes in with any decor.
Integrated Charging Capabilities: With three USB charging ports, you can quickly charge your electronics without having to deal with tangled connections or wall outlets underneath your desk. Furthermore, the wireless charging pad eliminates the need for charging cables, making it much easier to charge up your smartphones.
Smooth & Steady Height Adjustments: To shift modes from sitting to standing, use the handy touchscreen control panel to easily elevate and lower the desk. The desk's X-shaped structure and smooth gas spring hovering system ensure that adjustments are made reliably.
Cords Organization System: To prevent tangled cables from causing clutter, the workstation includes a cord management system with thoughtful design, allowing you to work in a tidy workspace.
Pre-Drilled Monitor Mounting Holes: This allows you to quickly and easily install a space-saving dual-monitor mount, enabling you to view two monitors at the same time while working safely.

Let Natural Light In
Natural light has been found in research to improve mood, leading to a more creative mentality. Employees exposed to natural light through a window slept 46 minutes longer per night than those who were not. Furthermore, quality of life and health evaluations revealed that the absence of light disrupted people's circadian rhythms, increasing their disease risk. If windows aren't an option, install a desk lamp in your space to reduce the amount of fluorescent illumination.

Decorate with Indoor Plants
According to a study, indoor greenery or indoor plants can have a favorable effect on mood. Succulents, for example, will offer extra color to your workspace. This will make your desk more attractive and healthy to work at. Water and sunlight are the two most important factors for a plant's survival. Don't sweat if your desk isn't near a window. Indoor plants do not require sunlight and can thrive in low and/or no light.

Keep Some Snacks Handy
Blueberries have been termed "brainberries" by experts after they discovered their phytochemical potential. Small, dark-hued fruits interact with our brains on a molecular scale, assisting our minds in becoming as sensitive to incoming information as possible and even stimulating the formation of new nerve cells. If you can't get your hands on some berries, go for a banana, one of the group's cheapest fruits. You'll get the nutrients you need to stay engaged from this lean blend of potassium, manganese, and carbs. If you commence your day with either of these phallic fruits, you'll be full until lunch.

Use Wood Elements
Because it's durable, gorgeous, and just the perfect bit of earthy, it's no surprise that it's a popular choice for workspaces. Wood's natural appearance lends a relaxing, organic sense to any workspace. It's also a renewable resource with few adverse effects on the environment. Wood is a warm element that adds to the coziness of your workspace. It also goes with any color palette and maybe polished in various ways to match your preferences. Because wood is a natural material, it will go with anything.
Examples of beautiful desks with wood surfaces:
Comhar All-in-One Standing Desk Wooden Top
Kana Pro Bamboo Standing Desk
Willow Solid Wood Standing Desk
Comhar All-in-One Standing Desk Bamboo Texture Top
AlcoveRiser Bamboo Standing Desk Converters