Gaming as we know it has certainly changed over the years. It is no longer just a pass time for time-starved gamers, but an activity that people engage in to take their minds off of everyday life stressors and provide them with some much-needed downtime from social interaction. However, prolonged gaming can cause more harm than good when one remains seated without being active while playing, leading to other health conditions such as sleep disorders, obesity anxiety, or even worse yet: early death!
You may be unaware, but sitting for prolonged periods can have adverse effects on your health. The solution to this problem? A height-adjustable standing desk! With the ability to stand or even stretch out from time to time, it won't feel like work at all - just part of your daily routine, which will help keep us healthy and happy in both life AND our games. 
Height adjustable standing desks are perfect for people who spend long hours playing video games without taking breaks during gameplay (which is bad!). These desks allow gamers unlimited mobility by providing them with an alternative way, other than sitting that they could use to relieve their physical fatigue;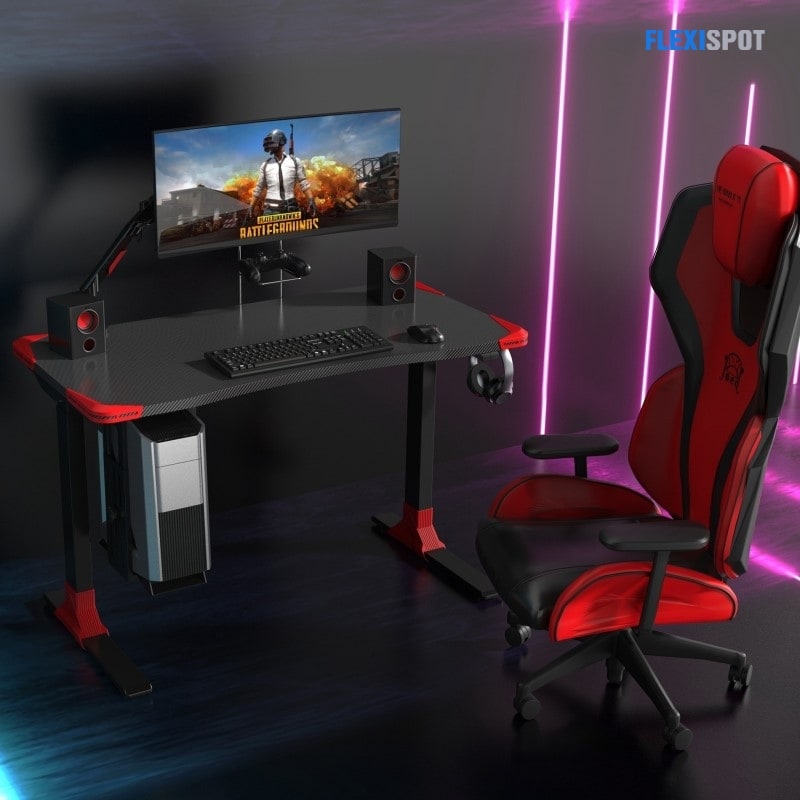 The Electric Height Adjustable Gaming Desk from FlexiSpot is easily the best height adjustable gaming desk owing to its robust construction facilitating quick, smooth, whisper-quiet height adjustments. The desk essentially combines premium construction with an elegant, spacious desktop and modern features such as cable ports, achieving the ultimate gaming desk configuration. The Electric Height Adjustable Gaming Desk - 55" W indeed provides a superior gaming experience; you'll elevate your gaming skills to the next level.
Here's a comprehensive review. 

Criteria of Selection 
The Electric Height Adjustable Gaming Desk from FlexiSpot alleviates the sedentary lifestyle associated with gaming by allowing you to incorporate physical movements into gaming sessions via a simple press of a button. Experience smooth, quiet, and quick height adjustments via pressing the down arrow on the keypad to lower the desk up to 28" and the up arrow to raise the desk to your correct height, up to 47.6". 
Thanks to the durable, double-steel tubing with an extra-wide base, the desk offers plenty of support to your entire gaming setup, including monitors, mouse, keyboard, gaming consoles, and other gaming gear. As such, whether you're transiting between sitting and standing or vice versa, you can always be sure that your expensive gaming setup will remain firmly rooted on the desktop. What's more, the single motor responsible for lifting and lowering the desk is meticulously engineered and thoroughly tested, ensuring stable and whisper-quiet operations allowing you to continue gaming uninterrupted. 
The environmentally friendly desktop constructed from eco-friendly, medium-density fiberboard is another stunning detail about the Electric Height Adjustable Gaming Desk. The 1" thick, rectangular work surface is spacious enough (measures 55 inches long and 28 inches wide) to allow you to comfortably accommodate all your gaming gear on the desktop. Still, you leave sufficient space for other accessories such as headphones, speakers, task lamps, monitor holders, and more. 
The Electric Height Adjustable Gaming Desk-55" W is a dream of any dedicated gamer mindful of their health. Below are the desk's key features. 

Design and Aesthetics
The Electric Height Adjustable Gaming Desk-55" W features a sleek and minimalistic design, in line with the preferences of most gaming setups. The desk integrates a robust and stable construction featuring a high-strength welded double tubing frame ensuring maximum stability. The tubular steel design is tenacious, ensuring that the desk can support the jostling weight from the usually heavy gaming setup. The base is also wide enough to distribute the overpowering weight and ensure maximum stability even at the highest height or during height adjustments.  
The desk comes with a premium desktop made from green, medium-density fiberboard. The desktop is ergonomically designed with an ergo edge (a slight in-curve at the front edge), allowing for a more immersive gaming experience. The desktop features rounded edges and corners to decrease wrist strain ensuring maximum gaming comfort. 
The desktop is aesthetically pleasing and synchronizes nicely with gaming gears for a wholesome appearance. Besides, the desk comes with cable ports for easy cable management, allowing for a tidy setup. Additionally, the carbon fiber texture on the surface offers a bit of grip to the mouse allowing for optimal performance during games. Overall, the desk is well-designed with pleasing aesthetics; it can coordinate nicely with any gaming room and gaming gear.
Size 
The Electric Height Adjustable Gaming Desk-55"W integrates a minimalist design but is pretty spacious to accommodate your entire gaming setup including monitors, mouse, keyboard, console, and other desk accessories. The base is 25.6" wide with the length adjustable from 29.3" to 46.6". The desktop measures 55" long and 28" wide. The desk's height is adjustable from 28" to 47.6", enabling you to attain a comfortable height when standing or sitting. Overall, the desk is pretty spacious, plus supports height and length adjustability for ultimate space compatibility. 
Comfort 
The Electric Height Adjustable Gaming Desk-55"W is thoughtfully designed to ensure ultimate gaming comfort. The desk's surface features smooth corners and edges to eliminate wrist and hand strains, common with most gaming desks. Besides, the desktop integrates the Ergo Edge design- a smooth curvature at the front edge reducing the distance between the monitor and your seated or standing position. In essence, by allowing quick and smooth height adjustments via a simple press of the up/down button as well as the Ergo Edge coupled with smooth edges and corners, the Electric Height Adjustable Gaming Desk-55" W ensures a comfortable gaming experience. 

Extra Features and Tech 
The Electric Height Adjustable Gaming Desk-55" W is fitted with a single motor that facilitates quiet and smooth height adjustments. The desk features a standard two-button up and down keypad, making your stand-sit transitions quick and effortless. Simply press the Up button to increase the height and the Down button to lower the height to your preferred sitting or standing level. 
In addition to the convenient two buttons, the desk also comes with a handy cable management system to keep your gaming setup neat and organized. There's also an integrated space to effortlessly mount a single monitor arm, as per your preferences.  
Quality Material 
The Electric Height Adjustable Gaming Desk-55" W is constructed with premium materials ensuring ultimate functionality and durability. The desk features a double-steel tubing frame construction making it stable and robust, capable of holding up to 154 lbs. The frame's double-steel tubing ensures unmatched stability with wobble-free height adjustments ensuring total safety of the heavy-duty gaming setup.
The desktop is constructed from eco-friendly, medium density fiberboard made from combining natural wood and recyclable products. Fiberboard is not only eco-friendly but also has excellent mechanical and physical properties making the desk pretty durable. What's more, the desk is covered in a high-quality PVC laminate, making it scratch-resistant, water-proof, and amazingly easy to clean. 
Adjustability 
The Electric Height Adjustable Gaming Desk-55"W supports both height and length adjustability. For the length, the desk can stretch out from 29.3" to 46.6", making it compatible with both compact and spacious rooms. The desk is fitted with a single motor which allows for effortless height adjustments with height levels ranging from 28" to 47.6". The motor has a lift speed of 1"/sec and a noise level of under 50 dB, facilitating quiet and quick height adjustments by pressing the convenient up and down keypad. 

Customization 
With different size options and color choices to choose from, the Electric Height Adjustable Gaming Desk-55"W offers lots of customization options. As such, you can be sure to pick a sustainable option that fits your exact needs. Better still, the desk is compatible with a wide spectrum of accessories including ergonomic gaming chairs, under-desk bikes, monitor stand & arm, vibration plate, monitor stand, standing desk mats, cable spine, modesty panel, adjustable CPU holder, clamp-on adjustable keyboard tray, and task lamps among other products. You can use these products and accessories with the Electric Height Adjustable Gaming Desk-55" W to create a truly personalized gaming setup, just the way you like it.
Cost/Budget/Price Point
They say good things come at a price; the Electric Height Adjustable Gaming Desk-55"W holds to this. The desk retails at a cost-effective price of $340, providing plenty of value for money. If you're mindful of your health as a gamer and know that this desk will serve you faithfully for quite some time, you'll understand that the price doesn't matter. The Electric Height Adjustable Gaming Desk-55" W will transform your gaming lifestyle for the better, enabling you to lead an active lifestyle and avert life-threatening diseases associated with sedentary living. 
Compatible FlexiSpot Products 
The Electric Height Adjustable Gaming Desk-55" W is compatible with a vast range of accessories and products, allowing you to customize it and enhance the overall gaming experience. You can purchase the desk with some of these products from FlexiSpot to take your gaming to new heights: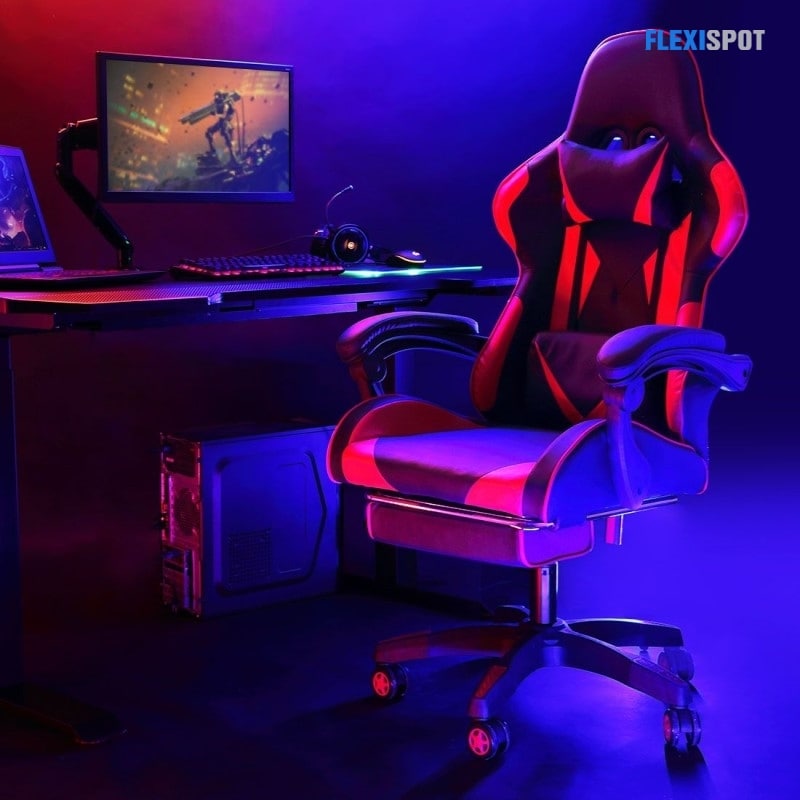 FlexiSpot Gaming Chairs The Electric Height Adjustable Gaming Desk-55" W can be used with a wide range of gaming chairs from FlexiSpot. Based on your budget and exact needs, you can find some gaming chairs to comfortably sit behind the desk for the ultimate gaming experience. Choose options such as the elegant Gaming Chair GC01 with red black accents or the budget-friendly Ergonomic Gaming Chair 3571 with multiple adjustable modes.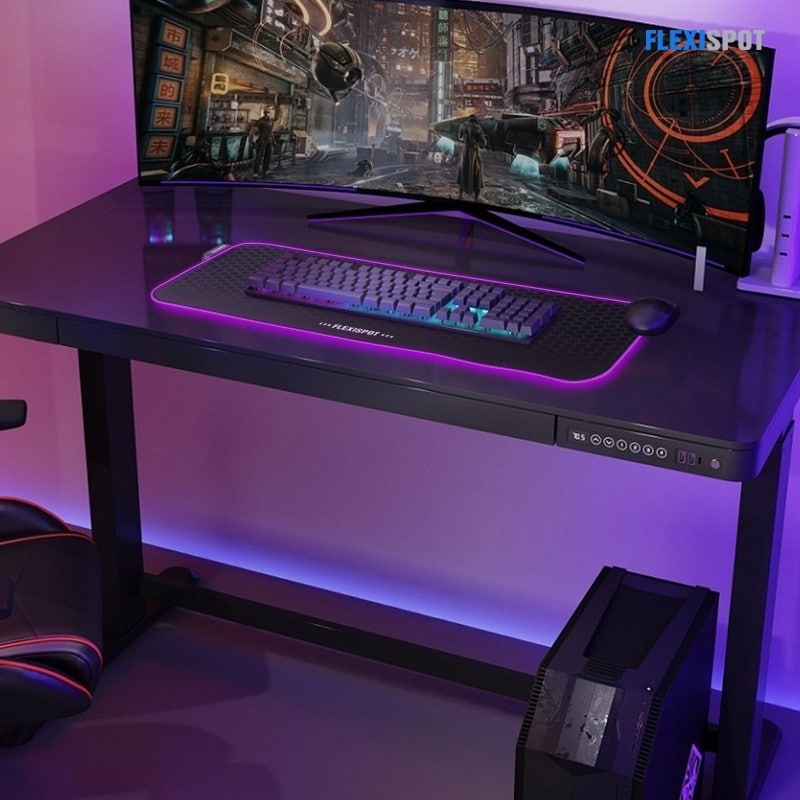 RGB Mouse Pad MP016- Take your gaming to the next level with the RGB Mouse Pad MP016 with a smooth, comfortable surface, non-slip backing, and integrated RGB lighting.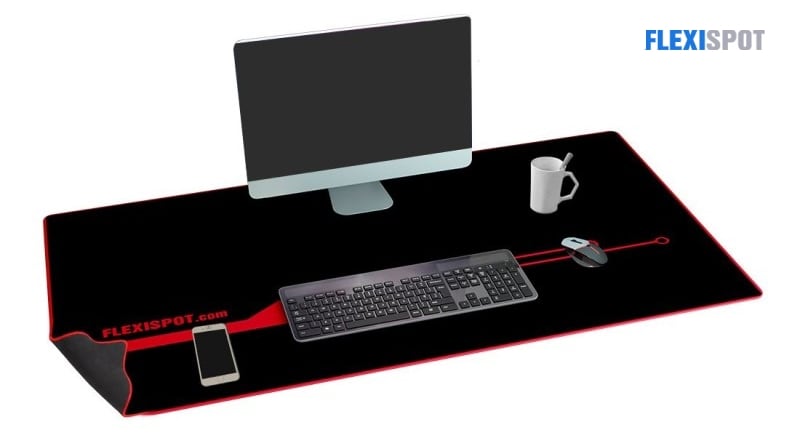 Mouse Pad MP012/MP014- With This mouse pad, you can be sure of exemplary gaming accuracy and control thanks to its premium, non-slipping material with high-quality stitching.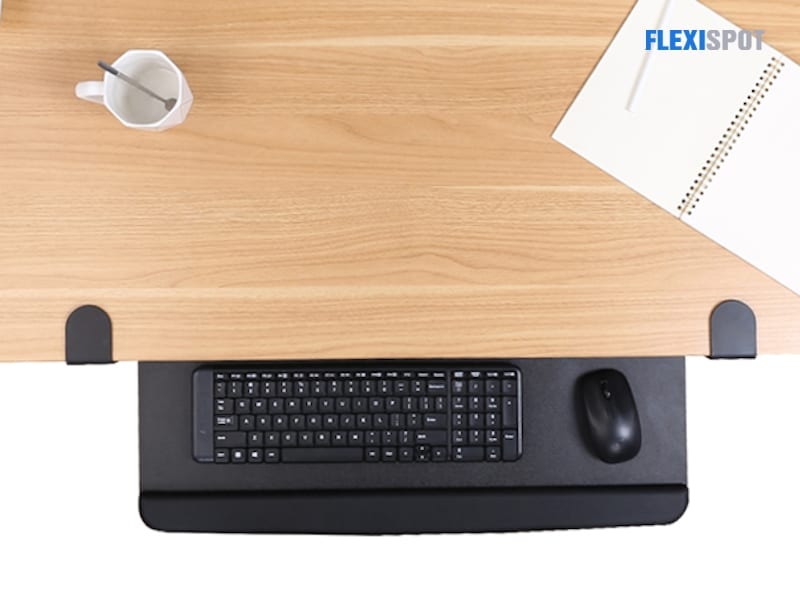 Clamp-on Adjustable Keyboard Tray KT2B- Get comfortable gaming with the versatile and spacious Clamp-on Adjustable Keyboard Tray KT2B. It's ergonomically designed to offer the ultimate gaming comfort, plus it's easy to attach it to the desk- just make sure that your standing desk doesn't exceed a thickness of 2.1", which is very rare.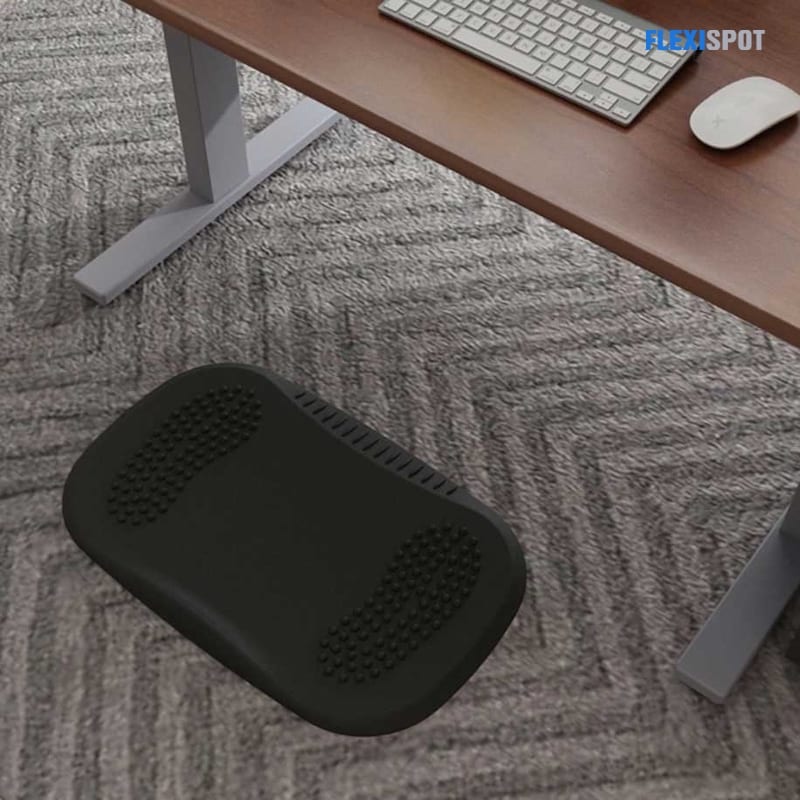 Ergonomic Anti Fatigue Mat -This Ergonomic Anti Fatigue Mat helps alleviate fatigue caused by standing on hard floors throughout the day. The mat absorbs shock and pressure from your feet so that you are comfortable while standing for extended periods. The result of using an ergonomic anti-fatigue mat is that you are less likely to suffer from sore feet, achy legs, swollen ankles, and tired muscles because of the increased cushioning it provides. 
Other FlexiSpot products that are compatible with the Electric Height Adjustable Gaming Desk-55" W include the Adjustable CPU Holder CH1 and the Task lamp TA1004BK. 
Maintenance
Like any other electric standing desk, the Electric Height Adjustable Gaming Desk-55" W requires routine maintenance for optimal functionality and durability. For the most part, maintaining the desk is neither labor intensive nor does it require any special skills. It calls for setting up the desk correctly as per the instructions in the manual, taking care of the motor, and cleaning regularly. Some of the routine maintenance practices you can undertake on this desk include: 
Clean the frame and tabletop regularly. For the laminated tabletop, never clean it using detergents such as ammonia, water, and traditional soap. Instead, use warm water and a microfiber cloth for quick cleanups. In the case of stubborn stains, scrub the surface with soapy water several times. Also, avoid exposing the laminated tabletop to water and direct sunlight to lower the risk of fading. 
Always use a coaster when drinking hot coffee or tea on your desk. Also, if you're eating, place a heavy cotton cloth under your plate as the heat can destroy the desktop. 
Never sit on your height adjustable gaming desk 
Make sure you never spill liquids on the motor 
Never interrupt the desk while in motion 
Always wipe off spills immediately they occur  

Cost-Benefit Analysis 
The Electric Height Adjustable Gaming Desk offers plenty of benefits allowing gamers to maintain an active and healthy lifestyle while pursuing their passion. By facilitating a seamless transition from sitting to standing and vice versa, this desk enables gamers to integrate physical activities into gaming, alleviating the detrimental effects of a sedentary lifestyle. But of course, the desk has its shortcomings just like any other product. Here's a look at the pros and cons of the Electric Height Adjustable Gaming Desk.
Pros 
Great value for money
Robust and stable construction with double steel tubing ensuring unmatched support with no wobbling during height adjustment.
Quick and whisper-quiet high adjustments ensure you remain in the game during sit-stand transitions. 
Wide customization options 
Compatible with numerous products and accessories for added functionality 
Amazingly stable even at the highest height setting 
Spacious, eco-friendly desktop resistant to scratches 
Cons 
Assembly requires two or more people.
It lacks modern features available in higher-end models from Flexispot, such as memory presets, sit-stand reminders, anti-collision technology, and more.
To get excellent cable management, one needs to look at Flexispot's other height-adjustable desks.
Verdict
It's a no-brainer that the Electric Height Adjustable Standing Desk is well designed to achieve its primary function: allowing gamers to integrate physical activity in their largely sedentary lifestyle. The desk is well constructed to bear the weight of the entire gaming setup plus allow for smooth, quiet, and comfortable transitions between standing and sitting. This desk takes the gaming experience to a whole new level and enables gaming enthusiasts to lead a healthy, fulfilling life.
The Electric Height Adjustable Standing Desk is highly recommended to any gamer looking to enhance their gaming setup and avert the detrimental health effects of a sedentary lifestyle synonymous with excessive gaming.