Height adjustable standing desks are becoming increasingly popular. They allow you to sit and stand at your convenience so your mind and body can function optimally. And while an ergonomic office chair can be your best friend at work while you are sitting and working. But what to do when you are standing and working with a height-adjustable standing desk?
While standing is healthier than sitting, standing for a prolonged period can bring its own set of challenges. That's when you need something that you can rely on to relax while standing. Surprisingly, there are ways to relax your mind and body that also allow you to burn calories and shed off some extra pounds off your body weight.
A desk bike is one such invention that you can use with a height-adjustable standing desk and keep yourself active and healthy while working. Flexispot, the industry leader in ergonomic workspace solutions, brings you the Under Desk Bike V9U, undoubtedly the best standing desk mate.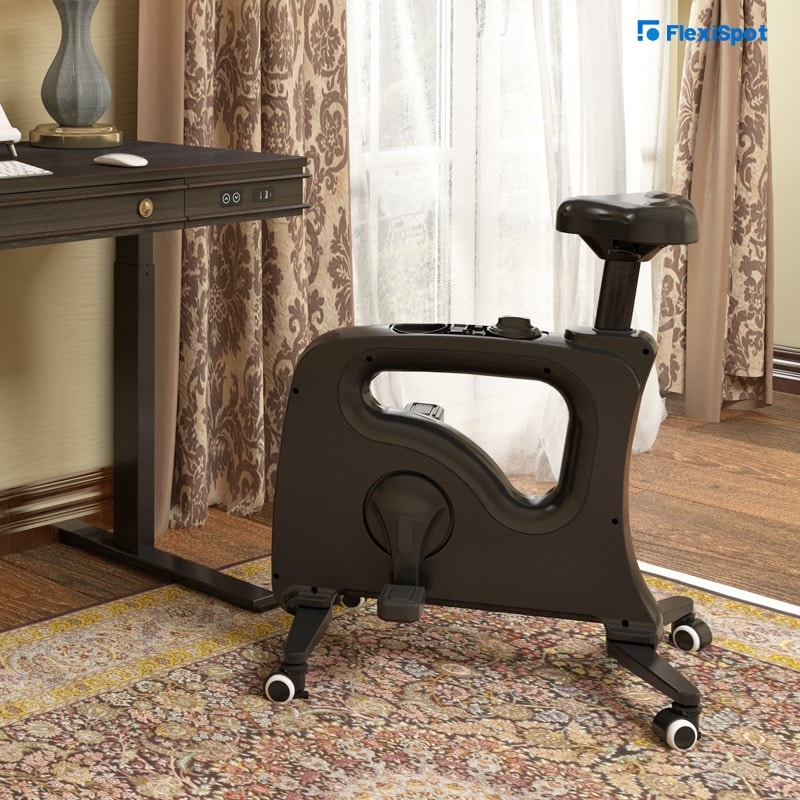 In what follows, you will get an insight into this sleek yet super functional standing desk mate. But before we get into the details, here's a brief overview of the pros and cons of the Under Desk Bike V9U.
| | |
| --- | --- |
| Pros | Cons |
| No installation required; easy to set up | Features a shallow cup holder |
| | Not comfortable for prolonged sitting |
| | |
| Stays in place when in use | |
| Ease of mobility and storage | |
| | |
| Height adjustable seat making it the best mate for standing desks | |
| Eight resistance levels for a decent cardio workout | |
Under Desk Bike V9U – Review

General Features
Dimensions
Let's start the review with how the product looks.
The Under Desk Bike V9U is a sleek ergonomic office product that allows you to maintain your fitness as you work. Given the dimensions of the Under Desk Bike V9U, you can fit this product in a large variety of spaces, even if you have a small home office. The Under Desk V9U bike is 37.6" long and 22.8" wide. The default height of the under desk bike V9U is around 30"; however, since most people will use it with the standing desk, you can adjust the seat's height by up to 7 inches. When the seat is pulled up to the maximum level, the height of the Under Desk Bike V9U is 37.2". When not in use, you can pull the seat down, which makes it convenient to store that bike under a standing desk when not in use.
Comfortable Seat
Next, we look at how the bike feels. Since Flexispot is the industry leader in providing comfortable ergonomic workspace solutions, you cannot doubt the comfort and quality of the seat. The seat is made from a premium quality cushion that's durable and comfortable. Moreover, the seat's design is such that it provides maximum support to your buttocks and lower spine as you sit on the bike.

Height Adjustable Chair
The other interesting feature of the Under Desk Bike V9U is the height-adjustable chair. The default height of the bike is around 30," but since you will be using this product with a height-adjustable standing desk, it offers you the flexibility of adjusting the height of the bike's seat for up to 7 inches.
To adjust the chair's height, you have to gently press the user-friendly pneumatic adjustment level, allowing you to move the seat up and down conveniently. When not in use, you can press the adjustment level, lower the height of the bike's seat and conveniently tuck it below the standing desk, which makes it an ideal choice even when you have a compact workspace.
Comfortable Pedals
When it comes to fitness bikes, you don't only look at the comfort of the seat but are also concerned about the comfort of the pedals, and it's something that you don't have to worry about when using the Under Desk Bike V9U. The comfortable pedals allow you to conveniently work out even when wearing your office shoes.
Ease of Mobility and Storage When Not in Use
If you look at the Under Desk Bike V9U, you will notice the easy-rolling casters that make it convenient to move the product from one place in your conventional or home office to another. Moreover, given the height adjustment feature, it is easy to store the bike under the desk when not in use, making it a perfect space-saving solution for modern workplaces.
Another interesting feature of this bike is that it stays in place when in use. If you look at it, most people may end up assuming that they can scoot on this bike with its easy-rolling casters. But that's not the case because the casters lock themselves when you sit on the bike, making it almost impossible to move the bike's position while sitting. The only change you can make to the bike while sitting is adjusting the seat's height to align it with your workstation better.

Eight Resistant Levels
While the Under Desk Bike V9U is a standing desk mate, that doesn't compromise its functionality as a piece of fitness equipment. The bike features eight resistance levels that allow you to work out and burn extra calories even when you are working. You can adjust the resistance level using a knob.
LCD Display to Pedal Your Journey
And if you are concerned about what you have accomplished on the bike while working and working out, the LCD is there for you to track your workout. The LCD feature allows you to track the time you have spent working out on the bike. Moreover, the LCD display also exhibits the distance covered, and calories burned so you can get a better idea of what you have accomplished while doing your work.
The Belt
The Under Desk Bike V9U is driven by a belt typical to a fitness bike. For fitness bikes driven by a belt, In case the belt breaks down, the drive fails, so does the utility of the exercise bike. Perhaps the only not-so-great feature about the Under Desk Bike V9U is the belt's durability. Some users have reported that the belt is not durable, but every customer does not report the problem, so hopefully, with regular care and maintenance, you can take care of the belt and let the bike serve you for years.

Whisper Quiet Operations
The Under Desk Bike V9U allows you to cycle quietly, so whether you are working in your office or are using this bike in your home office, you can conveniently continue to do so without disturbing anyone around you.
Affordable Price
Lastly, what makes Under Desk Bike V9U more desirable than other options available on the market is its price. The price tag of the Under Desk Bike V9U is more affordable than most of the options available on the market, considering that it is one of the sturdiest under desk bikes that you can add to your workspace.
Installation and Setting up the Bike
There is barely any installation involved in the Under Desk Bike V9U. The bike comes in a small, compact box and weighs around 51 pounds. When you pull the bike outside the box, you just have to remove the packaging, straighten the legs with casters and pull down the pedals, and you are good to go.
The ease of setting up is a major advantage of this product as it's always nice not to worry about assembling the product you order.
Getting Used to the Bike
Getting used to the bike is fairly simple, and you can conveniently use it along with your height adjustable standing desk. But remember that it's just a supplemental product and is not an ergonomic chair. Hence, it is not designed for prolonged sitting. You can use it for a while as you switch between standing and sitting and burn calories but remember, it's not a chair.

Bottom Line
When you are already using ergonomic office products like height adjustable standing desks, a desk bike could be a great addition to your workspace. And a sleek and functional desk bike like the Under Desk Bike V9U is one of the best standing desk mates you can find on the market. The product features a comfortable seat and height adjustability options to sit comfortably as you work on your height adjustable standing desk. Moreover, it is easy to set up the bike, move it around your office or home, and convenient to store it under the desk.
The bike not only offers comfortable seating but also allows you to work out while working at your office by featuring eight resistance levels and an LCD display so you can cost-effectively pedal your journey.
Learn more about this product here and order one for yourself at a great discount. Flexispot also offers free shipping and a 30-day risk-free return.