Have you ever had that terrible water leak happen on the device you've been saving up for months? You would witness your life slide away in front of you in much less than 20 seconds, including the only pictures you have of your priceless memories or the files that you use and need for work. To make matters worse, you suddenly regret that you didn't sign up for insurance or if you did get one, you chose the option that doesn't cover spillage, leaving you helpless and in shock. Don't punish yourself too harshly at this point; an accident happens anytime. You may simply be under stress from everything going on in your life, and this should serve as a reminder to constantly have another storage for your files if you aren't already doing so.
Here are some suggestions to prevent water from spilling into your gadget in the first place—keeping up with the all-too-common adage, "It's better to be safe than sorry":
Put your gadgets on a height.
It is always advised to mount your device at a height. It aids ventilation, prevents overheating, and shields your gadget from adjacent liquids, which could otherwise render it useless.
You can use the following items from Flexispot so that your gadgets will be elevated to a safer height:
This riser stand is different from the style of our other monitor mounts since it has steel legs and a wood desktop. It requires little installation and is attached to your desk using a strong clamp-on steel construction.
Of course, a monitor stand frees up space in your workspace and raises your display to eye level, reducing the strain on your neck and changing its height from any water bottle or mug that might topple over and destroy your gadget.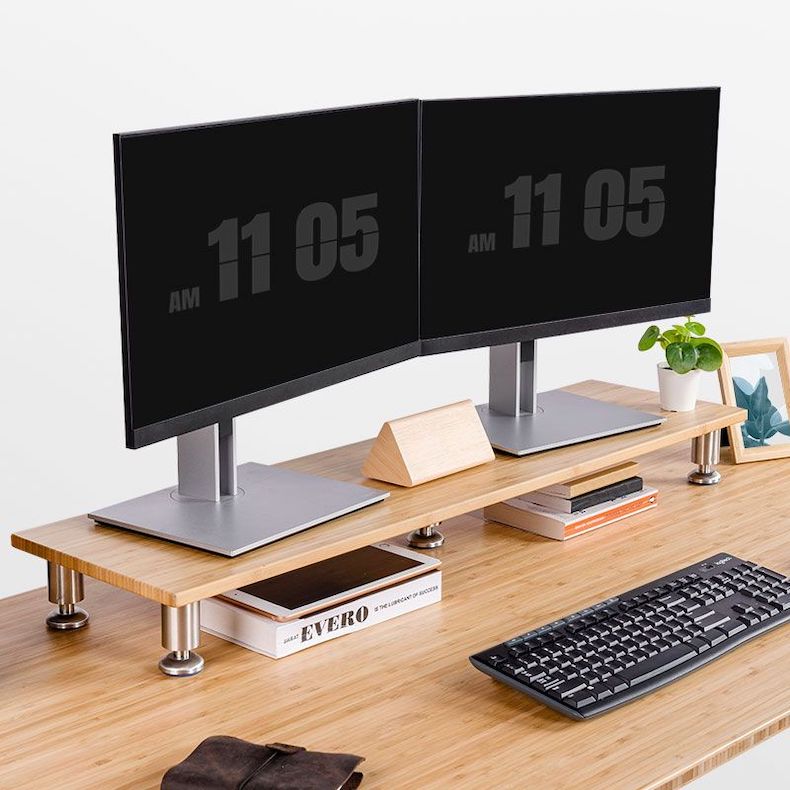 Here is another monitor stand from FlexiSpot to help you arrange your area. Additionally, it has a bamboo top with screw-on legs and plastic cushions to protect your desktop from scratches. It can be used to lift your monitor to eye level so that you can use the area underneath it for other desk accessories. That also means you're putting your monitor on a different height which protects it from any water spillage.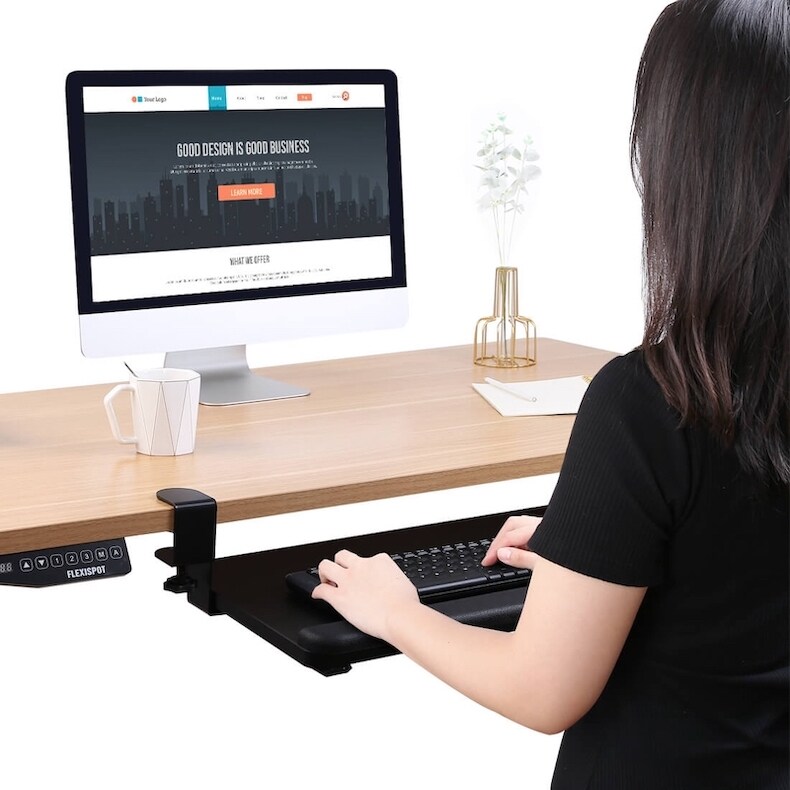 I'm not sure if you've already experienced it but I once spilled water on a Mac keyboard and had to get it replaced because it can't be repaired anymore. Having a keyboard tray would really help for this blunder to not happen. And instead of purchasing a completely new desk, you may just buy an under-desk keyboard tray that you can clamp on any desk with a desktop surface that is no thicker than 2.1. With dimensions of 25" x 12", it is adaptable and roomy. That will hold a full-sized keyboard and mouse, a mousepad, and other small peripherals with plenty of room left over. In order to provide optimal comfort whether you are sitting or standing, FlexiSpot also examined the best wrist and arm positions. This tray can support up to 15 lbs of weight and extends up to 8.5" from the edge of the desk. It has a sturdy metal C-clamp that allows you to attach it to the keyboard without using any tools or screws.
Have separate compartments for the objects on your desk.
Your productivity will increase and unwelcome situations will be prevented if your desk is organized. It restricts your movement, saving you from spending hours looking for a misplaced object and lowering the possibility that you may knock a water cup or glass over.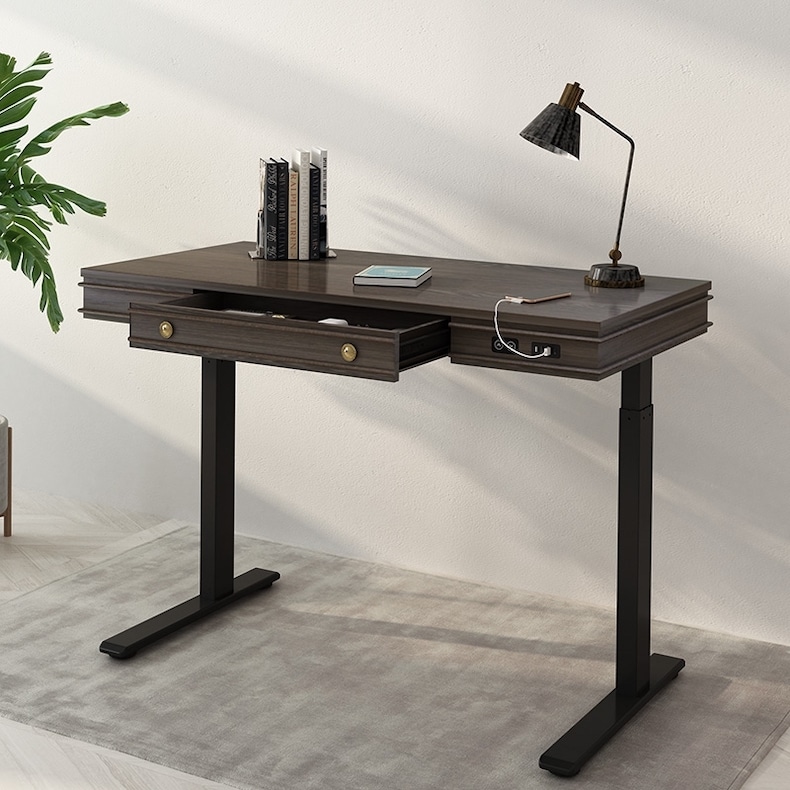 UD1B Theodore Standing Desk-48" W
Why not give this relatively new FlexiSpot standing desk a try? It adds a hint of elegance and a vintage sense to your desk. Its design mixes the technology of a contemporary standing desk with classic American design aspects. You'll appreciate that it has an integrated storage drawer to assist keep your workspace tidy. This has USB ports, a roomy, attractive desktop, and buttons for height adjustment.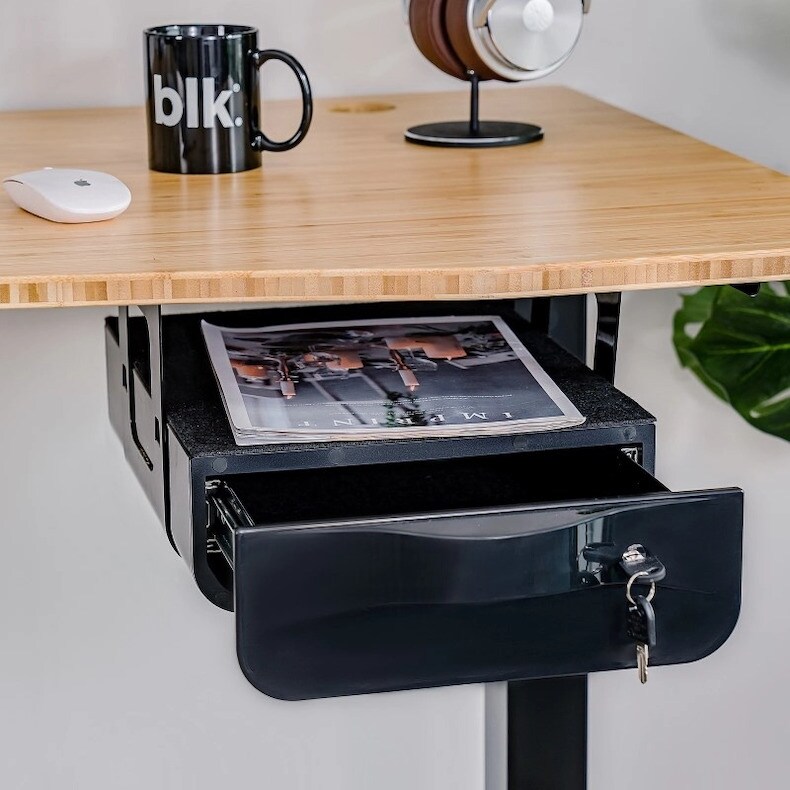 You could choose this Under Desk Drawer if you desire simpler access to your office necessities. It won't take up any workplace space because it can be mounted underneath any board or desk. It can accommodate up to 22 pounds and is heavy-duty, capacious, and easy to move. For further security and privacy, it also comes with a lock and two keys. You wouldn't have an issue with it complementing the style of your desk because it is available in white and black.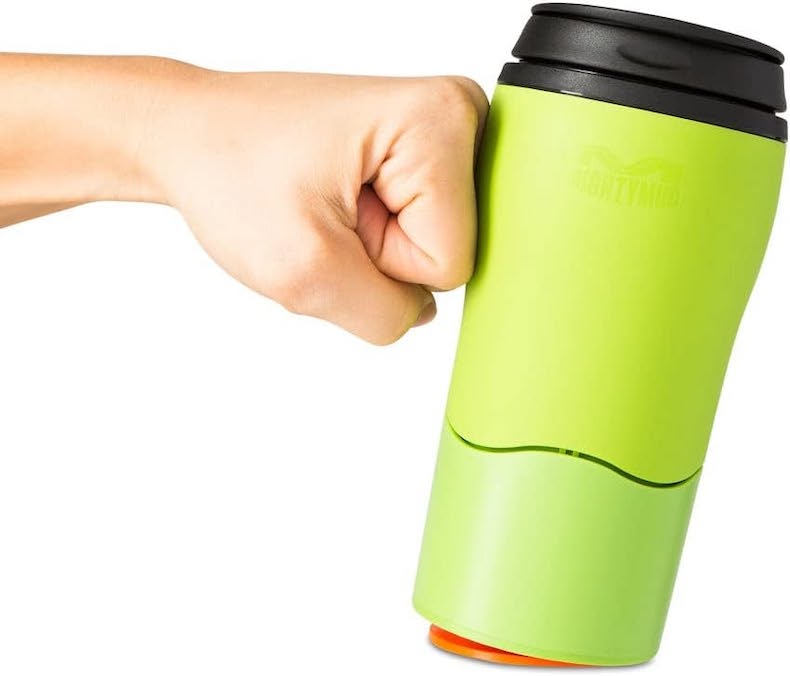 Photo Credit: Amazon
Opt to use cups or water bottles with locking lids.
Choose water tumblers with lockable lids or mugs with lids if you're particularly clumsy to avoid a wet accident. Additionally, there are anti-spill tumblers on the market with smart grip technology that, in the event of accidentally knocking them over, the tumbler won't budge or move at all.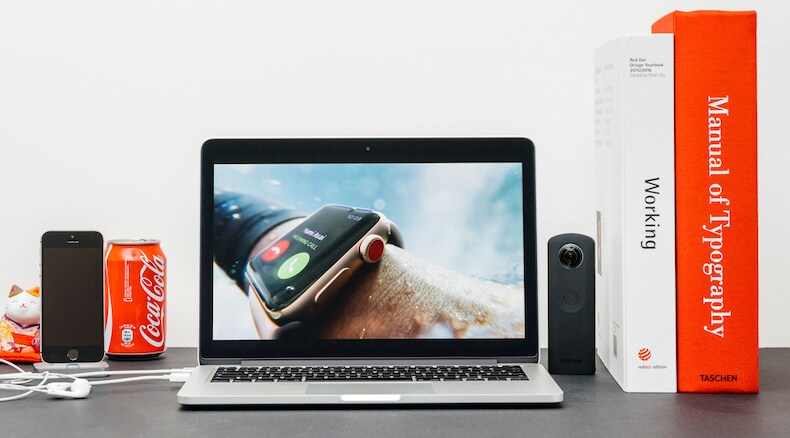 Purchase a water-resistant device or use a waterproof case.
Why not buy a water-resistant device or a waterproof case if you have the extra cash? Check the case's submersion rating to see how long it will keep your device powered underwater before you buy it. Since there are currently a lot of products on the market that are water-resistant, that is another choice. Although you'll have to fork up a few additional dollars at the shop, generally it might be well worth the expense and even end up saving you money.
If in case the dreaded water spill has already occurred, make sure you are vigilant so you can act on it as quick as possible. Right when you drop it into water or when you spill water onto it, grab your gadget immediately.
Turn it off right away and separate the parts. Get a cloth, preferably microfiber or something with a soft fabric, to dry it out. You can also put your gadget into a resealable bag that has rice in it. Wait for 24 hours to turn your phone back on and see if it's still working. If there are any damages or it doesn't turn back on seamlessly, go the service center immediately.