When you own a desk in the home office, the slightest possibility that you'd like to encounter is a rickety table. Everyone would agree with this statement. In the new work paradigm, more WFH-individuals think of an office upgrade even in the last quarter of 2021. An office upgrade, indeed, would not be complete without the best ergonomic pieces. With that, let FlexiSpot be the answer to the predicament. 

The Commitment to Excellence:
The market and people do not lie. FlexiSpot is the best provider of standing desks, sit-stand desks, and stand-up desks. A lot of WFH workers rely on the excellent quality of the ergonomic tables from this brand. Even the hybrid office workers agree on this. It's because the superb quality of the FlexiSpot desks is not seasonal, and you have the ultimate ergo protection all year round with FlexiSpot. It's because the brand commits to excellence and maintains the ergonomic functions and utmost safety features of their desks and chairs. Hence, more and more people rely on and trust the number one ergonomic company across the US and other countries. 
Kana Bamboo Standing Desk, Kana Pro Bamboo Standing Desk, and Deskcise V9 Pro are some of the excellent products of FlexiSpot. These are some of the examples of desk products that have brilliant designs and measurements. Aside from these products, there are other ergonomic standing desks that people prefer to buy at FlexiSpot. These items have the best features, including the leg sections. These sections are some of the parts that give stability to the desk products at FlexiSpot. 
Looking at the Leg Sections:
At FlexiSpot, you can purchase table products that have the sturdiest and most durable features. When you buy a standing desk or a stand-up desk from FlexiSpot, you can find either the one with two-section legs or three-section legs. These sections have an impact on the stability and height adjustability of the table.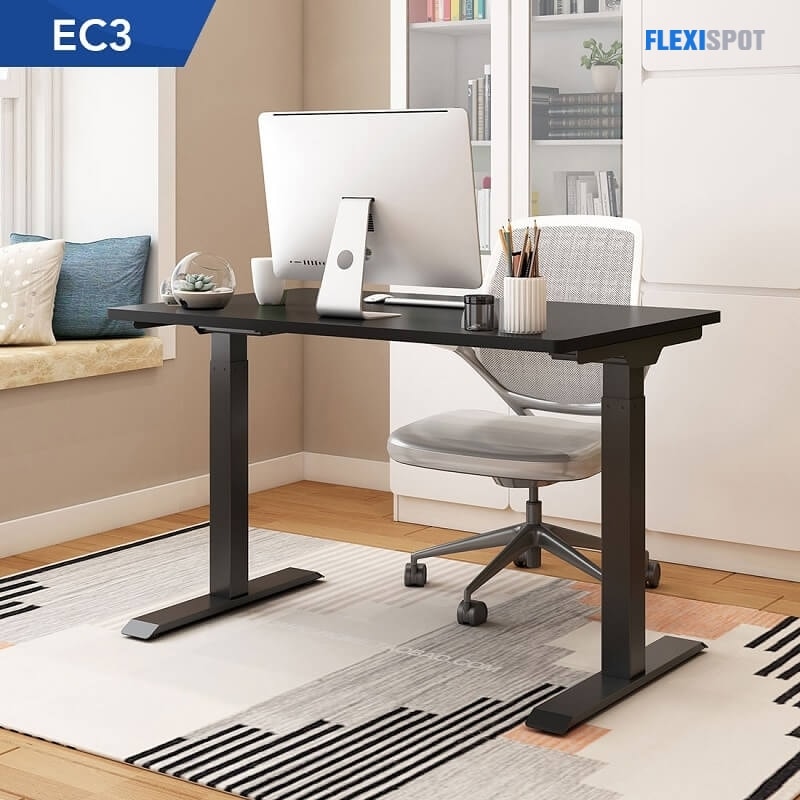 The effectiveness of these leg sections will depend on the desk height you require or your preference for tables. So, if you want the two-section legs, you will have a stable product that is lightweight. Typically, the height range of a table with two-section legs is just 1190mm. So, it means if you're a tall person then, this ergonomic desk might not suit you. However, there can still be adjustments if you like because desk products such as EC3 of the Adjustable Standing Desk Pro Series have two leg sections. You can adjust its height if you prefer to sit down while working or if you have other office materials that need extra space, then this table is what you can have. 
What's good about this desk product is despite its lightweight feature, you can ensure that it still has incredible lifting capacity and weight. Even if you put a desktop and a tablet atop it, you would not get worried that the objects atop the table would fall off. Indeed, you can make sure that these desk products can hold all the stuff on the surface without it getting rickety. 
Another reason for the stable and durable 2-section legs is the steels that they used for their desk products are beyond satisfaction. They are high-grade and do not get rusty. So, you may ensure that even after long years of utilizing the desk, you won't see scratches, dents, or rust on the steel frames. 
Meanwhile, there are the three-section legs at Flexispot. The good thing about the three-section legs is the table that has it is extra-durable. The stability of this desk product is more potent than the lightweight two-section legs because there is more tubing that connects the desktop and the legs. 
You can expect an increased speed with the three-section legs. Hence, if you are using two monitors plus other heavy devices, this product is the most advisable. Moreover, if you're a tall worker, this ergo desk is what you need to accomplish your task at work, and it's because this desk reaches up to 1280mm.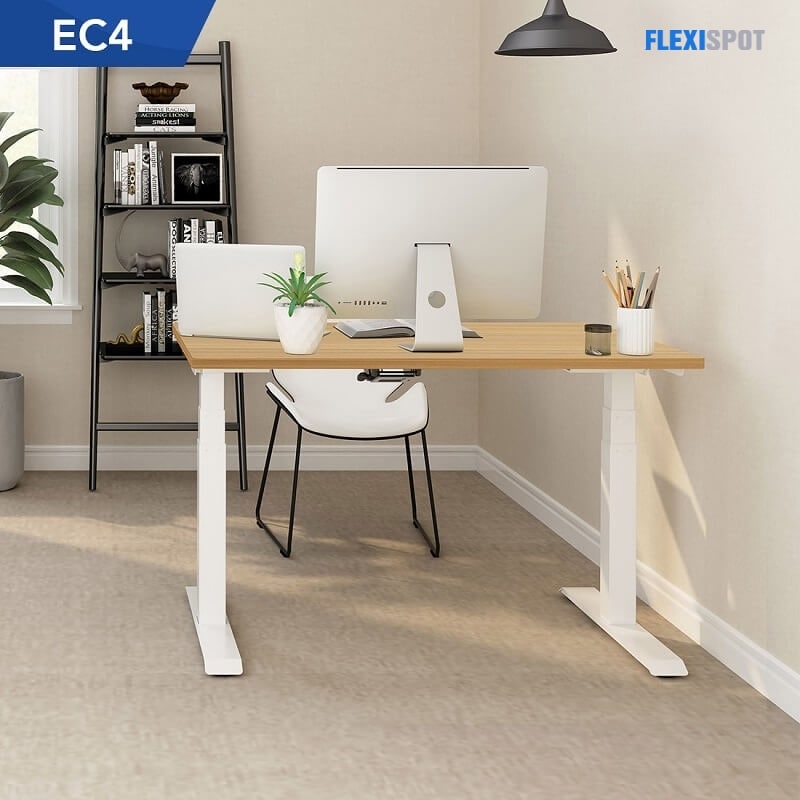 So, if you're wondering about the particular model of a desk that you can pick, you may check the EC4 model of the Willow Solid Wood Standing Desk. Because this desk has three-section legs, you can enjoy a faster speed when you use this table product. In actuality, this table has a lifting rate of 1.5" per second. So, you can ensure that when you use this desk product, you can enjoy multitasking that can help you do more than two activities during work hours. Hence, if you're a WFH person, this table product will suit your needs too. 
So, here are the features and functions of the two-section and three-section legs of the FlexiSpot desk products. Now, the choice will be yours, which of these ergonomic standing desks would be the best for your work needs. To guide you more, let us talk about the following things you need to consider in choosing the desk products with either the two-section legs or the three-section legs. 
Things to Consider When Choosing the Standing Desks:
a. The Work Area: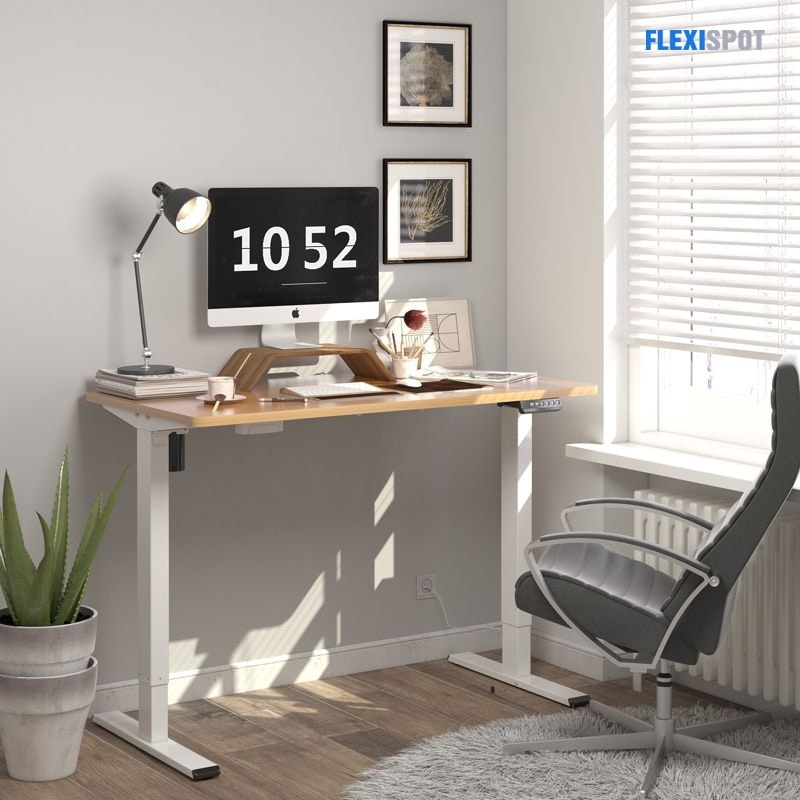 When you are looking for the best standing desk, you need to consider your work area. It's because the table products from FlexiSpot have different widths and leg sections. So, if you think your workspace will be less than 15-square meters, you have to consider the lightweight tables. 

b. The Workload:
If you need to multitask and have a heavy workload, you have to choose the one with a faster lifting speed. It's because your work requires you to finish as much work as possible. So, if you're not going to choose the one with a faster speed, then you might have a problem finishing them up on time. 

c. The Devices:
If you're the type of worker who uses more than one monitor, then a lightweight table might not suit you. So, try to contemplate the tables with the 3-section legs and thick desktop so you may be able to house your devices safely.
So, looking at these things, you may have a guide on how you could choose the best standing desk for you. 
Final Thoughts:
Office upgrades this 2021 can be less hectic and stressful when you have the FlexiSpot products with you because you can ensure that these pieces of equipment can lessen your stress while working from home.