Leading a company is like teaching a family. Each employee has a unique personality that brings the best in you as an employer. Hence, whether it's a startup business or not, what you need first is to build your strong circle-know your employees. 
The New Global Work Trend
As the number of remote workers across the globe increases, the WFH-work setting is becoming a new norm in the corporate world. Companies such as Facebook, Amazon, and Google have already started venturing into this new work paradigm that may give them long-term profitability. It's to your advantage, especially if you have put up a startup business because you could invest wisely for the pioneers. When you invest in a pioneering team, all fresh ideas may come in. Moreover, it's a great way to build up a partnership if it's a startup business. One of the ways to build that partnership is by letting them do the WFH-setting or have a hybrid office for them where you will divide the days when they could go to the office for weekly reports and the rest of the week for the operations. Indeed, you may succeed in testing the waters for your operations, especially if it's a startup business. 

The Blunt Truth
Sadly, there are startup businesses that become like fly-by-night companies because of mismanagement of company expenses. So, if you venture on switching to the remote work setting, you may be able to balance all the costs because there would be fewer things to think of compared to when the whole operation will be on-site. Aside from that, you can give more company perks to your employees when you lessen the office expenses. One of these perks is office furniture such as standing desks, sit-stand desks, stand-up desks, and ergonomic chairs. 
All these exciting pieces of equipment are available at Flexispot-the home of the superb ergonomic products that cater to the needs of household members and workers that need the utmost ergonomic protection. With these FlexiSpot products in the homes of your WFH-employees, you can ensure that they would have an active lifestyle at home, and they would not carry the burden of multitasking because these pieces can save them from the work hassles. 
Saving Workers from Work Hassles
Providing employees with the best ergonomic products can save their time and effort. Usually, these are the things that get consumed by malfunctioning non-ergonomic products. When they use products with substandard materials and low-grade steel, they put their health at risk, especially their posture. So, if you switch to superb ergonomics, you save 80% of your workforce from the long-term effects of musculoskeletal disorders. Moreover, you ensure that your workers can submit on time because the standing desk products you provide them with can help them organize their work area well. At Flexispot, they got you covered through their desk products. 

Beyond The Ergonomics
Once you choose the standing desks from FlexiSpot for your employees, you can experience this ergonomics company's genuinely excellent clientele service. It's because once you purchase these products, you won't be shouldering the logistics. Instead, Flexispot can do it for you. The logistics team can ship the products straight to the doorstep of your employees. You don't need to worry about the bills too because you can pay for the products flexibly; check the website: http://www.flexispot.com for the details of the flexible payment terms. If you're wondering about the warranty and free trial, there's nothing to worry about it too because Flexispot can extend the warranty services for your employees. That'll be indeed exciting. So, these standing desks are worth the money that you're going to spend for your employees. It will also optimize the work pacing of your workers, which can lead to an optimized operation regardless if they work remotely or on-site. 
Identifying Suitable Products
In the case of the table products from Flexispot that can suit your workers, you need to know your employees well. Their height, their conditions-if they have prior medical conditions or whatnot. And if their work needs require a certain functionality of a desk product.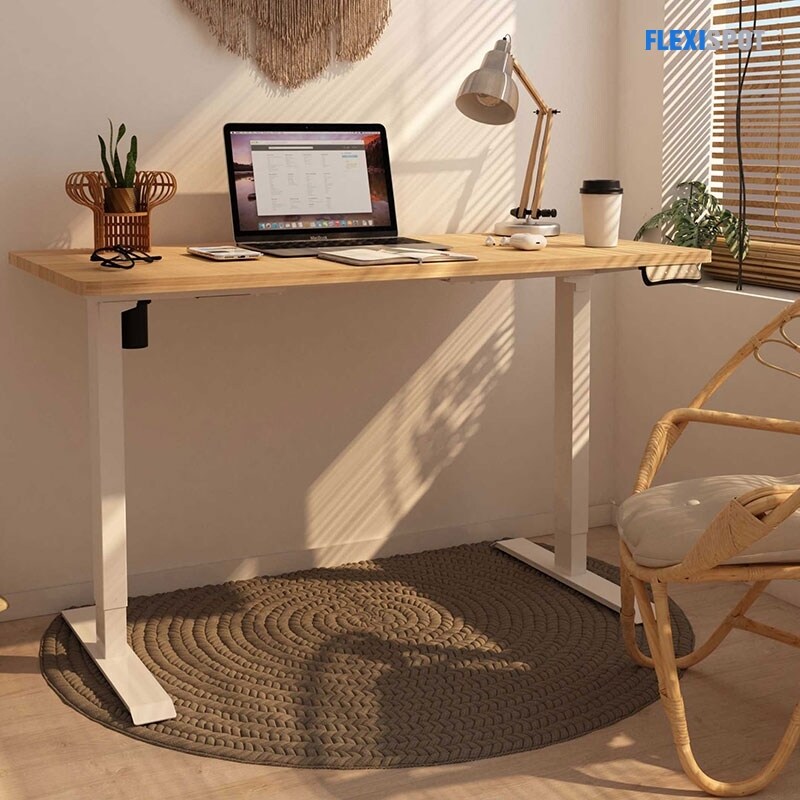 First, let us have the Kana Bamboo Standing Desk. This standing desk comes in two models (EC3 and EC4). Both are sturdy tables. When you don't include the tabletop, these two products have different height ranges too. EC3 has 2-stage frames that start from 27.2 to 46.5". So it means that it could fit an employee that is medium-built and not so tall. Meanwhile, the EC4 has 3-stage frames that range from 22.8-48.4". Hence, taller workers can conveniently sit in front of this desk at home; moreover, if you have workers that do not feel comfortable standing for a long time or do not want to move to different corners of their house, then this standing desk is suitable for them.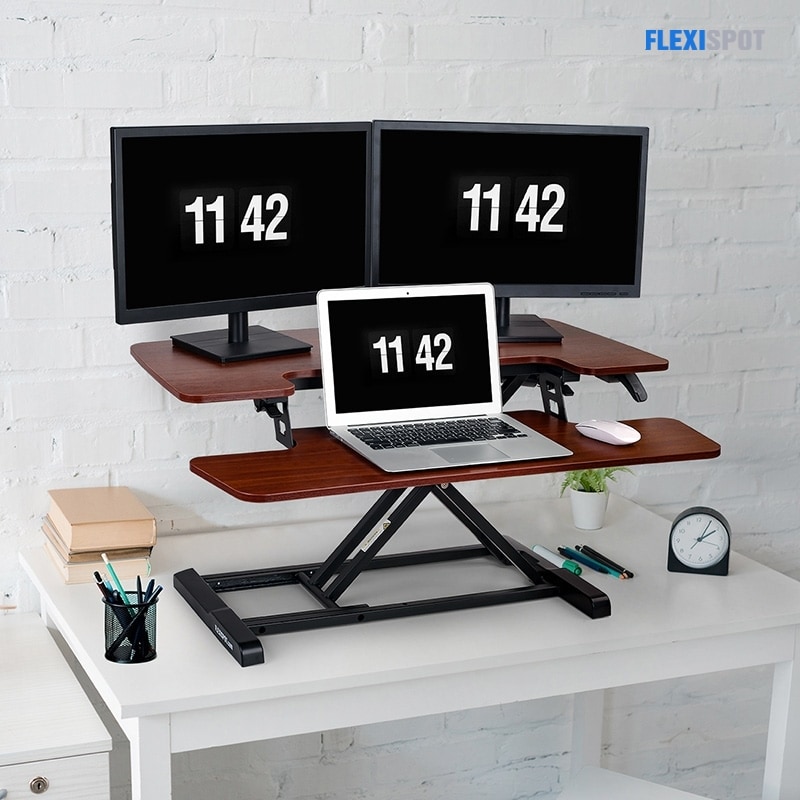 The following table product is a desk converter: the AlcoveRiser Bamboo Standing Desk Converter. This product has two different models, the 28-inch and the 31-inch desk heights. The 28" desk converter is good for workers shorter than 6'1, while the 31" desk converter is good for workers shorter than 6'5. Hence, your employees that are mostly moving around the house and are tall would most likely be comfortable working using these desk converters. Most of all, these desk converters are space-saving because of the foldable desktop and detachable keyboard tray that it has. Your employees could neatly stack it up in a small workplace at home to save space and optimize the home office area.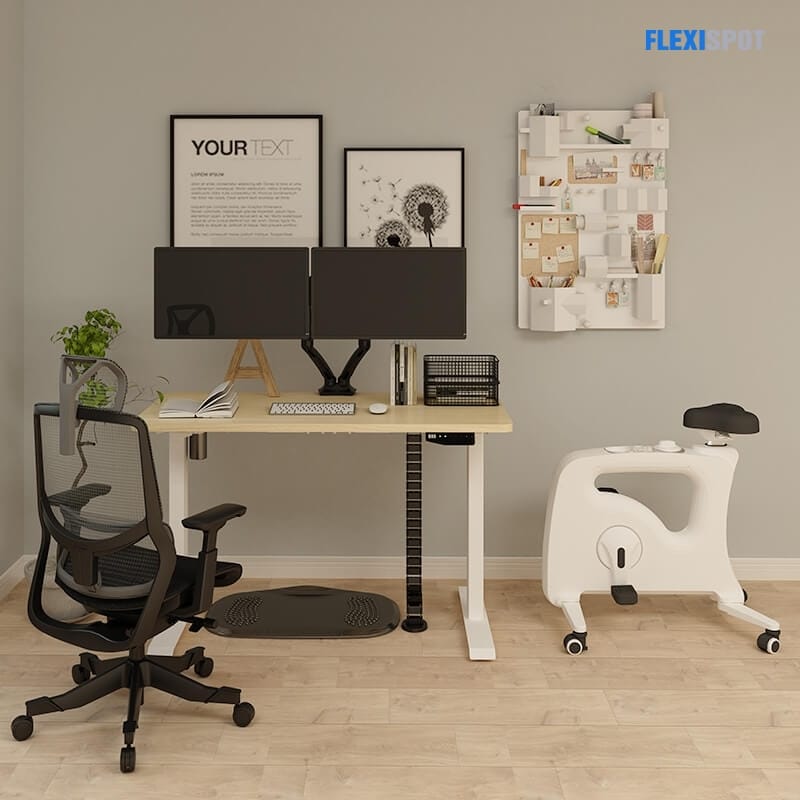 The last one is a series of stand-up desks. This product is the standing desk pro series. These are products that have a tremendous weight capacity that reaches up to 275lbs. So, if you have WFH-workers that need to do many things like secretariat or paperwork, then this table product is the best desk for him. It's because he can multitask and put different devices on top without damaging the table itself. 
Now that you have more ideas about the suitable standing desks for your employees who will go to a remote work setting, feel free to visit the FlexiSpot website. There, you would see the vast array of standing desks, stand-up desks,sit-stand desks and ergonomic chairs aside from the products we talked about today. 
Final Thoughts
The world has started to change its pacing. The significant shift of work paradigms has also taken place, and the face of corporate competition has also changed. Head-to-head battles are no longer the norm. The new trend is work-life balance, and the ones who will end healthier and happier are the winners. Hence, would you join the parade or would you rain it? Would you dare shift to the new work paradigm or not? As a company leader, the choice is yours to make.