Being proactive can help us prevent the dangers of acquiring musculoskeletal disorders. It's because these injuries happen when we fail to organize our workplace. The transition in the work setting this 2021 is swift that not everyone could keep up with the changes. Some fail to prepare in advance; that's why they encounter problems like body pain and strains. 

The Hassles of MSDs:
In the current work situation of most workers across the US, there is a high tendency that everyone would experience strains and injuries. WFH-setting is rewarding and convenient because employees do not need to spend much on transportation or fuel and food allowance; however, there are still many problems when encountering musculoskeletal disorders. 
These conditions are a pain in the neck because workers experience terrible pain, such as severe spine strain that starts with numbness at first. They could also experience neck soreness at times that worsens the achy feeling when working. 
The MSDs could hamper their movement and limit their range of motion because when workers experience the MSDs, they feel tightness or uneasiness in activities. 
In that case, you must consider the office accessories that they can use alongside the office equipment and furniture pieces like the FlexiSpot's Kana Pro Bamboo Standing Desks and Comhar All-In-One Standing Desk Wooden Top. These office accessories can help them avoid strains and pain. 
The Role of the Flexispot Office Accessories:
When you search for the best office accessories, FlexiSpot has them for you on the website. It's not just known for the ergonomic chairs like Soutien Ergonomic Office Chairs, sit-stand desks like Kana Bamboo Standing Desks, and the office accessories that can help you achieve the ergonomic solutions. With these products in your office area, you can ensure that you are safe from MSDs. 
The Array of Office Accessories: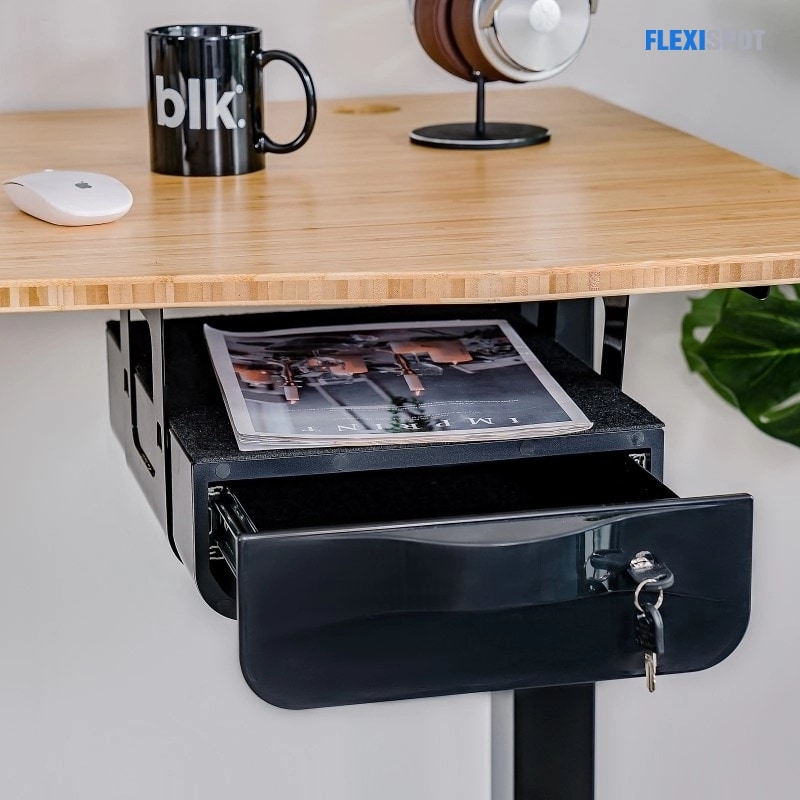 When you work from home, there is a chance that you need extra storage spaces that are at the reach of your hands. So, in that case, you have the Under Desk Drawer S01 that you can attach under the stand-up desk, and it has steel panels that you can screw to secure it under the desk. 
Amazingly, it's an ultra-durable desk drawer that is 22lb-size. So, imagine the pieces of paper, writing tools, and essential cards that you can secure inside. It's spacious enough that it can hold your parchments and wallet. You don't need to worry that your kids will go near the drawer and take out all the essential things you keep inside. It's because you can lock this drawer for extra safety. 
With this product coming in handy, you would not experience stress like before. You can ensure that you can easily access all the critical office materials you need with just a slide of the hands.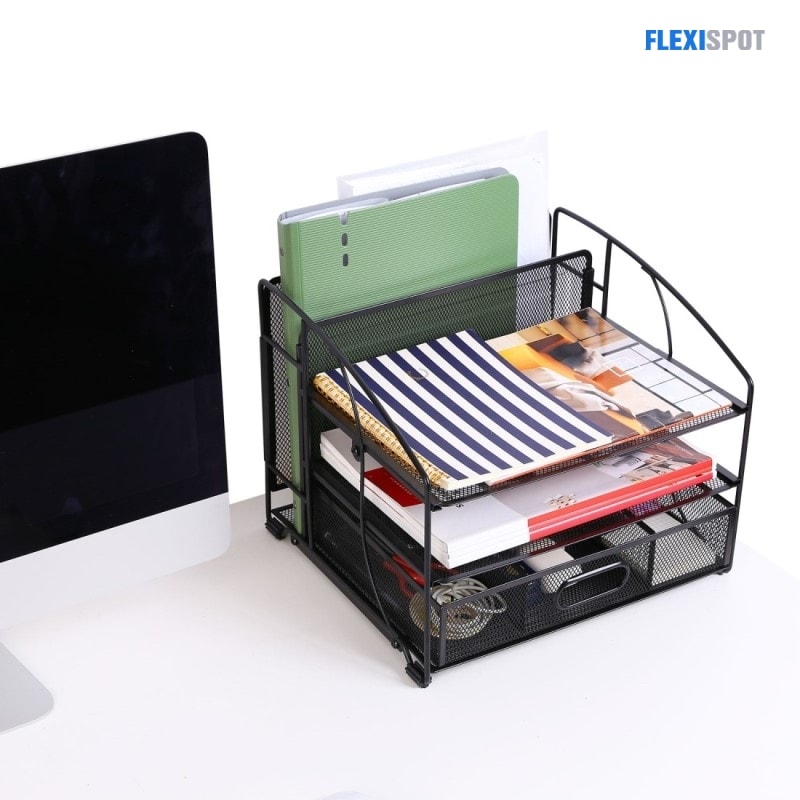 If you use a sit-stand desk with a comprehensive desktop surface, such as the Kana Pro Bamboo Standing Desk, you can enjoy the Mesh Desk Organizer DO01. It's a desk organizer that has small partitions that come in different dimensions. These portions can hold from paper clips to folders. This product could surely help you manage your workspace and make it look tidy. You can easily access the important stuff that you need with this desk organizer.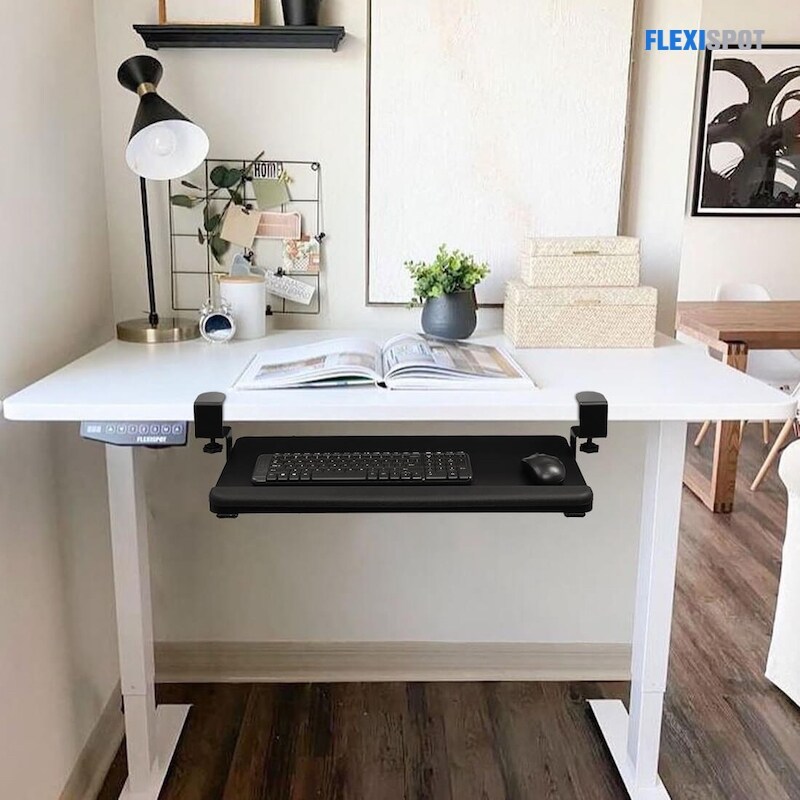 Suppose you have an ergonomic standing desk like the Esben Standing Desk UD5, which could help you achieve the correct visual angle. Yet, you still prefer to have a piece of extra office equipment to ensure your distance from the computer monitor, and then the Keyboard Tray KT2B could help you adjust your visual angle. It's a clamp-on keyboard tray that is very easy to install. So, with this product, you may enhance your posture, protect your eyes from the strain, and avoid craning your neck that can harm your upper torso.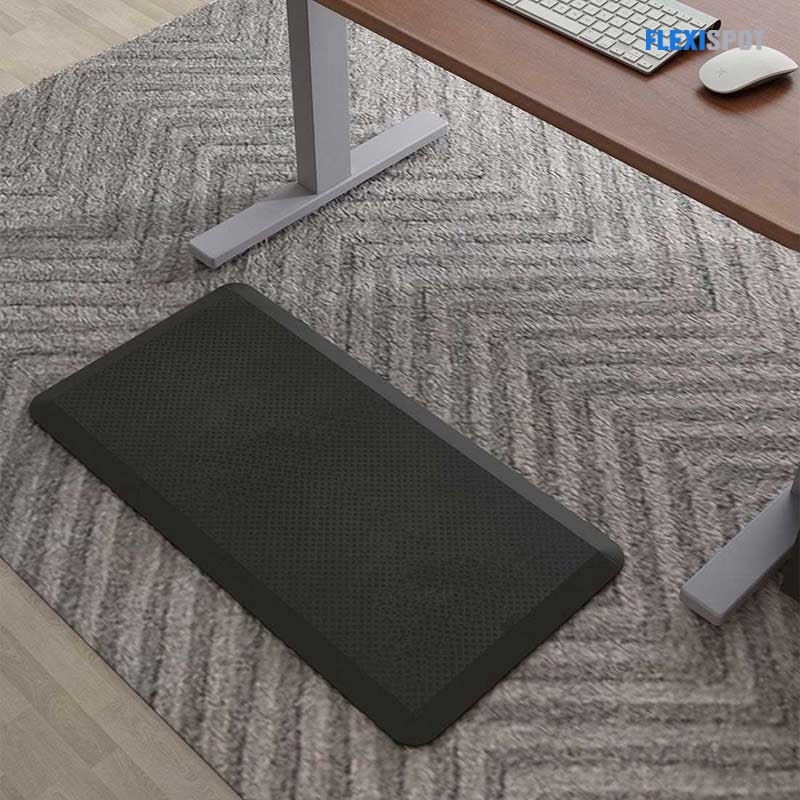 Sitting and standing while at work is good because it can stimulate blood circulation in the body. Yet, it is still important that a piece of office equipment supports your feet and soles while standing. Studies show that standing for a long time without support on the soles and feet could lead to all the weight and pressure getting on them, making the blood stop circulating correctly around the body. Hence, when you have this anti-fatigue mat, you can spend time working while standing up without having sore knees and muscle spasms. So, having this office accessory can help you get your day with it well. 
Getting Rid of the Lousy Stance and Hunched Back When Standing and Sitting:
Working from home this 2021 does not excuse you from doing the lousy stance when standing and a hunched back when sitting. It's because there are times that you do not notice that you are doing such improper posture. 
The lousy stance can harm your cervical spine sending more pressure to the spine; hence after a long day at work, you'll feel the surge of pain in the back. On the other hand, it's also possible that you hunch your back when sitting. It's because of the incorrect configuration of the equipment pieces such as the chair and the computer. That's why you would notice at the end of the day that your back is severely aching. You might also see that your waist sores as well. 
In this case, availing of these office accessories can help you lessen the pressure and help you mitigate the pain that occurs because of improper posture. 
Maintaining an Ergonomically-Protected Workplace:
The hurdles of working from home are not easy to overcome at times, especially when you do not use the ergonomic pieces in the work area. What makes things more complicated is when you need to do household chores while doing some work. Hence, availing the office accessories from FlexiSpot can alleviate the burden and help you speed up your daily work. With these products, you can ensure that your work area is ergonomically protected. 
Final Thoughts:
The following features and functions of the ergonomic products can help you decide now how you can achieve the best ergonomic solutions while you work from home.