With millions of adult Americans dealing with back pain, it makes sense that more and more furniture designers are focusing on making furniture that is able to reduce this problem. This is particularly true for office furniture since so many of us with desk jobs spend quite a decent amount of time sitting in our office chairs.
If these office chairs are not designed with ergonomics in mind, they can end up giving you back pain – and if you already have it, can make the issue worse.
In fact, back pain isn't the only problem these chairs can have. Poor posture can also result in problems with the structure of your spine, digestive trouble, and even breathing!
Fortunately, all of these issues can be easily resolved by swapping out your office chairs for more ergonomic models which can keep you comfortable while you work and help ensure that you don't have to suffer from aches and pains.
What To Look For In An Office Chair
When it comes to back pain, the best office chairs are those that provide built-in lumbar support. Your lower back, which is called the lumbar region, needs to be properly supported by the chair, and the chair should follow the natural curve of your spine. Without this, you'd end up with bad posture, and most likely find yourself slouching or leaning forward.
This means that your back muscles have extra pressure on them to ensure that your spine is aligned correctly, which can be tiring. As a result, you may end up with tension and knots that are extremely painful in the short term and may even have long-lasting effects.
When looking for a good office chair, you should keep lumbar support as a top priority. Some office chairs also come with ergonomic support for your neck, head, and arms. These chairs are usually a bit taller, but there are some compact designs as well.
Reclination is also something to consider. Some chairs will come with the ability to recline, and at a slight angle, this can help increase your comfort while you work. However, you do want to see to it that this doesn't go too far.
Reclining is good when it's to the extent that your back's natural curve is supported. If you recline too far though, you can end up hunched over, or in a sleeping position, which can put pressure on your arms and neck while you work.
Of course, comfort cannot be overlooked. Especially since you spend many hours a day in the same seat, you'd require a seat that doesn't just keep ergonomics in mind, but also your comfort. Hard surfaces can become tiring to sit on after long periods of time, so good chairs will often come cushioned. Quality materials like memory foam, mesh coverings, and supportive springs are almost necessary to provide long-lasting comfort.
Many good office chairs are also adjustable; this is important because different people will have different statutes, sizes, shapes, etc. This means that there is no 'one size fits all' solution to office ergonomics. Good, ergonomic office chairs will be adjustable so that different folks can adjust them to their own requirements based on their own needs. Having adjustable functions allows you to find your comfort zone with ease.
Best Office Chairs For Back Pain
Let's take a look at five of the best office chairs for back pain that you can invest in for your workspace.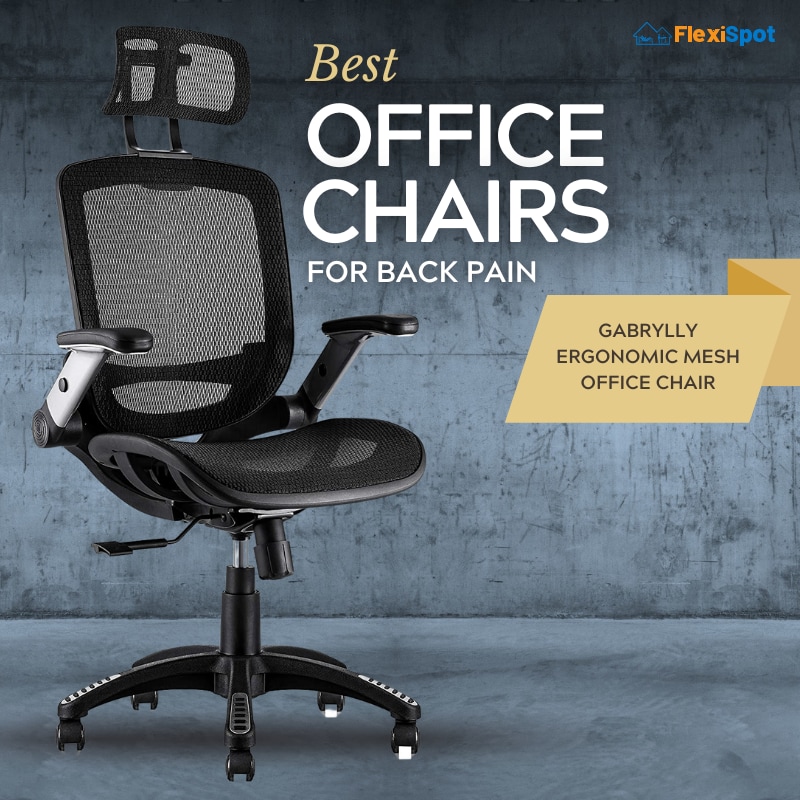 1. Gabrylly Ergonomic Mesh Office Chair
The Gabrylly office chair comes equipped with four points for ergonomic support. These are at the head, back, hands and hips, on top of providing full lumbar support. All of these points are part of the chair's design specifically for the purpose of reducing back pain during long work hours.
The chair also comes with a mesh seat and backrest that allows for air to keep circulating. This makes the chair comfortable to sit in for many hours at a time, especially during warmer weather.
The chair also has an adjustable height, which allows you to position yourself properly depending on your height and desk requirements. It also has flip-up arms that you can rest your elbows on while working, or flip back when you don't need them. These are also adjustable so you can correct the positioning depending on how you need it.
With all these features, the Gabrylly Mesh office chair is a great choice for your workspace.
2. ErgoChair Pro
Another excellent option for back pain is the ErgoChair Pro. The chair comes with about 22 degrees of reclination and is lockable at 5 different positions. This is designed specifically to keep your lumbar area supported and your spine stable. It is also wrapped in breathable mesh for added comfort.
The ErgoChair has a flexible lumbar cushion, which protects the natural curve of your spine and gets rid of back pain and stiffness. It adjusts to your body, rather than dictating how your spine curves as you sit. The height is also adjustable and keeps your neck from straining over long working hours. Whether you're writing or working at your computer, you can rest assured that the ErgoChair Pro has your back – literally.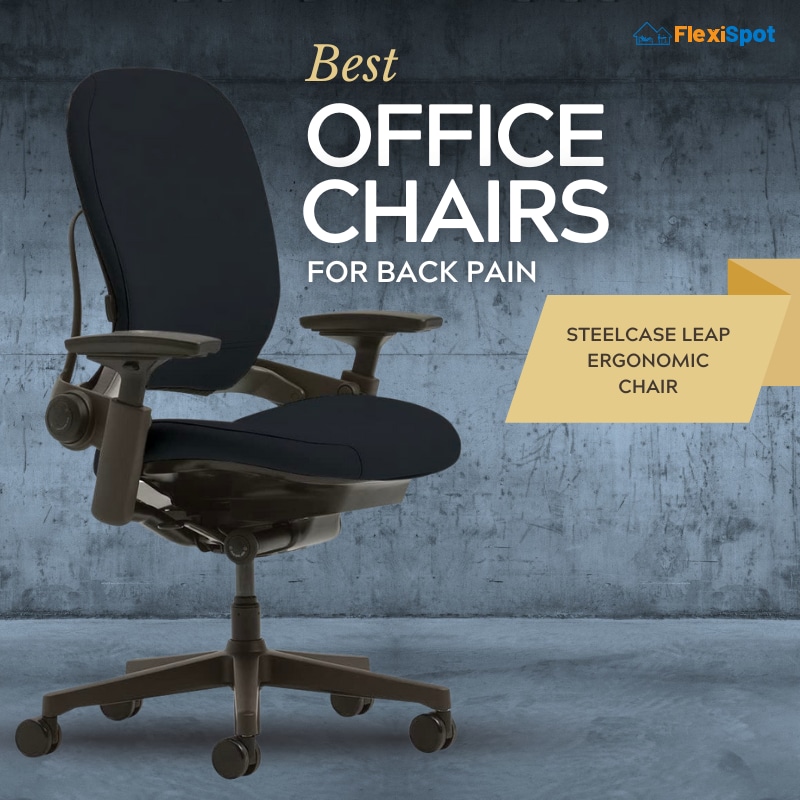 3. Steelcase Leap Ergonomic Chair
The Leap Ergonomic Chair is another great chair that can reduce back pain. The Leap chair uses a number of ergonomic features that are discovered by Steelcase. These features allow the Leap chair to be dynamic and supple for the spine.
The backrest of the chair is flexible and adjusts to the curve of your spine to make sure your back is fully supported. There are also separate upper and lower back controls that allow you to adjust the seat according to your own needs to make sure you remain fully supported.
The seat is also dynamic and provides support for the lumbar region to take pressure off the vertebrae while you recline. It also comes with an optional headrest that helps relieve pressure on the neck and reduce tension in the shoulders from working for too long.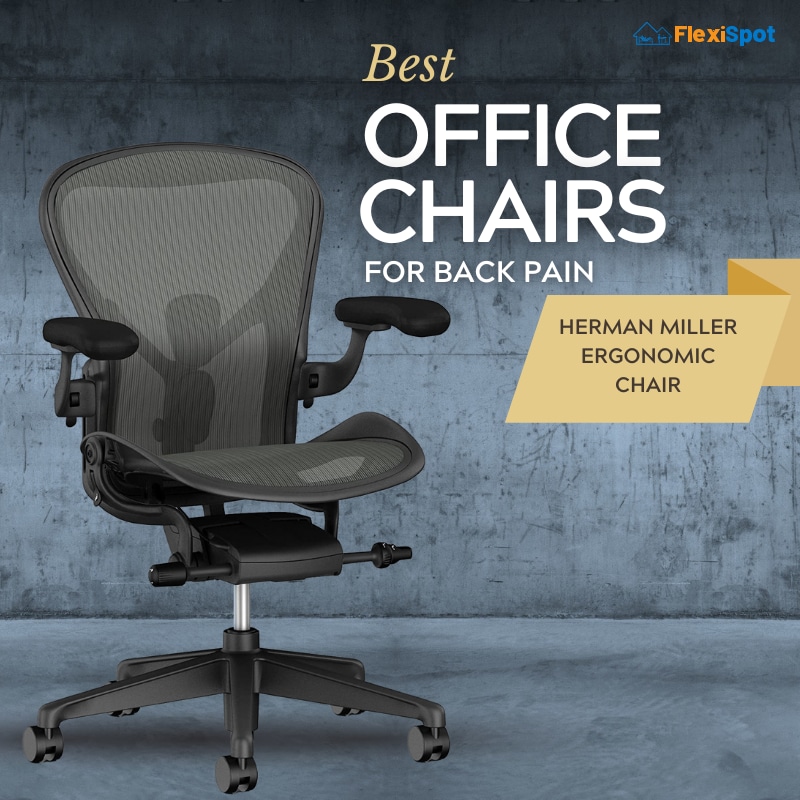 4. Herman Miller Ergonomic Chair
The best office chairs for back pain don't have to compromise on style either. The Herman Miller ergonomic chairs are designed to be stylish and ergonomic, all in one. It takes customization to the next level and boasts a number of ergonomic features.
The chair comes with lumbar support to protect your back and spine and keep you safe from aches and pains. It also has a mesh backrest for proper airflow and keeps you comfortable while you're working long hours.
The chair also has adjustable height so you can set it according to your own workspace needs. But that's not all! It also has adjustable armrests and tilts tension, which lets you recline at your desired angle, and keep your arms in the proper position. Having properly positioned arms will keep you safe from problems like carpal tunnel or repetitive strain injury.
It also has dual-wheel casters that allow you to move around freely without trouble.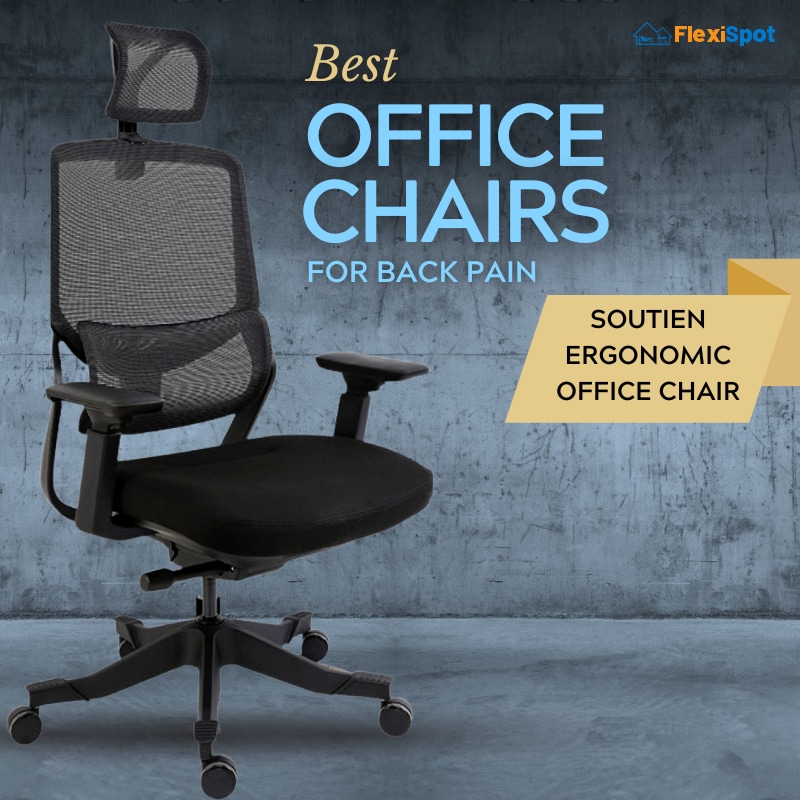 5. Flexispot's Ergonomic Office Chair
Flexispot's aim has always been to provide ergonomic workplace solutions, keeping your well-being in mind, and the Soutien Ergonomic Office Chair is no different.
This chair has an S-shaped curve in its backrest, aimed at providing optimal back support by following the shape of your spine. Since this provides comfort, you can work for long hours without problems. Being able to work comfortably also improves mood and boosts productivity.
The chair also has an adjustable lifting height of about 3.1" so you can move it around based on your requirements and make sure you remain in the right position while you work.
The chair also comes with a movable headrest. This can be moved up or down so you can adjust it depending on your stature and make sure your head and neck get adequate support. This helps prevent strain and pressure on your neck and shoulders, especially if your work involves looking down at the desk.
It also has quality mesh construction, which helps with airflow and keeps the chair comfortable. It makes sure that you don't start sweating too much while working, especially when you have to spend long hours in warmer weather.
Because of the chair's elastic design and cushions, it is able to support your body well. It also has lumbar support that makes sure your back stays comfortable and make sure you stay energized even when you have to work long hours.
The chair has wheels that rotate 360 degrees so you can move around with ease. It comes in a dark blue color that is popular for office spaces.