Proactive Learning When Practicing Reading and Vocabulary
When your child is school-ready, he may excel more in class. One indication that the child is school-ready is when he knows a lot of new words and has read in advance. This is a skill learned in years hence as a parent, you should provide this kind of learning for your child. 
The best learning environment for your child is an ergonomically protected one. This place is the most conducive for your child to practice reading and vocabulary more because he would not experience ergonomic problems when he studies in this kind of place. 
Proactive learning can be achieved if a child is physically healthy. It's because if he falls sick as his lesson time progresses, he would not be able to learn from what he reviews or practices. 
There is an effective way to provide a conducive and ergonomic place for your child. Considering these pieces of ergonomic equipment could be that way. These pieces could be found with a brand that most users in the market trust and that is Flexispot- the home of the best standing desk, sit-stand desk, stand-up desks, office organizers, and ergonomic chairs. 
In particular, the most suitable products for your child's learning are the standing desks. These desk products from Flexispot are the best innovation and most reliable pieces of equipment in the market. With this, let us find out the 5 reasons this brand is trusted by most parents and how these pieces of equipment are a great supporter of your child's learning. 
Answering the 5 Whys of a Flexispot Standing Desk
At Flexispot, you can find the pieces of equipment that could aid your child's learning. One of these incredibly engineered pieces of equipment from Flexispot is the standing desks. These standing desks from Flexispot are global brands that have high-grade materials such as steel frames and lifting columns. 
When your child uses one of these sit-stand desks from Flexispot, you can make sure that he would enjoy his study time and could be able to learn with ease because he would not feel strained or the kinds of ergonomic pain that are commonly felt when reading such as:
Headaches

Spine strain 

Neck pain 

Leg pain 
Commonly, children feel this pain when they sit on a non-ergonomic piece of equipment. These chairs could strain their backs and could bring them irritation and they might lose connection and interest in what they are studying. Reading and vocabulary are fun learning activities yet when your child starts experiencing pain around his body, these activities become a burden for them. Thus, bringing their study time to an ergonomic level is the solution to this predicament for certain reasons.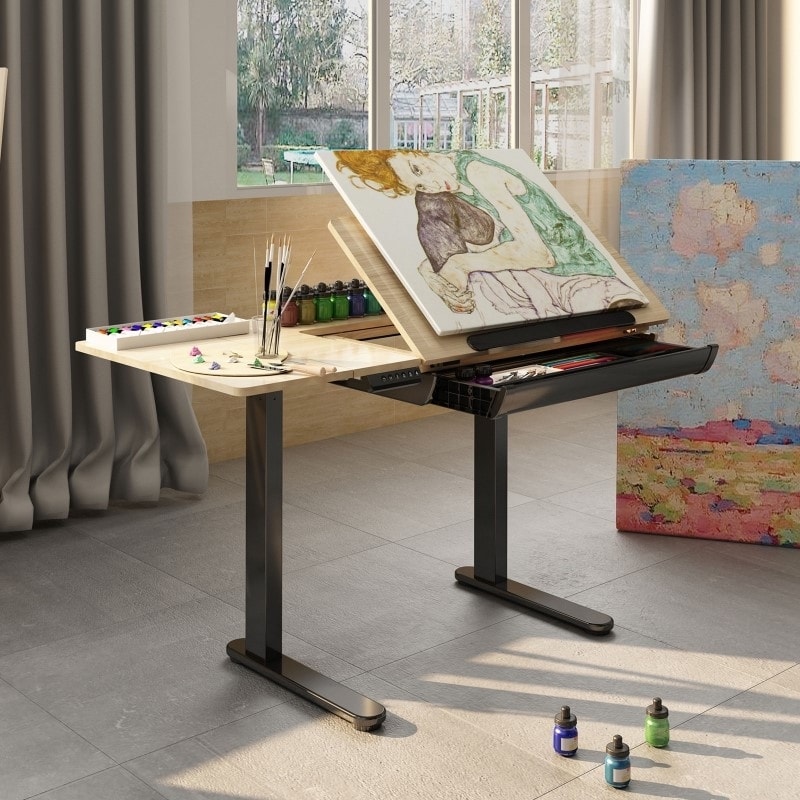 First, using ergonomic equipment could save you time and effort in making your child focus on vocabulary and reading practice. Let's say you are going to let him use the Height Adjustable Drafting Table ED1B (known for flexibility and an extra platform) when reading a new story and writing important notes on the notebook on the spacious surface of this table. You can freely tilt the desktop while he writes in the notebook. 
If you think it's good to add supplemental activities during his study time, then try to be more creative like letting him doodle or draw his favorite character from the story, the Height Adjustable Drafting Table ED1B could be the ideal piece of equipment for your child. 
This standing desk has a weight capacity of 110lbs thus light activities such as reading and writing are very suitable on this standing desk. This is safe to use as well because it has an anti-collision function thus you know that even with a slightly heavy device, the stand-up desk would not collapse or be damaged; your child is also protected with this. This can ensure you that your child may understand well the story that he is going to read when he uses this desk because he can move and focus on his task without feeling strained or the pain at all especially when he uses it with an ergonomic chair which is the Sit2Go 2in1 Fitness Chair that is the best pair for a sit-stand desk like the Drafting Table ED1B. 
Second, if you think your child needs a place to store his art materials or writing tools, then a stand-up desk that had spacious drawers would be usable. At Flexispot, there is the Esben Standing Desk UD4. This product has two different models (UD4EW and UD4W). The UDE4W has the basic keypads and the other one (UD4W) has the premium keypads. With the basic keypad, your child could choose only the up and down buttons while with the premium keypads, your kid could choose from up and down to sit-stand reminders. 
This UD4W model of this standing desk has built-in USB ports. Thus, when you know your child's device battery needs to be charged then you can simply plug the charger in this port easily. This model also has an anti-collision system. Thus, you can ensure that your child could feel safe when he uses this piece of equipment. 
Third, when you choose Flexispot standing desk products such as the Height Adjustable Drafting Table ED1B and Esben Standing Desk UD4, you don't need to spend too much money; these products would not break your bank hence you save more with these pieces. That's the third reason you may consider the Flexispot products. Products that would optimize your reading time. Your child would no longer suffer from the neck soreness that usually takes place when he uses the non-ergonomic standing desks.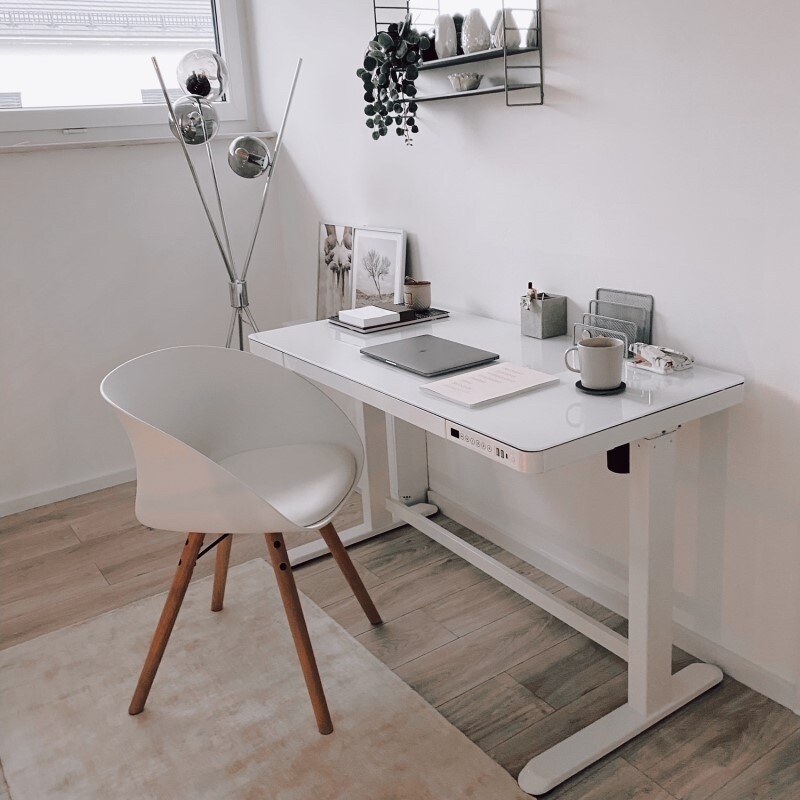 Fourth, when you choose these standing desks, you may ensure that your child would be able to find the perfect angle and distance that he needs when he takes a seat on the ergonomic chair from Flexispot such as the Scalloped Accent Chair 1049. It's because the standing desks from Flexispot could be well-adjusted and could follow the required height of the chair and desk for him to achieve an absolute ergonomic experience when sitting. 
Lastly, standing desk products from Flexispot have the size and dimensions that could perfectly fit small spaces. An example of a standing desk product is the Comhar All-In-One Standing Desk Glass Top. Usually, the study rooms or nooks of our children in the house are just right for medium-sized desks hence this one is very suitable. It's not that big and it is also height adjustable for your child. 
Final Thoughts
So, with all these reasons to get a Flexispot standing desk, you could be guided in choosing the right products for your kid's proactive learning. Indeed, the specs and features of these desks could help you decide which would be your child's best companion this 2021.