As stated on the official website of UNC-Institutional Integrity and Risk Management, your home can be the place where "ergonomic stressors" (Home and Hobby Ergonomic Section) are present. This statement is entirely true because you and your kids get exposed to possible injury and ergonomic problems when you are at home. Hence, let's talk about how Flexispot could assist you and your family through the ergonomic protection it provides in 5 ways:
a. Flexispot Creates Innovation Beyond Steel Frames and Wooden Desktops
Flexispot is not just your average ergonomic company that creates steel frames for chairs and wooden desktops for their desks. It innovates astonishing ergonomic chairs and standing desks that offer durability, flexibility, and stability for long years of usage.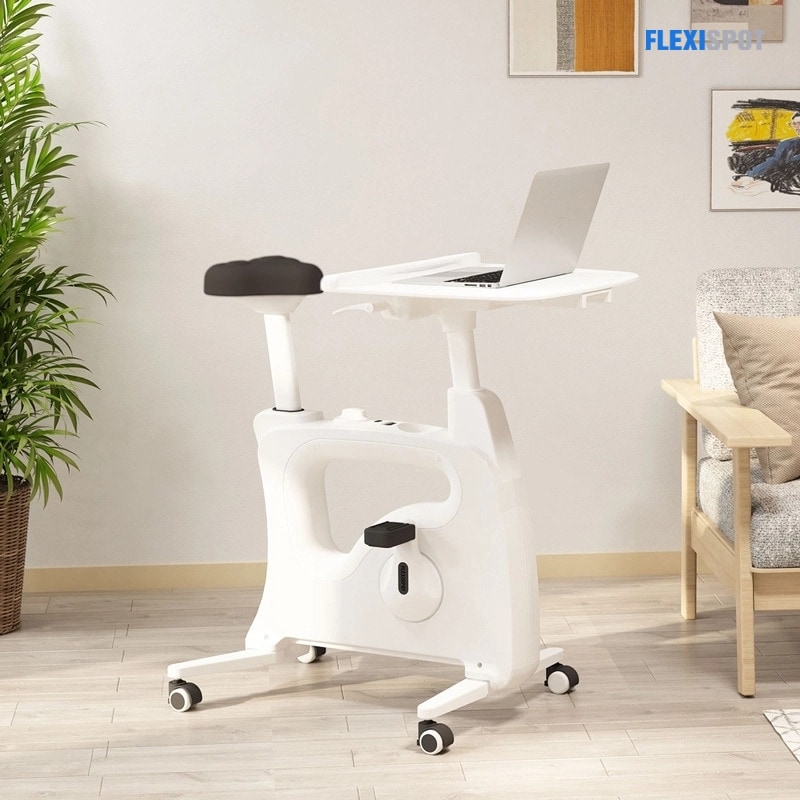 As proof, Flexispot has gotten the award from 2018 CES Innovation Award for its Deskcise Pro V9. An office chair and a piece of fitness equipment in 1. Flexispot creates more than just a chair that is height adjustable. The Deskcise Pro V9 can transform your child's study area into an ergonomically-oriented place where he could enhance his fine motor skills and cognitive ability. Flexispot ensures that this desk bike could make your child feel at ease without losing balance and falling off from the desk bike's seat cushion. 
This outstanding functionality is one of the big reasons Flexispot gains the trust of most parents and kids in the market because the company emphasizes ergonomic protection by making products such as this desk bike that complement the physique of the user. 
b. Flexispot Ensures that Kids Would Not Have a Hard Time Working On Their Study Desks
At Flexispot, they create outstanding study desks for your kids. These sit-stand desks allow your kids to shift positions when studying to avoid straining their spines and the pain around their waists.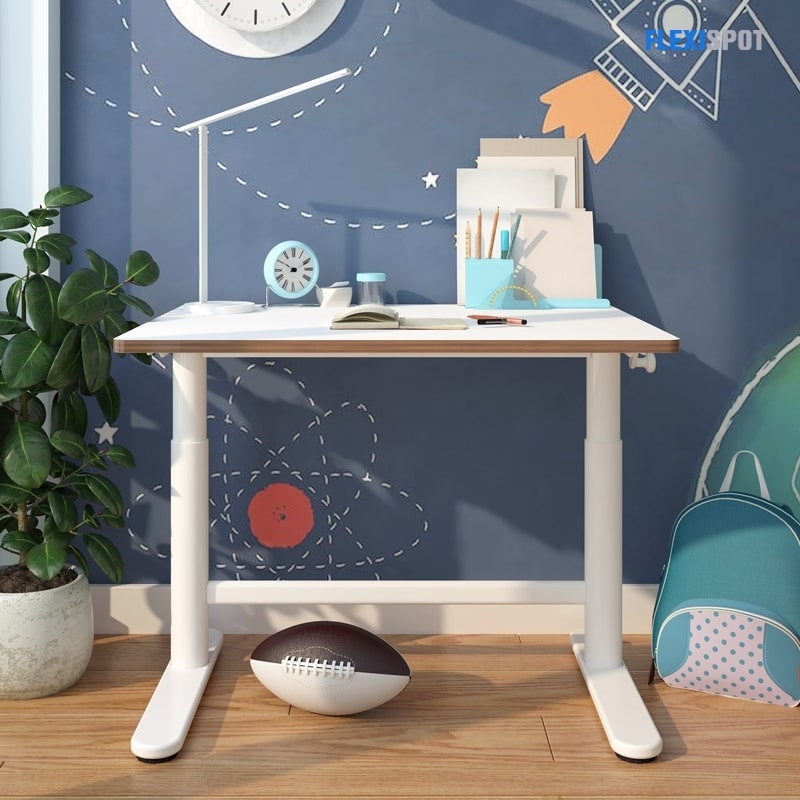 You may choose from a range of ergonomic Kid's desks from Flexispot. Pick either the hand crank or the electric Kid's desk. Flexispot has made their stand-up desk, such as the Hand Crank Ergonomic Sit Stand Kids Desk, very flexible for the kids. This table grows with them, so once your Kid uses this desk, he can do activities on its surface without breaking the desktop itself because this desk is heavy-duty.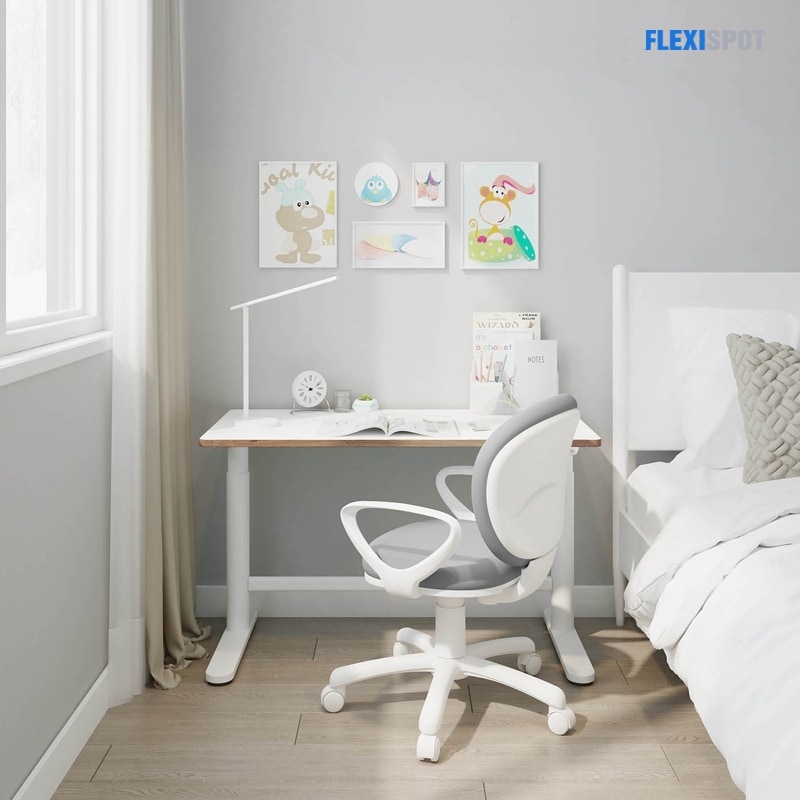 Meanwhile, the other kind of Kid's desk from Flexispot is an electric desk. This desk product has an anti-collision child-proof frame. So, your child would be safe from falling objects that can cause injury. What's lovely about the electric Kid's desk is it can reach up to 35 inches in height and grows with your child. So, you may choose to purchase this Height Adjustable Ergonomic Study Desk-40"W. 
This standing desk has round edges, which makes it a unique kid's desk. If you compare it to the non-ergonomic kids' desk, you will notice the non-ergonomic pieces are less safe because of the sharp edges. 90% of the 950,000 deaths of children were related to unintentional injuries based on the cases that World Health Organization's 2004 update on Global Burden on Disease (a citation, World Report on Child Injury Prevention, Ch.1, P.1). Since then, law-making bodies in different countries promulgated laws that would ensure that all companies would promote products that would safeguard every child from fatal and non-fatal injuries. Hence, Flexispot adhered to those laws and innovated tables such as the Height Adjustable Ergonomic Study Desk-40" W.
c. Flexispot Creates Beyond What the Eyes Can See to Be Aesthetic
Scalloped Accent Chair 1049, Ribbed Low Back Armless Swivel Desk Chair 1391L11, and Esben Standing Desk UD4. These are some of the most aesthetically designed sit-stand desks and accent chairs from Flexispot. Flexispot created these products with sophistication. However, something goes beyond their design: it's their ergonomic benefits to people, especially children. 
First, Flexispot ensures that even the chair is not height adjustable such as the Scalloped Accent Chair 1049, it could still protect the child from unwanted biomechanical pain around the cervical spine and lumbar and waist. Indeed, Scalloped Accent Chair 1049 has curves that contour the whole body and gives the utmost protection for the spine. Likewise, the Ribbed Low Back Armless Swivel Desk Chair 1391L11 is an accent chair that does not have the 4D or adjustable armrests. However, it still serves the utmost purpose and gives out protection to the elbows and arms because it's so sturdy that the Kid may put his weight on its seat area and support his shoulder and arms. The ultra-comfortable seat cushion of this accent chair can release the pressure around the spine because of its curve that contours the child's body well. 
Flexispot has ensured that through the keypads, the child can easily click and adjust the size of the desk to his desired level. Furthermore, Flexispot creates the best standing desks that are not just sophisticated-looking but can also promote active use of the child through its up and down movement and height presets. This stand-up desk is indeed one of the most trusted products from Flexispot. The Esben Standing Desk UD4. 
Like the other sit-stand desks and accent chairs from Flexispot, these products mentioned above can ensure excellent ergonomic protection that parents like you could depend on for your child's sake. Indeed these are creations that go beyond what the eyes could perceive to be pleasing-they could ensure long years of durability and usage. 
d. Find Protection with Flexispot's Desk Organizers
The clutters that your child might have on the table could be the cause of both non-fatal and fatal injuries. For the last ten years, many studies proved that even school materials such as scissors and writing tools could be the source of ergonomic accidents. Thus, to ensure your child's safety when working around his study area, you must provide the best desk organizers and office cabinets, such as the Mesh Desk Organizer DO01 and the Mobile File Cabinet CB2 from Flexispot.
When you let your child use these organizers, you give him the utmost care because, with these Flexispot products, your child would be free from getting injured from the writing tools and sensitive school materials such as scissors.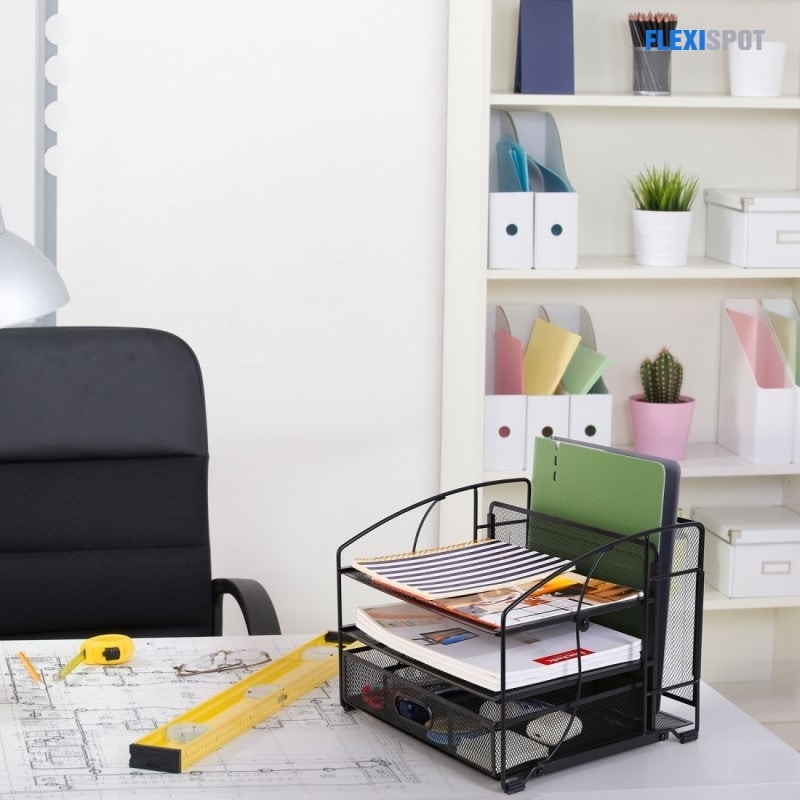 There's nothing to worry about these desk organizers' quality. Even with the simple Mesh Desk Organizer DO01, your child could organize his tools well because this product has different sections with appropriate sizes for the usual school materials that your child may use at school.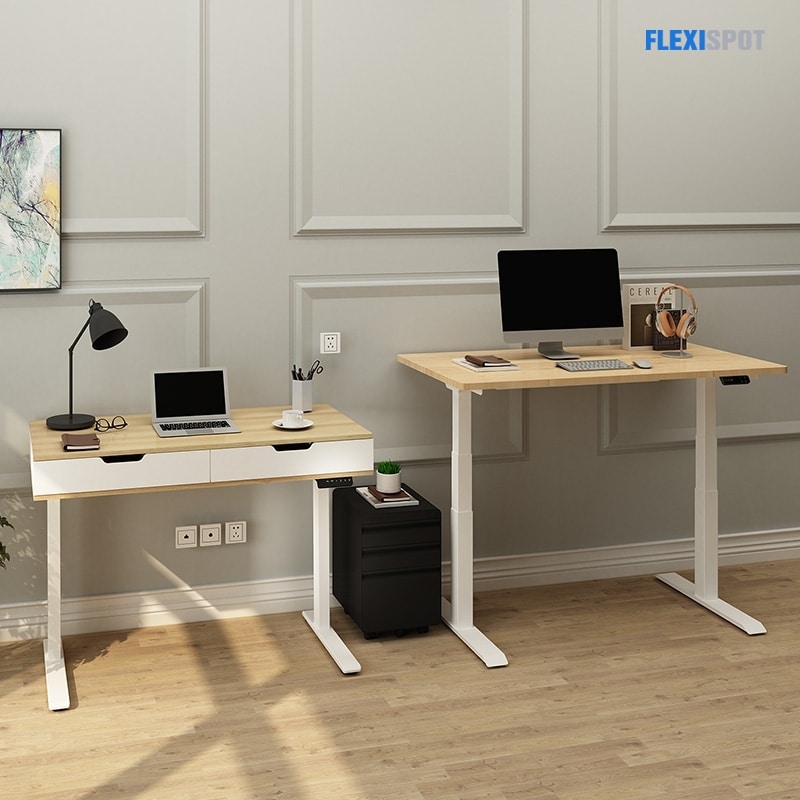 Moreover, organizing paper and folders are easy as well with the Mobile File Cabinet CB2. Surprisingly, even with the cabinet, Flexispot utilized ergonomics inside the product and installed panels and metals that make the drawers sliding free from getting stuck and could keep your child from getting hurt. 
These products from Flexispot are genuinely remarkable. After all, they could provide the utmost ergonomic protection, thus making them the best choice for organizers because their designs and functions are the best among the desk organizers and file cabinets in the market. 
e. Lifting Speed that Gives Your Child More Time 
The lifting speed is another unique function of the Flexispot standing desks. Like the Kana Bamboo Standing desks, most of them have a lifting speed that does not exceed 2 seconds. That could give your child more time to relax and work smoothly in his study area. As a result, he may have less stress and fatigue.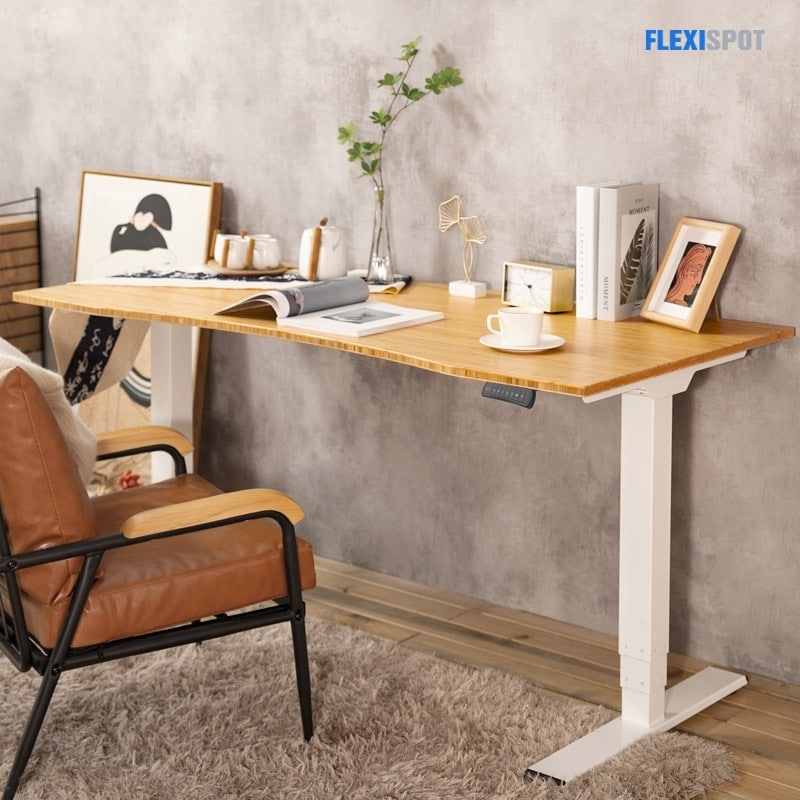 So, this is the main reason more and more patrons trust Flexispot when it comes to producing the best sit-stand desks. 
Final Thoughts:
Indeed, many fatal and non-fatal ergonomic injuries start with the malfunctioning portions of an ordinary desk or chair. They may be very affordable, but they would break your bank in the long run because they might cost you high medical expenses. That's why choosing  Flexispot could help you save more and protect your kids more from the fateful incidents that might put their lives at risk. This choice of products is a wise choice to make because Flexispot is undoubtedly number one when it comes to the ergonomical protections of kids.