The cushioned seats and the thickly padded ergonomic chairs are not just a piece of fancy-looking equipment. There are more significant reasons children must use portions of products such as the Flexispot (the home of the most trusted standing desks, sit-stand desks, stand-up desks, and ergonomic chairs) equipment pieces. Today's article will dissertate the benefits of the best ergonomics that you can find in the market and the five tips in making your child's sitting experience with the Flexispot products exciting. Nonetheless, let us first find out the common ergonomic problems that your child might be experiencing. 
The Kids' Ergonomic Problems
Most children are playful. They have the energy so pure they can play and do rough games even when at home. As a result, most of them experience ergonomic injuries because they sometimes hit the edge of the chair or desks in their study room. Aside from that, once they try to focus in class, they use non-ergonomic equipment. Hence, it leads them to stay sitting for long hours, especially when some students still do remote learning sessions. Indeed, the tendency is they are not able to stretch their muscles and do other physical activities, which leave them to have muscle spasms, spine strain, and stooped posture. That's why Flexispot is here to help these children to have a superb sitting experience now that they are about to face new challenges for the school year of 2021. So, with these reasons, we will go straight to the 5 tips on how your child could enjoy learning with the help of the Flexispot Ergo chairs. 
The following are the 5 tips that parents like you could note as the new school year starts. These are practical ways for your child and even you can find enjoyment and ergonomic protection with the Flexispot products. 

a. Experience the Excellent Rocking Function of the Ergo Chairs
Flexispot ergo chairs like the Ergonomic Office Chair 9051 have an incredible rocking function that reaches up to more than 90 degrees. With this angle, the child could get the relaxation he needs even when looking at the monitor. This position would not cause him eye strain and headache, leading to ergonomic pain reaching the neck. When your child uses this ergo chair, you may ensure that there is still an active blood flow in his body even when sitting because the leather and foam covering the whole chair are breathable. It means that he could avoid muscle strain and joint pain even after sitting for more than 20 minutes. Nonetheless, it would help to encourage your child to change his sitting position when attending the online class. He may sometimes stand up then go back to his seat after 20 minutes. 
If your child begins to feel stress or past fatigue half of the class hour, then you may help him turn the rocking adjuster and rock the chair gently as he continues listening to his teacher. He may engage himself more in the lesson through this function without feeling muscle strain and spine fatigue. 

b. Let the Child Place Their Neck and Head on the Headrests of the Flexispot Ergo Chairs
Neck soreness is a common ergonomic problem when one uses a piece of non-ergonomic equipment. This kind of pain irritates the child because it gives him a hard time leaning his head on both sides. Children are more susceptible to neck pain, and at times, it can make them lose concentration in their lessons. Thus, what they need are equipment pieces such as the Flexispot Ergonomic Office Chair OC3B. 
This office chair can help the child support his neck and head when sitting, plus he can lay his back flat on the mesh backrest of the chair. Indeed, with this office chair, he can feel a more active airflow that decreases body heat. 
Most of all, this chair has a movable headrest that can help your child lay his head on it and relieve the headache that gives him a difficult time focusing on their lesson. These are the reasons this ergonomic chair is one of the best ergo chairs from Flexispot. Once you choose this product, you may ensure your child's optimal class performance. 

c. Let Your Child Practice the Sit and Stand Movements Using the Flexispot Chairs
Sitting and standing without strained veins or strained muscles is essential, especially for a child who is vulnerable to ergonomic injuries. Despite them being active and flexible, they still have a limited capacity to avoid biomechanical pain. Thus, utilizing a Flexispot accent chair or office chair is helpful. 
Accent Chair 005 and Soutien Ergonomic Office chair are the most recommended. The Accent Chair 005 is a product with the perfect curve that complements the angle of the spine. This chair has a shape and design that does not force the child to stoop or develop rounded shoulders. 
Meanwhile, a chair product that has 4D armrests is also recommendable-the Soutien Ergonomic Office Chair. This ergo piece has a mesh backrest that can stimulate the blood flow to the child's body and help him stand up and sit back down the cushion without difficulties-your child can support his lumbar and waist with this chair product.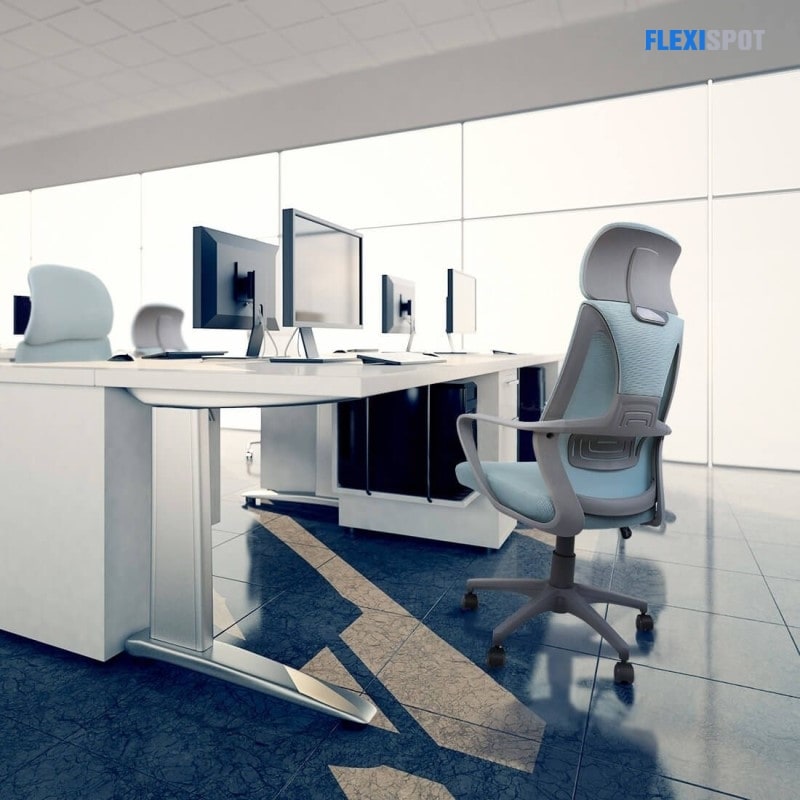 d. Allow Your Child to Place Their Weight Evenly
Flexispot ergonomic chairs such as the Ergonomic Office Chair OC7 have an excellent load capacity and the Sit2Go 2in1 Fitness Chair. These ergo chairs could help your child put his weight on the seating area and find his balance. The chairs' metal bases support the weight of the upper parts so your child would not worry about falling off when he sits entirely on these chairs. 

e. Let The Child Rest Their Arms, Hands, and Elbows on the Armrests
Most ergonomic chairs from Flexispot have 4D and adjustable armrests that can help your child release his elbows and achieve the ideal 90-degree arm position when sitting on an office chair. This move can help him release the pressure building up around the elbows. Choosing the Soutien Ergonomic Office Chair and Ergonomic Office Chair OC3B is recommendable if your child needs this beneficial function. 
Final Thoughts
Looking at these excellent features of the Flexispot ergonomic chairs, your child would surely enjoy his time sitting on any of these products should you choose Flexispot. Should you decide to purchase them, you can ensure that your child can get ergonomic protection for a long time.