We all either hate or love the fall/winter seasons. You either enjoy the beautiful atmosphere and holidays that come with it or hate that you will be cold for the next few months. With the change of seasons comes a shift in what tasks can be done from home. The summer was all about lighter work like data entry, virtual assisting, and transcription, as well as the task of staying cool during the heat. Thankfully now that it's soon to be the autumn season. No more heavy sweating when you step outside, or even having to blast your AC all day long. Things are getting much cozier.
Working from home during the fall and winter months can be challenging for obvious reasons: It's not as comfortable or light as working during the spring and summer. Luckily, there are easy ways to prep your work-from-home environment so you can get back to business no matter what Mother Nature throws at you. Below are 5 tips on how you can prep your workspace for the upcoming fall and winter seasons so you can thrive in whichever one comes first.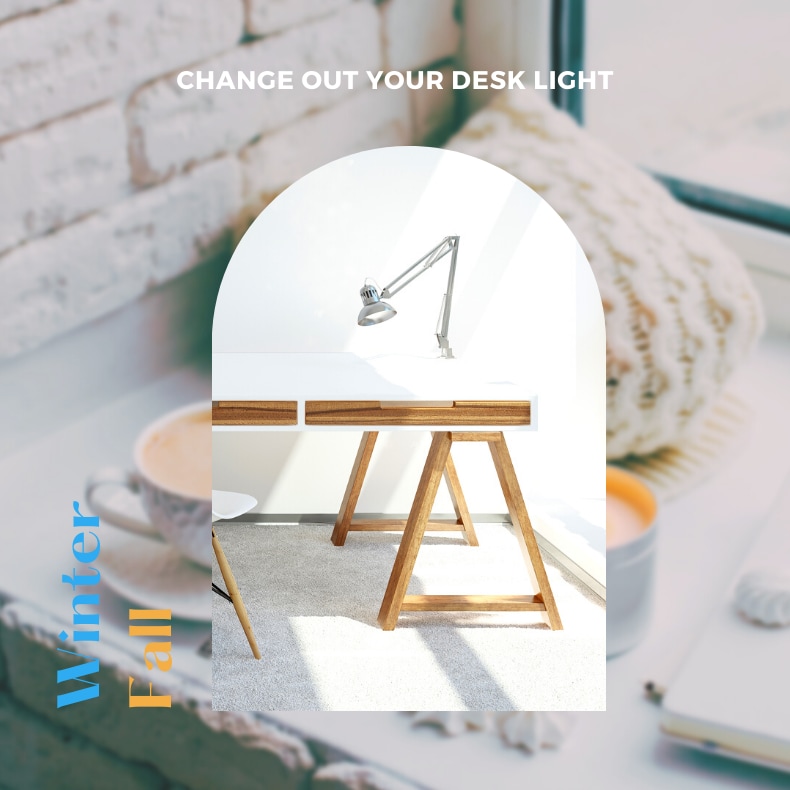 Change out your desk light
If you work in an office, chances are your desk light isn't an issue. If you work from home, you might notice a big shift in the brightness of your surroundings as the seasons change. For example, if you are in an area with heavy tree cover, your desk light may be the only source of light during the darker months. Also, if you don't have a desk light that can adjust to accommodate the shift in brightness, you may be doing yourself a disservice. You possibly could strain your eyes or even cause more distractions while you work than you would want.
When it comes to desk lights, you get what you pay for. That really is true for anything but in this case very true with desk lights and home office equipment. There are a few things you should look for when purchasing one. Find out what kind of light bulb the light uses. LED lights have an even, full-spectrum output that is easy on the eyes, while fluorescent lights cause eye strain. Florescent bulbs also produce heat, so make sure your desk light doesn't have a warm, yellow glow that makes you feel like you're working in a tanning bed. Try testing out some of these desk lamps in-store if you are able to or go through all the recent reviews before buying.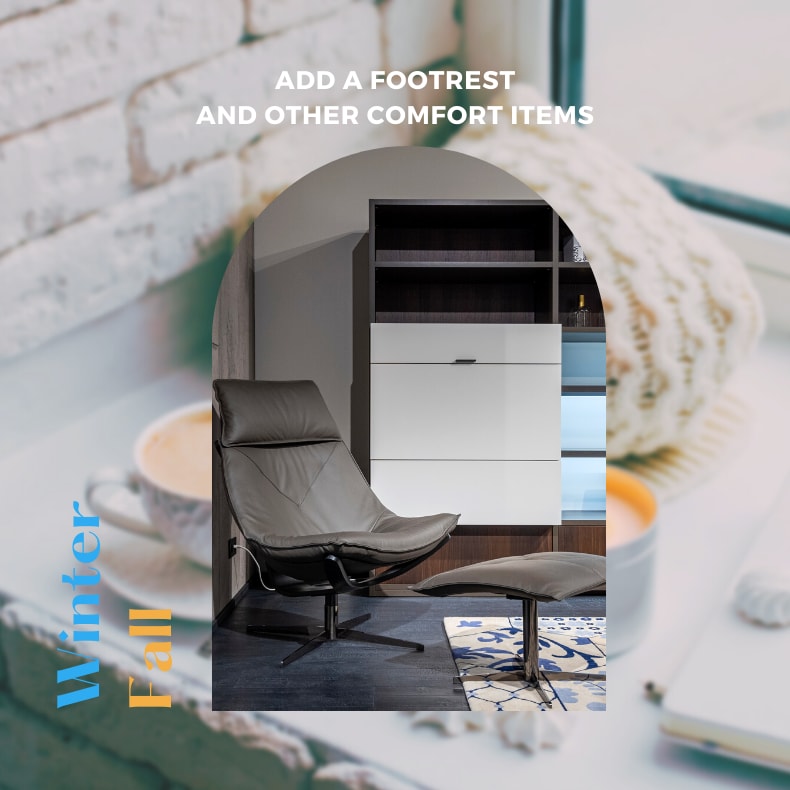 Add a footrest and other comfort items
If you are a person who likes to sit at a desk, then you know how important posture is. If you don't maintain proper posture, you are more likely to experience back pain. To help maintain good posture, make sure you have a comfortable desk chair and use a footrest if you like to sit with your feet up on your desk. If you work from a couch or bed, you can still use a footrest.
A footrest that is high enough to support the bottom of your calves will help your legs stay open, which will keep your hips open, too. Plus, if your laptop is on a coffee table, it will be easier to find a comfortable position for your forearms to rest on the footrest. Although, if you are working at a coffee table, you are definitely going to want to change that, as that is not a healthy work-at-home environment. You want to look into ergonomic desk chairs that help prevent these future pains.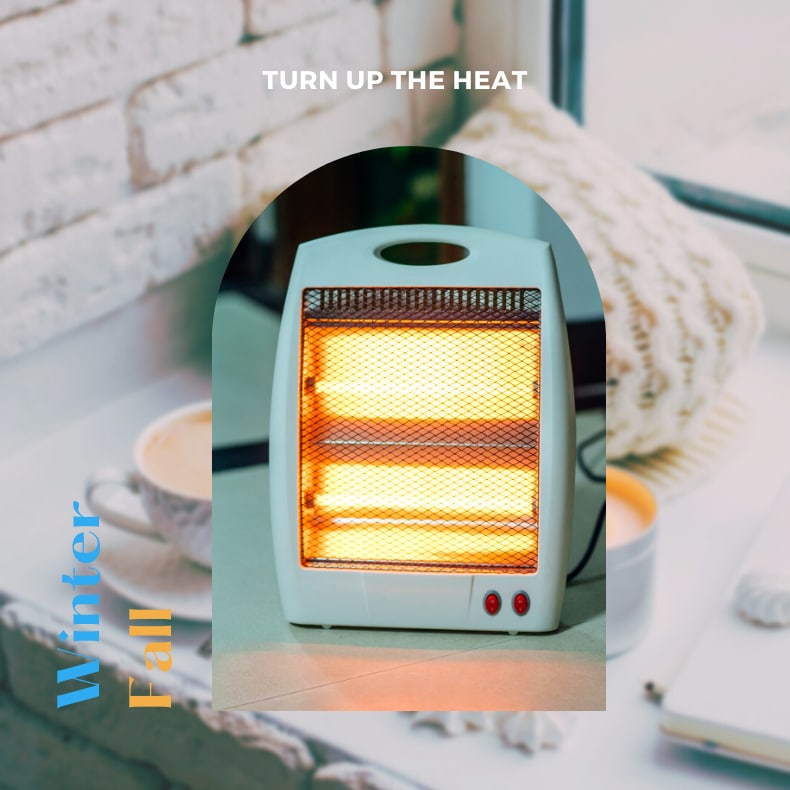 Turn up the heat
If you work from home during the fall and winter months, chances are your thermostat is cranked as high as it can go. You can take measures to stay comfortable but having a warm home can help keep you productive when you would otherwise be distracted by being cold. There are a few ways to turn up the heat without breaking the bank. If you have the space, a wood stove or fireplace can be a great way to stay warm without using lots of energy. If you don't have access to natural gas or use propane, you could get a wood-fired oven, or a fireplace insert. One thing you can also look into an electric fireplace. They are a bit of an investment but very much
worth it.
When it comes to your thermostat, you can learn to program it in a way that won't break your bank account during the winter months. First, make sure your thermostat is in a place that's easy to access, so you can change it whenever you need to. Keep in mind that you can program the thermostat to automatically change the temperature higher or lower at certain times of the day. There are also smart thermostats that can be controlled with your smartphone, so you don't have to physically change the temperature. You want to make sure that you are not being too distracted by constantly changing the temperature in your home office.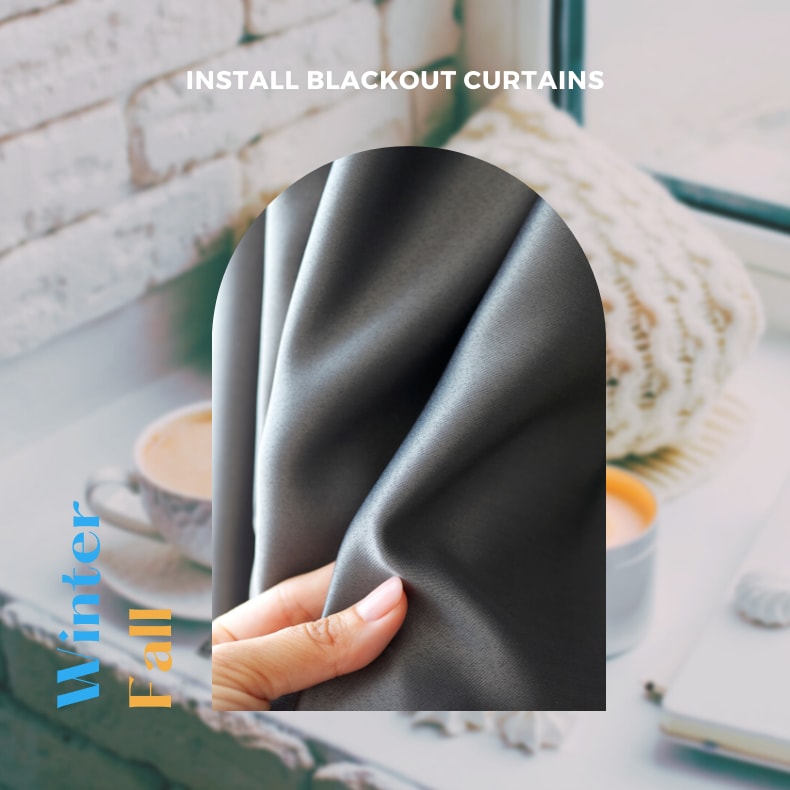 Install blackout curtains
If you work from home, you may find that natural light is distracting and sometimes even hard to deal with. If you are a morning person who works better in the morning, this is less of an issue. If you are a person who works best in the evening or in a dark work environment with low lighting, it may be helpful to install blackout curtains. Blackout curtains can be a great way to control the light in your home, especially if you have neighbors who are up early. You don't want to have anything outside distract your morning while you are trying to get on track and start your day.
If you decide to go with blackout curtains, make sure to purchase the right size, as they are often sold by length instead of width. You can also install a light-blocking cover over the window. If you live in a place where the sun sets late in the evening, blackout curtains can still be helpful for you. You also can use a blind or curtain to block the light in the evening, and then move it to the side when the sun sets so you can still have natural light.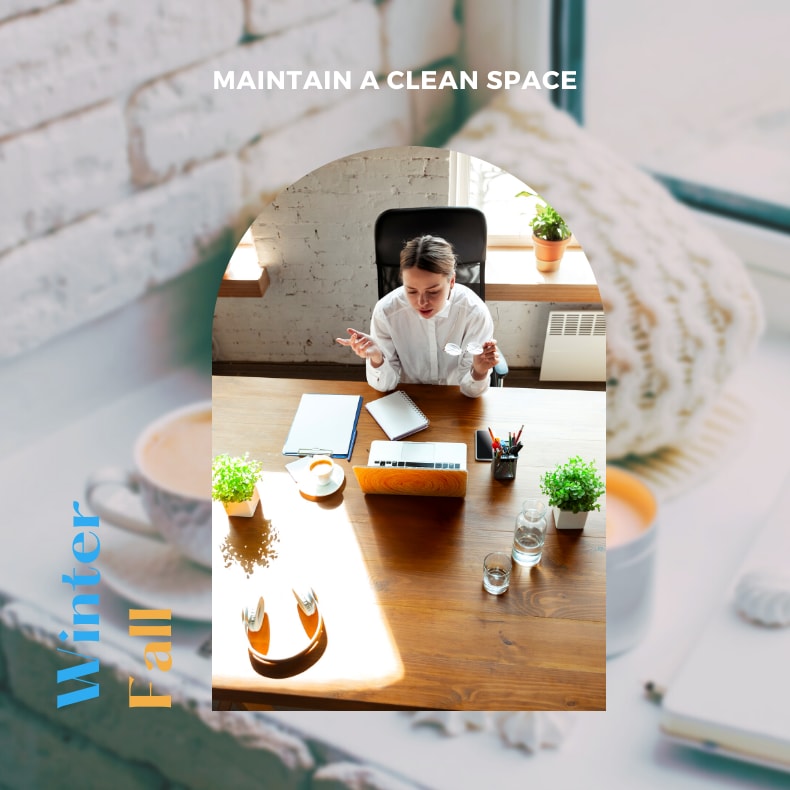 Maintain a clean space
Working from home is a lot less formal than working in an office. You can wear your pajamas, eat from a bowl on your lap, and probably do whatever else you need to do to work efficiently. It is a comfortable life and is a huge reason why most people like working from home. However, you want to make sure you are cleaning up your space regularly, so it doesn't get out of control and start to affect your productivity. If you have a desk, you want to make sure you're cleaning it regularly. You should have a desk in your home office as you want to be as efficient as possible.
Now if you eat at your desk, you want to make sure crumbs are being cleaned off daily. Keep your desk drawers clean and tidy and try to keep items like papers and files off your floor or home office desk. If you have a desk drawer that is overflowing, you may need to go through it and throw out things you no longer need. If you have papers on your desk that you're not currently using, you should put them in a file, so they don't get lost. You may even want to look into getting an on-desk organizer that could help you keep those more accessible and look a lot cleaner.
Working from home can be challenging during the fall and winter months, but it can also be rewarding in many ways. By following these tips, you can ensure your space is prepared for the cooler seasons and that you are equipped with tools to help you stay productive throughout the year, as well during those upcoming season changes.