With almost a year of quarantining under our belts, it might seem like we should all be pros at keeping our kids from bouncing off the walls. But, as lockdown orders linger on, most parents are realizing there are only so many family Zoom calls, video games, and Netflix series we can handle. Sometimes, it helps to turn off the gadgets and use our hands to create or build something that requires a little imagination. 
These 6 family-friendly activities can all be done at the FlexiSpot standing desk and will help keep boredom at bay while spending quality quarantine time with your kids.
1. Shuffleboard  
Shuffleboard involves pushing weighted pucks across a surface trying to get them as close to a point as possible. The closer to the point you get the puck, the more points that the puck is worth. Two players take turns trying to get as many of their pucks as close to the point as possible while making sure their opponent doesn't have an opportunity to do the same.
The glass top option on the FlexiSpot Comhar standing desk makes it a great choice for impromptu mini shuffleboard games. Its smooth, even surface eliminates the need for sand or wax, and the integrated storage drawer is a perfect place to store your pucks and other accessories.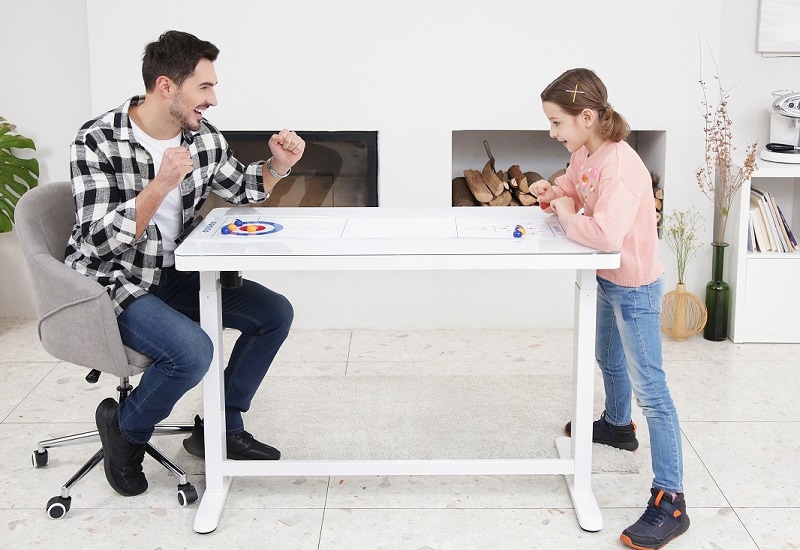 2.  

Compose a Song on Your Piano Keyboard   
Standing desks aren't just good for studying and working, spacious models like the FlexiSpot EG8 series offer the perfect desktop surface for banging out new tunes with your kids on a keyboard piano. Don't have a keyboard piano? No problem! There are plenty of piano keyboard apps available in the Google Play or App Store that let you turn your tablet or computer keyboard into a digital piano. Just pick an inspiring theme and let your creativity run wild coming up with the lyrics to the new melody you and your child create together.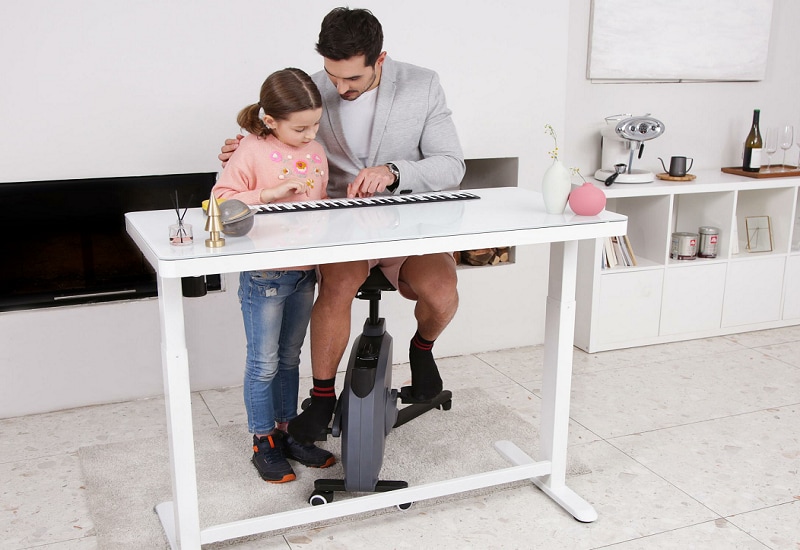 3. Build a Lego Creation
If you've got a tub full of Lego® 

Complete a Puzzle piece somewhere in the house, you've got hours of guaranteed fun. Dump all the pieces out on your standing desk and get to work constructing a tower, a robot, a train — really anything that comes to mind can be a joy to create when you're doing it together as a family.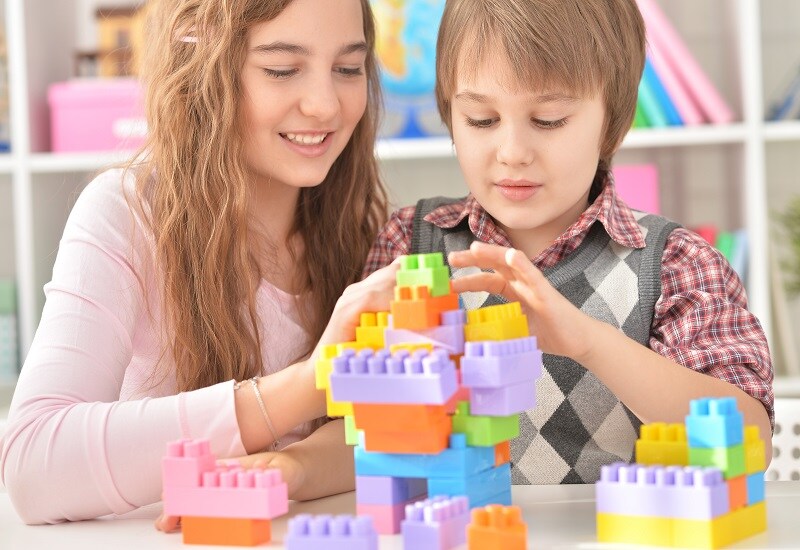 4. Complete a Puzzle
Who doesn't love to solve a good old-fashioned puzzle? Pick one with an image that really inspires you, and you've got hours, and in some cases, weeks of endless fun to keep the whole family active and engaged in between school, work, grooming, and household chores. It's even better when you put a puzzle together using a standing desk. You can alternate between sitting and standing, which helps keep the body and brain active as you work together to connect all the pieces.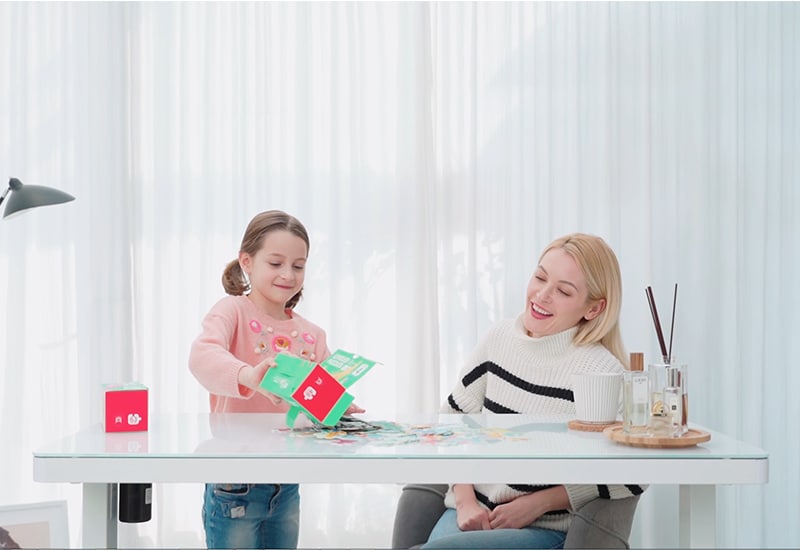 5. Draw a masterpiece
There's an artist in all of us, and that creativity begs to come out whenever boredom starts to set in. So, whether you prefer to use crayons, watercolors, colored pencils, or finger paint, grab your art supplies and spread them out on your standing desk. With up to 48 inches of extra-wide desk surface available on certain types of electric standing desks like the Comhar, you are sure to have all the room you need to paint or draw for hours. And, you'll never be stuck in one 

position for very long because with the simple press of a button, you can shift from sitting to standing all while continuing to focus on your artwork.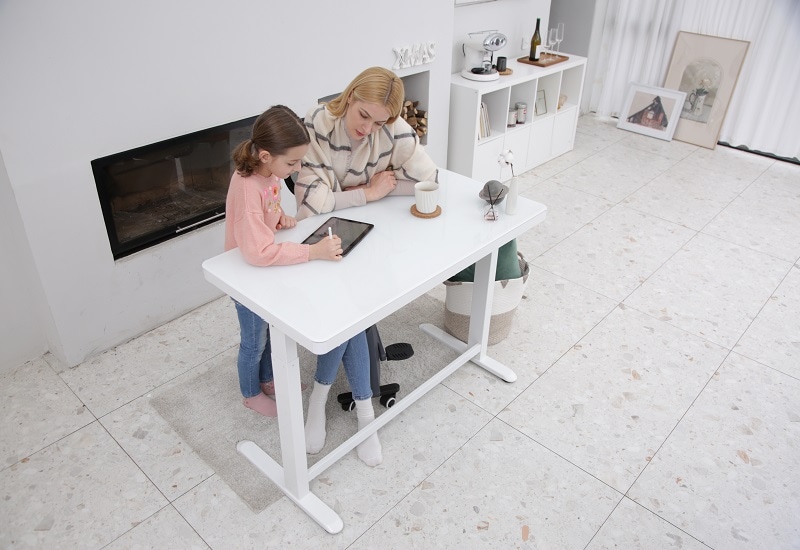 If Netflix has been one of your quarantine indulgences, you've probably binge-watched their popular original series The Queen's Gambit. So why not have a little Chess fun with a family tournament? With an electric standing desk, you have the perfect backdrop for an active chess match where you and your child can stretch your legs during play.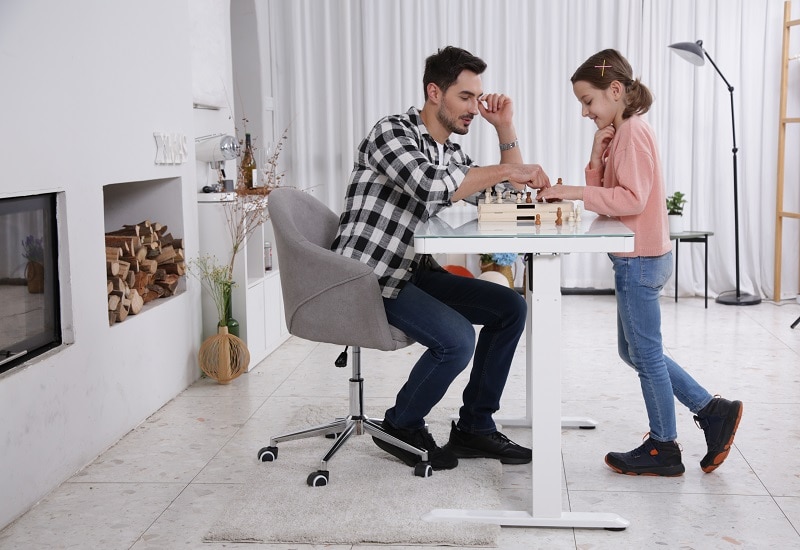 Now that we have explored 5 new ways to occupy your lockdown time, you may be thinking you need a new standing desk where you can make the magic happen. We've got that covered too! FlexiSpot's Comhar standing desk offers a variety of family-friendly features that make it perfect for keeping kids active and entertained during quarantine including:


Adjustable Height - Kids and parents alike can find their perfect height with a broad adjustable range of 28.3 to 47.6 inches.



Spacious Surface - Delivers 4 feet of desktop surface for schoolwork, arts and crafts, games and so much more.



Built-In Storage - Keeps desk supplies and other essentials neatly stored below the desktop to save space and provide quick, convenient access to items when you need them.



Advanced Control Panel - Makes it easy to lift and lower the desk with the press of a button plus features 4 height presets so multiple family members can have their own setting. It also provides integrated charging to keep up to 3 devices powered all day (2 USB-A ports and 1 USB-C port).



Safety & Durability - Made with premium materials and a durable frame that includes an anti-collision function that auto reverses the desk's direction whenever it senses an object in its path.


You can also feel like you're giving your family the very best on the market with FlexiSpot. As one of America's leading standing desk manufacturers, FlexiSpot offers an industry-leading 5-year warranty on the standing desk frame and a 2-year warranty on the desk's electronic components to save your concerns.
That means you can place an order today at flexispot.com, and in no time, you will have your new standing desk ready to take on all these fun and creative lockdown activities to spend quality time with your kids!