It might be annoying when it's too hot outside, but it also means one thing. Summer is coming! For anyone who loves the outdoors, there are many fun activities you could do during the summer. It's the best season, people say, to go to the beach or jog at a nearby park. You can swim at the pool and sunbathe or pedal your stationary bike at home or go cycling in a famous biking spot. You may even go more extreme such as scuba diving at a marine reserve or go cliff diving at a height you would have never thought you could jump.
Fitness is not just about physical health. Being physically fit means your immune system is strong which makes you not susceptible to diseases. It also means increased productivity in whatever task you have to accomplish. You don't easily get tired from having to do a lot of things.
So when do you say that exercise has become regular exercise? According to a journal on health-related activities, at least "30 minutes a day three times a week" is the recommended workout time. If you are able to do this, you will see improvements in your physical health and mental well-being as well as your response to stress, and sometimes anxiety. Science tells us that physical health affects the state of your mental health.
One of the ways to combat anxiety and depression is through regular exercise or moderate physical activity. It promotes good mental health. So it's not just your physique or your resilience to illnesses that regular exercise works on, it's also your mental well-being.
There are various physical fitness activities to do at home to bring your body into good shape. These include :

1. Aerobic exercise
Popular among women, this type of exercise is usually done in groups. If you're the extroverted type, you'd want to hang out with people instead of doing this alone. You need a bigger space if you are joining with a group. If just at home, you may watch YouTube tutorials for aerobic exercises. Don't worry; if something confuses you, you can always go back. You can ask the people at your office as well. What we love about aerobic exercises is music around because it gives room for exercise and movement with the beat of a song.

2. Jogging or running
Most people underestimate this as a sport but in reality, your whole body should be in good shape to keep up with your fast-paced life. You should be thankful for the days when you have nothing to do so you think of promoting strong bones, strengthening the muscles, and burning fats, and is ideal for cardiovascular fitness

3. Swimming
Not only do you get to calm your whole body, but swimming is also a whole-body workout. It's a great exercise for the heart. And it guarantees to promote body strength and endurance

4. Playing tennis
It's not only fun to play; it will also benefit your whole body. Playing tennis helps improve metabolism and develops bone density. A regular tennis player can find it easy to burn body fat while also maintaining the body's lean frame.

5. Playing basketball
Even though you're not in the NBA, you could still play basketball. It ensures good health for your bones and heart and enhances balance and coordination.

6. Skipping rope
If you are not coordinated, grab a skipping rope and practice. This will enhance cooperation coordination, burn fats, and boots, dealing with mental health, and strengthen bones.
There are many ways how you can make your body physically fit and at the same time, healthy. You can do the exercises mentioned above to make good use of your free time, especially since the pandemic has taught us to take good care of ourselves more. Taking care of our personal health should also be one of our main priorities everyday.
But there are still those who can't find the time to schedule or squeeze in a workout. If you are busy with your workload and personal projects, there is something you can do to make yourself still physically while being productive and efficient at your work. Flexispot, through its research and development group, has created a great breakthrough that promotes wellness and productivity among office-based employees and work-at-home workers.
It is already a passe' to do your favorite exercise like biking outdoors. You can bike while you finish work or do other activities while you work your heart out. It's really shooting two birds at the same time. There are two great products from Flexispot that are ergonomically designed especially for you.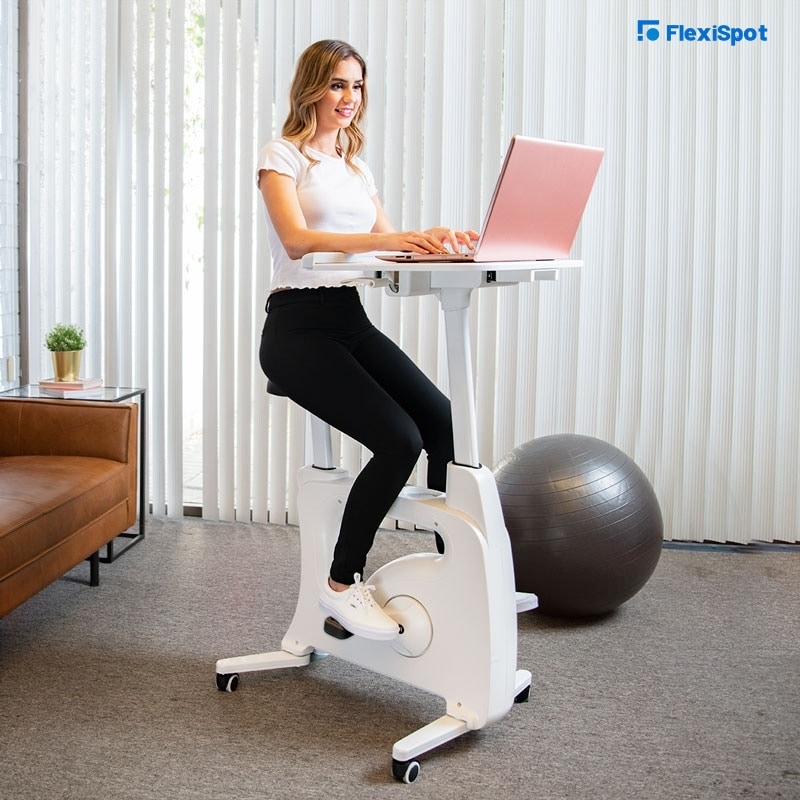 Look no further. The Home Office All-in-One Desk Bike/Bike Workstation V9 is your perfect work companion that would heighten your energy and focus at work. This workspace with a bike comes with a removable and spacious desktop that is easy to move forward, backward, up, or down according to your needs. The spacious surface could fit your laptop, tablets, with your books, or office supplies, and such. This also comes with 360-degree casters, is durable, and won't be causing any damage to the floor. If for instance, you have housemates who want to use the V9 as well, then kindly relay that yours can be borrowed at any time. Since the seat is adjustable, the height of this can be adjusted for your brother or housemate who is taller or shorter than you. Plus, you'll all love how comfortable this is to sit on because of its cushioned seats. One thing you would love as well is the bike's eight (8) resistance levels that accommodate higher endurance exercise.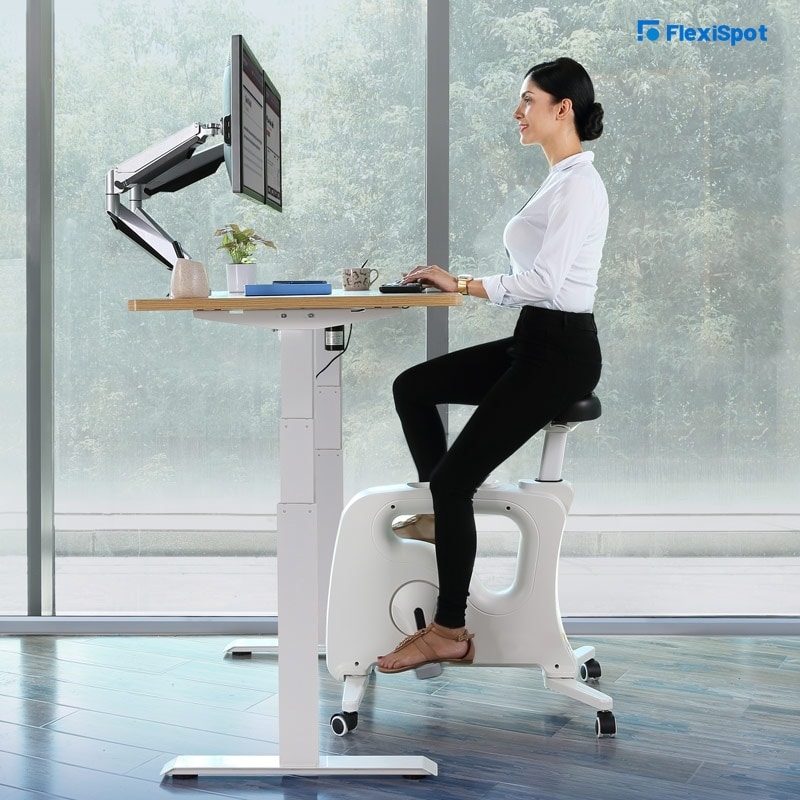 If your inkling is a desk bike to place under your desk, you can check out the Under Desk Bike V9U -- Best Standing Desk Mate. It almost has the same features as the Home Office All in One Desk Bike/Bike Workstation V9. If you're sitting down or doing work at home, you can move this under desk bike anywhere for use to exercise your legs. You can also tuck it in a corner when not in use. Great mobility, isn't it?
It's everyone's fitness buddy at the workplace. Like the V9, the seat is also adjustable and comfortable, thanks to its superior quality cushioning. You can easily adjust the seat level with one press of a button. You could smoothly pedal without any noise and with 8 resistance levels to choose from. It also comes with an LCD that will allow you to track time, distance, calories burned, etc. This will arrive at your doorstep in one package. It is already assembled and you just need to take it out of the box so you can start working on your physical fitness.
Exercising at any time is way easier now that these desk bikes are available in the market. All you need to do is to make a choice between these two desk bikes. They have the same features so you could be guaranteed that you'll enjoy both. There are many activities you can do with your desk bike, too. Aside from working, you may watch your favorite shows on TV while pedaling your way to a healthy you. One of the wisest things you could do today is to choose any of these two desk bikes.