Electric height- adjustable standing desks are the new wave in home and office spaces. From alleviating the detrimental effects of prolonged sitting to keeping your body active, the benefits of standing desks cannot be overstated. In the past few years, there's been a growing health awareness for office workers. More and more individuals have realized that sitting at their desks all day long is not healthy when you're stuck in this position for hours on end. But now with these active adjustable height standing desks coming out of nowhere to provide an alternative option, it seems like we might be able to slowly but surely start changing our habits as well! 
Have you ever dreamed of being able to stand while working? With a wide selection of adjustable standing desks on the market, finding one that fits both your needs and budget is easier than it sounds. Whether you're looking for a sleek black desk or something with more color options like oak wood finishes, there are countless models from which to choose. The KANA Bamboo Office Standing Desk from FlexiSpot combines functionality with elegance providing a truly active and healthy working experience. Learn more about this amazing standing desk in this in-depth review. 

KANA Bamboo Office Standing Desk Overview
FlexiSpot has earned the reputation of making remarkable standing desks and the KANA Bamboo Office Standing Desk confirms it. With a streamlined design, this premium standing desk combines elegance, safety, and functionality, providing distinct advantages over other height-adjustable desks in terms of convenience, adjustability, motor speed, and performance.   
The KANA Bamboo Office Standing Desk comes in two shapes: rectangular and curved and is available in seven appropriate sizes to fit any space. The rectangular desk-top option is available in 48″x24″, 55″x28″, 60″x 30″, 72″x30″ and 78″x30″; while the curved desktop option comes in 48″x24″ and 78″x30″ size options.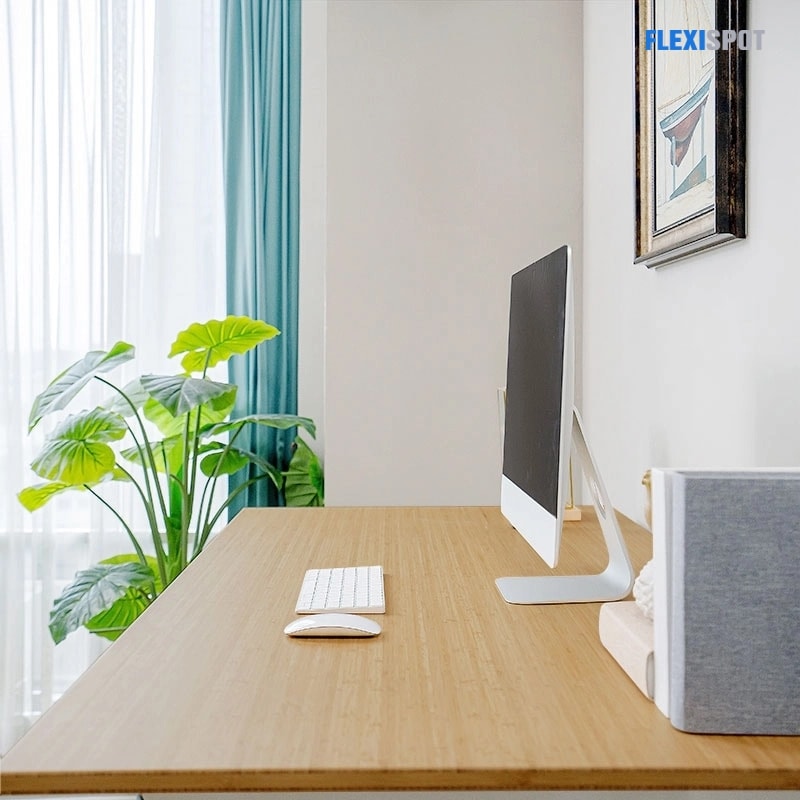 Natural bamboo is the only option available for the desktop surface, while the frame comes in black and white color options. What's impressive about the frame is the distinct rounded edges on the legs, giving it a premium vibe. The desk incorporates an in-built touch control function that allows you to seamlessly raise and lower the elegant bamboo desk surface with a height adjustability range of 23.6″-49.2″. 
With a dual-motor lifting system, the KANA Bamboo Office Standing Desk can comfortably lift a higher weight capacity of up to 275lbs. With that weight capacity, you really don't need to worry about having dual monitors on your desk or placing heavy computer accessories on the desk's surface. What's more, the sturdy frame base guarantees maximum stability, while the 3-stage frame design provides extra flexibility to meet your desired height adjustment.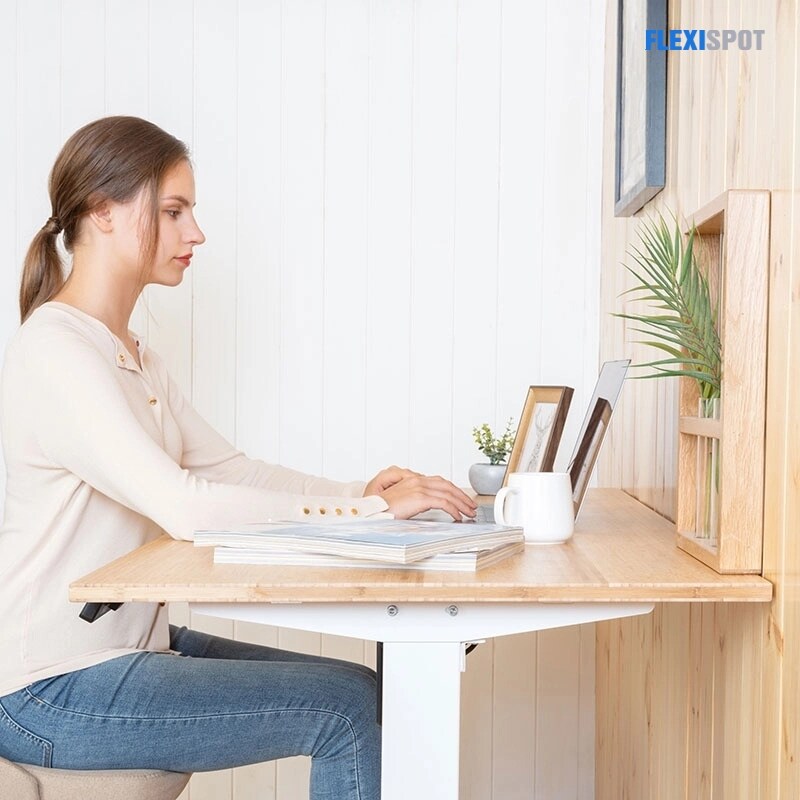 Like any other premium standing desk, the KANA Bamboo Office Standing Desk integrates anti-collision technology to prevent collisions with objects, pets, or children who may have gotten under the desk unaware. The anti-collision technology coupled with the soft edges comes in handy to avert potential injuries, making this desk safe for you, your children, and your pets.     
The desk sports a smart control panel featuring 4 memory presets an LED display and a proprietary timer that alerts you when to stand or sit so that you don't overdo either. Remember, prolonged standing is just as unhealthy as prolonged sitting. With the 4 memory presets, you won't keep on keying in your preferred height every time you want to sit or stand-simply press the sit or stand button, and you're good to go. This feature is extremely useful, especially in shared workspaces, to save you the time and hassle of adjusting the height to your level every time you want to stand or sit. 

KANA Bamboo Office Standing Desk Full Specifications
Dimensions
Contoured tops are available in: 48x24, 60x30, 72x30 and 78x30 inches 
Rectangle tops are available in: 48x24, 55x28, 60x30, 72x30 and 78x30 inches 
Bamboo desktop thickness: 0.7 inches 
Bamboo curved desktop integrates two grommets for better cable management 
Material and Colour
Bamboo desktop- Natural, environment-friendly bamboo desktop. 
Steel Frame with Rounded Edges- Available in White and Black 
EC8 Frame Specs 
Max Weight Capacity: 275 lbs. (125Kg) 
Input Voltage: 100-240 V
Lift Type: Dual-motor electric
Lift Speed: 1.4 seconds/ inch   
Adjustable Height: 23.6" - 49.2" (600 - 1250 mm) 
Adjustable Width: 43.36" - 74.8" (1100 - 1900 mm)
Operating Noise: Whisper quiet operation- less than 50dB 
Applied Desktop Size: 47.2"-80" wide
Controls: Button lift function, Child lock function, Saving height function with four memory settings, sensitivity adjustment function, and reset function with troubleshooting. 
Assembly Time 
30-90 minutes based on your mechanical skills. You may need a helping hand during certain steps in the assembly. 
Warranty 
Frame: 7 years
Desktop: 1 year
Electronics: 2 years
Shipping & Return Policy 
Free shipping in the lower 48 states in the U.S. via FedEx. Shipping to Hawaii or Alaska attracts some charges based on the FedEx rates. If shipping to any country outside of the US, contact FlexiSpot on (855) 421-2808 for advice on the shipping fee. 
FlexiSpot offers a 30-day return policy with no restocking or shipping fee applied. However, the 30-day risk-free return policy only applies to products shipped within the United States. 

Assembly 
The KANA Bamboo Office Standing Desk comes disassembled in three parts: the desktop, the frame feet, and the other frame parts, including the lifting column. Assembling the desk is pretty straightforward and takes about 30-90 minutes. You can significantly cut the assembly time and workload by using a cordless drill with a flathead, key bits, and working on a workbench with someone to help you. If you don't have a helping hand, don't fret, as you can still assemble the desk all by yourself, especially if you have some basic mechanical skills. 
To assemble the desk, proceed as follows: 
Step 1: Unbox the package and lay all the parts on the floor, ensuring that all the parts are present i.e., pedestal, baffle, bracket, connecting cable, lifting column, supporting beam, and handset.
Step 2: Install the side bracket by attaching the brackets to the beam using 4 M6 bolts. Tighten the bolts using a 4x4 hex key.
Step 3: Next, install the lifting column by attaching the beam to the two lifting columns using 8 M6 x 12mm bolts. Tighten with a 4x4 hex key. 
Step 4: Install the pedestal by attaching the lifting column(2) to the pedestal and using 8 M6 x 16mm bolts, then tighten with a 4x4 hex key.   
Step 5: Install the Desktop and adjust the distance based on the actual size of the desktop. 
Step 6: Install the handset and control box by connecting the cables to the control box. 
Step 7: Install the baffle by either method: 
Method 1: Screw the M6 bolts to the supporting beam by using a cordless drill or 4x4 hex key. Make sure it's not too tight. Then press one side of the baffle and insert the M6 bolts, then insert the other side. Finally, tighten the M6 bolts.  
Method 2: Stretch the desktop to more than 1720 mm, then install the baffle to the middle connecting bar in the beam.  
KANA Bamboo Office Standing Desk
The KANA Bamboo Office Standing Desk boasts a myriad of premium features that make it one of the leading choices of standing desks in the FlexiSpot range of electric height-adjustable desks. Take a look.  

Elegant Natural Bamboo Desktop 
For an elegant look with a great contribution towards environmental conservation, FlexiSpot opted for a natural bamboo on the KANA Bamboo Office Standing Desk's surface. Indeed, they never went wrong with this design inspiration as the desk looks nothing short of elegant. What's more, the bamboo desktop offers plenty of benefits, including unmatched durability-twice the durability of ordinary wood, ensuring you get great value for your money. 
The bamboo surface is also coated with a lacquer coating to confer protection against water, scratches, and insects. With such benefits, you can be sure to witness your desk stand the test of time while keeping you active and healthy. 
The elegant bamboo desktop coupled with the streamlined design with uniquely rounded legs makes the KANA Bamboo Office Standing Desk a truly beautiful standing desk that will surely complement your interior décor. 

Stability and Lift Performance 
Unlike most standing desks, the KANA Bamboo Office Standing Desk is pretty much stable even at the highest height setting and maximum weight capacity thanks to the enhanced, heavy steel frame and supporting structures such as the baffle and the supporting beam. The desk's base remains firmly rooted to the floor when adjusting the height providing maximum stability- you don't need to worry about your computer gear and other items falling over when adjusting the height.
The desk also comes with a powerful, dual-motor lifting system with a three-stage frame design providing convenient flexibility when adjusting the height. The desk can comfortably support and lift weights of up to 275 lbs. making it suitable for all your desktop needs. Even better, the whisper-quiet lifting operation adds to the desk's convenience. Say goodbye to the annoying creaking and wonky noises coming from the motors during lifting as signs of overstraining. And with a lifting speed of 1.4 seconds per inch, you can be sure to seamlessly alternate between sitting and standing without wasting time or losing focus. 

Anti-collision Technology 
The KANA Bamboo Office Standing Desk integrates the anti-collision technology seen in most premium standing desks. This technology does not only prevent damage to the desk or other devices but also makes the desk safe to be used around toddlers and pets who may get under the desk unknowingly. 
With rising complaints about the hyper-sensitivity of anti-collision sensors in most standing desk models causing false triggers, FlexiSpot has tried to avert this issue by allowing users to adjust the sensitivity of the sensors. The KANA Bamboo Office Standing Desk features a set of controls to adjust the sensitivity of the anti-collision sensor, i.e., Level 1(low sensitivity), Level 2 (medium sensitivity), and Level 3 (high sensitivity). As such, you can decide on how sensitive you need the sensors to be. 

Controls 
The KANA Bamboo Office Standing Desk features a smart control panel featuring an LED display, 4 memory presets, and a timer that reminds you to switch between sitting and standing. There are a total of 7 buttons on the intuitive, sleek control panel, each with a different function ranging from lifting/lowering the desk surface to saving height positions. There is also a child lock function that can be used to lock the control panel keys so that children or pets cannot tamper with the controls. Unfortunately, the smart control panel is not Bluetooth-enabled or linked to a smartphone app as with other models in the same price range. 

Other Offerings  
The KANA Bamboo Office Standing Desk is a bit over the top, integrating other unique features not seen in most standing desks. The standing desk features a cable management groove that conceals the cables below the desk to keep the workstation organized and safe for improved productivity. The desk also comes with a classy socket-outlet consisting of three electric ports and 2 USB ports (type A+C), enabling you to conveniently power or charge your device(s). The desk is also compatible with several accessories, including monitor arms, under desk bike, wobble stool, standing desk mats, desk organizers, under desk drawers, and more.   

Verdict
Elegant, functional, modern, and safe are some of the adjectives that best describe the KANA Bamboo Office Standing Desk from FlexiSpot. The desk looks beautiful, with a polished bamboo surface resistant to water and scratches. It's also very sturdy and features an excellent dual-motor lifting system that's very quiet and smooth. To say the least, the KANA Bamboo Office Standing Desk is a great budget buy that can keep you healthy and productive in your home or office. 
Pros: Elegant bamboo surface with streamline design, available in a wide range of sizes, higher weight capacity of 275lbs., powerful, quiet dual-motor lifting system, reinforced steel frame for maximum stability, anti-collision technology, smart control panel with 4 memory presets, cable management with socket outlet, easy, straightforward assembly and child lock function, 7-years warranty on frame with a 30-day return policy. 
Cons: Available in only the bamboo surface option and only two frame colors (white and black) and 7-years is still not an industry-leading warranty. There's also no Bluetooth connectivity and an accompanying smartphone app.