Mistakes are a standard part of life that you should not worry much about, but mistakes can be costly when it comes to big things. For instance, mistakes when buying office furniture cannot only cause you to waste your money, but they are also very harmful to your health in the long run. 
The need for the right and comfortable furniture in the workplace has been a long understudy for a while now. There are various buying guides for choosing office furniture for maximum comfort and wellness in the workplace.
If you are looking for wholesale office furniture or want to buy bulk office chairs, you will want to pay close attention to the bulk office chair buying guide and other helpful office furniture buying advice.
This article will be helpful for employers and businesses who want to make some alterations to their workplace furniture for returning employees. 
As a result, FlexiSpot is the best organization that can assist you. FlexiSpot is the appropriate fit for your demands if you want to buy ergonomic office equipment to show your appreciation for your loyal staff.
What Are the Most Common Office Furniture Issues and How Do You Solve Them?
Office furniture is no longer about having the loveliest chair or the smartest workstation but buying an office desk wholesale has its difficulties. To retain workplace diversity, you should be cautious about investing in goods that deal with a broad spectrum of people.
As a second consideration, the furniture you choose should coordinate with numerous themes in the workplace so that you do not have to buy new furniture every time there is a makeover. 
Aside from that, the layout influences furniture selection in the workplace. For example, the open office furniture plan may differ from that of a hybrid work environment.
While considering all of these considerations, it is essential to remember several typical mistakes to avoid when purchasing office furniture.

Looks Over Comfort
When purchasing an office chair online, the aesthetics may be all you want, but when you are working for long periods, the looks will not provide you with padding comfort against your back. While choosing a chair that appeals to the eye is fine, comfort should always take precedence.
Choose a chair with various necessary features, such as an adjustable backrest, height, seat rest, armrests, and seat tilt. To accommodate numerous people at once, the furniture you choose must have a wide range of adjustments.
Expensive Alternatives
Simply because something is costly does not imply that it is a superb option for you. And just because you have been saving for that home office décor up until now does not mean you have to spend it all. 
Make sure you have a budget in place for each item of furniture you want in your home office. Do not be excessive, but do not be so cheap that you expect unrealistic results for a lower price. 
Furthermore, budgeting helps you consider a variety of options, balancing the advantages and disadvantages of each potential purchase to create a thorough list that gives you the best value for your money.
Ignoring the Well-Being of Employees
Although we highlighted budgeting as an essential consideration when purchasing furniture, this does not mean you should go all out and buy the cheapest choice available.
To prevent making mistakes when purchasing office furniture, keep the employees in mind. It is critical to remember that everyone is different, and what one person feels comfortable with may be intolerable to another.
A workstation designed for a tall person may be inconvenient for someone shorter and vice versa.
A chair with armrests may not be ideal for a bigger-built employee. Additionally, some employees may require shared workstations, while others may require dedicated workstations.

Furniture That is Permanently Installed
Standing desks are excellent, but when you get height adjustable standing desks, they are much better. While fixed furniture has advantages, such as choosing sturdy, long-lasting furniture with no moving parts, it also has disadvantages.
However, you lose the capacity to change your position while working, becoming increasingly important in today's workplace.
Quantity
Nothing would enrage your workers more than a fight for a seat. Just because you are buying pricey chairs does not imply you should cut corners by purchasing fewer of them. Each employee should have their chair, so they do not waste time searching the office for a spare chair or workstation.
Warranty
A lack of warranty or guarantee may be the first red flag you overlook when buying modern office furniture, and it is also one of the most common mistakes made when acquiring office furniture. 
Since furniture is a commitment to devote your body to an item that could benefit or impair your health, it is not merely a large sum of money spent all at once. And, as several studies have shown, furniture has a significant impact not just on health but also on productivity.
Choosing things that come with warranties is only common sense. If the items do not meet your expectations, you should return them and get a refund quickly.
It would help if you also learned everything about the after-sales service that the company handling the furniture transaction plans to provide.

Furniture That Does Not Match
Although colors may have the same name from different producers, the colors may not be the same. When purchasing office furniture, obtain additional components from the same manufacturer to avoid mismatches and mistakes. 
If you wish to order from multiple manufacturers, look over the products in the shop before making a purchase. You will be able to compare the colors to determine if they complement or match one another.
Thinking in the Short-Term
Anyone who starts a business aspires to see it grow in the future, and they will do everything in their power to make that happen.
Consider the long-term repercussions of your decisions while choosing furniture for your new office.
You must approach your firm as if it will double in size every six months. With this in mind, you should choose furniture that can accommodate this growth without adding to your budget.
Cluttering
Adding a lot of furniture or unwanted accessories to your workspace can only make it more stressful. According to numerous studies, minimalism in the workplace is the best method to increase efficiency and production. A clean workspace promotes clearer thinking and, as a result, a more positive work environment.
Customer Feedback
When purchasing office furniture, ignoring customer feedback simply because the tagline seduces you is a significant error. Customer reviews reveal a brand's secret story, and you should always read reviews for each product and customer service before making a purchase.
Final Thoughts
It is a great idea to change worn furniture. Established corporations are known to do this and make sure that their employees are well taken care of and that the employees will perform better because of the satisfaction they get in the workplace. 
This approach can motivate workers towards their approach to their work. One key point you should keep note is that if you plan on buying new furniture for the office, you should look for ergonomic equipment like standing desks and ergonomic chairs.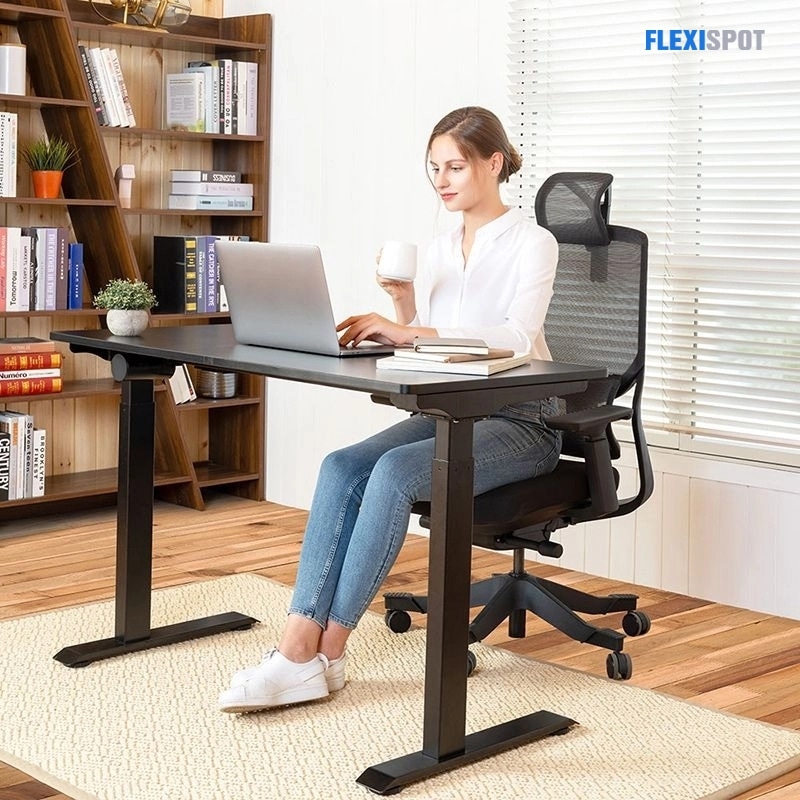 When you begin your workplace upgrades through new furniture, please start with the Kana Bamboo Standing Desk from FlexiSpot and pair it with the Soutien Ergonomic Office Chair. 
This effort of getting new furniture for your employees will surely garner positive responses. This, in turn, will give you better company performance and business revenue.