Bamboo has become increasingly popular for use in many domestic applications. It is fast-growing, strong, environmentally friendly, and sustainable. Its versatility means it can be used to make furniture, fabric, writing implements, weapons, and as fuel.

What Makes Bamboo Environmentally Friendly?
Bamboo is ideal for use in many applications as it can be used in its natural state without the addition of chemicals.
It has many positive elements including being:
Flexible
Bamboo comprises dense fibers which make it flexible but strong. It can be bent into shape by cutting a small v-shaped notch below the node where you require the cane to be bent.
It can also be modified when heat is applied to it, such as a butane torch.
To retain a permanent bent shape, it's best to use green bamboo, a dried bamboo will revert to its original shape.
Strong
The strength of bamboo comes from its tubular shape.
The vertical fibers supported by horizontal nodes give it high tensile strength.
Bamboo is strong enough to be used to reinforce concrete.
The stalks do not have knots, which allows the cane stalks to tolerate stress along their length.
Biodegradable
Bamboo is a living resource — it is grass, not a tree, so it does not have the same qualities as wood.
Bamboo does not need to be treated with chemicals to grow well and also requires minimal water.
Bamboo is not only 100% biodegradable but can be regenerated within months to a fully-grown plant.
Bamboo is an excellent resource for recovering farms and that has been over-utilized. It can help to restore the land to fertile ground that has had nutrients removed or depleted.
Sustainable
Bamboo can be harvested within 3-7 years of planting, unlike trees which can take many years to reach their full growth.
The root system of a bamboo plant can help to prevent erosion making it a good farm crop.
Termites cannot easily digest the silica content of bamboo, making it ideal to be used to make furniture and other household goods.

Bamboo Desks
The availability and versatility of bamboo means it can be transformed into numerous domestic and commercial products.
The FlexiSpot Kana Bamboo Pro  is one such example.
This ergonomic desk can be used in the office or at home, blending beautifully into any space.
Additional features include:
A Built-in Bamboo Strip
This makes the desk more durable than wood; and it is coated with lacquer to resist:
Scratches and abrasions.
Stains from liquid spills.
Insect damage.
Streamlined design
The legs are streamlined for aesthetic appeal.
The edges of the desk are rounded to prevent injury should you bump into it.
Dual Motor
The dual motors allow a weight capacity of 275lbs on the desk surface.
This is more than enough to hold your laptop, printer, files, and working implements.
Stability
The desk remains stable even when raised to its maximum height and carrying the maximum capacity.
Flexibility
The frame adjusts to three height positions between 23.6" - 49.2".
Child Lock
The desired height position can be locked and will only be released once you deactivate it, avoiding potential accidents with the desk changing height inadvertently.
Anti-collision
A built-in sensor detects when a collision is about to occur when the desk is being raised or lowered, and will automatically stop to prevent this.
Smart Control Panel
The keypad contains an LED display.
Four pre-set memory settings allow a quick change to the desired height of the desk, which may be used by different people.
A timer warns you that you should regularly change your position from sitting to standing and vice-versa.
Cable Management
You will not have to deal with untidy and unsightly cables cluttering up your workspace with a groove inset under the desk which lets all the cables be tucked away tidily and safely.
Socket Outlet
You will never have to hunt for a power source with built-in power outlets and two USB ports — type A and C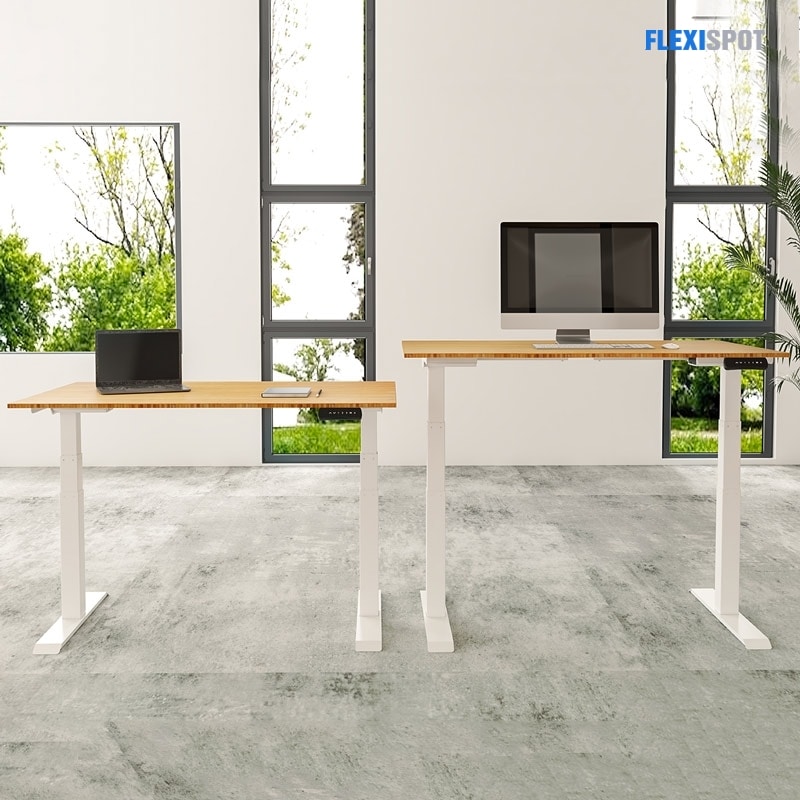 We all know how important it is to change positions at your desk to avoid potential health problems.
An ergonomic standing desk is a perfect solution, and if it's stylish and environmentally friendly as well, who would not want one?
If being environmentally aware is important to you, consider a FlexiSpot Kana Bamboo Standing Desk.
Not only will you be helping to save our planet's resources, you will be working at a smart, modern, desk that will also keep you healthy.
Sitting in one position at your normal desk for hours at a time could have serious impacts on your health.
You could risk obesity, Type 2 diabetes, heart problems, hypertension, and other potentially life-threatening illnesses.
A standing desk that not only looks good but is made from sustainable material like bamboo and contains hi-tech convenience is an all-around winner.
This desk comes in five sizes and two shapes, rectangular and curved. The sizes range between:
48" x 24"
55" x 28"
60" x 30"
72" x 30"
78" x 30"

Other advantages that come free with this desk include:
Elegance
This desk will enhance any environment — not only is the bamboo top beautiful and elegant, but it is also strong and durable.
Durability
The desktop has been coated with a 2H lacquer coating, which will resist scratching, water spills, and insect invasion.
The steel tubing supporting the bamboo top is reinforced with powder-coating, ensuring the frame looks just out of the box for years to come.
Load Capacity
This desk can carry a maximum load of 275lb, almost double that of a standard single-motor standing desk.
Smooth and Fast
The dual-motor ensures that when you adjust the desk up or down, it is a smooth operation. 
It will also be in the desired position in no time: this standing desk lifts at 1.4" per second.
Quiet Operation
You don't want to be known as someone who does not consider that others may need a quiet environment in which to work.
Some standing desks can disturb everyone while they are being raised and lowered, but the FlexiSpot Kana Bamboo Standing Desk operates at less than 50dB.

Where Can You Use Bamboo?
You can see that a bamboo desk will be a terrific feature in your home or your office — or both!
The important thing to remember is that you should look after your health and a standing desk will assist you with that.
If the desk contains or is made of environmentally friendly bamboo, all the better.
Bamboo furniture can be used indoors and outdoors, but a little more care must be taken with items to be used in the garden or on the patio.
Bamboo can crack if the temperature or humidity changes often.
The product may start to look weather-beaten if it's not kept undercover.
Although bamboo is strong and durable, care should be taken not to hammer nails into the cane stems, as this could cause them to split along their length.
Care should also be taken not to damage the cane with hard implements such as a hammer.
Caring for Your Bamboo Desk
Bamboo furniture does not require specialized care, but it does need a gentle touch.
You can use your vacuum cleaner with the brush attachment before wiping it down with a soft cloth.
You can wet this with soapy water or a mild detergent that is designed to be used on wooden furniture, then dry the desk thoroughly.
Ensure that you do not place the desk too close to direct heat such as a fireplace, wood stove, or heating vents.
To maintain your bamboo desk's shine, polish it with linseed oil to prevent it from dehydrating and cracking.
Conclusion
Bamboo is an increasingly popular choice to use in the home and outdoors.
It is inexpensive, easy to grow and harvest, sustainable for our planet's well-being, and can be used in a myriad of applications.
It is light, attractive, tactile, and will fit in with any decor.
This makes it ideal to use in both domestic and commercial environments.