The Covid-19 pandemic has altered the global work economy. Previously working from home was a luxury afforded by only a few companies. Today, it has become the norm for the majority of employees worldwide. While 2020 may be seen as the year of remote work, we feel it is merely the start, as the work-from-home (WFH) trend is projected to continue. Read on to learn how the world is shifting to a remote working model and why employers are offering standing desks to employees worldwide.   

The World Is Shifting To a Permanent WFH Model – And So Should You!
According to Enterprise Technology Research, the percentage of workers who work from home on a permanent basis is predicted to quadruple this year (2021). Another recent Gartner CFO poll revealed that more than two-thirds of CFOs (74%) aim to permanently transfer staff to remote work once the Covid-19 situation is resolved.
Big Tech corporations, as expected, are leading the way. Employees at San Francisco-based Twitter were notified in May that they might work from home forever. Around the same time, Square, which is also managed by Twitter's Jack Dorsey, implemented a similar policy, allowing staff to work from home indefinitely, even when offices reopen. In late May, Facebook also assured that many employees would be able to work remotely indefinitely.
The productivity statistic proves that WFH is a viable solution for employees across industries, which is why many employers are encouraging remote working solutions. However, it is important to have a productive environment and great office-level ergonomics to ensure high performance. This is where ergonomic solutions, such as FlexiSpot standing desks come in.

FlexiSpot Standing Desks: WFH Benefits for Remote Employees
If you are one of the future-aspiring businesses that wish to reduce overhead costs and improve productivity by offering the best working conditions to employees, consider offering standing desks as WFH benefits to employees. It will not only help employees maneuver the WFH situation but will also benefit the company in many ways. For example, offering employees standing desks as WFH welfare will allow companies to offer a unique and additional incentive to employees, which will help retain the best talent. 
Enhanced employee job satisfaction and overall wellbeing will also reflect in employee performance. Finally, the company's image as considerate employers will also enhance. For all these reasons, companies should consider providing standing desks to employees. 

Why Choose FlexiSpot Standing Desks
The only question remaining is where to find high-performance and cost-effective standing desks for employees? As the leading ergonomics brand in the USA and Europe, FlexiSpot is the perfect solution for employees worldwide. Here are some of the reasons why you should consider purchasing standing desks for employees from FlexiSpot.  
Ergonomic Solution for Overall Wellbeing: FlexiSpot prioritizes health and wellness, which is why you can rest assured that FlexiSpot standing desks are ergonomic and extremely comfortable. They are engineered to provide a superior experience in terms of comfort, convenience, and durability to enhance the overall lifestyle and wellbeing of employees.  
Flexible Billing Solutions: FlexiSpot offers flexible payment solutions spanned across months. Instead of paying the total amount upfront, you can choose to pay the bill periodically to avoid financial strain.   
Easy Delivery with Expedited Shipping Service: FlexiSpot also takes care of the delivery. You can opt for expedited shipping services to ensure a quick and easy delivery. Moreover, FlexiSpot can deliver the standing desks directly to your employee's address to streamline the delivery process and avoid any additional hassle for you.  
Free Trial and Warranty: As employers, you want only the best for your employees. Therefore, FlexiSpot offers a free trial as well as an extended warranty for every product.   
A Wide Range of Products: FlexiSpot has a wide range of standing desks to make sure you can find the perfect solution for your employees that also meets your budget. FlexiSpot diverse range of standing desks has something for everyone.   
Best Standing Desks for Employees Working from Home
Are you ready to purchase the best standing desks for employees? Here are some of the best options that you can consider.

Kana Standing Desk
Made using bamboo wood, the Kana Standing desk is the perfect solution for companies that understand and prioritize their corporate social responsibility (CSR) as bamboo is one of the most environmentally friendly natural materials known to man. It is an eco-friendly solution that will help you preserve the planet.
Moreover, thanks to the beautiful bamboo surface, the Kana Standing Desk is also aesthetically appealing. At the same time, it is highly flexible and stronger than steel, owing to the high tensile strength of mature bamboo. It also features a dual-motor lifting system that ensures high speed, stability, and performance. Learn more about Kana Standing Desk here.

Standing Desk Pro Series
FlexiSpot Pro Series Standing Desks are built to last with powder-coated steel tubing frames that resist scratches and stains. It features a dual-motor lifting mechanism that ensures optimum stability even at the highest speed settings. The upgraded lifting system and enhanced structure also mean increased loading capacity.
The desk also features an advanced control panel with three memory height presets. Another reason why many employers opt for the Standing Desk Pro Series is its customization options. You can give your employees the option to choose between a Bamboo, Laminated, or Solid Wood desktop in numerous colors. Learn more about Standing Desk Pro Series here.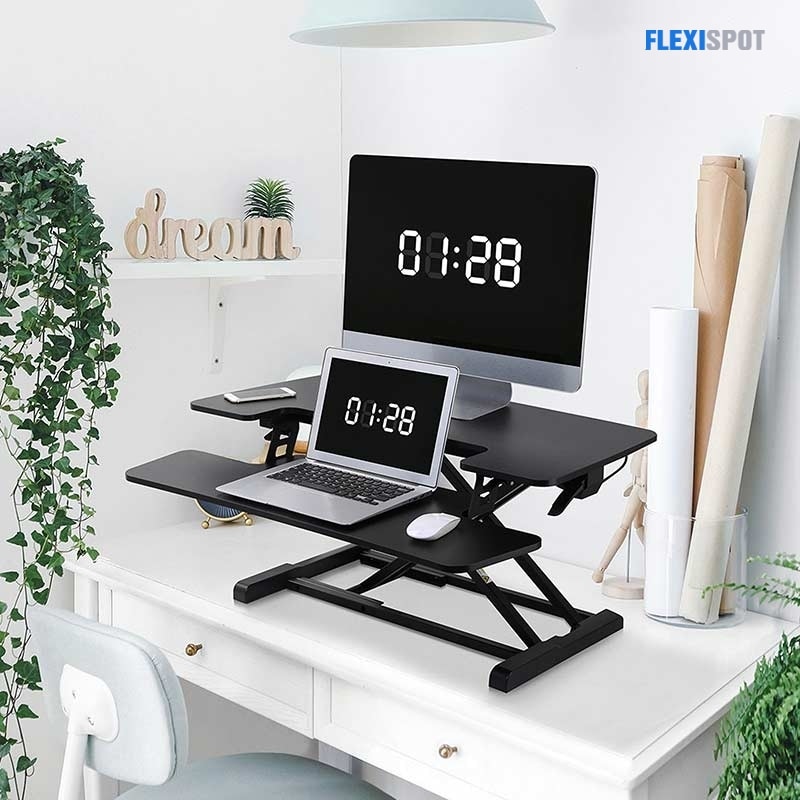 Standing Desk Converters M7MB  
FlexiSpot Standing Desk Converter is another great option. With the adaptable height adjustment, your employees can set the desk to the perfect height. Thanks to the single handle, the converter is also easy and convenient to lift with just one arm, especially for people with back, arm, or wrist problems.
The ample space allows for flexible setup choices, such as a 17-inch laptop or a full-sized keyboard and mouse. With a height range of 5" -20", the desk converter can better accommodate taller employees than most other options available in the market. Learn more about Standing Desk Converters M7 MB here.
Buy the Best Working Desks for Employees with FlexiSpot
Now that you know some of the best standing desks for employees, you can offer the best working environment to your employees even as they work from home. Contact [email protected] to learn more about our products or place a bulk order with an exclusive coupon.