The summer is flying by, and it is time for your teenager to return to school. They'll be getting home with schoolwork in the evenings soon, and they'll need an area to focus and reach their full potential. A study space, like a child's room, must evolve and change. What was for a fifth-grade student may not suit a middle or high schooler with three hours of study every night and a burgeoning profession as a musician, artist, or designer.
Trying to focus in a crowded family room with a laptop resting on their knees and textbooks scattered across the floor might have a negative influence on productivity - especially if their siblings are squabbling about what to watch on TV. Even going to their bedroom to get some quiet time can significantly impact their sleep cycle and mental well-being. Many kids wind up working while sitting on their beds because they lack a proper study location. Because of the blue light emitted by their screens and the accompanying habits of working from their beds, it may be challenging for them to fall and remain asleep, which may impact their school life and academics.
Creating a dedicated study space for your teen can help alleviate issues and increase their focus while studying. You can build yourself a better studying paradise with the correct tools, some preparation and organization, and a personal style, which may boost your outcomes.
The Designated Space
When planning a specific place for remote learning activities, the first aspect to note is more privacy and no distractions. Your adolescent will have more rigorous lessons to focus on. Some of them have homework every day, while others may have an online class weekly (if they are in hybrid schooling), which would be stressful if they did it at home in a heavy traffic space. The first choice could be the bedroom, particularly if they have siblings who also undertake remote learning and parents who work from home.
A nook in the living room could also be an alternative, or the dining table could be designated as a study desk at certain times. If you are doing distance learning and have more than one child, you must divide their study areas to maintain their privacy. If the study area is outside the bedroom and in a communal space, you must also set guidelines to ensure that the space is only used for schoolwork at specified times so your teen can study and be distracted-free.
The Desk and Chair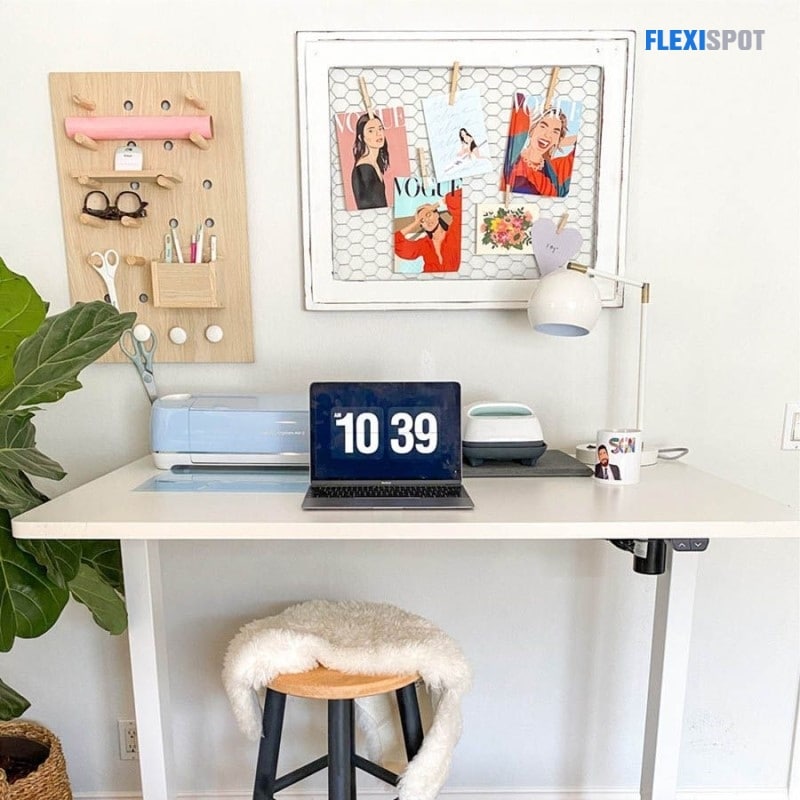 The desk and chair are by far the most significant aspects of any study room. A dedicated workstation large enough for a student to sprawl out a few papers and books is unquestionably necessary. An ergonomically correct chair with height adjustability is essential so that the learner can sit at the desk comfortably without strain. Consider that as your child gets older, they will be taking home more schoolwork and sitting at their workstation for longer durations, so an excellent quality desk chair will make studying more enjoyable and avoid future back problems.
Because your teenager will be sitting and studying for lengthy periods, the desk height should be adjusted to match their height while seated. If the desk is too high, it will be uncomfortable for their upper torso, and if it is too low, it will be bad for their spine. Currently, some brands sell desks with heights that can be adjusted called height-adjustable standing desks or simply adjustable desks. When people get tired, they can lift the height to get up and stretch a little while working. 
The Height Adjustable Ergonomic Study Desk by FlexiSpot is a perfect example that you can get for your teen. It has a desk height suitable for growing kids and teenagers, ranging from 29" - 48.6", which is excellent for children between 4'8" and 6'3". A soft touch of the two-button up and down keypad allows children to easily change the desk's height for the ideal seating and standing position. The conventional electric height-adjustable desk frame guarantees more safe and seamless transitions. The surface of the tabletop is made of high-quality chipboard that is environmentally friendly and safe to use. The base, which is designed for optimum structural integrity, maintains the steadiness of the desk even at its highest height, ensuring the safety of children.
If you would like to skip the fancy standing desks, you may invest instead in good quality and comfortable ergonomic desk chair, one that fits perfectly to the height of your teen's desk. To alleviate any discomfort that your adolescent may experience when working at their desk, it is critical to invest in an ergonomic chair and provides ample back support for them as they learn. Having a decent office chair in your teenager's study space will also enhance their long-term posture and health. A comfortable and supportive chair will guarantee that they are sitting properly while studying and will assist them in avoiding back problems that may emerge later in life. A decent office chair can also help them increase their concentration while working and create a welcoming study place they will want to return to. Check out these chairs from FlexiSpot. It's never too early to make the proper posture a habit!
The Storage
Being confident your teen has everything they need close at hand will help them dodge distractions. You may use a bookshelf to store essential books and reference materials, and a bulletin board above the desk can keep track of appointments, class schedules, reminders, and after-school events. The desk or surrounding area should have ample storage space for necessary supplies for their assignments. Install a few shelves on the wall for extra storage if necessary.
The Illumination
An excessively dark study location would not only make it easy to nod off, but it will also aggravate eye strain, taking a toll on any study session. Harsh brightness, such as fluorescent lighting, can also be harmful to your eyes. To brighten the environment, use a desk lamp to direct light to your workstation, as well as a nearby table or overhead light. If natural light is present, take advantage of it. However, while natural light from a window can be refreshing and peaceful, the impulse to peek out the window may interfere with studies. Consider using drapes or transparent blinds or simply turning away from the window.
The Accessories and Decor
Because it shuts out outside noise, noise-canceling earphones/headphones are a terrific way for students to concentrate on doing schoolwork or distance learning, especially if another sibling attends online classes at home.
When planning your teen's study environment, solicit their feedback on layout and décor. Because you want them to enjoy spending time in this area, it should represent their particular style. Decorating their study room with meaningful items could provide them with the motivation they need to keep working. Just be careful that they don't turn into distractions rather than motivators. Decorating the place also defines it as theirs, even briefly, like a shared space. Bring a few motivational souvenirs that you can simply pack away after studying.
A plant can bring vibrance to the study area. Plants are soothing and pleasant to the eyes, and they add texture and color to the study environment. Scented candles can also be used as décor and accessories in the study area to add aroma to the space. Lavender can be used to relieve tension.
Final Thought
Your teenagers must be involved in the process since they know what they need. Our goal is to assist them in providing and organizing a pleasant and functional study space. The most crucial factor to consider when designing a study place is that every teenager is unique. Consider how your child prefers to study and provide them with a space where they can easily accomplish their absolute best, and they will be sure to succeed.