While Breastfeeding Awareness Month has passed last August, the cause is important all year round. Breastfeeding not only nourishes babies for the first six months of their development, but it also helps protect the mother from bleeding after delivery and significantly lowers the risk of developing cancers such as breast, prostate, and ovarian cancer. 
Milk straight from a woman's bosom helps develop a baby's organs and bodily functions. It protects the baby from non-communicable diseases such as cardiovascular disease, diabetes, cancer, and chronic respiratory illnesses. It helps the baby maintain a healthy weight as well, all of which formula milk falls behind.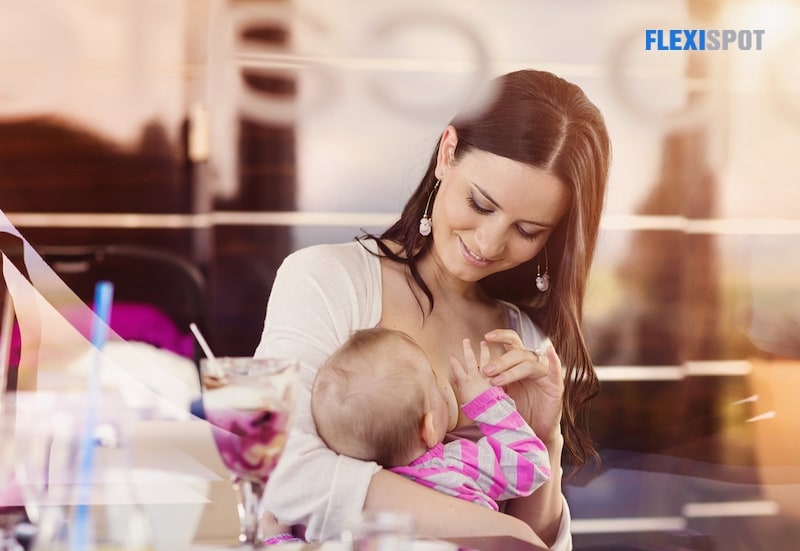 Contrary to common belief, breastfeeding shouldn't hurt. Sure, there may be twinges of pain, sore nipples, and cramps in the breast area after hours of latching and sucking. However, bleeding, extreme pain, cracked and itchy nipples are not normal and should warrant a visit to your doctor. If you do feel cramps and nipple sores, there are home remedies that you could do to be more comfortable. You have to make sure that your baby latches onto your breasts correctly. In between feeding, put cream on your nipples if they feel sore. After breastfeeding, massage breast milk on them and let it air dry. You may also put ice packs or a cold compress when your breasts are engorged. You may wear, upon the advice of your doctor, breast shields which are dome-shaped covers that will help your nipples heal faster by preventing them from rubbing against clothing. Of course, it's important to be well-rested and nourished with water! 
Aside from all these tips, breastfeeding can be a painless, precious moment with your baby if you get the right kind of chair for nursing. The number one priority is to look for a comfortable nursing chair that has enough cushioning and padding to ensure comfort all throughout. Next is a chair that can smoothly and rock gently in motion. These will potentially get rid of the stress during late nights of breastfeeding. Another thing to consider is how easy it is to clean the chair, especially that babies would create mess and spillages for sure. A footstool would also be a luxury for the mother and baby to be in full relaxation.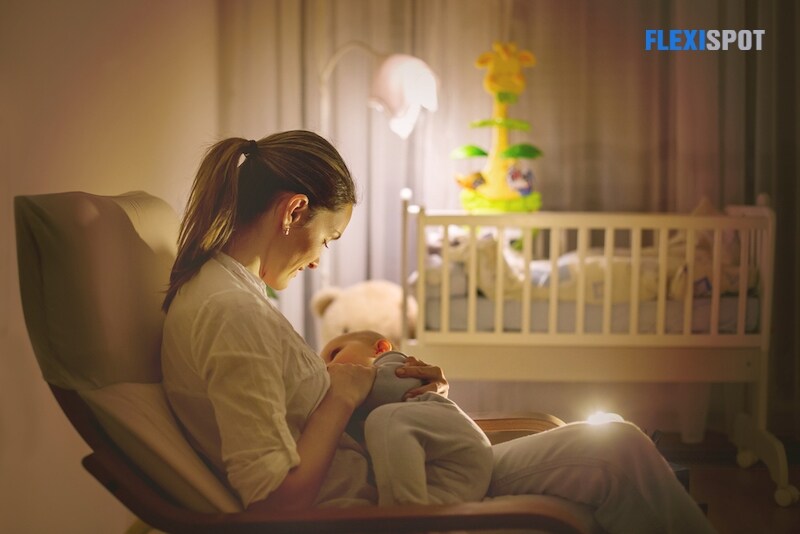 And of course, as most practical parents would tell you, a chair that's versatile and durable will always be the best option. After all, breastfeeding won't consume the entirety of the year and would probably only be once every two years. 
An office chair might be the most ideal for working women, especially those whose maternity breaks are about to end and they have no choice but to nurse and feed their kids while at work. A quick scroll in Reddit forums would tell you that this is what moms regard as value for money. They'd want to buy chairs that they could use for multiple things and would last them a few years if not a lifetime. Fret not because FlexiSpot has got you covered with ergonomic chairs that tick off comfort, functionality, and versatility on the list. It doesn't hurt that it also looks very handsome on any workstation. Here are three chairs from the catalog: 

Big and Tall Massage Gaming Chair With Footrest 293
Dubbed by FlexiSpot as the most comfortable chair, the 293 is ergonomically designed to be a racing gaming chair. This means it caters to long hours of sitting and being in front of the computer. Its features that scream comfort include a memory foam padding on top of the existing seat cushion, a high backrest, a detachable padded headrest, and lumbar cushions for the neck and spine. 
Every part of this chair is also easily adjustable including the height, the tilt of the backrest which ranges from 90°-135°, and the footrest. The back has an integrated metal frame and the chair with a heavy-duty metal base and smooth-rolling casters that ensure the high security of a person weighing 350 pounds and less. It has a rocking function and can rock back and forth between 90 to 110 degrees. Padded armrests? Check. Footrest? Check. Smooth rocking function? Check. Comfortable neck and spine? Check. 

Massage Gaming Chair 0029
This chair takes pride in its ergonomic design and high quality. It's made of soft luxury breathable bonded leather that comes in black, blue, red, grey, and white. Its notable features that had comfort in mind include a thick padded seat with the high-density thick foam of good elasticity, hard to deform, steady chair base as a super stable structure. The footrest is retractable and can be pulled out anytime. The massage lumbar support has a vibration massage function for relaxation. 
It can rock back and forth with a rocking angle of 10°. The adjustable reclining angle is between 90° to 170°. This chair can support 280 pounds of weight with its, metal mechanism, and sturdy foot base. 

Big and Tall Reclining Executive Office Chair with Footrest 290
Since you are a working, breastfeeding mother, you would want a chair that can boost your productivity and also provide comfort for you and your baby. The 290 or FlexiSpot's office chair recliner is guaranteed to give you a premium luxury sitting experience. It can comfortably accommodate anyone up to 350 pounds. 
This office chair was designed with comfort as its top priority. The cushion is curved and adjustable to fit one's lower back perfectly and offer maximum comfort and support. The high back executive chair has an adjustable back angle and can be securely locked at any angle between 90-135 degrees. The footrest is retractable and can improve leg circulation after a long day. 
This chair is upholstered with breathable bonded leather and is supported by a heavy-duty metal base. Its high-density foam is also guaranteed to be durable and could outlast other materials. 
Final Thoughts
It's important for breastfeeding to be a comfortable experience. It's a strong bond shared between mother and baby and has always been one of life's precious moments. Don't make breastfeeding a hassle for your wallet by investing in a chair that can be used even after the breastfeeding period.