What do you do when you have something to celebrate?
There are many things that call for a celebration. Some graduate from university or middle school and are off to a new phase of their lives. Some celebrate their Sweet 16 or 30th birthday. Some tie the knot with their special someone of 7 years. Some are promoted to a higher position in their company or get hired to a new job. Some win a contest or get accepted to their dream program. Some reach their 50th country to visit while others celebrate having to fly in an airplane for the first time. Some welcome a newborn while there are those who are elated for finally getting out of the hospital.
There are more reasons for people to be happy in life than sad. There are small moments and wins every day that we should put more value to. When we celebrate, we get to appreciate life more, and every single day that we wake up healthy and surrounded by our loved ones.
People also celebrate differently. There are those who love to host big parties and invite their friends over. There are those who book tickets to a faraway destination they have never been to. There are people who make reservations in a five-star hotel buffet or a Michelin-starred restaurant. There are others who post about their wins online and get recognition from their social circles. Then, there are people who buy items as a reward.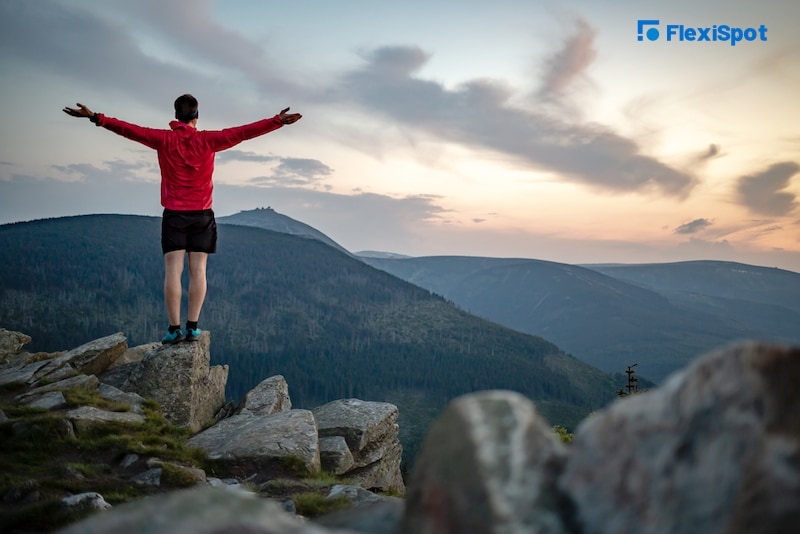 These people hardly spend any cent they worked hard for and then they tell themselves that they'll get reward once they reach a very specific, certain goal. If you are going to reward yourself with a purchase, we want to make a case on why you should choose to invest in ergonomic furniture.
You won't be wasting your money because it will most probably return tenfold to you. Why is this so? Ergonomic furniture can help you stay alert and more focused at work. When you improve your efficiency and productivity, you are able to finish more work in time or even before the deadline. You would have extra hours to do a side job that will rake in more money for you. The second reason is that ergonomic furniture will help promote good health and protect you from developing a chronic disease in the future. Prolonged sitting leads to a host of health problems in the long run so for instance, if you invest in a standing desk, you'd be able to switch from standing to sitting more easily. It also allows you to be more active and inject more movement in your everyday life, even allowing you to exercise with an under desk bike or under desk treadmill. Exercise is good for your physical and mental health and studies even say that it helps add years to your life. A third reason is that buying ergonomic furniture will lessen your body discomfort every day. This means you'd be able to work more comfortably, and even luxuriously, which overall upgrades your quality of daily living.
So if you want to celebrate by purchasing something, we hope you consider ergonomic furniture as it can be a game-changer and give you more reasons to celebrate in the future. And you're in luck because FlexiSpot is celebrating its anniversary this May. And our way of celebrating is hosting a big sale for our loyal customers!
Here are two items you may buy at a major discount this coming May 25 to May 27. Mark your calendars because this is something that you would regret missing for sure!

Original Price: $579.99
Sale Price: $499.99
We're really proud of this product because of its supreme stability and a reliable weight capacity that reaches up to 355 pounds. BIFMA-certified, the desk is guaranteed to be stable and sturdy at any point. Plus, you get a special 15-year warranty upon purchase!
Its leg columns are thicker than the usual while the column gap is scientifically designed to be 0.05 mm which ensures a smooth lifting operation. The base structure is made of solid carbon steel, reaching an automotive-material grade. All these contribute to its durability, the desk was made to last after passing 20k motion tests in the FlexiSpot lab.
People love its sleek appearance, thanks to a laser-welding technique used for its frame. It features a holeless leg design that is aesthetically pleasing. It is temperature-resistant and has an anti-wear coating which makes sure the color is consistent for many years to come.
Its adjustable height range is from 22.8" to 48.4", providing a user-friendly experience for people standing between 4'2" to 6'4".
It comes with an embedded cable tray that is conveniently hidden under the desktop, which makes your workspace organized and visually pleasing. It makes use of a premium keypad with USB charging ports, four programmable height presets, and a child-lock button.

Original Price: $499.99
Sale Price: $359.99
We at FlexiSpot and our customers really value the environment and hope to be part of the solution rather than the problem. If you align with this, then you'd love this eco-friendly desk! Not only is the material friendly to the environment, but purchasing this also supports the partnership of FlexiSpot with One Tree Planted, vowing to plant one tree for every purchase. And it's a win-win situation because you get a desk that has a smooth and easy transition from 28.3" to 47.6"
It takes up minimal floor space which will be perfect for those with small homes or limited space for a work area. Even then, it still features a spacious desktop measuring 48" x 24". The desktop surface is made up of bamboo and has retained its beautiful natural texture finish. The legs are made of powder-coated steel tubing that is scratch and stain-resistant.
The desk can easily fit a laptop, keyboard, mouse, paperwork, desk accessories, and two monitors. The control panel allows you to program four height memory presets and also comes with USB ports.
In lieu of the anniversary, FlexiSpot is offering other activities such as a Flash Sale, getting an order for free if you check out first, and winning points. Make sure to visit the site and browse through the site as early as now!