Most of our time is spent in the office. As a result, one must pay close attention to the layout and design. Most of us are aware of how an ergonomic workplace boosts general motivation and productivity. 
Furthermore, if you are converting your office design to a rustic office design, there are a few things to consider. 
Most of the time, people make these frequent office design blunders, which might reduce their office's efficiency.

Some of the Most Typical Blunders in Office Design
A Crammed Office
A busy office can be a source of several distractions. To have a clutter-free office, one should choose a modern rustic office design.
Storage Space is Limited
Do not forget the importance of having ample storage space. Your office may appear cluttered if there is not enough space.
Furniture That Has Seen Better Days
You must reject those out-of-date pieces of furniture that can obstruct your path to comfort.
There is No Ergonomic Design
Ergonomics is the study of the relationship between work efficiency and the tools they use. The right furniture and a customizable atmosphere can improve your work environment, resulting in faster business growth and profitability.
Office with an Open Floor Plan
Some people may be in favor of this design, while others may be opposed. However, if you want a modern rustic office design, an open-plan office may be a mistake.
Reception and Break Room Areas are Sometimes Overlooked
The break room and reception area should be welcoming and open. It should make you feel calm and relaxed.
People, on the other hand, learn from their mistakes. After reviewing the list of some of the errors, continue reading to learn how to correct these errors. Your rustic office can be transformed with a bit of imagination.
Some Ideas for a Modern Rustic Office Design Setup to Motivate Your Work

Office Desk
The most crucial piece of furniture that can increase a worker's efficiency is the office table. Aside from fitting in with the concept, an office table could be more ergonomic and functional. 
A standing desk is a terrific way to finish off your rustic office design. FlexiSpot is a company that sells a wide range of ergonomic office solutions, including standing desks, which can be used to complete the rustic office look.
The Theodore Standing Desk-48" W is available at FlexiSpot. This desk seals the sale, even though it is now out of stock. This standing desk will be ideal for you whenever it becomes available. 
The Theodore mixes historic American design elements with cutting-edge ergonomic technology to create a timeless piece of furniture. For the perfect aesthetic, combine rustic ingredients with sophisticated touches. To make working from home more comfortable, create the ideal environment.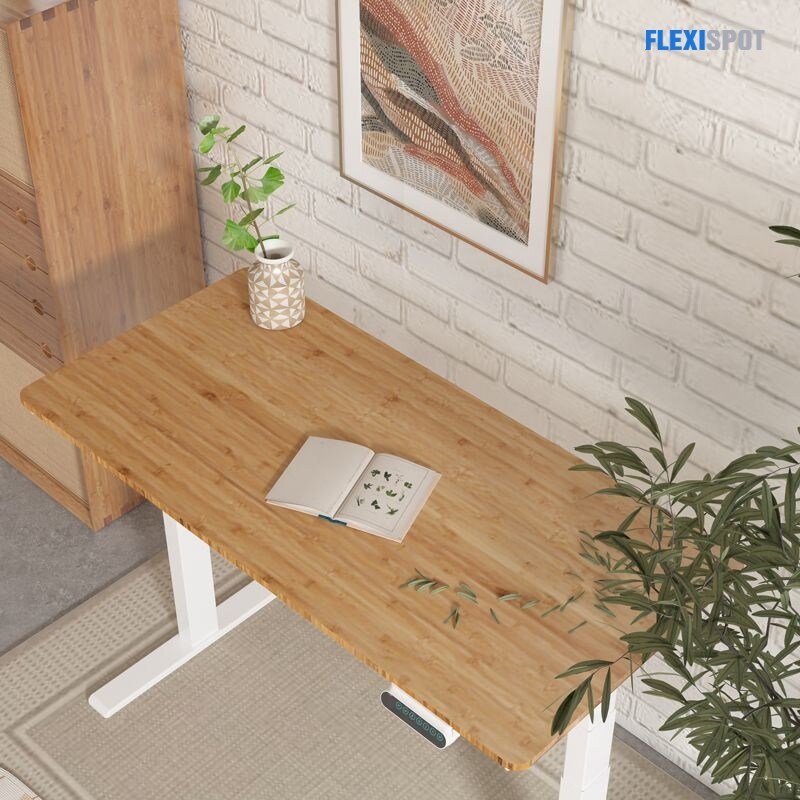 You can also complement the rustic style with a touch of nature. In the meantime, we recommend the Kana Bamboo Standing Desk because nothing compares to the natural beauty of bamboo. 
To keep the lovely, natural grain of each bamboo strip, we use the lateral compression technique.

Ergonomic Office Chair
Whatever the case may be, a decent chair that can boost comfort while working should be purchased. An excellent motorized office chair can increase an employee's productivity. 
FlexiSpot's Ergonomic Office Chair OC7 gives the user the option of adjusting the chair to their preferences. 
This ergonomic chair allows one to sit for long periods without experiencing back pain. The chair is also noted for adding to the office's rustic vibe. This chair is a one-stop shop because it is known for providing excellent lumbar support.
It would be best if you grasped the value of a dynamic and healthy workplace while incorporating the idea of a rustic office into your house. In today's home office, the most severe concern is workplace comfort. 
Because of the ergonomic designs and simple-to-use office supplies. Here are a few practical and straightforward methods to incorporate rustic home office decor ideas into your plans.
Design of an Open Workplace
Every home office can benefit from an open office design. Instead of confining oneself in a room, you might use the vast area of your home.

Plants
Plants are an excellent addition to your workstation decorating since they lend a rustic feel to your home office design. You may add a touch of greenery into your workspace whether you have a large or small office design in mind. 
Plants, for example, can be used to form divisions in small rooms where too many walls can appear clunky. 
Furthermore, small plants might help employees rest their minds and feel more at ease. A cramped workplace can sometimes cause mental barriers and harm an employee's mental health. This natural touch of flora can give employees a friendly vibe.
Mobility
One of the best rustic office design ideas is to make your home office mobile. Mobility is one of the most important aspects of any ergonomic workplace. 
So, rather than spending extra money on furniture, you may purchase one that can be used in both ways. Your office will be more space-efficient as a result of this.
Thinking with the Bare Minimum
Regardless of how big or tiny your workspace is, you must constantly adapt the ultimate method of minimal thought. 
To work efficiently, keep it clutter-free and comfy. Invest in the appropriate furnishings, but less of it. With a rustic office design, look for rustic hues that complement the feel of your office.
Balance
An unbalanced office might lead to weak productivity. Your workstation, especially if it is small, can be unbalanced in a variety of ways. A small workstation limits a person's ability to relax. 
Employees may feel constrained in such environments, which can severely impact their physical and emotional health. As a result, every office needs to provide an outlet for their employees to maintain a pleasant and healthy work-life balance. 
Even if the office is small, several things may be done to boost staff morale.
Conclusion
Any office change is possible with the correct office environment and furniture. Whether working from home or in a regular office, you should always choose an ergonomic design to boost productivity and comfort.