Dried flowers have existed way back in Ancient times when Egyptians used bouquets and vases to represent life and death. Advanced at their own time, the ancient Egyptians made use of dried flowers in burial ceremonies, garlands for mummies, fragrances, and cosmetics. At the same time, Greeks and Romans used it for garlands and wreaths that they crowned on politicians, powers, athletes, and victory. 
It was in the 16th century that dried or pressed flowers became an art form in Japan. The Japanese call it the Oshibana meaning the art of drying and pressing plants. Once the flowers are dried and pressed, they are made into elaborate arrangements on washi paper. This was the practice that has been adapted up until today because of its relative accessibility. Yes, it requires a level of mastery to pull off a beautiful, expertly done arrangement but the act of pressing flowers can be done by anyone, anytime. 

How to Dry Flowers
Since the practice has been around for a long time, there are many different ways on how to dry flowers today. Here are four methods to try: 
Air-dry flowers.
Take out the leaves from the flower stems. Tie together different kinds of flowers at the base with the end of the string hanging. Cut the stem to your desired length. Attach the hanging string to a stick or can be tied in your Flexispot floating shelf that comes with a built-in hook. Make sure it is located at a dark area or a dark spot that gets minimal light. Leave for three to four weeks and voila, it's ready to be displayed. 

Microwave flowers.
Fill a microwave-safe container with silica sand. Place the flower inside after removing unwanted leaves and cutting the stem to fit the container. Bury the flower in silica sand. Put inside a microwave oven beside a ceramic mug of water. Heat it every 30 seconds until the flower gets dried. This usually takes around two to three minutes depending on the density of the flower. Once it looks dry, leave it buried in the silica gel for 24 hours. Remove and display. 

Book press flowers of your choice.
Remove leaves on the flower stem. Place absorbent paper on the pages of the book (preferably thick) where you'll insert your flower. Put the flower face down then close the book gently, careful not to move the flowers. Put books and other heavy objects on top of the book with the flower. Set it aside to a corner where it won't be moved. Leave it there for three to four weeks. If the flower is not as papery as you desire, change the parchment paper and leave it there until you're satisfied. 

Iron flowers.
Put a flower in between two pieces of parchment paper. Turn the iron in low heat, without water or steam. Once it's warm, press it on the paper for about 15 seconds. Repeat until the flower is dried. 

Why Dry Flowers? 
Dried flowers may not last forever but they are long-lasting compared to fresh flowers. You may use them as room decor for a period of time. 
Dried flowers may be repurposed. You may use them for a wedding or a special occasion; it may serve as home decor like a bouquet in a vase, as a resin, framed flowers, candle, or a wreath; it may be used as potpourri or a room scent mixed with herbs and spices in a jar. 
Dried flowers are easy to carry around. You may stuff them inside a bag and it won't be destroyed. 
Dried flowers add character to a space. Whatever type of dried flowers you choose, their texture obtained from drying always gives a rustic vibe. 
Dried flowers make you appreciate slow art more. The room decor will have more meaning to you if you become part of the making process that took days and weeks to achieve. 
Design Ideas And Tips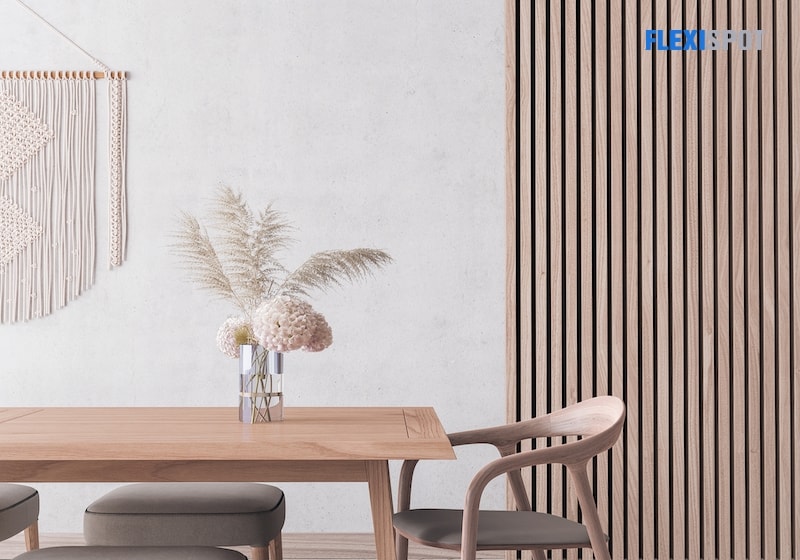 Centerpiece.
Use an arrangement of dried flowers as a table centerpiece. It brings a rustic spring vibe to the dining table. 
A cloche.
A bell- or dome-shaped cover, to put dried flowers inside. 

Wreaths.
Wreaths are not only used for the Christmas season. You may use them as decor around the house or during special occasions such as your wedding day. 

Decorate with pampas grass for a modern, neutral look.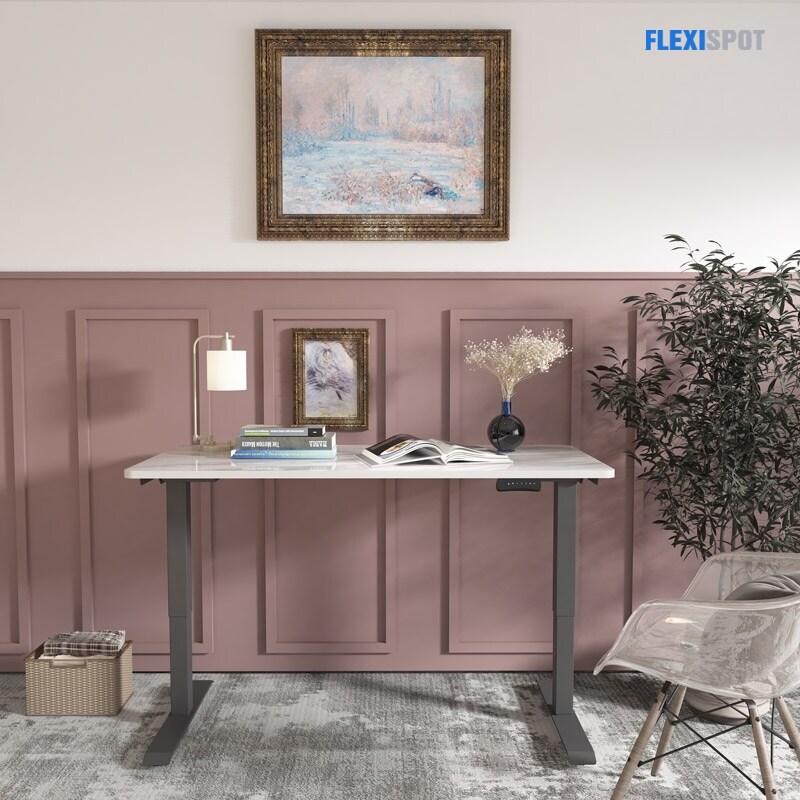 Match your dried flower vase with the art or the decor it will lie in beside the room.
On top of a Flexispot height-adjustable standing desk, put a dried flower vase beside a framed line drawing that is leaning on the wall. The Kana Bamboo standing desk, for instance, can hold a weight capacity of up to 275 lbs. You may also choose between a rectangle-shaped desktop or a curved one for more personality. 

Play with scale and proportion.
For example, place a vase with short-stemmed dried flowers alongside a big display of art or a big dried flower arrangement beside your framed wedding photo. 

Use metal, ceramic or gold vessels instead of clear vases.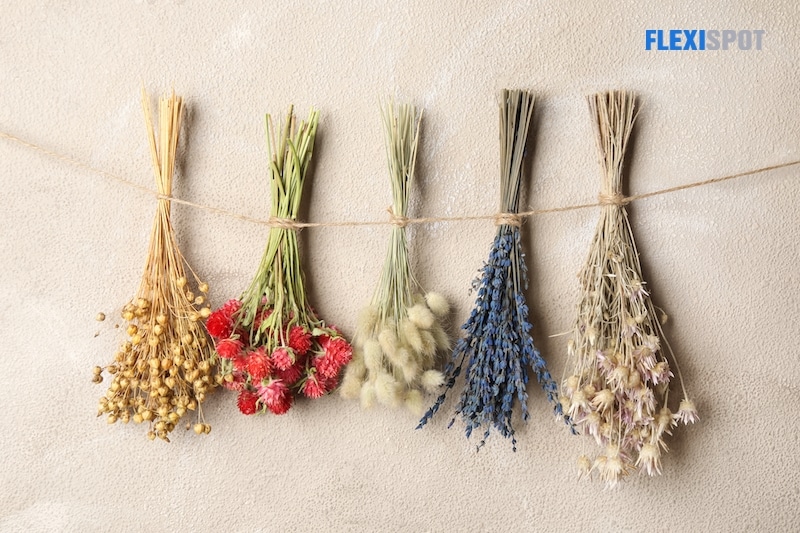 Hang dried flowers as decor and leave them until they wilt.
For a rustic vibe, tie the base of the flowers using a string to hang it in the built-in hooks of Flexispot's floating shelves. Choose a maple or mahogany wooden top. 

Use extra sticky tape to secure the reusable dry floral foam to the bottom of a vase. 

Pick out dried stem subjects such as the flax grass, umbrella fern or little rattlesnake grass.
These have interesting textures, varying personalities and unexpected colors. 

Spray paint-dried flowers that have lost their color.
For instance, spraying dried flowers with gold paint makes for interesting textures 

Preserving Dried Flowers 
It doesn't mean that the flowers are already dead; you don't have to take care of it anymore for it to last longer. Maintain the beauty and life of dried flowers by following the steps below: 
Spray with unscented hairspray. 
Dip the flowers in melted paraffin wax to extend their life up to six months. 
To avoid a color reduction, keep the flowers out of direct sunlight. 
Do not place near heat vents. 
Using a feather duster, dust the dried flowers as needed. 
Store in a dry place away from heat. 
Final Thoughts 
The modern-day borrows a lot from ancient times. Tastemakers have the ability to bring back any trend or direct attention towards it. Dried flowers are now used as a bouquet, corsage, wreath, room decor and more. It's easy to do and a fun, creative exercise for the mind.